Event Hub
Club Spotlight: Why Universal Fastpitch Garcia Is the Team Watch
It's not often that we get college coaches recommending teams to spotlight but Universal Fastpitch was a name that kept coming up. Ranked No. 44, Universal Fastpitch Garcia is one of the premier teams in the 14U division. 

Head Coach Martin Garcia expands on the success of Universal Fastpitch program and what separates them from other organizations.



When did the team/program start and how/why did it come to be? We started the foundation of this team in early 2015 and envisioned an organization in Northern California that would offer the best experience and compete at the highest level through hard work and passion.  Our goal was to provide elite training with the proper coaching to develop top notch student-athletes. We emphasize greatly on team chemistry and how that plays a huge role in our overall success.

Where are you based? Martinez, Calif.

Where do your athletes come from (all locally, some out of state?)? Our players range from local cities and even out of state. We have players that travel from Merced, Cloverdale, Chico, and from the Sacramento area. We also gained a player that travels from Reno, Nevada.

What was the purpose of creating the team (showcase players, win titles, develop skills, etc.)? Our purpose of creating this team is to provide players and families the opportunity to play at a high level. Our goal is to teach young student athletes about the competitive world we live in and understand that school is just as important as sports.

We reiterate to the girls how important it is to set goals. By setting goals, it gives each individual player something to work for, academically and athletically. The bi-product of their hard work in the classroom and on the field is being recruited to play college softball.

What have been some of your successes in terms of winning or placing at events? Our team successes have been the ability win and compete at the highest level and to qualify for PGF Nationals each year since the formation of Universal Fastpitch in early 2015, and continuously growing our softball and recruiting programs that has seen some commitments to top schools at the NCAA D1 level.  We have been invited to some of the best showcases/tournaments in the nation and continue to excel on the field of play.  We respect this wonderful game of softball and play with class with a great group of players, parents, coaches and families.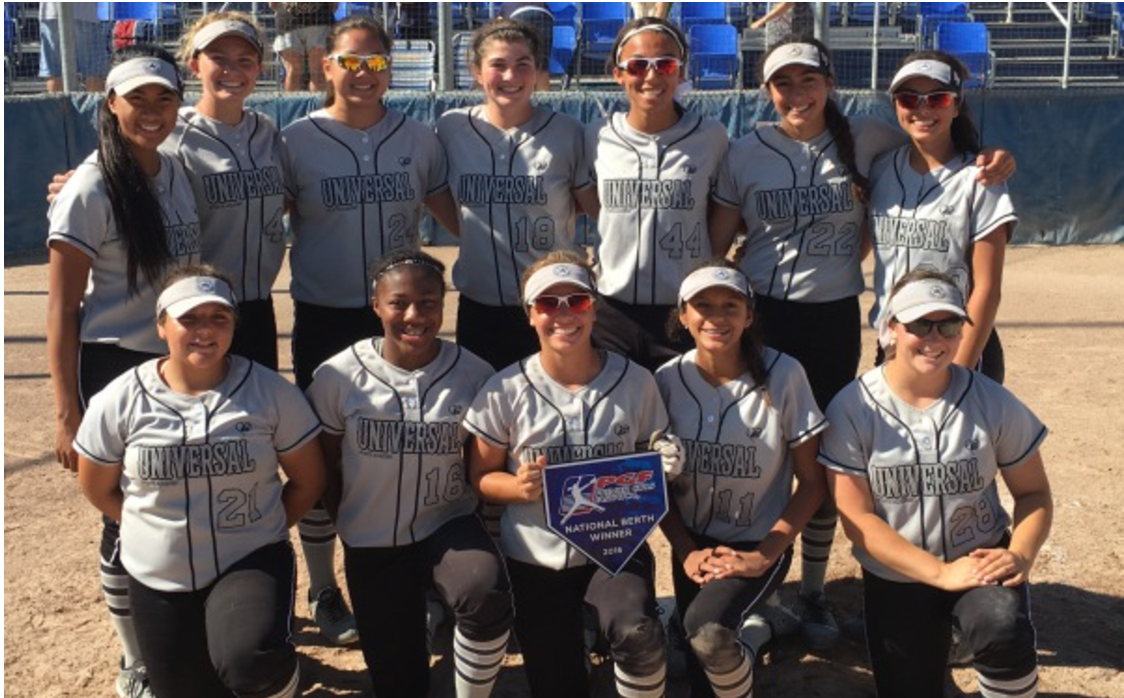 What makes the organization unique? Great question! I truly feel we have a unique organization that has developed quickly into a respectful and elite program in northern California. We coach through positive reinforcement and push our athletes to be prepared both physically and mentally.  We set our expectations as a coaching staff and expect the effort needed to be the best on the field all the time. We teach these young student athletes a work ethic that is needed to excel and succeed at the next level. Our foundation is based on love, trust, and communication, and that together we can achieve our team goals.

What's your softball background and how did you get to the point of leading the team? I have coached youth sports (softball, baseball, football) for the past 20 years and have had the pleasure of coaching my daughters', Kiara "Yaya" Garcia (Oregon State, 2011-2015) and Marina Garcia, softball teams during their playing days.  I was the head coach for the KG Hitters 18 Gold and 16u programs a few years ago placing top 5 at ASA one year and top 20 in PGF a couple of times.  Some of those players are now playing in the major conferences across the nation, to name a few…PAC12, WAC, ACC, and Big West.  My leadership is comprised of a coaching staff that works together with a deep knowledge of the game.

Coaching Staff includes Head coach, Martin Garcia, Assistant Coach La Shawn Wells, Assistant Coach Damien Bird,  Assistant Coach Craig Jacquez, and Assistant Coach Tommy Sparacino.

How many teams are there in the organization overall? We have teams from the 10U level through the 16U and plan to field an 18 Gold team in fall of 2018.

Has there been a key moment or defining experience in the team's history? I would say a defining experience for our team was when Tehya Bird verbally committed to the University of Oregon. The proud feeling that everyone associated with our new Organization felt when Tehya represented the first player under our new Organization to commit to play softball in college. Committing to Mike White at the University of Oregon was a tremendous dream come true for Tehya.



What is your primary focus or goal with this team? Our primary goal for this team is to compete at the highest level of play at PGF Nationals in 2017 and to be playing our best late in July 2017!  

What do you think are the strengths of the team? I would like to think our strengths in this team is our team chemistry and our coaching staff.  Our team has grown through attrition and have added some key components this past year.  

We have an outstanding pitching staff in Tehya Bird, Raegan Breedlove (Oregon Bound Duo), an outstanding Tyra Clary (RHP/1B, uncommitted, 2020), and a crafty left-hander Jordyn Hutchins (OF/LHP, uncommitted) that rounds out our staff.

Our team speed is another strength that will test the catcher's arm and challenge for every ball hit in the outfield.  We have some very fast players that can contribute in multiple ways.

Hitting will be one of our key strengths in 2017 lead by a roster full of game changing Hitters, Speedy Slappers that will drive the ball and drop one in the dirt at will.

If there is one thing you would say that separates you from other club programs, what would it be? The thing I say what separates ourselves from the rest of the club programs is our passion and energy with focused curriculum.  

Anything else interesting or fun that I could use to portray your team as a top organization? We feel we offer the best softball program around and have achieved more in two years than most organizations that may have been around the area for years.  We have qualified for PGF every year of existence and accepted a PGF National Championship Invite for 2017 where we will play the best in the nation this summer.  By receiving this prestigious invite, speaks volumes for our team and our organization as a whole.  We think we are a gritty bunch that wants to thrive when it really counts!



Meet Universal Fastpitch Garcia



Tehya Bird P/SS 2020 (Verballed to Oregon)
No. 19 2020 Hot 100 recruit Tehya aka T-Bird, pitches with a presence. She is the type of player that "shines when the lights come on" and elevates her game when the team needs her the most. Extremely athletic, can play the middle and the corners, covers a lot of ground and has a very strong arm. Tehya, a right handed hitter with tremendous power to all parts of the field and takes advantage of any mistake over the plate.  She is one of our leaders on and off the field.

Jordyn Hutchins OF/1B/P 2020 (uncommitted)
No. 64 2020 Hot 100 recruit Jordyn aka "Jojo" or "Lefty" brings one of the best left handed swings in the 2020 class!  A true competitor, a left handed pitcher with some great stuff in the circle and a quick footed leader making acrobatic catches in the outfield!  A softball stud and another leader on and off the field for our Universal team. A highly recruited southpaw, Jordyn will be a force at the college level. She currently has multiple offers from a number of schools. 

Sophie Jacquez SS/2B 2020 (uncommitted)
No. 90 2020 Hot 100 Sophie brings one of the best combination of speed and power to the Universal lineup!  A smooth and soft handed fielding SS with a big time arm! Offensively she bats from the left side and is a line-drive gap hitter who can also play small ball if needed.  She will be a force at the college level.

Mia Perez 2B/SS 2020 (Cal Poly)
Great middle infielder! A smooth handed player that can play multiple infield positions.  A hard hitting lefty, Mia is a consistent hitter that drives the ball and has some good pop.  She has a very good Softball IQ and will be a contributor for the Cal Poly Mustangs.

Raegan Breedlove P/1B 2020 (Verballed to Oregon)
Raegan has big time velocity throwing in the mid 60s consistently, can throw multiple pitches in situation, in any count and a great presence in the circle.  A power hitting pitcher that also plays 1st base.  A true team player that can hit with the best of them.

Alexis Bishop C/1B/3B 2020 (uncommitted)
Alexis has a strong Softball IQ and is a leader on the field. Athletically, Lex brings a big bat with tremendous power, a force behind the plate with a rocket arm and can play both corners at a high level. A quick footed student athlete that can play the game at a high level. She will be a force at the next level with her size and hitting ability.

Bailey McLaughlin OF 2020 (uncommitted)
Bailey aka "Smiley" is a hard working Slapper that can drive the ball to all parts of the park. Smiley is a speedster that covers a lot of ground in the outfield and her work ethic and dedication to this sport is second to none!  A force on the bases, she puts pressure on the defense with her bat and her feet.

Mackenna Steele MIF/OF 2020 (uncommitted)
Great feet and strong arm, can play the hot corner, middle infield and can play OF too!  An athletic players that hits from the left side, line drive hitter that will turn a single into a double if the other team is lazy.  A hard nose hustler that will be a force at the college level.

Isabella Merrihew C/3B 2020 (uncommitted)
Isabella aka as "Sticks" bring a lot of qualities to our team! Great team player with a cannon behind the plate and can play the corners too!  A right handed power hitter.  A great student of the game and a tremendous teammate to all.

Morgan Groves OF 2020 (uncommitted)
Morgan aka "Mo" is a strong armed outfielder with gap ranges and a student of the game.  A speedy runner on the base paths that will wreak havoc with our opponents.  A hard working student athlete that will be a force in the 2020 class.

Michaela Milender OF/1B 2020 (uncommitted)
Michaela is a very strong athlete that hits the ball very hard.  A hard working team player who plays outfield and 1st base with good size and speed.  Michaela is a hard working student athlete that will be a force in the 2020 class.

Tyra Clary P/3B/1B 2020 (uncommitted)
A competitor and a very good pitcher with lots of spin on the ball, plays the position well. Also hits for power and can play the hot corner, covers a lot of ground on the right side of the infield.  Tyra bring a lot of passion to the game and competes at a high level.  A hard working student athlete that will be a force in the 2020 class.

Jeweliana Perez OF/2B 2020 (uncommitted)
Jeweliana aka as "Jewels" is a triple threat athlete with size and speed!  A well rounded athlete that can play both outfield and infield with swift speed and threat on the base path.  She is a left handed hitter that can drive the ball and can mix in the short game to keep the defense on their toes.  Jewels will be a force at the next level.

Isabel Emerling C/1B/3B 2021 (uncommitted)
Isabel should be ranked in the top 20 in her 2021 class!  Isabel is a hard working catcher that can play both corners at a high level.  Her bat speed and power at the plate is amazing and she continues to strive to be the best!  A Stud hitter with superior power with good size will be a force at the college level.

Olivia Silvestre OF 2021 (uncommitted)
Olivia aka as "O" bring a high level of energy to the game!  A very aggressive leadoff hitter that packs a big punch!  A true triple threat at the plate and great speed in the outfield.  A base running machine and a top player as a 2021 recruiting class.

Acacia Anders MIF 2021 (uncommitted)
Acacia aka "Smalls" can play any position in the infield with confidence and a well-rounded athlete. A smooth handed infielder that will contribute both defensively and offensively with good left handed power at the plate that will show the 2021 class Smalls means business!


Did you miss PGF Ultimate Challenge? Watch Universal Fastpitch Garcia vs So Cal Athletics Briggs at PGF Ultimate Challenge