SEC
Biggest Moments From The 2022 Women's College World Series
Biggest Moments From The 2022 Women's College World Series
At the 2022 Women's College World Series, records thought to be near-untouchable were smashed, stars did their things and new standouts emerged.
Dec 29, 2022
by Briar Napier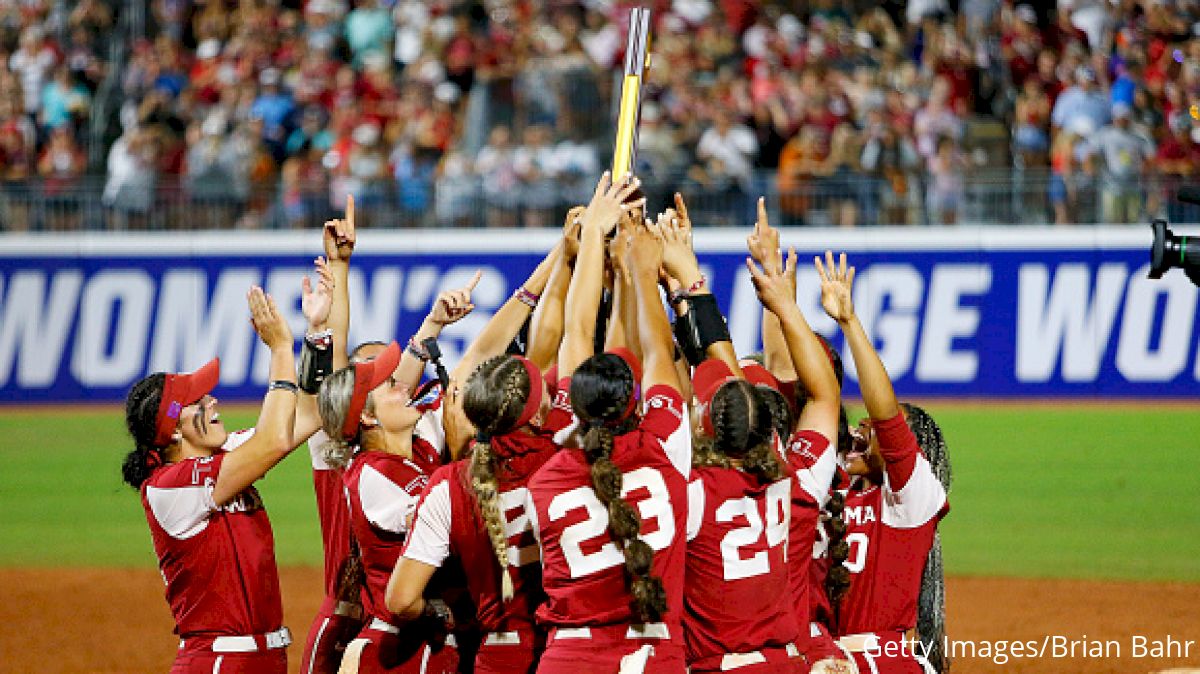 College softball fans bore witness to a year unlike any other this past season.
Records previously thought to be near-untouchable were smashed, familiar stars did their things, new standouts emerged from the ranks and much more occurred all throughout the year.
Though plenty of programs were able to look back fondly on their 2022 seasons, only one program - Oklahoma - could claim itself as being at the cream of the crop.
During a monumental week at the Women's College Series in front of plenty of home fans at the USA Softball Hall of Fame Stadium in Oklahoma City, the Sooners sent their faithful home happy with a historic performance worthy of their historic 2022 season.
The challenge for OU in 2023 is to become the first team to win three consecutive national titles since the legendary UCLA teams of 1988-1990.
First, though, it's worth looking back at the WCWS that was and the key events that made it worthwhile to so many involved.
With the year coming to a close and the college softball season quickly approaching, here's a look back at some of the moments that made the 2022 Women's College World Series special.
Oklahoma Runs Through The Competition - And Record Book
It's only right that Oklahoma finished arguably the most dominant college softball season ever with one of the most dominant Women's College World Series performances ever.
The Sooners closed the curtain on their record-smashing 59-3 campaign in style, winning back-to-back titles. Oklahoma became just the third program in history (along with UCLA and Arizona) to win consecutive national championships multiple times.
Redshirt senior utility player Jocelyn Alo solidified her spot as the college game's greatest longball hitter by smacking five home runs in Oklahoma City, giving her 12 for her WCWS career and 122 with the Sooners, both national records.
Freshman dynamo Jordy Bahl ended her phenomenal first season on the mound by picking up her final win of the year in OU's most important game of the year - its title-clinching victory over rival Texas in the national championship series.
Oh, and infielder Tiare Jennings set the individual WCWS record for RBIs with 15, a massive part of the record-breaking 64 runs the Sooners scored - the most in a single WCWS and a mark OU had broken before its second win over the Longhorns.
Things got a bit hairy when rival UCLA beat the Sooners 7-3 in the semis, meaning the Bruins had coach Patty Gasso's unit on the brink of elimination. But a dominant 15-0 response from Oklahoma silenced concerns, and the Sooners ended up lifting the trophy three days later.
Jordy Bahl Returns From Injury To Shine On The Biggest Stage
It's not as if Oklahoma's rotation was shaky or in dire condition entering 2022, anyway, but the Sooners lost their ace - 2021 WCWS Most Outstanding Player Giselle Juarez - to graduation, following an incredible 53-6 record (including a 23-1 mark in 2021) during her time in Norman, leaving massive shoes to fill on the mound.
It didn't take long for OU to find Juarez's fill-in.
Bahl, a prep standout who won the Gatorade National Softball Player of the Year award during her senior campaign in high school, was spectacular during her freshman college season.
She established, with authority, her place as the Sooners' ace, going 22-1 and winning the NFCA Division I National Freshman of the Year award.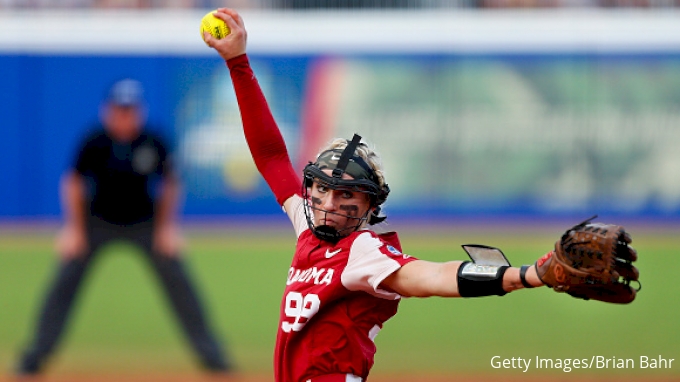 Bahl threw a perfect game and contributed to two more no-hitters during the regular season, but during pregame warmups prior to a game against Oklahoma State (the Sooners' final series of the regular season) in May, the Nebraskan suffered an arm injury that sidelined her for nearly a month. She missed much of OU's postseason charge to the WCWS.
Bahl returned to the rotation in OU's WCWS-opening win against Northwestern on June 2, and she got her first start since the injury a week later in the title-clinching game against Texas, where she allowed four hits and two earned runs in four innings to give the Sooners' electric offense enough insurance to seal the deal on the program's sixth national championship.
That's not a bad way to close out your teens, as Bahl only turned 20 in July.
Texas Sets New Standard For Unseeded Teams
Texas softball showed hints of being an elite team throughout the regular season, evidenced by the facts that the Longhorns handed Oklahoma one of its few losses on the year (a 4-2 win on April 16) and that they had three All-Big 12 first-team selections in pitcher Hailey Dolcini, catcher/first baseman Mary Iakopo and infielder Janae Jefferson - the most selections of any program not named Oklahoma.
But it still was a year that included many of its ups and downs - that is, until the Longhorns hit postseason play.
Needing to go on the road to win both its regional (Seattle) and super regional (Fayetteville), Texas ended the WCWS hopes of two contenders in back-to-back rounds in Washington State and Arkansas, entering Oklahoma City as an unseeded team with plenty of hope and recent confidence backing it up.
BELLA'S SHOWING OFF IN CENTER!!

Add another GREAT catch to the @b3lladayton highlight reel as she comes out of nowhere to retire Jayda Coleman!

📺 ESPN2: https://t.co/Q5uZaea2sz

T5 - OU 2 - TEXAS 2 pic.twitter.com/3PK6g3Pbcj

— Texas Softball (@TexasSoftball) June 10, 2022
The Longhorns immediately announced their arrival by beating title contender UCLA on the event's first day, and though a loss to Oklahoma left Texas in a win-or-go-home scenario, UT stormed back to beat Arizona in the second round, then beat Big 12 rival Oklahoma State twice in the semis to clinch a spot in the championship series, becoming the first unseeded team in WCWS ever to do so.
The Sooners, much like they did to most other opponents during their historic 2022 season, made quick work of the Longhorns in the title series, but Texas could hold its head high in pride for the heights it achieved, with pitcher Estelle Czech, first baseman Courtney Day and outfielder Bella Dayton all securing spots on the All-Tournament Team for their performances throughout their week in Oklahoma City.
Oregon State's Unlikely Journey Back To Oklahoma City
Does a program with 19 regular-season losses and a losing conference record scream "WCWS material" at first glance to you?
For Oregon State, that was exactly the position it was in as a program that struggled at times in the elite Pac-12 Conference but had its moments nonetheless, including a regular-season series win over Arizona.
The Beavers also went on a brutal 10-game losing run in conference play that stretched into May, being swept by powerhouses Washington, UCLA and rival Oregon in the process, suggesting that OSU was a good team, but perhaps a step behind the elite ones that could make serious runs to the WCWS.
But momentum is a funny thing in softball, and the Beavers found it at just the right time.
Oregon State beat both Ohio State and Tennessee twice to escape out of the Knoxville Regional, then swept Pac-12 adversary Stanford at the Cardinal's own Super Regional to get back to the WCWS for the first time since 2006 and just the second time in program history.
Underdogs all the way through, Florida and Arizona beat the Beavers on back-to-back nights to send them home, but it still was an epic run for coach Laura Berg and her team. It also marked Berg's return to the WCWS for the first time since helping take Fresno State to the national title as a player in 1998.
Arizona Coach Caitlin Lowe Gets Back To Familiar Spot
Speaking of former standout players who got back to the biggest stage in college softball as coaches, Arizona coach (and past All-American Wildcat player) Caitlin Lowe experienced that feeling during the 2022 WCWS, as well.
It established that even after a significant change in the coaching ranks of the Wildcats' program, Arizona likely wasn't moving far from the best of the best in college softball anytime soon.
Lowe, a former Olympian with Team USA, who led Arizona to back-to-back WCWS wins in 2006 and 2007, had been an assistant coach at her alma mater for eight seasons, before being hired on as head coach, following the retirement of legendary coach and eight-time WCWS winner Mike Candrea after the 2021 campaign.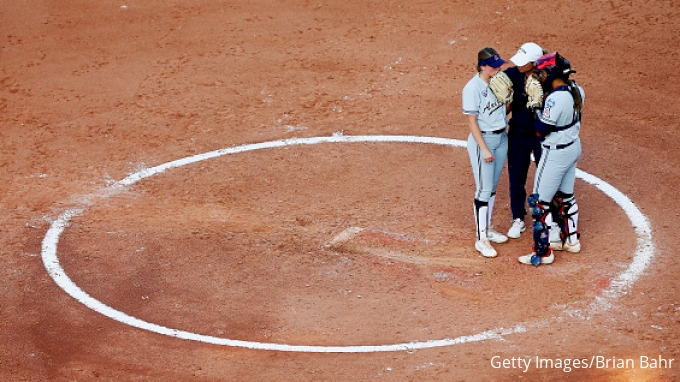 After a 19-4 start, a 1-10 beginning to Pac-12 play seemed to indicate there were some bumps in the road Arizona still needed to get past, before it truly could be considered elite again.
An epic breakout campaign by sophomore utility player Allie Skaggs (.367 average, 24 home runs, 58 RBIs) contributed heavily to the Wildcats' second-half charge, winning both the Columbia Regional and Starkville Super Regional, to make it back to the WCWS for the 25th time - and, of particular importance, the first time with Lowe at the helm.
Arizona went 1-2 in Oklahoma City, beating Pac-12 foe Oregon State and losing to a pair of Big 12 opponents in Oklahoma State and Texas, but it was a major year of growth for the Wildcats program, giving Lowe a sturdy foundation to build on for years to come - just like her hall-of-fame predecessor.