2023 Mark Campbell Collegiate Invitational
Top 10 Sluggers In College Softball For 2023: Jennings, Klinger Among Best
Top 10 Sluggers In College Softball For 2023: Jennings, Klinger Among Best
Some teams and players can stand in the batter's box and crush pitches better than others. These stars seem to call upon their elite slugging at will.
Dec 29, 2022
by Briar Napier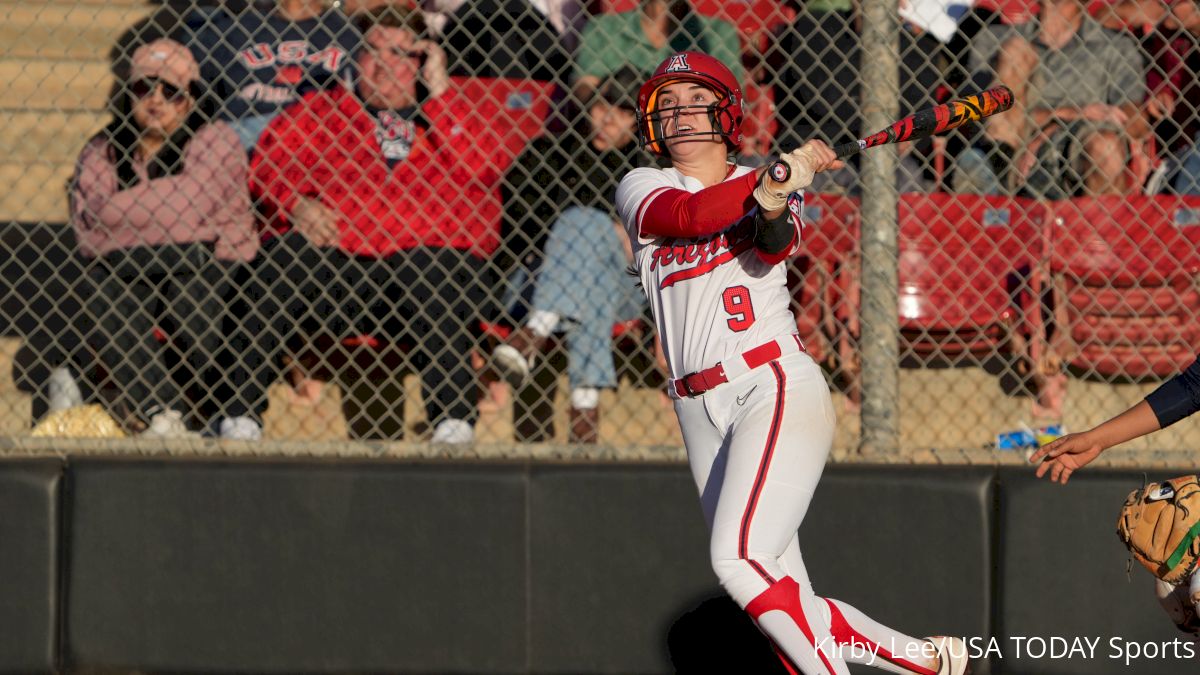 Taters. Dingers. Long bombs. Moon shots.
There are a lot of nicknames and colloquialisms out there for what many would call the most exciting play in softball - the home run - but it takes a special level of ability and consistency for a player to be able to pull off hits that go out of the park on a seemingly nightly basis.
Those types of players, and the power they have at their disposal, show their importance on the diamond in other ways, too, even if their hits don't go yard.
There are the extra-base knocks, warning-track shots and more beyond the homers that help send runners home - and more often than not, help get their teams wins upon wins during the grind of the college softball season.
Some teams and players are able to stand in the batter's box and crush pitches better than others, and for the group of standouts listed below, they're able to call upon their elite slugging seemingly at-will.
And, for those watching softball for the long ball, there aren't many players in America better at swinging for the fences.
Here's a look at the top sluggers to look out for during the 2023 college softball season, with hundreds of games - including many featuring the names mentioned here - being streamed live on FloSoftball.
NOTE: This list is in no particular order.
Tiare Jennings, Jr., INF, Oklahoma
It says something about just how absurdly good Oklahoma was last season that Jennings finished third in the country - and second on her own team - with 29 home runs.
But if all-time national home-run queen (and now-graduated) Jocelyn Alo was the yin to the Sooners' national championship season in 2022, Jennings was the yang, and there's a clear new preseason favorite for the next USA Softball Collegiate Player of the Year award.
Jennings followed her record-setting freshman output (in which she smacked an all-time freshman-best 92 RBIs) by tallying 87 RBIs during her sophomore season. She picked up 15 alone (including five home runs, tying with Alo in doing so) in the Women's College World Series to set a new record for the most RBIs by an individual player in a single WCWS.
Sooners vs. Seminoles in the postseason. 𝐆𝐨𝐨𝐝 𝐭𝐢𝐦𝐞𝐬.

Go get 'em, @OU_Football! 🗣️#BoomerSooner pic.twitter.com/XLBu3f32xP

— Oklahoma Softball (@OU_Softball) December 29, 2022
With 179 career RBIs, Jennings is on pace to smash the longstanding career mark held by Arizona legend Jenny Dalton of 328, a mark Alo was six shy of passing when she finished her career in last year's WCWS.
Jennings very well could pick up where Alo left off in pursuing that record - and be the main piece behind a possible OU three-peat in June.
Baylee Klingler, Gr., INF, Washington
It takes a truly momentous season-long stretch to do something that makes waves in the gilded history of softball in the Pac-12 Conference, but Klingler did just that by doing something that only three before her (and none since 1999) had done previously - win the conference's batting triple crown.
The Texan was the Pac-12's queen in batting average (.434), home runs (24) and RBIs (71) in 2022, with her home run mark one shy of Kristen Rivera's single-season Huskies record of 25, and that made Klingler an easy pick for the Pac-12 Player of the Year, Washington's first since 2005.
Beyond her gaudy statistics, the 5-foot-8 infielder was remarkably efficient in other ways, too, including with her elite plate discipline.
Klingler had 18 multi-RBI games to just six strikeouts, making her among the toughest players in America to get out at the plate. She even had a 15-game hitting streak during the year.
With almost three times as many walks (56) to strikeouts (19) in her three-year career, Klinger almost exclusively gets out via balls put in play. Too bad for opposing outfields it's hard to get her out that way, as well.
Addison Barnard, Jr., UTL, Wichita State
Here's a fun college softball trivia question: In terms of individual home-run rate (or home runs per game), which player led the nation in that category last season?
If you thought of the aforementioned Oklahoma legend Alo - and there would be good reason to - you'd be incorrect. That title belonged to Barnard.
The 5-foor-6 long-bomber from Beatrice, Nebraska, turned a great freshman season (22 home runs, 61 RBIs) into an eye-popping sophomore campaign (33 home runs, 84 RBIs), in which she slugged an absurd 1.018 - the only player in the country other than Alo to reach over 1.000.
Representing @GoShockers...

Addie the Baddie's inside the park home run 😤@addieb30 x @American_Conf Top Play of the Year https://t.co/nAhnOP76nx pic.twitter.com/XCX3DgAPEK

— Wichita State Softball (@GoShockersSB) June 28, 2022
The American Athletic Conference's Player of the Year, Barnard also possesses underrated speed (25 stolen bases) that helped her get to 172 total bases a season ago for the third-most in the country, but considering that half of Barnard's total hits (66) went out of the park anyway, it's understandable if quickness isn't the first thing scouts point toward when analyzing Barnard's game.
The next goal for Barnard will be helping take the Shockers to new heights in the postseason - Wichita State has made the NCAA Tournament six times in program history but has never escaped the regional round - something likely on the team's mind following eight straight seasons (not counting 2020) of at least 30 wins.
Allie Skaggs, Jr., UTL, Arizona
Second-year Arizona coach Caitlin Lowe needed players on her squad to set a solid standard in her first season after legendary dugout leader Mike Candrea retired following the 2021 campaign, closing the door with eight WCWS titles in his coaching career.
Skaggs answered the call with emphasis, and now the Wildcats have a star on their hands for Lowe and the rest of the program to build around.
The Kentuckian turned a quiet 2021 freshman season (.255 average, five home runs, 11 RBIs) into an explosive 2022 sophomore campaign (.367 average, 24 home runs, 58 RBIs), starting every game at second base. She was named second-team All-Pac 12.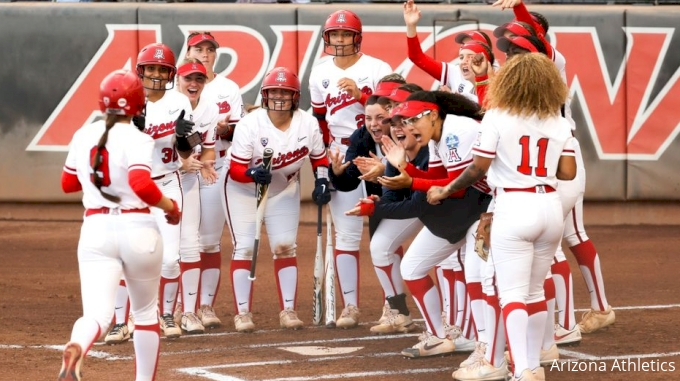 Her run of powerful hitting in mid-April, though, was downright historic.
From April 19-27, Skaggs had a stretch of eight home runs in six games, being the first Wildcat to have such a run in over a decade, as she hit pitches out of the park like it merely was a thing to do.
She also was a key part of Arizona's run to the WCWS, notching a hit in six of the Wildcats' eight postseason games (including four hits in the Columbia Regional alone), as the program showed little rust from the switch in coaches.
If that trend continues, it's quite likely Skaggs and her production will play a major role in 2023.
Cydney Sanders, Soph., INF, Oklahoma
A top-3 finalist for the NFCA National Freshman of the Year and the national freshman leader in home runs, Sanders did her damage a year ago mainly in the desert, blasting 21 home runs and 63 RBIs for Arizona State. She was named the Pac-12 Freshman of the Year and was a member of the league's all-conference first team.
Then, the California native left the Sun Devils' program and entered the transfer portal after former head coach Trisha Ford took the open position at Texas A&M following the 2022 season.
When Oklahoma coach Patty Gasso came calling after the Sooners clinched their second consecutive national title, it didn't take long for Sanders to sign on to join the juggernaut in Norman.
Sanders will inject some exciting new life into an already-stacked OU lineup, and the Sooners will be gunning to be the first program to secure three consecutive national championships since UCLA from 1988-1990.
The 5-foot-9 right-hander already has a great foundation to build off (.425 batting average, .952 slugging percentage) for the remaining seasons of her college career.
For the pitching staffs in the Big 12 Conference, and elsewhere, that already are weary from having to face the onslaught the Sooners' hitters have brought over the past two seasons, that's not good news.
Karli Spaid, Jr., INF, Miami (Ohio)
Spaid was sensational for the RedHawks and likely would've been a shoe-in for the Mid-American Conference's Player of the Year award, had it not been for the All-America campaign of former Ball State outfielder Faith Hensley, who won the honor instead.
But Spaid has at least two more seasons ahead of her now to capture the accolade - and maybe much more - with a level of technique and power that has few levels in America, regardless of the league she plays in.
"I don't think there's really anything mid-major about our program."

Karli Spaid is on a mission to lead @MiamiOH_SB to new heights in 2023.https://t.co/YkGyNFdXPA

— Softball America (@SoftbalAmerica) September 21, 2022
The Chicago native already is Miami's career leader in home runs with 45 through two years (including 28 bombs a season ago to put her fourth in the country), and she now owns just about every major single-season program hitting record, including in the previously mentioned homer mark, runs (67) and RBIs (70).
Miami's leading career hitter (.408) also became the first RedHawk to be named an All-American in the sport (third team by the NFPCA), and as long as Spaid keeps on chugging along, expect her team to be right in the thick of the hunt for both 40 wins and an NCAA Tournament appearance for the third straight season.
Erin Coffel, Jr., INF, Kentucky
After setting the school record for home runs by a freshman in 2021 with 16, Kentucky's starting shortstop became just the sixth All-American (a second-team nod by the NFPCA) in program history as a sophomore.
Her 2022 efforts included a .423 hitting campaign, finishing second in the SEC behind Arkansas' Danielle Gibson, among those who played in at least 50 games.
Coffel's 20 home runs and 68 RBIs (the most in a single season by a Wildcat player) set her apart as one of the league's elite ball-drivers, a distinction she'll carry into 2023. She enters the year level with Auburn sophomore swinger Bri Ellis (who also is on this list) as the SEC's top returning homer hitter.
The first-team All-SEC pick had 32 extra-base hits, including 11 doubles, to go with all the long bombs, and she set a school record for RBIs in a single game by driving in seven against Miami (Ohio) in the Blacksburg Regional.
Pitch to the native Hoosier, if you dare, especially as she'll be the driving offensive force on a Wildcats squad looking to return to the super regionals after a four-tourney streak to the round was snapped by Virginia Tech.
Grace Lyons, R-Sr., INF, Oklahoma
Another Sooner on this list, really? Yep, really.
Last season, Lyons often was made to be a sort of a "third wheel" in Oklahoma's powerful lineup behind Alo and Jennings, which wasn't really fair to the ridiculous ability of the Arizona native.
Her 23 home runs and 70 RBIs - like she tallied in 2022 - would make Lyons by far the top option on almost every other team in college softball.
With Alo out of the picture now, and the Sooners in pursuit of a historic three-peat of national titles, this could be the season where Lyons becomes the star on another loaded OU team and not just one of the stars.
A member of the American national team and starter of 208 of a possible 209 games in her decorated college career, Lyons has explosive power that can show up at any moment, as evidenced by the fact that she's hit three home runs in a single game twice in her career.
Though this is a list of the top sluggers in the country, Lyons' skill set couldn't be discussed without mentioning the fact that she's arguably better on defense than in the batter's box - an astounding, yet debatable, claim, even after hitting .401 last season - as the two-time reigning and defending Big 12 Defensive Player of the Year.
Bri Ellis, Soph., INF, Auburn
The Houston native burst onto the scene immediately for the Tigers in her first year with the team, helping Auburn bounce back from a subpar 27 wins in 2021 to an impressive 40 in 2022.
Ellis garnered the SEC's Freshman of the Year award and a place on its all-conference second team.
The honors were well-deserved for the 5-foot-10 first baseman, who tallied 20 home runs and 49 RBIs against the loaded pitching staffs of the SEC. She posted a .772 slugging percentage with it, for the second-best mark by a freshman in Auburn history.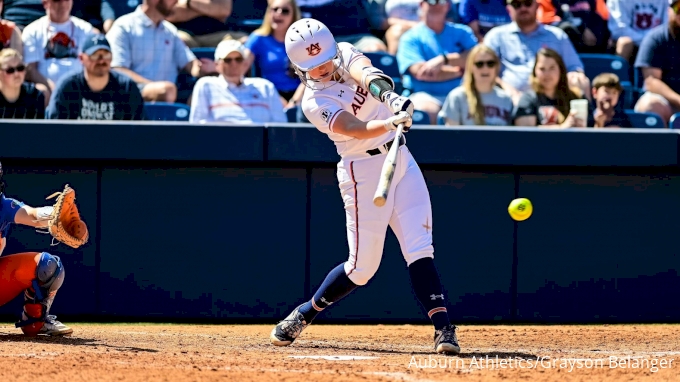 Ellis had 15 multi-RBI games and did even better at the plate when Tiger teammates were in scoring position (.356 batting average with runners on second and/or third, compared to .302 normally), solidifying herself as not just a powerful hitter, but an opportunistic one - a key attribute for a player to have in one of the country's most cutthroat conferences.
Auburn hasn't made it out of the regional round of the NCAA Tournament since current coach Mickey Dean joined in 2018, but Ellis' slugging and timely hits certainly won't hurt, as the team pushes to get back to that point.
Emmy Wells, Jr., UTL, Northern Iowa
Want a player to follow during the 2023 season who likely doesn't get enough national attention? Look no further than Wells, whose UNI team missed out on the NCAA Tournament a year ago, losing in the Missouri Valley Conference Tournament, despite finishing the season with a 32-13 record.
The lack of success limited the exposure for her and the team to a national audience.
It's a good thing, then, that as long as Wells sticks around Cedar Falls, the Panthers will have at least a couple more very good chances to get back to the national postseason.
The Indiana native had 19 home runs and 51 RBIs a year ago, totals that almost certainly would've been higher had UNI not missed out on the NCAA Tournament and Wells had more opportunities to blast pitches deep in a regional.
Wells additionally became the first player in MVC history to win the league's Player of the Year and Defensive Player of the Year awards in the same season, showcasing her elite two-way prowess as just a sophomore (which included a .988 fielding percentage) and indicating that there's likely more accolades to come in her college career, if her current promising pace continues.