2023 Puerto Vallarta College Challenge
Top D1 Pitchers In College Softball For 2023: Faraimo Star Of UCLA Rotation
Top D1 Pitchers In College Softball For 2023: Faraimo Star Of UCLA Rotation
Pitching always is important in installing a winning culture within a program, but it has proven to be vital in a recent era of record-shattering offense.
Dec 31, 2022
by Briar Napier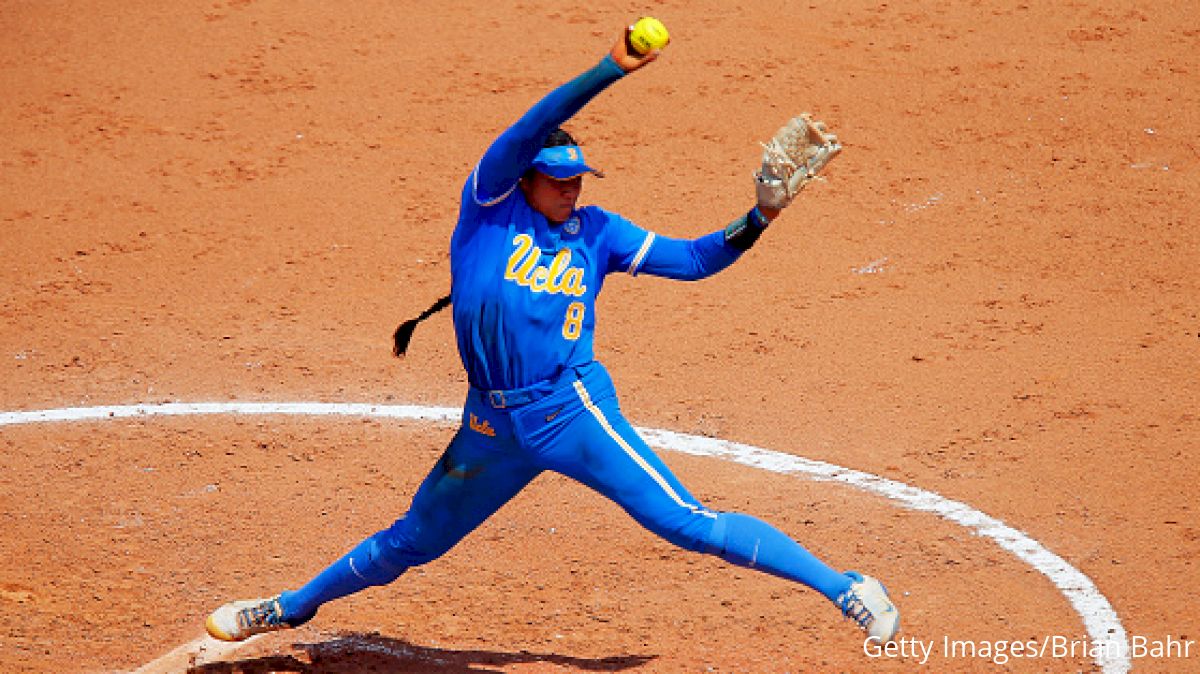 Have a steady and standout presence on the mound you can rely on, and a college softball team can do just about anything.
Good pitching always is important in installing a winning culture within a program, but it has proven to be especially vital in a recent era of record-shattering offense and powerful slugging.
As long as those trends continue the way they're going, building a solid core in the rotation to combat it may be the most important thing a college team can do.
Among the 10 names listed below are players who have earned the distinction of being classed as some of best hurlers in America. The programs that have them on their rosters are in especially good hands.
Here's a look at the top pitchers in college softball to look out for during the 2023 season, with
hundreds of games - including many featuring the names mentioned here - being streamed
live on FloSoftball.
NOTE: This list is in no particular order.
Jordy Bahl, Soph., Oklahoma
What were you doing at the age of 19?
For Bahl, all she was doing was winning the national title-clinching game on the mound in the Women's College World Series for one of the greatest college softball teams ever assembled.
The Nebraskan right-hander's career could end tomorrow, and it still would be an incredible legacy to leave behind, but the NFCA National Freshman of the Year is far, far from done.
The Gatorade National Softball Player of the Year for her final prep season, Bahl lived up to enormous expectations by sliding with ease into the ace role left behind by former Sooners star Giselle Juarez, the experienced hurler who led the OU rotation during its 2021 national title run.
𝐘𝐮𝐩 https://t.co/AChZo4MIfS pic.twitter.com/Qao1a3ucxB

— Oklahoma Softball (@OU_Softball) December 16, 2022
Bahl ripped apart the college competition, going 22-1 with a 1.09 ERA and 205 strikeouts in 141 1/3 innings pitched, being named both the Big 12's Co-Pitcher of the Year (the first freshman to win it since Sooners legend Paige Parker in 2015) and Freshman of the Year.
The scariest part is that Bahl's numbers could have possibly been even better, if she hadn't missed nearly a month (and most of OU's postseason) due to an injury suffered during the final regular-season series of the year against Oklahoma State. She was back in time for the start of the WCWS.
Now unquestionably Oklahoma's ace, Bahl will be a vital piece behind the Sooners' quest for a historic three-peat of national championships.
Montana Fouts, Gr., Alabama
After an explosive 2021 season, in which she led the country with a ridiculous 349 strikeouts and threw the first perfect game at the WCWS in 21 years against UCLA, Fouts was named the NFCA Pitcher of the Year.
Her 2022 season was perhaps a (very, very small) step backward by the Kentuckian's lofty standards.
Still, that "regression" resulted in a second-team All-America selection, a third career first-team All-Southeastern Conference pick and 24 wins - which tied for the SEC lead - with a 2.10 ERA, it's safe to say Fouts still belongs among the elite pitching standouts in college softball.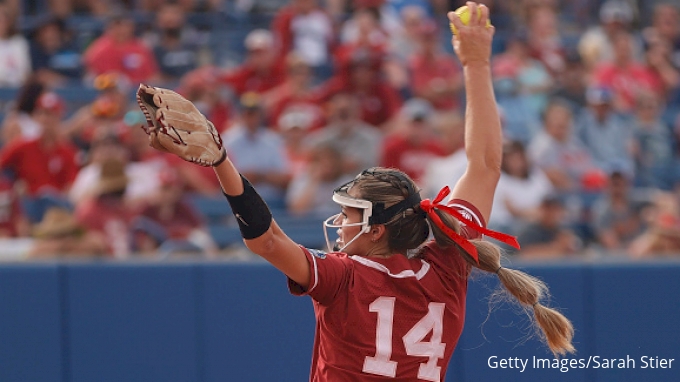 Holding a career .188 opposing batting average allowed, with 858 punch-outs in her time at 'Bama, Fouts is within shouting distance of past All-America selection Kelsi Dunne's all-time program record of 1,219, though Fouts would need a career-high of 362 strikeouts this season to break the record.
Another Crimson Tide run to the WCWS could turn that aspiration into reality. Fouts and the rest of her team will be motivated to return to Oklahoma City this season, following a loss to Stanford in the Tuscaloosa Regional.
Nicole May, Jr., Oklahoma
Oklahoma's record-setting offense a year ago was so historic and mind-boggling that it was easy to overlook the fact that the Sooners additionally possessed, top-to-bottom, one of the greatest pitching rotations of all-time.
OU had the nation's lowest ERA at 1.05, well in front of second-place Murray State's mark of 1.46.
Bahl's emergence onto the college scene was a big part of that, but so was May's growth into a dominant force of her own.
𝟐𝟎𝟐𝟐 was one for the books 🏆

What's in store for 𝟐𝟎𝟐𝟑? ✨ pic.twitter.com/QvdHI8nWe5

— Oklahoma Softball (@OU_Softball) December 31, 2022
May, a right-hander from California, whittled down her ERA from 2.37 as a freshman to 1.30 as a sophomore - taking her opposition's batting average down from .217 to .170, too - and she was a massive part of Oklahoma's WCWS title run, allowing only six hits across three appearances in Oklahoma City. That included a key 2 1/3-inning, one-hit stretch in the trophy-clincher against rival Texas.
May's 15-1 record helped give the Sooners another calm presence on the mound, while their powerful hitters did work (her complete-game three-hitter in the Norman Super Regional final over UCF was just one example).
Since she and Bahl are solidified as one of the best one-two pitching punches in the country, look for both to aim to take leaps into superstardom on yet another stacked OU team.
Megan Faraimo, Gr., UCLA
Faraimo's inclusion on this list isn't particularly surprising.
She has a 72-13 career record, with a 1.45 ERA, 768 strikeouts and an ever-growing list of accolades (2020 Softball America Pitcher of the Year, 2022 Pac-12 Pitcher of the Year, etc.) as the ace for one of college softball's most storied programs, and that essentially makes you a shoe-in when discussing who belongs in conversation about the elite hurlers of the game.
But there's a new and (for other teams) possibly dangerous wrinkle in Faraimo's abilities as she attempts to win her second national title, along with 2019, as a Bruin - the want to get even.
Faraimo was one of only three pitchers to defeat mighty Oklahoma last season, doing it in the WCWS semifinals in the Sooners' backyard in Oklahoma City.
The epic four-inning, four-hit performance on national television June 6 helped set up a winner-take-all matchup later the same day and gave the Sooners a rare feeling - uneasiness - during what had been to that point an overwhelmingly dominant season.
Of course, OU mercy-ruled UCLA in the rubber match on the way to its second straight title, but Faraimo made her point loud and clear in that there's arguably no better ace to stop the Sooners' emerging dynasty.
With it appearing in the preseason as if the national championship three-peat is OU's to lose, Faraimo and UCLA likely will be one of the Sooners' biggest challengers in stopping the run - and preserving the Bruins' distinction as the last college softball program to win three straight titles (1988-1990).
Danielle Williams, Gr., Northwestern
Heavily thanks to Williams being about as reliable as hurlers come, and her making life miserable for players in the batter's box, Northwestern was able to celebrate getting back to the WCWS for the first time in 15 years last season.
The Big Ten Conference pitching triple crown winner - Williams posted a league-best 1.49 ERA, 270 strikeouts and 25 wins across the regular season - and the unanimous choice for Big Ten Pitcher of the Year, only South Florida standout Georgina Corrick had more wins during the entire year than Williams' 31, not to mention it was the second time in the California native's college career she had posted 30 victories in a single season.
Williams' performances in the postseason, however, were legacy-defining.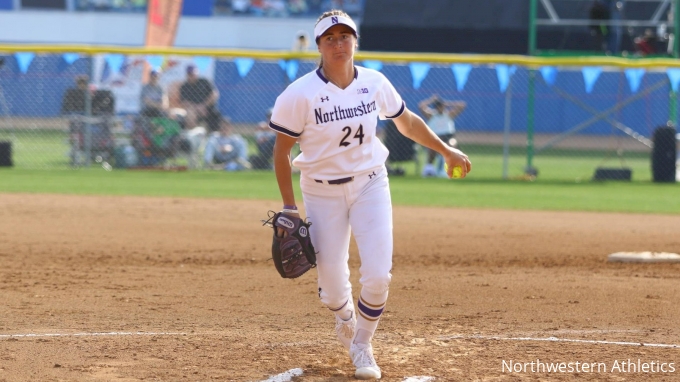 She went 5-0 and started all six of Northwestern's games in the Evanston Regional and Tempe Super Regional, including a masterful 11-inning victory over Arizona State in Game 1 of the latter round to give her team some breathing room on the road - something the Wildcats utilized down the line in a winner-take-all Game 3 to get to Oklahoma City.
No Northwestern ace has managed back-to-back Big Ten Pitcher of the Year awards since Eileen Canney - who took the 'Cats to the WCWS twice - won in consecutive years in 2006 and 2007, but Williams has a great chance to equal, or even surpass, the great pitchers of Northwestern softball, including being 274 strikeouts away from getting past Lisa Ishikawa's all-time career record of 1,200.
Brooke Yanez, Gr., UCLA
The best way to describe Yanez's addition to the Bruins' already-loaded pitching rotation?
Welcome back to the mound.
The sixth-year senior and local product from Ventura, California, has landed back in Los Angeles after previous stops at UC Davis and Oregon. At the latter, she was named an All Pac-12 first-team nominee and third-team All-American during the 2021 season after going 22-6 with a 2.11 ERA for the Ducks.
However, injury forced Yanez to be sidelined for the entire season, but the left-hander was granted another year of eligibility for the upcoming season and a chance to contribute for another rotation - this time, for the national title-seeking Bruins.
She should slide nicely into the supplemental star role left behind by the graduated Holly Azevedo (21-3, 1.50 ERA last season), one which made even more important by the return to the team of Faraimo.
It gives coach Kelly Inouye-Perez the ability to throw unique, yet close-to-equally dangerous, looks at teams in the batter's box.
And with a total of 71 wins and a 1.61 ERA across 93 career starts and 116 appearances, Yanez is more than capable of being able to fill the void left behind and produce - something UCLA will need if it hopes to dethrone Oklahoma as the queens of college softball again.
Payton Gottshall, Sr., Tennessee
Few people besides Bowling Green fans and college softball diehards got the opportunity to be made aware of Gottshall's game a year ago, as the Ohioan made waves on the mound for the Falcons, winning 27 games with 374 strikeouts (the second most in the country).
She was named the Mid-American Conference's Pitcher of the Year and broke BGSU's all-time program strikeout record in just 92 career appearances and 542 innings.
Gottshall should get plenty of exposure on a national stage now.
One of the most high-profile pitching options in the transfer portal when she decided to depart the Falcons' program in the offseason, Tennessee swooped in to secure her signature in June, not long after the season's conclusion, instantly giving the Volunteers' rotation a shot in the arm for 2023.
When Payton Gottshall (@pgott33) takes the circle this season, she'll be wearing @Vol_Softball orange and facing a new set of opponents.https://t.co/MqSVgSO1ax

— ExtraInningSoftball (@ExtraInningSB) September 29, 2022
Gottshall's ability to be dominant on the mound for long stretches will help, especially as she looks to fit in with the brutal SEC this season.
She finished second in the country last year in innings pitched (253 1/3), despite the Falcons' short postseason (four games in the National Invitational Softball Championship), and she had three perfect games during her time at BGSU, plus a mammoth 14-inning, 23-strikeout masterclass in an April win over Buffalo.
Kelly Maxwell, R-Sr., Oklahoma State
There's a little bit more detailed criteria to getting onto this list than just "if you beat Oklahoma last year, you're in," but as Maxwell helped do exactly that with a start in the Big 12 Tournament title-game win over the rival Sooners, it certainly helps her case for selection.
Still, it's definitely not fair to limit Maxwell's standout season to just one performance, either.
She had a 21-5 record and a 1.22 ERA, 313 strikeouts and was the Big 12 Co-Pitcher of the Year with Bahl.
The Texan has just been gradually getting better and better with each season on the mound in Stillwater - where she's thrown five no-hitters, including a perfect game in her time with the team.
In her breakout campaign in 2022, she more than doubled her previous best single-season mark in punch-outs, meaning she enters the 2023 season with an extra boost of confidence in knowing for absolute certainty she's the standout hurler of an elite Oklahoma State team.
That same OSU team also is looking for a chance to right past wrongs at the WCWS - Texas defeated the Cowgirls twice in the semifinals, denying them a showdown with the Sooners in the title series and a chance for the first national championship in program history.
If they make it there, expect Maxwell, just like a year ago, to be one of the major string-pullers behind a Cowgirls push back to Oklahoma City.
Chenise Delce, Gr., Arkansas
Sometimes, all a player needs is a change of scenery to really thrive. That was exactly the scenario Delce found herself in a year ago. She took the opportunity to start anew and ran with it.
Delce spent three years on the mound at Tulsa, before arriving to play for the Razorbacks, being named an All-American Athletic Conference selection twice (in 2019 and 2021).
Her stats with the Golden Hurricane certainly indicated she had talent the Hogs could utilize (29-15 record, 2.12 ERA, 279 strikeouts in 57 appearances) when she transferred to coach Courtney Deifel's program following the 2021 season, but her breakout campaign at Arkansas blew all expectations out of the water.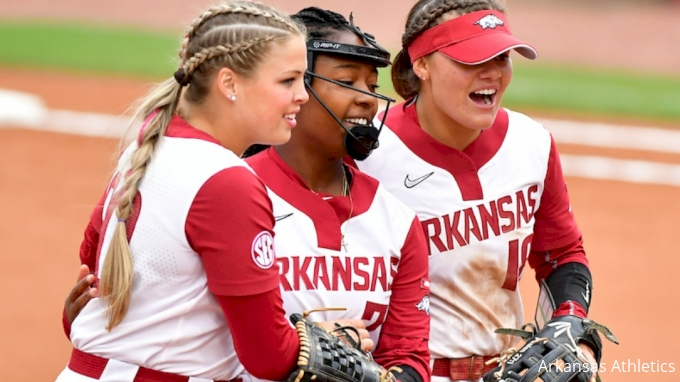 Delce went 19-3 in her first season in Fayetteville with a career-high in strikeouts (188), being named the SEC's Pitcher of the Year in the process, as the Razorbacks swept the league's regular-season and tournament titles for the first time in program history.
The next step for the year ahead for the Hogs? Make the WCWS for the first time after back-to-back defeats in the Super Regional round - a goal that would be especially monumental to Delce as an Oklahoma City native, giving her an opportunity to perform in her home city on the grandest stage in college softball.
Jessica Mullins, Jr., Texas State
With consecutive 20-win seasons and the honor of being the Sun Belt Conference's Pitcher of the Year before she even got out of her sophomore campaign, yeah, it's safe to say Mullins is a name to watch from the mid-major ranks this upcoming season.
The leader of a Bobcats pitching staff that had 13 shutouts a season ago, Mullins was the Sun Belt's pitching triple crown winner.
She had 27 wins in total (including a 28-inning scoreless streak during the year), 253 strikeouts and a 1.80 ERA across 241 innings pitched, and the 5-foot-8 Texan right-hander finished as one of the top underclassman hurlers in all of America.
Mullins wasn't able to showcase her skills in the NCAA Tournament last season because Louisiana beat her Bobcats twice in the Sun Belt Tournament, but the good news for Texas State and longtime coach Ricci Woodard, is that there are at least a couple more opportunities for Mullins to assist in getting her team to that stage, as she helped the program do during her 20-win freshman campaign in 2021.
Also, if you're a Sun Belt team seeing Mullins facing you in the lineup, good luck - she rarely allows league foes to have any opportunity to break through, only allowing conference teams to get her more for than three earned runs in an appearance twice.