2023 Puerto Vallarta College Challenge
Big 12 Softball: Team-By-Team Preview: OU Has Eyes On 11th Straight Title
Big 12 Softball: Team-By-Team Preview: OU Has Eyes On 11th Straight Title
The Big 12 has a unique place in college softball for a couple reasons. One is that it's a competitive league with multiple teams capable of winning it all.
Jan 13, 2023
by Briar Napier
The Big 12 softball scene has a unique place in college softball for a couple of reasons.
On one hand, it's a ridiculously competitive league in which multiple teams often find themselves playing for a national championship at the Women's College World Series down the line - testaments to both the amount of sheer talent throughout the league and how iron sharpens iron, resulting in teams getting the best out of each other as conference play goes along.
On the other hand, there's been one dominant force in the league in terms of gathering silverware for over a decade now - and at the moment, it's going to take a historic effort to knock it off of its perch.
Here's a look at where each Big 12 softball team stands headed into the season, with games featuring some of the teams listed below being broadcast throughout the year on FloSoftball.
Kansas Jayhawks
2022: 20-36 overall (3-15 Big 12), lost in semifinals of National Invitational Softball Championship
The lowdown: When compared to the average team, the Jayhawks were a solid squad a season ago, as evidenced by their run to the National Invitational Softball Championship semis - an event comparable to college basketball's NIT.
Kansas logged wins over the likes of seeded NCAA Tournament team and rival Missouri and another tourney qualifier in Nebraska.
But against the powers of the Big 12, KU often was merely a step or two behind.
The Jayhawks ranked at, or near, the bottom of the league in essentially every major pitching category, giving up double-digit runs in five conference games and allowing opponents to hit .299 on the rotation overall.
The offense had some pop at times (55 home runs, fourth in the Big 12), but KU too often was playing catchup and unable to string together a complete performance against many of the mighty teams in its league.
Building something special 💪#KUsoftball x #RockChalk pic.twitter.com/QYaZSd2Jn3

— Kansas Softball (@KUSoftball) September 1, 2022
Name to watch: Olivia Bruno, Soph., UTL
One of the best freshmen in the Big 12 a season ago, the in-state product from Topeka is a type of recruiting win the Kansas program can build around.
Bruno rocketed out the gates in her first year with the Jayhawks, leading the team in home runs (13) and RBIs (44), with a .353 batting average on top of those stats, and she was the only non-Oklahoma player in the top 8 of the Big 12 in slugging percentage at .687 (good for sixth), beating out major Sooner contributors, such as Jayda Coleman and Jana Johns.
Bruno can pitch in a pinch, too, carrying a 4.96 ERA across 29 2/3 innings in 2022, merely adding to her soaring value and potential on a Jayhawks roster trying to be competitive in a loaded conference.
An All-Big 12 second-team nominee, Bruno probably is KU's best chance at having a first-team pick, but if she builds on the superb freshman campaign she had, her name will be tough to ignore, no matter where the Jayhawks are in the league standings.
Texas Tech Red Raiders
2022: 22-27 (5-13), lost in first round of Big 12 Championship
The lowdown: Considering the other two Big 12 softball programs from the Lone Star State - Baylor and Texas - either won or played for postseason championships a season ago, Texas Tech probably feels it has some catching up to do in the sport.
Enter first-year coach Craig Snider, who spent 2011-2019 on a powerhouse coaching staff at Florida State, before spending the past three seasons on staff at Texas A&M. There, he learned the ways of Lone Star State softball for himself.
The Kentuckian, though a decorated assistant who has coached 20 All-Americans and helped the Seminoles win the 2018 national title, hasn't ever been a college head coach. The new role gives him a challenge to take on, as Tech hopes to compete for a return to the NCAA Tournament for the first time since 2019.
Snider has a lot of work to do to get there - the Red Raiders were last in the Big 12 in hitting (.249 team average) and second to last in team ERA (4.58), being shut out nine times, while going just 1-6 against their in-state conference rivals.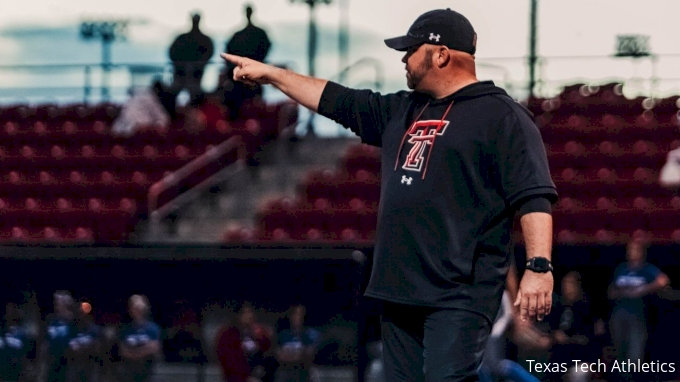 Name to watch: Makinzy Herzog, Gr., OF/P
A coaching change indicates the hope for a fresh perspective changing a team for the better, and on many occasions, those changes spread to the playing roster, too.
That's no different with Herzog, who has played for Snider at both Florida State and Texas A&M. She followed him from College Station to Lubbock during the offseason.
It's welcome news for Tech, too, because it's not every day that a past first-team All-Southeastern Conference standout shows up to play for your program.
A winner in the circle - she's 34-17 overall with a 2.38 career ERA - the Texan has thrown two no-hitters and can slug it when needed, too, having a career year in 2021, batting .354 to go with 13 homers and 37 RBIs.
Herzog's ability to dominate on both the mound and in the batter's box gives an instant jolt to a Tech program that needs both in its ranks, and she should make her mark immediately as one of the Big 12's top incoming transfers.
Baylor Bears
2022: 32-24 (6-12), won National Invitational Softball Championship
The lowdown: Baylor saved its best moments of the 2022 season for last, turning a first-round loss to Iowa State in the Big 12 Championship into a silverware-winning campaign
The Bears captured the National Invitational Softball Championship in the event's return after a three-year absence due to the pandemic.
A run like that was well in the cards for the Bears, who made the NCAA Tournament in 2021 and were just five years removed from making a Women's College World Series appearance.
Baylor keeps chugging along under longtime head coach Glenn Moore, who enters his 22nd season at the helm this year.
The Bears had a "best-of-the-rest" pitching staff (beyond the Big 12's two team ERA leaders by far, Oklahoma and Oklahoma State) that had a solid 2.94 team ERA and 12 shutouts. A lack of big plays and extra-base hits on the offensive end - Baylor had a league-low .398 slugging percentage - meant the Bears just didn't often have the firepower to keep up with the league's record-setting sluggers most times out.
Hey @Big12Conference we are ready for some softball 🤩

Full Big 12 Schedule is out now!!
>> https://t.co/OJ1LUegVyp#SicEm 🐻🥎 pic.twitter.com/lrhC2n6zK5

— Baylor Softball (@BaylorSoftball) November 2, 2022
Name to watch: Aliyah Binford, Jr., P/INF
A breakout year in all sorts, Binford evolved into a two-way star for the Bears by going 13-6 with a 2.50 ERA and batting .316 with a team-high five home runs and 26 RBIs.
The NISC's All-Tournament MVP, Binford showed up in the big moments - she pitched at least four innings in all four of the Bears' postseason wins and was stellar in the title-game win over UNLV, throwing a complete-game, two-hit shutout, while also picking up a hit, to help her team claim the trophy.
Binford also was one of the main architects behind one of the more shocking wins of the Big 12 calendar from last season, a 17-3 win over eventual WCWS finalist Texas. Binford went the distance on the mound, while also acquiring two hits in the Bears' offensive explosion against their in-state adversary.
Binford was named to the All-Big 12 second team after the season and should be in the running for a first-team nod this time around (along with returning first-team selection McKenzie Wilson), being one of the catalysts for a Baylor team looking to get closer to the top of the Big 12 once again.
Iowa State Cyclones
2022: 28-27 (6-12), lost in the semifinals of the Big 12 Championship
The lowdown: After qualifying for the NCAA Tournament for the first time in over 30 years in 2021, the Cyclones' hopes and expectations were perhaps tempered a bit a year ago, as they were so close, yet so far, from a lot of huge - even program-defining - moments.
ISU lost by three runs or fewer to the likes of UCLA, Washington, Texas and Oklahoma (with a win against Oklahoma State thrown in for good measure), showcasing that a few plays here and there going the Cyclones' way could've earned the program some serious signature wins and prove ISU had the talent to compete with just about anyone.
Alas, Iowa State went without a postseason a year ago, and coach Jamie Pinkerton will try to ensure that throughout one of the best periods in the school's softball history, the team can maintain its momentum.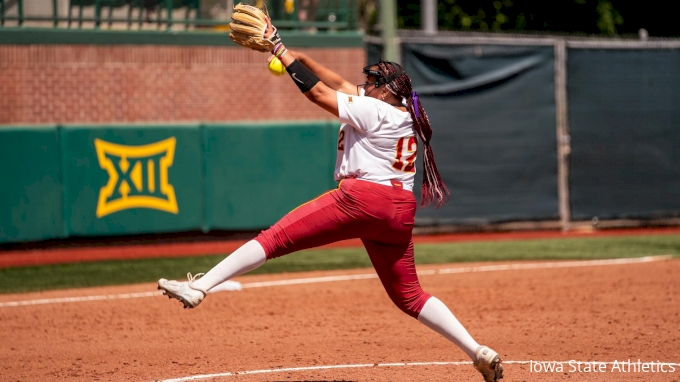 Name to watch: Karlie Charles, Sr., P
One of the main difference-makers behind ISU's historic NCAA Tournament berth two seasons ago, Charles remained excellent in 2022 as the Cyclones' ace, going 16-10 with a 3.14 ERA and a career-high 154 strikeouts in 182 2/3 innings pitched. Her success earned her a spot on a postseason Big 12 team for the second time in Ames (first team in 2021, second team in 2022).
Possessing arguably the best control of any pitcher in the conference - her 7:1 strikeout-to-walk ratio was the best in the Big 12 and a top-10 national mark - the Texas native rarely wasted opportunities to get hitters out at the plate, walking one batter or fewer in 32 of her 33 appearances last season.
Experienced and technical, Charles will be one of the tougher hurlers in the league to get a hit against this season.
Texas Longhorns
2022: 47-22-1 (12-6), lost in final of the Women's College World Series
The lowdown: A very good team that entered the NCAA Tournament seemingly a step behind rivals Oklahoma and Oklahoma State. Unlike the Sooners and Cowgirls, the Longhorns were not seeded entering the postseason.
Texas shattered all expectation for what an unseeded squad can achieve in the WCWS.
UT earned its first trip to Oklahoma City and the biggest stage in college softball since 2013 by upsetting Washington, the No. 13 seed, in the Seattle Regional and then winning a three-game series at No. 4 Arkansas in the Fayetteville Super Regional.
The Longhorns weren't just there to make up numbers - they almost won the whole thing.
Texas won its first game against UCLA, then eliminated Arizona and Oklahoma State in successive fashion to get to the national title series for the first time in program history, becoming the first unseeded team to reach that round.
Mighty OU wasn't to be denied its national title, but the Longhorns made their presence felt - and now have plenty of momentum to try and pull off an encore this season.
first day back in McCombs 🤘#HookEm pic.twitter.com/QbnOcKsAon

— Texas Softball (@TexasSoftball) January 10, 2023
Name to watch: Courtney Day, Jr., 1B/DP
One of the powerhouses of Texas' lineup last year, Day was unleashed in her third year with the Longhorns.
She finished as UT's home run leader (12) and made her mark as a critical piece to the team's lineup in the WCWS, hitting long bombs in three consecutive games in Oklahoma City against Arizona and Oklahoma State (twice) to help give Texas a shot at the national championship.
Her role is going to become especially important this season, however, as several other stars of the Longhorns' epic postseason run (such as .407 hitter Janae Jefferson and two-time All-Big 12 first-team pick Mary Iakopo) have departed from the roster, giving Day a major amount of pressure to perform against the top-tier arms of the conference.
But the good news for Texas fans is that the in-state product seemingly has grown into whatever role she's been placed in over the course of her UT career, shifting from a pitcher who made a combined 21 appearances in 2020 and 2021 to a long-bomber who can give the team a spark on offense.
If that positive development continues in her fourth year in Austin, the Longhorns will be in good hands.
Oklahoma State Cowgirls
2022: 48-14 (14-4), lost in the semifinals of the Women's College World Series
The lowdown: Cowgirl softball is on a tear, having made three consecutive WCWS appearances for the first time since the 1980s, while inching closer and closer to the ultimate prize - the first national championship in program history - each time.
Unfortunately, their noisy neighbors in Norman have grabbed all the headlines instead, leaving OSU merely wondering what could've been.
Still, this is a team that snatched the Big 12 Championship title from the Sooners by handing them one of their three defeats on the year, after all, and was the juggernaut program's biggest competition in the league all season.
All that is to say that when coach Kenny Gajewski's unit is firing on all cylinders, there are few teams in the country that can stop it.
Featuring a lethal pitching staff (1.86 ERA) that led the Big 12 in strikeouts (557) and a lineup that had the most homers of any non-Oklahoma team (69), the Cowgirls on their day are among the best in America.
The main question is if they finally can push all the way to the top of the college softball totem pole.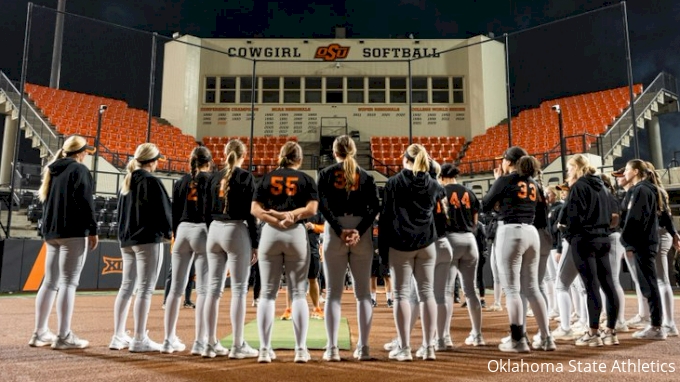 Name to watch: Kelly Maxwell, R-Sr., P
It was going to take a mammoth campaign on the mound for any Big 12 pitcher to challenge star Oklahoma freshman Jordy Bahl for the right to be named the league's best at season's end, and Maxwell more than delivered.
The league's strikeout leader (313) finished the year as a unanimous first-team All-American and the league's Co-Pitcher of the Year with Bahl, cementing her place as one of the top pitchers in the country after a 2021 season in which she broke onto the scene with a first-team All-Big 12 nod.
It was near-impossible for anyone to get a hit off of the Texan - she only allowed 3.51 hits per game and had 11.58 strikeouts per seven innings, both of which were among the top 5 in all of Division I softball - as she had 12 shutouts last year with a 1.22 ERA, adding onto her growing total of no-hitters. She's now responsible for five in her career.
Bound to break some all-time career school records if she keeps up her current pace, Maxwell will be the centerpiece of a great rotation that got an offseason boost with Alabama transfer Lexi Kilfoyl (28-11, 2.06 ERA, 267 strikeouts in 54 appearances with the Crimson Tide) - and one that has its eyes set on hardware in June.
Oklahoma Sooners
2022: 59-3 (17-1), won Women's College World Series
The lowdown: Boiling down what made Oklahoma the dominant force it was last season into just a few sentences is a near-impossible task, as there were just so many eye-popping stats and moments to choose from.
There was the 38-0 start to the season - the greatest start in Division I college softball history.
There was Jocelyn Alo becoming the sport's all-time home run queen on a roster that blasted 155 homers in total, beating OU legend Lauren Chamberlain's previous mark.
And, of course, there were the 59 wins culminating in a second straight national championship, with the Sooners joining UCLA and Arizona in elite company as the only programs to win back-to-back WCWS championships on multiple occasions.
The 10-time defending Big 12 regular-season champions are the favorites in the league once more, and until further notice, but the end goal for legendary coach Patty Gasso and her squad is to hoist the national title in Oklahoma City once again - and become the first team since UCLA from 1988-1990 to three-peat.
𝐀𝐥𝐥 𝐞𝐲𝐞𝐬 on the #Sooners 📺📈#ChampionshipMindset pic.twitter.com/OsbczPTcJT

— Oklahoma Softball (@OU_Softball) June 29, 2022
Name to watch: Grace Lyons, R-Sr., OF
It would be more than acceptable to put "the entire roster" down as the name to watch for the Sooners this year, just because OU simply is loaded to the teeth in every facet of the game.
But, if there's one name in particular that must be chosen for this piece, it's Lyons, who simultaneously is one of the best players in America and doesn't seem to get enough love.
The Arizonan's 23 home runs, 70 RBIs and .401 average last year would've made her by far the No. 1 option in the batter's box on almost every other team in the country. She was third on the team in homers behind Alo and All-American Tiare Jennings.
Also, all-around standouts don't get much better in college softball than Lyons, who pairs her outstanding offensive output with an elite defensive game that has seen her win two straight Big 12 Defensive Player of the Year awards and hold at least a .960 fielding percentage in each of the past two seasons.
There is serious national player-of-the-year potential with Lyons this season if OU makes another deep postseason run - though it's also plausible a Sooners teammate could beat her to the punch, too.