SIAC
Top 10 Hitters In Division II Softball For 2023: Marsteller Setting Pace
Top 10 Hitters In Division II Softball For 2023: Marsteller Setting Pace
College softball has seen an explosion of offense lately, with batters make harder and more frequent contact than ever before.
Jan 14, 2023
by Ron Balaskovitz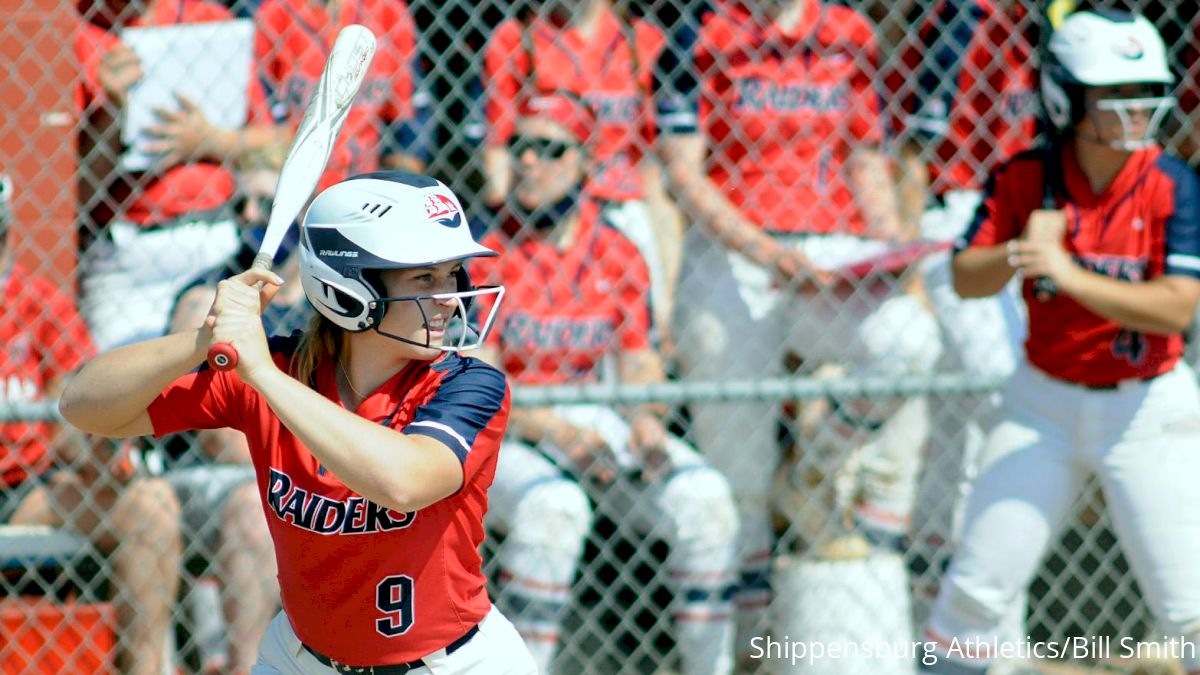 College softball has seen an explosion of offense lately, with batters make harder and more frequent contact than ever before.
That's the case at any level of sport, and especially in Division II softball, where one player did, and a handful of others made runs, at batting .500 in a season.
Today's hitters combine power and contact, striking fear into any pitcher who steps into the circle to face them.
As the 2023 Division II softball season nears its start, here's a look at 10 of the best returning hitters. There will be countless games - many including the names mentioned here - streamed live this season on FloSoftball.
Hannah Marsteller, IF, Shippensburg, Senior
All Marsteller did last season was finish the year as the NCAA champion for batting average and on-base percentage, while also earning back-to-back All-America honors, the Division II Player of the Year Award for the second straight season and pretty much every other award up for grabs.
The senior infielder had a hit in every Pennsylvania State Athletic Conference game last season, on top of finishing the 2021 season on a 10-game streak, meaning she will enter 2023 on a league record 37-game hitting streak in league games.
During last season's 27 games, she hit .516 for the season, the second straight season she topped .500, belting 17 home runs and driving in 61 batters, while also drawing 25 walks.
You name it at the plate, and she can do it.
Marsteller easily is the favorite to claim a third consecutive Division II Player of the Year award.
Kylie Emanuele, 1B, Mount Olive, Junior
Emanuele was a second-team All-America selection last season after finishing second in the nation in batting average at .490 for the year.
In 51 games a season ago for the Trojans, she collected 77 hits, including 35 of them going for extra bases, while collecting 82 RBIs, making her perhaps the most clutch hitter in Division II softball.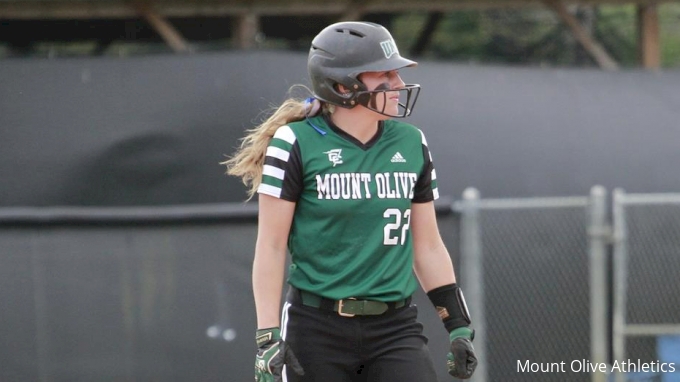 Making her all-fields power even more impressive is how well she controlled the strike zone, drawing walks at a roughly 10% clip, and striking out just 10 times in 157 at-bats.
Emanuele will look to carry the momentum from a scorching close of the season into 2023. She collected 16 hits in the final eight games, including five multi-hit performances.
Millay Lambert, OF, Lane College, Senior
Lane made her Division II debut into a memorable season for the Dragons, finishing among the top 10 in the country in batting average, and utilizing her blazing speed on the bases to terrorize opponents, despite a lack of home run power.
Lambert finished the season hitting .477 with a pair of home runs, but her speed shined, allowing her to collect 13 doubles and six triples, an impressive total on the small field softball is played on.
Lambert also finds a way to get on the bases any way possible. She drew 14 walks and reach base nine times after being hit by pitches. Once on base, she logged 17 steals.
Lambert is poised for an even bigger senior season with a year of Division II experience under her belt.
Olivia Stansbury, UTIL, McKendree, Senior
Stansbury is one of the top returning sluggers in the country, while also showing impressive patience and contact skills.
In her first season at McKendree, Stansbury finished tied for fourth in the country with 20 home runs, helping her drive in a team-best 51 runs. Those 20 home runs, plus another 15 doubles and triples, helped her finish as the Division II leader in slugging percentage at 1.006, third best across all levels of NCAA softball.
Stansbury Earns NCAA Division II National Statistical Championship @McKendreeU @McKendreeSB https://t.co/gxweRH2FQk

— McKendree Bearcats (@McKBearcats) July 12, 2022
And while her power is her calling card - Stansbury finished the year hitting .470 - she also drew 23 walks in 44 games. She finished among the top 10 in the country in on-base percentage.
Those monster numbers earned her multiple All-America honors and has her on the short list for preseason player-of-the-year watchlists.
Sami Edwards, OF, Colorado Christian, Senior
After a pair of solid seasons to start her career, Edwards made the leap last season, going from hitting .328 as a sophomore, to finishing among the nation's leaders in batting average at .474.
And, it wasn't just making soft contact either.
Edwards showed she had power to the gaps and over the fence, totaling 41 extra base hits, including 21 doubles, 10 triples, and 10 home runs.
Her 92 hits in 58 games were the most hits in Division II, including 29 multi-hit games.
Over the first two years of her college career, she had amassed 80 combined hits, with just 14 for extra bases.
With only 15 strikeouts, plus another 20 free passes on top of her hits, Edwards might be the toughest out in Division II softball.
Lydia Goble, SS, Grand Valley State, Senior
Goble earned multiple All-America honors after a junior season that saw her rank among the nation's best in multiple offensive categories, while posting some of the best numbers in GVSU history.
After strong numbers during her junior season, hitting .366, Goble jumped to .465 last season, the second-highest mark in Lakers history, while leading the team with 52 RBIs.
Goble relied mainly on her gap power, collecting a modest six home runs, but roping 17 doubles and three triples as part of her 79 hits on the season.
Goble enters the 2023 season within striking distance of the GVSU career records for hits and runs scored.
Taylor Lambert, UTIL, Pittsburg State, Senior
Despite being just 5-foot-3, Lambert packs a punch and brings speed to the bases, making her one of the most well-rounded players in the country.
In her second season with the Gorillas, Lambert went from a .327 batting average to .461, collecting 77 hits in 51 games.
She's 𝗯𝗶𝗴-𝘁𝗶𝗺𝗲 😤

Congrats to @tttaylor_2 on earning NFCA and D2CCA 2nd Team All-Region Honors!

📰 https://t.co/v4f0hq03YJ pic.twitter.com/NP2xaXoM7G

— Pitt State Softball 🥎 (@Gorilla_SFB) May 12, 2022
While not boasting a ton of power, Lambert connected on six home runs and added another 12 doubles.
What makes her especially tough is her small strike zone, which she parlayed into 25 walks last season, and her speed on the bases. Lambert swiped 26 a season ago, and over two seasons, has 41 steals in 90 games.
Hannah Rose, UTIL, Charleston (WV), Junior
Rose won nearly every honor you could think of last season, being named the Mountain East Player of the Year, an All-Region pick, and a first-team All-America pick after being one of nation's best doubles hitters.
Rose connected for 22 doubles last season, among the top 10 in the country, while adding another 49 hits along, the way to finish the season at .458.
Rose is another player who combines her speed and patience to impact the lineup, rather than hitting balls over the fence. She drew a team-best 30 walks, then grabbed 32 steals.
That combination of speed, gap power and patience also helped her come around to score 52 times, among the top 25 in the country.
Madison Melvin, OF, West Chester, Senior
Melvin posted a .453 average last season, the second-best batting average in Rams history. She collected 77 hits along the way and scored 60 times.
Melvin has little to no power to speak of, collecting just six extra base hits last season, but she proved to be possibly the biggest terror in the country on the base paths, nabbing a PSAC record 56 bases last season, including five in one game against Lincoln (CA) in April. She was caught just four times on the year.
Melvin is also adept at helping keep the offense in motion, posting 11 sacrifices over her career.
Abbie Hlas, P/IF, Winona State, Junior
Hlas earned multiple All-America honors last season, while also earning all-region and all-conference honors. She finished among the top 10 in batting average at .451.
Hlas racked up 81 hits last season, putting her among the nation's leaders, with 26 of them going for extra bases, while striking out just 16 times, making her one of the top contact hitters in the country.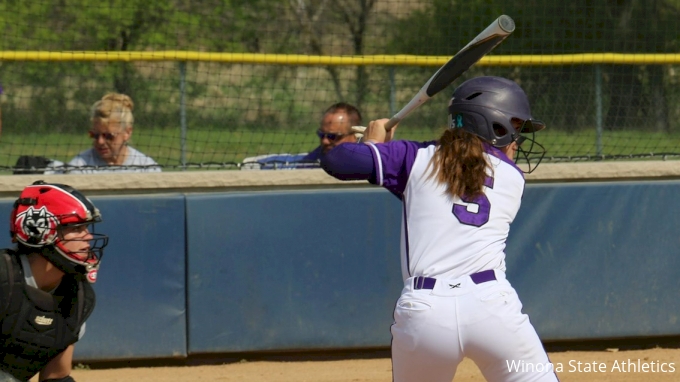 With two years under her belt, Hlas continues to tap into her power potential, raising her slugging percentage by 44 points last season, and her on base percentage by 60 points.
If Hlas continues to build on her first two seasons, she could put herself in the conversation for player of the year when you combine her offensive skills with her pitching duties.