Gulf South
10 Division II Pitchers To Watch In 2023: Tampa Lands Two On List
10 Division II Pitchers To Watch In 2023: Tampa Lands Two On List
While offense has boomed in softball, a key to success remains having dominant arms in the circle. This list includes top pitchers in Division II.
Jan 15, 2023
by Ron Balaskovitz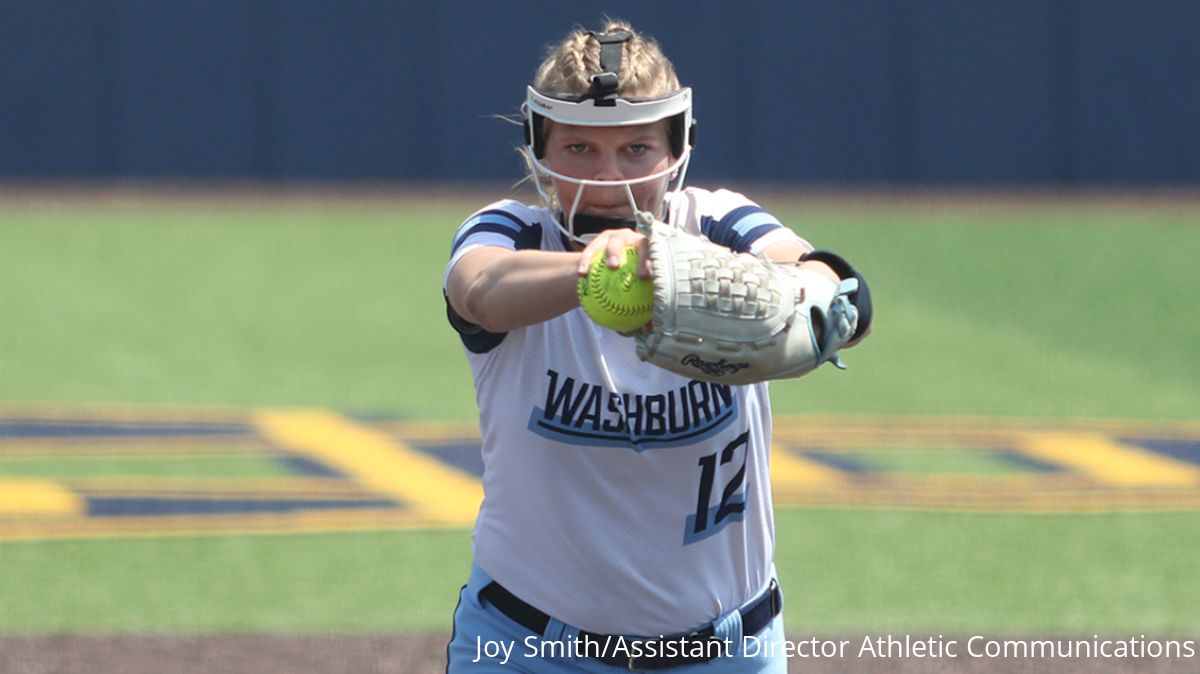 While offense has boomed in softball of late, the key to sustained success remains having dominant arms in the circle.
And while a handful of seniors dominated last season by winning the ERA and individual wins crowns, there was plenty of young talent that left their own marks on the season, and they're now poised to become the top pitchers in Division II softball.
Softball teams are different than their baseball counterparts, which rely on a staff of 10 or more pitchers. Softball teams can dominate with just a couple strong arms.
Here's a look at 10 of the best returning pitchers ahead of the 2023 Division II college softball season. Games will be streamed live on FloSoftball throughout the season, with many featuring the players included on this list.
Jaycee Ginter, Washburn, Junior
Ginter returns for her junior season at Washburn after dominating opposing hitters to the tune of 30 wins last season. It was a school record, tied for the second-most in Division II and the most of any returning pitcher.
She also finished ninth in the country in strikeouts, fanning 290 batters over her 45 appearances.
That domination saw her finish the season with a 1.76 ERA, as opponents hit just .202 off her.
Those numbers helped her earn multiple All-America honors, while being named the MIAA Player of the Year.
As if her pitching stats weren't impressive enough, she also led Washburn at the plate with a team-best 57 RBIs.
Katie Burawski, Bridgeport, Senior
Burawski returns for her senior season as the top strikeout artist in the country. She was second in Division II a season ago, fanning 354 batters over her 38 appearances.
Her ability to miss bats helped hold opponents to a .184 average against her.
Those 354 strikeouts came in 218 innings, helping her go 25-8 with a 1.80 ERA, buoyed by 11 complete-game shutouts, part of her 29 complete games on the season.
Burawski is the definition of a workhorse pitcher, throwing nearly 70% of the innings for Bridgeport last season.
Samantha Richards, Valdosta State, Senior
Richards returns as perhaps the most dominant pitcher in Division II, and someone who took the ball in every situation that was asked of her last season.
She was second in the country in complete games, fifth in the nation in strikeouts with 310, fourth in the country with 28 wins and was named to multiple All-America lists, while earning the Gulf South Conference Pitcher of the Year honor.
She finished the year with a mark of 28-10, giving up just 60 earned runs in over 250 innings of work.
In addition to her dominance as a starter, Richards also showed she was capable of closing out games, notching three saves as part of her 43 appearances.
Mary Beth Feldman/Mariah Galhouse, Tampa, Junior/Senior
OK we're cheating here and combining Feldman and Galhouse into one, but the two split innings last year in a roughly 60-40 split that saw Galhouse toss around 50 more innings, but both were equally as dominant.
Give it up for Mary Beth Feldman as she was honored as the national leader in ERA, finishing the season with a 0.69 ERA 👏#StandAsOne⚔️🛡 pic.twitter.com/Hi4LdZ7dAU

— Tampa Softball (@Tampa_Softball) August 30, 2022
Feldman is the returning ERA champion in Division II. She gave up 11 earned runs in her 112 innings for a microscopic .69 ERA, while Galhouse, conceded just 25 earned runs in her 163 innings for a 1.07 ERA, eighth best in the country.
Two pitchers, who combined for less than a run against per game, makes this Tampa pair the best 1-2 punch in Division II softball coming into 2023.
Hannah Beatus, Grand Valley State, Senior
Beatus earned second- and third-team All-America honors last season, as well as GLIAC Pitcher of the Year honors, following a season that saw her finish among the top 5 in the country in ERA at 0.97.
The redshirt senior hurled four no hitters, including one perfect game, on her way to a 21-5 mark, which saw 24 complete games and 11 shutouts.
Perhaps most impressive was her ability to limit hard contact, giving up just 17 extra base hits for the year, while also holding batters to a .155 mark against her.
With a loaded Grand Valley team behind her, Beatus and the Lakers could be poised for a deep run after last season's trip to a Super Regional.
Kenzee Smith, UIndy, Junior
After a dominant freshman season, where she went 23-2, Smith returned with another 36 innings as a sophomore. She hit 25 wins for the year for the University of Indianapolis, while also finishing among the top 10 in the country with a 1.08 ERA over 38 appearances.
Smith also made a huge jump in strikeouts, fanning 247 batters last season. It was the 12th-most in the country and saw her opponents' batting averages dip to .155 against her.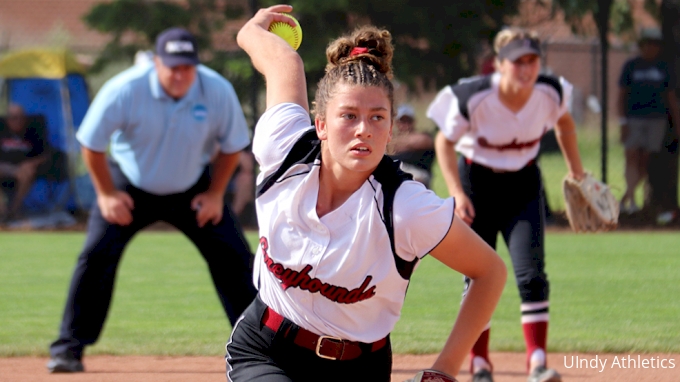 Add in 10 shutouts to go with 23 complete games, and Smith showed her ability to work deep into games.
Entering 2023, Smith will be leaned on even more by the Greyhounds, who have dreams of getting past the Midwest regional round this season.
Kristina Bettis, Drury, Senior
Perhaps the most imposing pitcher on this list, Bettis steps into the circle at 6-foot-2 and dominates hitters in a variety of ways.
Her 2022 season was perhaps the best in Drury history, and it was made even more impressive by the fact that it was her first season at the NCAA level.
She set school records for innings pitched (214.2), complete games (26), strikeouts (271), wins (24) and ERA (1.08). She also set single-game records for strikeouts, with a 16-whiff performance.
Bettis held batters to just a .140 mark against her, which earned her first-team All-America honors, Midwest Pitcher of the Year and the GLVC Pitcher of the Year award.
Bettis enters 2023 with a strong case as the preseason Pitcher of the Year nationally.
Claire Fon, Adelphi, Senior
After two seasons that saw her make just 19 appearances and one start in the circle, Fon made the huge jump and was a second-team All-American last season, while being named first-team All-Region, the D2CCA Pitcher of the Year and the Northeast 10 Pitcher of the Year.
The highlights of her 2022 season included a perfect game in March, leading the team and the Northeast 10 in wins at 24 and leading the league with a 1.12 ERA, finishing 11th in the country.
Fon is another pitcher who relies more on movement and control than pure power. She struck out 176 batters in 199.2 innings and gave up just 18 extra base hits for the season.
With a season of experience as the main starter for Adelphi now under her belt, bigger things could be in store for Fon in 2023.
Lauren Rakes, Lenoir-Rhyne, Senior
Rakes was one of the most overpowering pitchers in the country last season, finishing with 305 strikeouts in just 194 innings. She became the second pitcher in Lenoir-Rhyne history to break the 300-strikeout mark.
She had 16 double-digit strikeout games last season, including fanning 17 in a relief appearance, as well as a no-hitter against Tusculum in the opening round of the South Atlantic Conference Tournament.
🚨🚨🚨 No-Hitter Alert!!!!! 🚨🚨🚨@lauren_rakes22 throws the 20th no- hitter in team history.

Rakes allowed just two walks while striking out 13 Pioneers in just the second ever post-season no-hitter for the Bears. pic.twitter.com/H6aVlXyM4y

— #GOBEARS (@LRbears) April 29, 2022
She earned multiple All-Region honors, as well as six SAC Pitcher of the Week awards on the way to a 21-5 season.
If there's one thing that plagues Rakes, it's home runs. She gave up 17 long balls last season, despite opponents hitting just .181 against her.
Ashley Worrell, Rollins, Graduate Senior
Worrell earned third team All-American honors last season in addition to being All-South Region, and a first team all-league pick for Rollins after being the Sunshine State Conference's Pitcher of the Year.
Worrell hurled 16 complete games, including a no-hitter against Embry-Riddle. Her 1.27 ERA ranked among the top 15 in the country, helping her to 16 wins on the season, putting her one away from 60 for her career.
Worrell is another pitcher who is unafraid of opponents putting the ball in play, and with good reason, she conceded just 15 extra base hits last season, and saw batters hit just .175 off her despite facing over 700 batters.