2023 Mary Nutter Collegiate Classic
'Cats & Dog: Erin Coffel And Kentucky Can Ride Positive Energy To A Big '23
'Cats & Dog: Erin Coffel And Kentucky Can Ride Positive Energy To A Big '23
Erin Coffel earned All-American recognition and became a dog owner in 2022. The good vibes continue for her and the rest of the Kentucky Wildcats in 2023.
Jan 19, 2023
by Kyle Kensing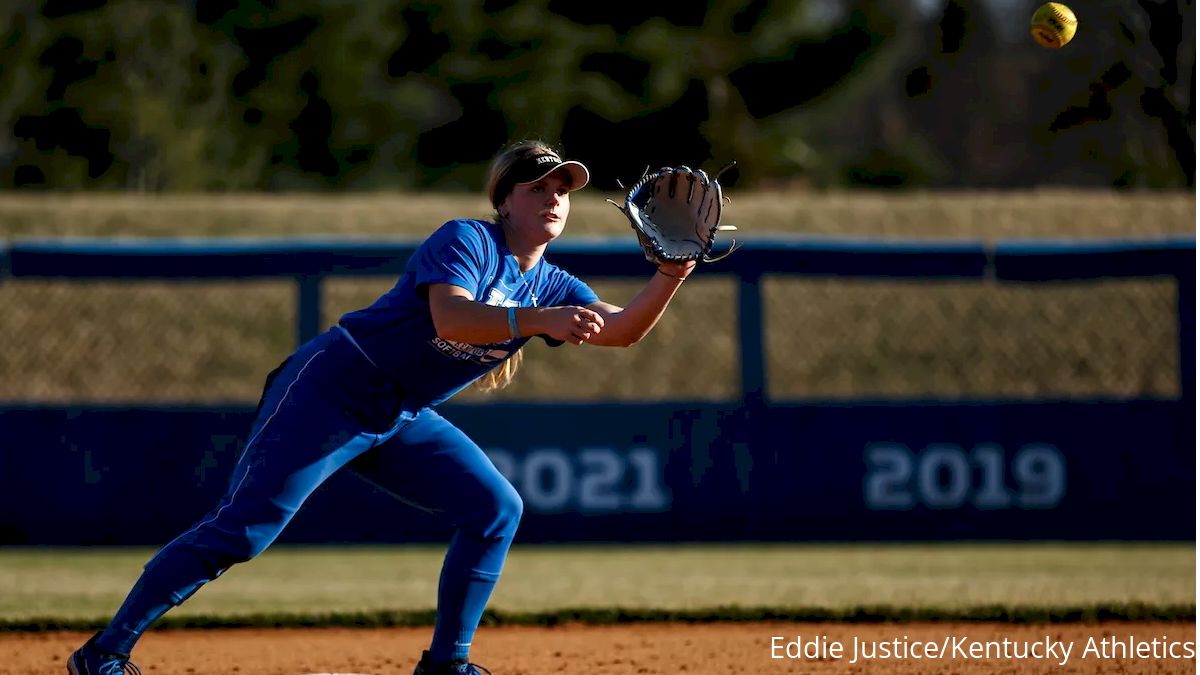 Kentucky shortstop Erin Coffel added a variety of positives to her life in the 2022 season: 1st Team All-Southeastern Conference honors, just the sixth All-American nod in UK program history, and a golden retriever named Jack.
Juggling caring for a pet with college responsibilities is a serious undertaking, say nothing of doing so as one of the best softball players in America with designs on a Women's College World Series.
"I cannot do it without my friends' help," Coffel said. "I live with Kayla Kowalik and Steph [Stephanie] Schoonover, and without them, I really don't think it would be possible."
Jack, who Coffel said became part of the household last season during Regionals, has been "very good for our mental and emotional health." That infectious good vibe inherent with owning a dog serves as a fitting parallel for the energy Coffel describes surrounding the 2023 Kentucky team.
"I think this team is pretty special," she said. "We are a new team, and we get along very well on and off the field."
Coming off a 37-win campaign in 2022, the Wildcats head into 2023 looking to build from a finish in last spring's Regionals. Coach Rachel Lawson oversees a roster that replaces some key contributors, including Lauren Johnson, Tatum Spangler and Renee Abernathy, but retains a solid corps of returners.
Chief among the corps is Coffel, who had a monster season at the plate: .423 batting average, an .871 slugging percentage, 20 home runs to tie for 13th-most in the nation. Her offensive performance was more than enough to justify the All-American recognition. For Coffel personally, however, her defense was a point of emphasis.
"Starting as a freshman in the SEC is not an easy task, not an easy challenge. But I felt like I kinda let my teammates down in a way [as a freshman in 2021], the way I played defensively and the way I let each play affect my game if I made an error or something like that," she said. "That's the game of softball, you're going to make errors, but I just didn't want to have that feeling again."
Coffel batted .337 as a freshman and belted 16 home runs — a fitting introduction to the college game for the holder of Indiana's state record for most round-trippers. But she went into 2022 seeking to cut down on the 17 errors she committed the season prior, and delivered with 12 as a sophomore.
Erin Coffel (@erincoffel5)
FR INF | Kentucky
2nd Team All-SEC

2021 HR Count: 16 (Tied for #37)https://t.co/GpL7B5SSEW pic.twitter.com/7oMb2FQquy

— Softball GIFs (@SoftballGifs) June 14, 2021
Improving her defensive performance further in 2023 promises to make one of the most fearsome hitters in the game one of its most all-around dangerous players this year. And in pursuit of a trip to the WCWS, Coffel will have plenty of help — including from Kowalik and Schoonover.
Schoonover struck out a team-high 68 in 23 appearances last season, pitched four complete games, and limited opponents to a .242 batting average. Kowalik joined Coffel as a 1st Team All-SEC and All-American honoree, batting .420 and stealing a team-best 17 bases.
The veterans join an influx of young talent, with Kentucky's 2022 signing class ranked No. 7 nationally in the Hot 100. It's a group that includes Lauryn Borzilleri, Extra Innings Softball's 15th-ranked prospect; Chelsea Mack, the No. 19-ranked prospect of this year's freshman class; and No. 22-ranked Karissa Hamilton.
"We have a lot of energy as a team," Coffel said. "We just have fun together. It's new, it's something I haven't felt before with another team...Our energy, it's unlike anything I've ever played with."
Whether it's taking Jack on walks or trotting the bases getting on bases before a home-run blast, Erin Coffel has plenty of help and no shortage of good vibes from her Kentucky teammates.