2023 Puerto Vallarta College Challenge
Kelly Maxwell Hopes To Lead A New Crop Of Cowgirl Pitchers To Glory
Kelly Maxwell Hopes To Lead A New Crop Of Cowgirl Pitchers To Glory
When asked what types of expectations she sets on herself as one of the pillars of a new age of Oklahoma State softball, Kelly Maxwell's mantra is simple.
Jan 19, 2023
by Briar Napier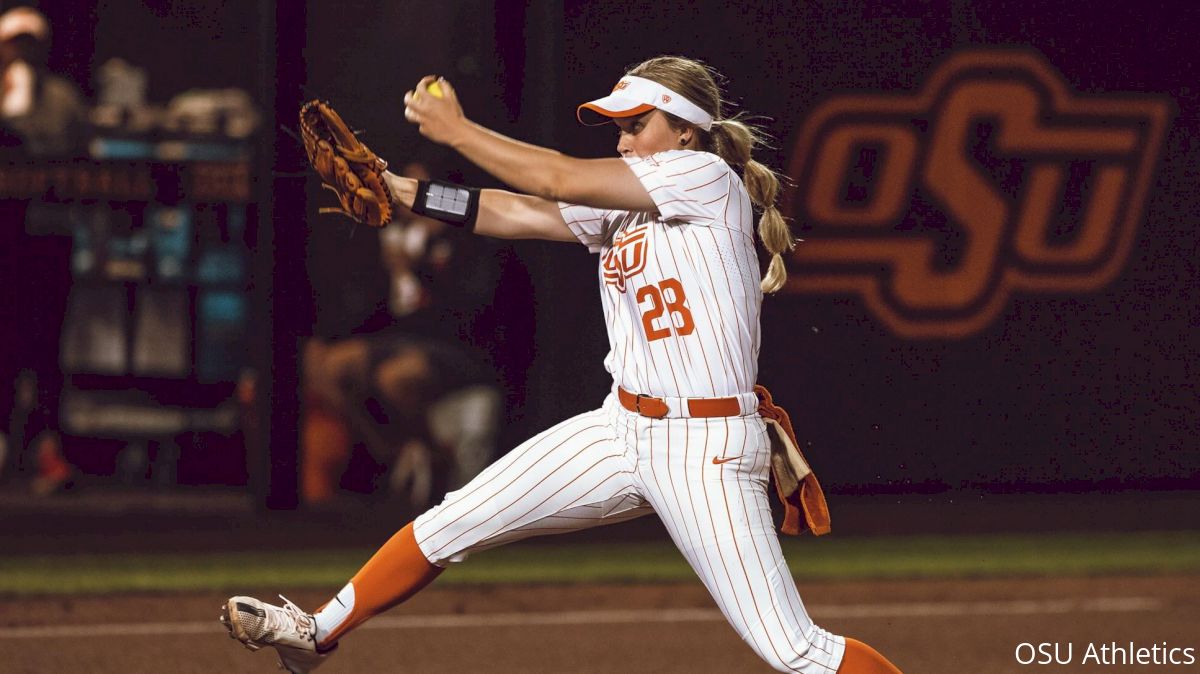 After helping set Oklahoma State softball's standard, Kelly Maxwell hopes to lead a new crop of Cowgirl pitchers to glory.
When asked what types of expectations she sets on herself as one of the pillars of a new age of Oklahoma State softball, Maxwell's mantra is simple, yet has rung true in Stillwater since she arrived.
"I'm just wanting to leave it better than I found it," she said.
The Cowgirls are better with Maxwell, all right - the 2022 NFCA first-team All-American's arrival and subsequent career has coincided with arguably the most successful period in the school's softball history.
Maxwell, the reigning Big 12 Co-Pitcher of the Year with Oklahoma freshman phenom Jordy Bahl, was the ace in an OSU rotation that helped the Cowgirls make the Women's College World Series last season for the third straight year (not counting the pandemic-canceled 2020 season).
The final #D1Softball Pitcher Power Rankings, headlined by the aces of @CowgirlSB and @USFSoftball in Kelly Maxwell and Georgina Corrick.https://t.co/fkyVf8yw97

— D1Softball (@D1Softball) June 28, 2022
The run marks first time the program has made it to the top stage in college softball three tournaments in a row.
Having never played in a national-championship series across 10 all-time WCWS appearances, Oklahoma State was agonizingly close again in 2022, losing in the semifinals as the No. 7 overall seed. They were beaten twice by Big 12 rival Texas.
OU then outscored the Longhorns 26-6 in two games to repeat as national champion, leaving Maxwell and the rest of the OSU squad wondering what could've been.
Still, if you ask Maxwell (now a redshirt senior entering the 2023 season), the team's mentality shifted dramatically from her first day on campus to the semifinal defeat.
While qualifying for the WCWS formerly was a dream, it now has turned into the program's benchmark for success, and the team doesn't plan to stop its dreams there.
"From when I started back in 2018, it was like we never really thought we could get to the World Series and things like that," Maxwell said. "It'd be like, 'Oh, it'd be cool to get there,' and then whatever. ... And I think our seniors that were here last year and this year, too, we've made it now (enough times) that it's not just the standard. Getting there (to the WCWS) is the expectation, but the standard is to take it all, and to win it."
Oklahoma State certainly has the talent to be in the hunt to win it.
The Cowgirls were ranked No. 3 in the D1Softball Top 25 released earlier this week, landing behind fellow contenders UCLA and Bedlam rival Oklahoma, which is hunting to be the first college softball team to three-peat since the Bruins did so from 1988-1990.
The Sooners finished a record-smashing 59-3 in 2022, and one of those defeats came at the hands of the Cowgirls, who picked up an eight-inning 4-3 win over OU in the Big 12 Softball Championship title game to spoil a Sooners Big 12 double.
Maxwell started the matchup against the mighty Oklahoma lineup and allowed one earned run on four hits in three innings. Morgan Day came on in relief and went the rest of the way, holding off the Oklahoma offense long enough for OSU to grab a historic extra-inning win and the first Big 12 softball title in program history.
Of all the possible silverware Oklahoma could've won in 2022, the Cowgirls made sure that at least one trophy eluded their rivals - and confirmed they're not to be taken lightly for the foreseeable future.
"We want to have that steady incline, through conference and things like that," Maxwell said. "So that when you do get to the Big 12 Championship game and the tournament and the postseason and things like that, we're still on that incline and haven't hit our best yet until that time."
Turns out @TeamUSA agrees… @kellymax28 is elite 🇺🇸🤠 #MovingForward | #GoPokes pic.twitter.com/iwmmoLwelc

— OSU Cowgirl Softball (@cowgirlsb) September 8, 2022
Besides being one of the nation's top returning pitchers, coming off a 21-5 record, 1.22 ERA and 313 strikeouts, there's a bit of an additional role for Maxwell this year: getting the Cowgirl rotation's new cogs up to speed.
Day now is on the OSU coaching staff as a graduate manager, while fellow All-American and unanimous All-Big 12 first-team selection Miranda Elish (13-4, 2.09 ERA in 104 innings in 2022) also has graduated. That leaves sophomore Tatum Clopton (nine innings last season) as the only returning pitcher, besides Maxwell, to have any experience on the mound for the Cowgirls.
This program gave me everything and more in a single year. I'm grateful for every experience and friendship I made along the way. Can't thank you enough for the opportunity of a lifetime @OSUcoachG @CowgirlSB, representing OSU has been the biggest honor. Forever a Cowgirl 🧡 https://t.co/tHBJKx6rAU

— Morgan Day (@MorganDay_29) June 7, 2022
The departures meant that coach Kenny Gajewski and his staff hit the transfer portal hard, and OSU seemingly has found some gems.
Alabama transfer and senior Lexi Kilfoyl (28-11, 2.06 ERA, 267 strikeouts in 54 appearances with the Crimson Tide) has deep postseason runs in her bag, having been part of the 'Bama pitching staff that made the 2021 WCWS, while Virginia Tech transfer Ivy Rosenberry (8-4 in 23 appearances for the Hokies) has been part of a Tech team that won a combined 83 games the past two seasons, while having plenty of room to grow as a junior.
Maxwell also spoke highly of freshman hurler Kyra Aycock, an elite pitching recruit from Georgia who could make a difference for the OSU rotation down the line.
Ultimately, Maxwell has been tasked with showing all the new faces exactly what top-tier pitching looks like.
"I'm able to work with them and show them the way, but also I think everyone brings something different to the table," Maxwell said. "It's awesome that I've kind of been able to work with them all, just kind of show them the ropes and how things are done here."
How things are done in Stillwater, as Maxwell alluded to previously, has changed in recent years. Goals are different. Dreams are loftier.
Culture shifts don't happen overnight, rather they are sustained and snowballing good habits and tendencies that eventually translate to historic endeavors. Oklahoma State softball rarely has been a doormat, but the best of the best? It hasn't happened yet.
Love seeing you do what you do K-max🫶🏼 you're a superstar!!!! @kellymax28 https://t.co/DqWYzlnD4t

— Taylor Tuck (@TaylorTuck5) June 5, 2022
Even if a national title doesn't arrive this season - though it might just be the Cowgirls' best shot in decades to get one - the path Maxwell helped forge likely has laid a sound foundation for OSU softball to build off of for years to come.
That, unquestionably, is leaving a place better than how you found it.
"I think that's why people want to come here," Maxwell said. "We have a culture that makes it deep in those (postseason) runs, but we also care for each other as people outside of softball, and so I think they're just very appreciative of being valued as a person outside of softball. I think that is what's going to carry them and to more buy-in and things like that to make it far."