2023 Mark Campbell Collegiate Invitational
ACC Softball Preview: Upstarts Duke, Clemson Challenge The Old Guard
ACC Softball Preview: Upstarts Duke, Clemson Challenge The Old Guard
It took time for elite college softball to reach the East Coast, but once it arrived, the ACC schools didn't hold back from building juggernaut programs.
Jan 20, 2023
by Briar Napier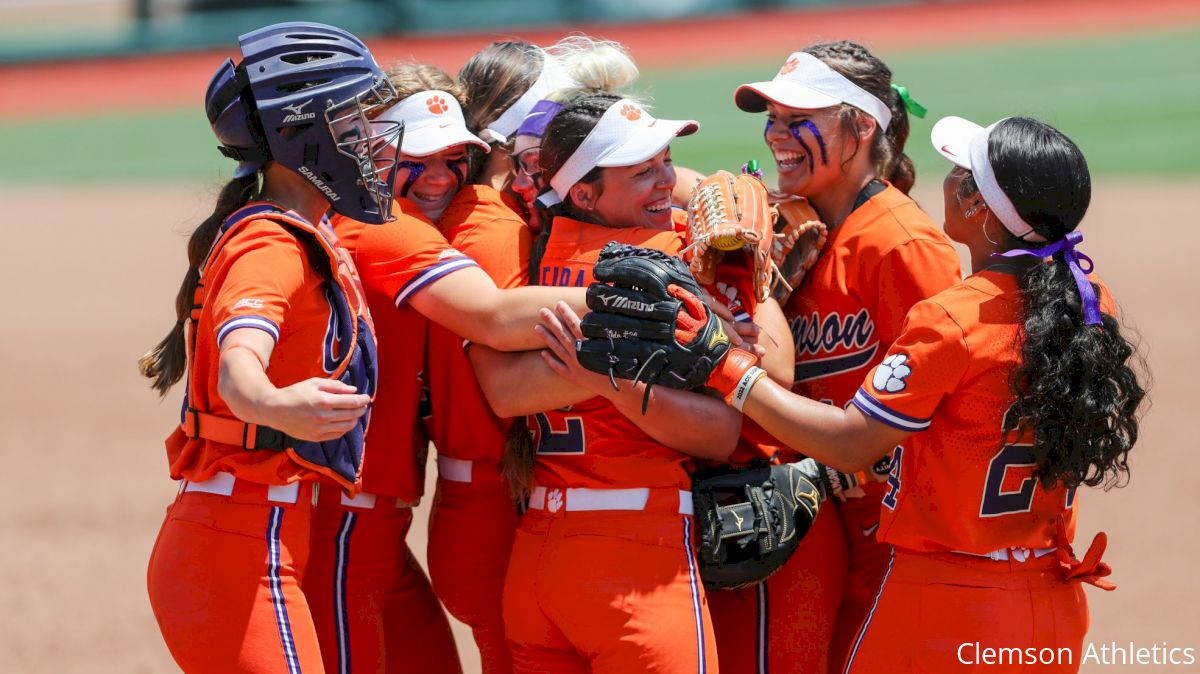 It took some time for elite college softball to reach the East Coast, but once it arrived, certain programs didn't hold back from building juggernaut programs.
Among those considered to be the softball powerhouses east of the Mississippi River, some have applied their trade in the Atlantic Coast Conference – a league unlike many others in sports today.
A mix of programs with decades of history in softball, programs founded in the past decade and everywhere in between, the ACC has produced a national champion (Florida State in 2018) in the past, plus six bids to the 2022 NCAA Tournament, the fourth-most of any league in the country.
That winning tradition is steeped in years of hardware that's ever-growing, especially as those building programs from the ground up get opportunities to know what success tastes like.
But, before any trophies can be won, those same programs must survive and outlast each other in the increasingly harder gauntlet that is ACC play.
Buckle up for the ride ahead, because the matchups aren't likely to get much easier as time goes along.
Here's a team-by-team preview of the ACC softball slate for the upcoming season,
with games featuring many of the teams listed below being streamed live throughout the season on FloSoftball.
Pitt Panthers
2022: 14-27 overall (2-20 ACC), no postseason
The lowdown: While the top 10 teams from the ACC's regular season last year duked it out in the ACC Tournament at Pitt's Vartabedian Field, the Panthers were left having to watch the festivities from their own grandstands.
With the least-potent offense (.249 team average) and second-leakiest pitching rotation (4.54 team ERA) in the league a year ago, Pitt didn't earn consecutive wins against ACC opponents all season (though the Panthers did pick up a shocking 7-5 win over national title contender Florida State in early March).
Pitt was nailed to the bottom of the conference standings throughout much of the year, losing its final seven ACC games.
The monumental win over the then No. 3-ranked Seminoles – Pitt's highest-ranked win in program history – was a fun moment, but by and large, there was little for the Panthers to cheer about in 2022.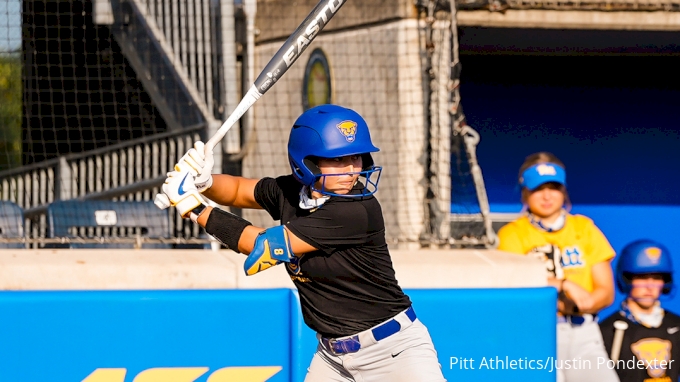 Name to watch: Kat Rodriguez, Sr., INF/OF
Rodriguez hasn't played an official college game at Pitt since transferring from Quinnipiac in the 2021 offseason, which especially hurt the Panthers last season, as they could've really used the Florida native's prowess in the batter's box.
Primarily playing at third base in her last stop, she led the Bobcats in batting average (.352) and OPS (.880) on her way to an All-Metro Atlantic Athletic Conference second-team selection in 2021.
She couldn't suit up for the Panthers last year due to NCAA transfer rules forcing her to sit out.
Exhibition games in the fall gave Pitt a glimpse at who they have in Rodriguez, however, particularly after she blasted a home run in an October win over Division II Glenville State.
She's likely to be a key addition to the lineup, as Pitt attempts to climb out of the ACC cellar.
Boston College Eagles
2022: 20-27 (6-18), no postseason
The lowdown: Boston College softball is 20 years removed from its last NCAA Tournament appearance, and as of right now, it looks a long way removed from finally getting back to that point, too.
The Eagles had their moments in the regular season, including wins over Florida State and Georgia Tech in league play, but BC lacked the oomph in its bats and a consistent ability to get runners aboard to keep up with most opponents, finishing last or near-last in the ACC in team home runs (29), RBIs (141), slugging percentage (.389) and walks (90).
In addition, there's now a major leak in the lineup the Eagles will need to plug soon, as two-time All-ACC nod Ellie Mataya (.327 batting average in 162 games at BC) moved to Michigan in the offseason as a grad transfer.
At least graduate pitcher Susannah Anderson, the Eagles innings leader in each of the past four years, has stuck around to give the rotation a bit more stability.
Coming in at #2 on our New Years countdown of top plays and moments from last season, we have @hannahslike1's go ahead three run homer against NC State!! #ForBoston🦅 pic.twitter.com/YVisxZq0Ir

— BC Softball🥎 (@BC_Softball) December 30, 2022
Name to watch: Hannah Slike, Soph., C/UTL
One of the bright spots in an Eagles offense that didn't have a lot of them in 2022, Slike first earned her way into the team's starting lineup (being one of just three players to start every game) and then earned her way to the ACC All-Freshman team as a catcher and designated player combo for BC.
The future is bright for the Californian.
She emerged as a reliable offensive option for the Eagles, despite her youth, as she led the team in a multitude of offensive categories at season's end, including extra-base hits (19), RBIs (23) and total bases (76), while also being a steady hand with the glove, finishing seventh in the ACC in fielding percentage (.992).
If Slike is due for another jump forward in the second year of her college career, BC's lineup could be one of the more improved units in the league.
North Carolina Tar Heels
2022: 23-28 (6-18), no postseason
The lowdown: What did you do with your summer?
Well, at North Carolina, legendary head coach Donna J. Papa officially became the longest-tenured active softball head coach with a single program in Division I. The designation came after the retirement of hall-of-fame Michigan coach Carol Hutchins (who had her beaten by a year, with Papa starting in Chapel Hill in 1986).
At the same time, redshirt junior pitcher Kianna Jones became what is thought to be the first female to be a head coach in a summer collegiate baseball game.
Off-field achievements aside, however, it has been a bit of a rough patch for the Tar Heels on the diamond recently.
UNC's six ACC wins were the program's fewest in a (completed) season since 2004, hurt by the fact that the Tar Heels had, by far, the league's weakest rotation. The pitching staff posted a sky-high 5.31 team ERA, while allowing 72 home runs, 20 more than the next-closest conference school.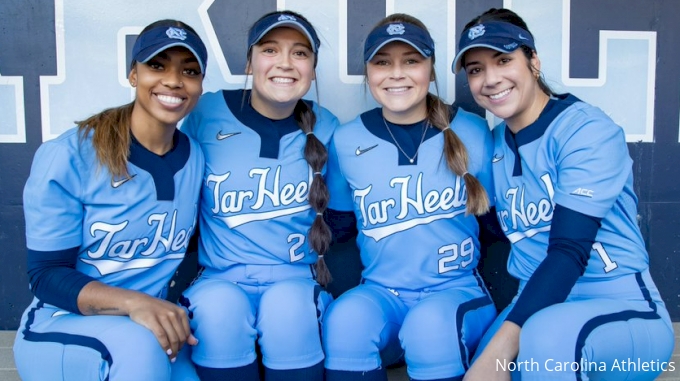 Name to watch: Bri Stubbs, Sr., OF
Stubbs' first collegiate hit came on her first at-bat in the pandemic-shortened 2020 season, and it happened against an elite Alabama squad. The Georgia native has been finding ways to get on base for North Carolina ever since.
Primarily a center fielder, Stubbs started every game for the Tar Heels last season, while leading the team in walks (30), runs (38) and on-base percentage (.477). She batted .355 on top of it, slugging away for a team-best four three-hit games in the process.
But Stubbs' value on defense is better than almost any other player in the ACC.
Facing 78 chances in center, Stubbs finished with a perfect fielding percentage. She didn't commit a single error and was one of only three players in the whole league (minimum 50 attempts) to be completely unblemished defensively.
If a bounce-back year is ahead for UNC, watch for Stubbs to likely be a major piece behind it.
NC State Wolfpack
2022: 33-23 (7-17), lost in ACC Tournament
The lowdown: A blistering 26-6 record in nonconference play was counteracted by an inability to get much going once the league slate arrived.
The Wolfpack picked up consecutive victories in ACC play only once, before the final qualifier to the conference tournament quickly was dispatched by Georgia Tech in the first round.
That's a bit of a shame, too, as NC State was downright fun to watch at times.
Only behind Duke across the league in home runs with 82 – and featuring a feared power hitter in now-graduated third baseman and All-ACC second-team pick Logan Morris (14 home runs, 46 RBIs) – the Wolfpack's offense was awesome, right up until realizing it was paired with just a .225 team batting average in conference play.
And, considering the pitching staff (5.91 team ERA in ACC play) struggled in the latter stages of the season, as well, NC State became doomed for a swift postseason exit.
𝙎𝙚𝙖𝙨𝙤𝙣 𝙤𝙣 𝙤𝙪𝙧 𝙢𝙞𝙣𝙙.#GoPack pic.twitter.com/mVGUtfsMNp

— NC State Softball (@PackSoftball) January 6, 2023
Name to watch: Rebecca Murray, Gr., OF
What does a team do when it loses large chunks of its offensive production in the offseason? In this age of extra seasons of eligibility and plenty of talent finding its way to the transfer portal because of it, teams often quickly poach shiny new pieces from other schools.
Case in point, Rebecca Murray.
With Morris, Carson Shaner (11 home runs), Brittany Jackson (.303 batting average) and others now out of the Wolfpack program, Murray has been brought in from Elon to try and bring a jolt of adrenaline to a lineup that's going to be trying to find a way to navigate around all the lost production.
Fortunately for NC State, Murray proved herself to be extremely talented with the Phoenix, picking up an All-Colonial Athletic Association first-team honor in 2022, after setting career highs in slugging percentage (.525) and doubles (13), among other statistics.
Speedy on the basepaths (26 stolen bases), Murray also will bring a new edge to an offense that had just 27 swipes as a team last year.
Syracuse Orange
2022: 26-21 (7-15), lost in ACC Tournament
The lowdown: Much like NC State, Syracuse showed plenty of promise against nonconference opposition but often found itself falling a bit short against its league foes.
That's especially evident when comparing the Orange's ranks among the ACC, when factoring in non-league matchups, versus limiting the range to only conference games.
SU, in the former setting, ranked seventh in both team batting average (.274) and ERA (3.41).
But under the latter stipulation, when factoring only conference opponents, Syracuse ranked last in batting average at .213, while the ERA took less of a turn for the worst at 4.18. However, it still bumped the Orange down a spot to eighth across in the ACC in the category.
It's an important developmental year ahead for coach Shannon Doepking, as all things considered, it still was Syracuse's first winning campaign across a full season since she was appointed to the role in 2018.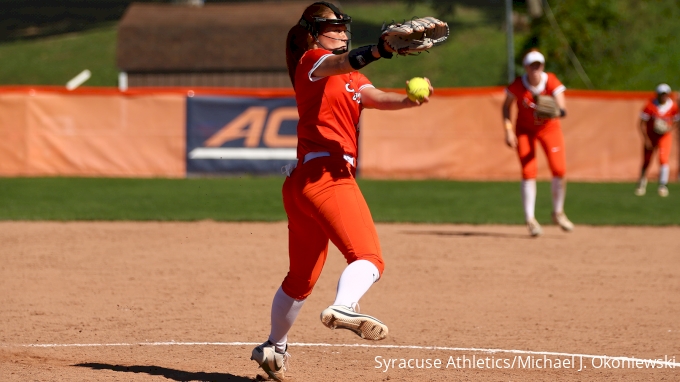 Name to watch: Lindsey Hendrix, Jr., P
The upcoming year is an important one for the Floridian, as she's likely the Orange's ace by default in the preseason, considering that no other returner threw over 50 innings for Syracuse last year, and two of the four total hurlers on the current Orange roster are freshmen.
Nonetheless, Hendrix makes for a good centerpiece for what was a solid SU rotation in 2022 – a great option to build around and prosper.
The left-hander had a strong sophomore campaign, growing as a college player. She was 9-6, while leading the team with a 2.62 ERA and 95 strikeouts across 98⅔ innings.
Her performances in league play potentially will be a big determinant in just what the Orange's direction will be this season – whether that's middling around the ACC table before a quick postseason elimination, or seriously competing with the top-tier programs of the league, especially as Syracuse softball seeks its first NCAA Tournament trip in over a decade.
Louisville Cardinals
2022: 27-25 (10-14), lost in ACC Tournament
The lowdown: Battered and bruised while going through the grind of a tough schedule, Louisville had season-ending injuries to three starters, yet still emerged through all the adversity to close the year with a winning record, a testament to the program-building abilities of fifth-year coach Holly Aprile.
Aprile had similar success in leading league rival Pitt to the only NCAA Tournament appearance in program history in 2015.
Victories over Arkansas and Clemson were the highlights for Louisville last season, but a return to the NCAA Tournament for the first time since 2019 wasn't in the cards for the Cards, as a 3-8 record down the stretch, along with some narrow and extra-inning defeats, had UL on the outside looking in.
Former star outfielder Carmyn Greenwood did have a heck of a season, before she closed the show on her college career, however, earning a third-team All-America. It was her second straight season batting at least .400.
.@taayyroby13 pitching a 💎 as she records her third K of the day

Still tied at zero through the top of three#GoCards pic.twitter.com/gHQXKQ6VYs

— Louisville Softball (@LouisvilleSB) April 10, 2022
Name to watch: Taylor Roby, Gr., P/DP
Roby is as good at frustrating hitters in the circle as she is at taking advantage of pitching mistakes in the batter's box.
She is a two-way dynamo for the Cardinals who brings arguably more all-around value to her squad than any other player in the ACC.
First, let's talk about the in-state product's prowess on the mound.
She was the workhorse of UL's pitching staff a year ago and led the team in innings pitched at 170 1/3.
Roby often was a calming presence for a rotation that had its struggles last year, and she finished with a 15-11 record, a team-best 3.37 ERA (among qualifying pitchers) and 10 complete games.
Then there's Roby's raw power with the bat.
She finished with a team-high 15 home runs, with 45 RBIs and .592 slugging, as she was able to switch from a pitcher's mindset to a hitter's one with relative ease.
With Greenwood now gone, it only makes Roby's importance to the program that much greater this time around.
Georgia Tech Yellow Jackets
2022: 38-18 (11-13), lost in Gainesville Regional
The lowdown: The Yellow Jackets' 2022 season was all about setting new benchmarks.
For instance, Tech won at rival Georgia for the first time since 2007, had its most wins in a single season since 2011 and, most importantly – entering the season with a decade having passed since it last played in the NCAA Tournament – finally returned to the national postseason last season.
The Jackets won a game in their regional, before being eliminated with losses to host Florida and Wisconsin.
Led by sixth-year coach, Tech alum and highly decorated former standout shortstop Aileen Morales, the challenge for the Jackets now is to keep the good vibes going in an ACC that's set to be brutal once again.
There's an exciting core that made its presence felt a year ago on The Flats, however, leaving it to be believed, for now, that the exciting new era of Tech softball could be here to stay awhile.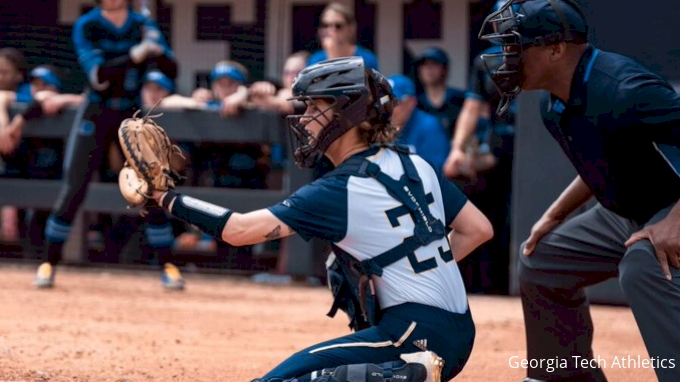 Name to watch: Emma Kauf, Sr., C
When building a program, bringing in players who eventually turn into program-changers is crucial to both the team's short- and long-term growth.
Kauf, as she's proven for Tech the past two seasons in helping take it to high heights, is that program-changing type of player.
A two-time reigning All-ACC first-team selection at catcher, the Nebraskan had career highs in 2022 in batting average (.360) and RBIs (37), among other statistics, but especially caught attention for her elite ability and affinity for doubles, finishing tops in the ACC and second in the country with 25 on the year.
Also, it's a big risk to try and run on Kauf when she's behind the plate – she caught 11 runners attempting to steal on the year, recording a .986 fielding percentage on top of it, too.
The league's best backstop very well could earn a third first-team selection this year, and if Tech rockets to the upper echelon of the ACC, maybe there's a dark-horse ACC Player of the Year run in the mix, too.
Virginia Cavaliers
2022: 28-26 (13-11), lost in National Invitational Softball Championship
The lowdown: The only ACC team with a winning league record that couldn't also say it finished its season in the NCAA Tournament, Virginia – after its best season since the program's last national postseason appearance in 2010 – still can be plenty proud of the strides it made as a unit.
After all, the Hoos tied their all-time single-season record for conference wins and had their first winning season since 2012, even if they came up just short of testing their might in a regional.
Still, a .252 team batting average (second-lowest in the ACC) limited Virginia's potential offensive firepower if it found itself in a hole, while the pitching staff allowed a lot of extra-base hits – 92 doubles, 40 home runs and 18 triples, to be exact, often leaving the Cavaliers prone to having to respond to a big play (or two, or many) in the next half-inning.
Extra Inning Softball has started releasing it's preseason top player lists and Jenny Bressler is among the top 100 overall players, while Leah Boggs is among the top 25 catchers.#GoHoos | #OnTheRise | #HoosNext https://t.co/UE5dKJUGP3

— Virginia Softball (@UVASoftball) January 18, 2023
Name to watch: Jenny Bressler, Gr., P
Speaking of finding ways to shut down offensive firepower and buy time for the lineup to produce, how does getting the Mountain West Conference's all-time leader in winning percentage sound in making that happen?
Sure enough, that's exactly the player Virginia got in the portal with Bressler, a grad transfer from UNLV who posted a standout 78-22 (.781) record in four spectacular years with the Runnin' Rebels.
Coming off a season in Las Vegas in which she broke the school's single-season strikeout record by sending home 225 batters – topping a record formerly held by three-time Olympic gold medalist Lori Harrigan-Mack – the four-time All-Mountain West first-team selection dominated in the circle for UNLV for a long time, with the Michigan native now looking to test her mettle against some of the programs in America.
For the Cavaliers, she also might be the key to finally get back to playing in a regional.
Clemson Tigers
2022: 41-17 (14-10), lost in Stillwater Super Regional
The lowdown: The Tigers set out to prove in 2022 that its explosion onto the college softball scene in 2021 – where they made the regional round in the first full season in program history – was no fluke.
Being the nation's No. 10 overall seed and two wins away from qualifying for the Women's College World Series last year probably has helped in quieting doubters.
It has been a meteoric rise for the Clemson program, which has stormed out of the gates to immediately become one of the ACC's top contenders and a serious threat to go to Oklahoma City, despite only existing as a Division I varsity program for three years, seemingly skipping most of the growing pains that plague programs in a similar position.
The best pitching rotation in the ACC last year (1.81 team ERA) assists massively with that, too, as does having a coach in John Rittman, who previously took Stanford to two WCWS appearances (2001 and 2004).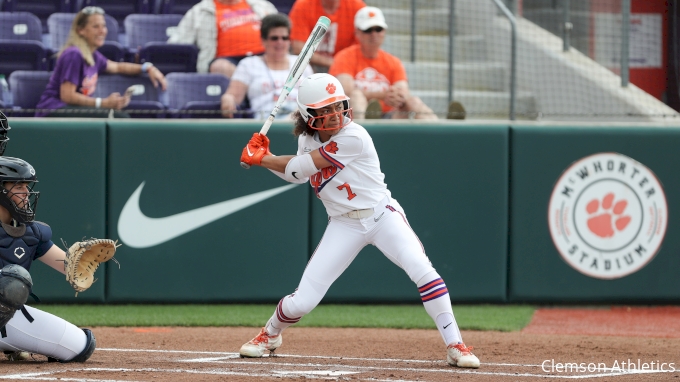 Name to watch: McKenzie Clark, Jr., OF
If Clemson truly wants to prove it's here to stay among the elites in college softball, it needs to rely on program cornerstones, such as Clark, to help it keep up with the pace.
While 2021 ACC Player of the Year Valerie Cagle deserves a mention, Clark, now a two-time All-ACC selection after being named as a second-team honoree last season (Clark was a first-team pick as a freshman in 2021), led the Tigers in numerous hitting categories in 2022, including hits (59), batting average (.328) and slugging percentage (.624).
What was critical toward Clemson's winning record in league play and many resume-boosting wins, however, was that Clark upped her game when league foes were on the docket, finishing with a team-leading .356 average in ACC play. That included a three-homer outburst against Florida State during an April game in Tallahassee.
Oh, and she had 54 putouts to no errors defensively, too, finishing the year with a perfect fielding percentage.
Notre Dame Fighting Irish
2022: 40-12 (16-5), lost in Evanston Regional
The lowdown: Notre Dame softball has to be wondering when it'll finally break through and get over the hump that has been bothering it for its entire softball history – that is, finally make it out of the regional round for the first time, despite the sustained success brought by 26 NCAA Tournament appearances.
Last year, it was McNeese State that ruined the Fighting Irish's dreams of finally playing for a trip to Oklahoma City, with ND losing to the Cowgirls twice and ending their season on a dud, despite the program's first 40-win season since 2016.
But with multiple major pieces back to have another go at finally breaking the Fighting Irish's postseason curse (and contend for an ACC title in the process, too) longtime coach Deanna Gumpf's squad never can truly be counted out to shine late in the season, even if the team is impatiently waiting to finally – finally! – take the next step forward in program lore.
2022 saw us earn 3 wins over opponents ranked in the top 10, including 2 over Women's College World Series participants!

Leea ended the win over Texas, Karina did Karina things as we took down Duke, and P-Tidd did work in the circle against Northwestern #GoIrish☘️ pic.twitter.com/yS6CZOafRP

— Notre Dame Softball (@NDsoftball) December 30, 2022
Name to watch: Karina Gaskins, Jr., INF
Yeah, there's no surprise here.
Gaskins, the reigning ACC Player of the Year, is the obvious choice to keep an eye on whenever a Notre Dame game is happening, and for very, very good reason.
The league's defending batting champion (.428 average) and the Irish's team leader a year ago in home runs (13), RBIs (61), slugging percentage (.797) and on-base percentage (.555, a single-season school record), the New Jersey native's standard-breaking season was one of the best campaigns from a sophomore slugger in both ACC and Notre Dame history.
What's even scarier for conference rotations is that even against the lethal arms in the league, Gaskins got even better, batting a ridiculous .482 against league competition.
The All-American became the third ND athlete to win the league's top individual softball honor.
Now gunning for back-to-back player-of-the-year honors, Gaskins will be the focal point of Notre Dame's lineup for seasons to come.
Florida State Seminoles
2022: 54-7 (19-5), lost in Tallahassee Regional
The lowdown: One of college softball's household names, Florida State – after looking throughout the regular season as one of the only teams in the realm of catching eventual national champion Oklahoma – entered the NCAA Tournament as the event's No. 2 seed and apparently primed and ready to not just make it back-to-back trips to the WCWS, but also give the Sooners a run for their money.
However, disaster struck in Tallahassee.
The Seminoles were stunningly defeated twice at JoAnne Graf Field by Mississippi State in the regional, ending FSU's run of eight straight Super Regional appearances.
Shock losses like those (and against the likes of Pitt, Boston College and North Carolina) were the Seminoles' strange Achilles' heel in an otherwise dominant season, in which they started 19-0, had 16 ranked wins and looked along the lines of another elite FSU team.
Hungry for more this time around, it could be a season for vengeance in Tallahassee – and that's not good news for the rest of the ACC.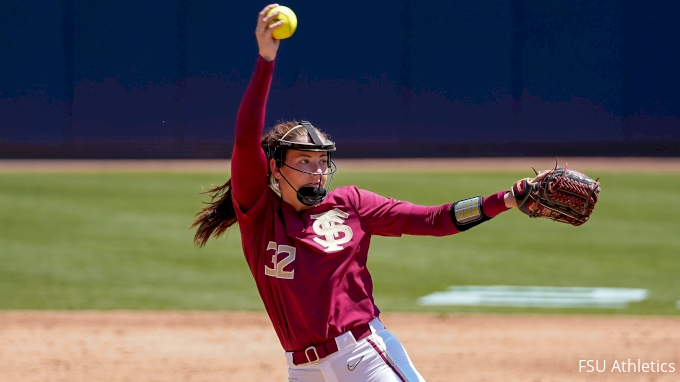 Name to watch: Kathryn Sandercock, R-Sr., P
Among players who made 40 or more appearances, no player in America was more reliable to grab a win for her team than the Virginia native.
Sandercock finished the 2022 season a career-best 30-3 (.909 winning percentage) to improve to a ridiculous 79-8 for her career, adding onto the Seminoles' long legacy of standout pitching that the likes of Lacey Waldrop and Jessica Burroughs had achieved before her.
But one thing Sandercock hasn't secured that the names listed have is an ACC Pitcher of the Year honor, and she's in prime position to do it this season, following the graduation of the two-time reigning winner of the award, Virginia Tech legend Keely Rochard.
As the savvy veteran ace with a 1.56 career ERA, who struck out over five times as many players (159) as she walked (30) last year, expect fireworks from Sandercock's final hurrah in Tallahassee.
Duke Blue Devils
2022: 44-11 (19-3), lost in Los Angeles Super Regional
The lowdown: The other relatively new face on the block in ACC softball, along with Clemson, Duke (having played its first season in 2017) didn't quite burst onto the college softball scene as quickly as the Tigers did, but when the Blue Devils eventually did, they did in full force.
Duke's breakout 42-win campaign and first trip to the NCAA Tournament in 2021, was followed up by an even better 2022, with the No. 12-seeded Blue Devils picking up their first piece of postseason hardware – a regional championship win – before bowing out to established powerhouse and eventual WCWS semifinalist, UCLA, in the supers.
Arguably the league's most well-rounded team throughout the year, the Blue Devils were the only program to finish among the top 3 in the ACC in both team hitting (.328) and ERA (2.02), proving that hiring away former North Carolina assistant Marissa Young to coach and build the program in 2015 (Tobacco Road rivalry aside) was absolutely the right call.
Be on the lookout! 👀#Team6 | #GoDuke pic.twitter.com/u7dfK4rF1F

— Duke Softball (@DukeSOFTBALL) January 18, 2023
Name to watch: Ana Gold, Soph., INF
Perhaps the one major downside to Duke's recent run of success is that the players who helped mold that tradition have to stop playing sometime, and that's exactly the case now, as nearly every Blue Devils All-ACC selection from a year ago won't return to the diamond in 2023.
One who will, though, is Gold, and as one of just a handful of freshmen conference-wide to be chosen to an All-ACC team last season, there's potential there for the New York native to be one of the defining players of Duke softball's short (and growing) history.
A third-team pick, Gold hit .311 with 10 home runs, 36 RBIs and 13 stolen bases as an integral part of Duke's offensive attack, a role that's only going to grow, as Gold is the team's returning RBI leader and one of the few returning players on the roster with a batting average of .300 or better.
For a Blue Devils program that's quickly turning into the hunted, rather than the hunter, that means the pressure is on.
Virginia Tech Hokies
2022: 46-9 (21-2), lost in Blacksburg Super Regional
The lowdown: Regular-season conference champions for the second time in three seasons, the Hokies rolled through their league slate, never losing a conference series and finishing with the best ACC single-season winning percentage in school history. That helped Tech enter the NCAA Tournament as its third-seeded team.
Hosting both a regional and super regional for the very first time, VT's hopes of returning to the WCWS for the first time since 2008 were dashed by the hands of Florida in a three-game thriller in the supers.
But, with 11 All-ACC nominees (the most of any school in the conference), the star power on display in Blacksburg shined throughout the season and its ending, as the Hokies were outright spectacular.
Fifth-year coach Pete D'Amour turned what was a 23-30 program in the year before his arrival into a winner immediately, having gone 151-40 with Tech since joining.
Last year's super-regional appearance marked the Hokies' first consecutive trips to the round.
That winning tradition doesn't appear as if it's letting up anytime soon, with Tech likely tipped to be one of the ACC's favorites once again.
We see ✌️ familiar faces on this list 👀 https://t.co/unrACeJZyi pic.twitter.com/75vm7ay6Zk

— Virginia Tech Softball (@HokiesSoftball) January 10, 2023
Name to watch: Emma Ritter, Jr., OF
How can you possibly choose just one player to watch out for from the Hokies' roster?
There's sophomore pitcher and 2022 ACC Freshman of the Year Emma Lemley (who has a very important role in the rotation with Keely Rochard gone), returning All-ACC first-team and RBIs leader Meredith Slaw and many, many others in the ranks, but arguably none will be more imperative to a deep Tech run than the third-team All-American Ritter, a .400 hitter from a season ago who will be one of the main cogs in the Hokies' offensive engine once again.
Ritter's rise from merely being a part of the Tech lineup in her freshman season (.257 average, .381 slugging) to arguably its most irreplaceable star in her sophomore campaign (improving to a .661 slugging percentage on top of it) has been a marvel to watch, except it you're a pitcher directly facing her, in which case, good luck striking her out (six strikeouts in 165 at-bats last year).