2023 THE Spring Games
10 Division III Pitchers To Watch In 2023: Many Top Performers Return
10 Division III Pitchers To Watch In 2023: Many Top Performers Return
Division III schools may not have as many workhorse pitchers as big schools, there still are plenty of individuals with the ability to take over a game.
Jan 20, 2023
by Ron Balaskovitz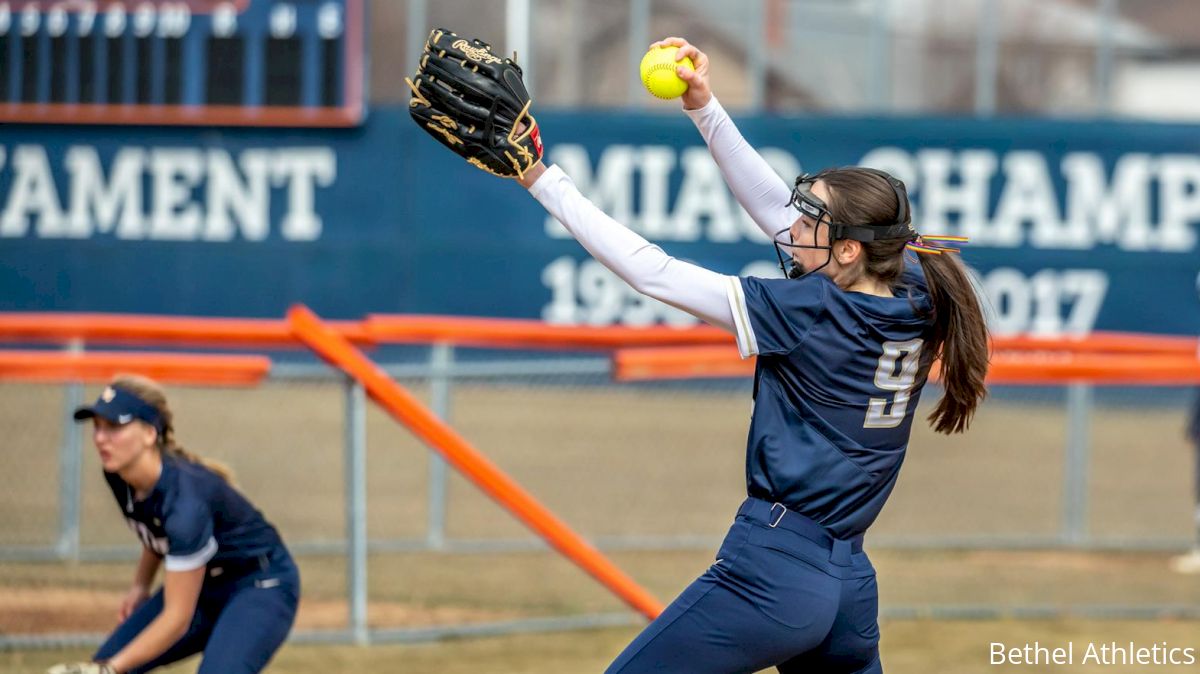 A dominant pitcher is a must if a team hopes to make a deep run in the postseason.
While smaller schools at the NCAA Division III level may not have as many workhorse pitchers as the big schools, there still are plenty of individuals who have the ability to take over a game when they step into the circle.
A number of dominant pitchers return, including the reigning strikeout champion, as well as seven of the top-10 pitchers who qualified for the ERA crown last season.
Here's a look at some of the best hurlers in Division III softball ahead of the 2023 season.
Kayla Simacek, Bethel (MN), Senior
There may not be a more dominating pitcher in any level of college softball than Simacek, who won pretty much every award you can think of last season, and with good reason.
She led the nation in strikeouts with 349, a whopping 84 more than the runner-up.
As if the strikeout totals weren't enough, she pitched 268 innings, walked just 22 batters and completed 31 of her 39 starts.
Add it all up, and that's how you go 35-5 with eight shutouts and a 1.04 ERA, good for 11th in Division III.
Entering her senior season, Simacek will look to repeat every accolade she received back in 2022.
Tayah Kelley, Linfield, Senior
Kelley is another pitcher who dominates with her power in the circle, and she had the second-most strikeouts of any returning pitcher this year, behind only the previously mentioned Simacek.
TKO No. 232!

Tayah Kelley breaks the Linfield record for strikeouts in a single season!💪#RollCats | #Catball pic.twitter.com/TymaUqwD8G

— Linfield Softball (@LinfieldCatball) April 24, 2022
In 180 innings, Kelley fanned 252 batters and held opponents to just a .181 batting average against her. Of her 27 starts, she went the distance 22 times, with six of them going for shutouts.
After posting a 3.43 ERA as a sophomore, Kelley made the leap last season, dropping that number to 1.78 and a 25-5 record for the year.
Moira O'Reilly, Babson, Junior
During her sophomore year, O'Reilly posted a 22-5 record. She was named to the NFCA Region II first team, All-NEWMAC first team and NCAA Geneseo Regional All-Tournament team and was selected at the NEWMAC Pitcher of the Year.
Moira O'Reilly, Pitcher of the Year and First Team All-Conference pic.twitter.com/54VPa06D12

— Babson Softball (@babsonsoftball) May 13, 2022
She set Babson school records for shutouts in a year with nine, and her 250 strikeouts averaged out to 10.31 per seven innings, another school record. Her 22 wins tied for the most in Beavers history.
Of her 31 starts, 20 went for complete games, made all the more impressive by the fact that it was her first season as the main starter for Babson, after logging just 40 innings as a freshman in 2021.
McKenna Smith, Husson, Senior
Smith was the only pitcher in the nation last season to finish among the top 10 in strikeouts (249) and ERA (0.71).
Perhaps most impressive about her strikeout total was that she accomplished it in just 143 innings, averaging nearly 12 strikeouts per seven innings pitched, the fourth best mark in Division III.
That strikeout total was a school record, and of her 21 starts last season, 19 went for complete games on the way to an 18-4 mark.
Those numbers helped her to the North Atlantic Conference Pitcher of the Year honor, as well as the league's tournament MVP and All-Region I first-team honors.
Gracie Ellis, Randolph-Macon, Sophomore
Ellis burst onto the scene last season as a true freshman, finishing among the nation's leaders in strikeouts and ERA.
Over 33 appearances, which included 25 starts, Ellis hit the ground running for the Yellow Jackets, tossing 190 innings, fanning 244 batters and finishing the year with a 22-6 record, a 1.21 ERA and three saves in her eight relief appearances.
Highlights from the year include a perfect game against Guilford and a 12-strikeout no-hitter against Marymount.
Even as a freshman, Ellis showed a strong combination of power and control, walking just 21 batters on the year.
Despite being a freshman, Ellis was a third-team All-American, an All-Region I first-teamer, an All-ODAC first-team pick and the ODAC Pitcher of the Year.
Expect huge things from her as she enters her sophomore campaign.
Ashlyn Hemm, Loras, Sophomore
Another player who shined in their freshman season, Hemm came in and immediately started re-writing the record book at Loras.
Her debut season saw her set a Duhawks record for strikeouts in a season with 214, which also put her among the national leaders, including a 20-strikeout performance against Augsburg in March.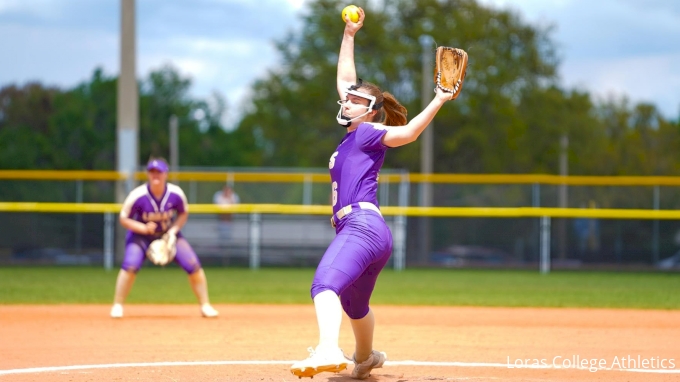 Her strikeout totals came in just 145 innings, but saw 14 complete games on the way to an 18-4 record, a 1.49 ERA and 24 extra base hits given up.
A five-time conference pitcher of the week, she was an all-league pick, and a first-team All-Region IX pick.
She should only build on those accolades as she enters her sophomore campaign.
Ashlyn Strother, Texas Lutheran, Junior
Strother was a first-team All-America pick, All-Region X first-team pick and her conference's Pitcher of the Year following a sophomore season that saw her finish with the best pitching record in NCAA Division III history.
Strother went 25-0 and set a school record with a 0.77 ERA. She fanned 209 batters against just 23 walks and held hitters to a microscopic .153 batting average.
Of her 17 complete games, 10 went for shutouts. Her top performances include a no-hitter and a 15-strikeout game.
Strother should be in the running for the Division III Pitcher of the Year.
Adrienne Rosey, Trine, Junior
After a solid debut season as a freshman that saw her used as a relief specialist, Rosey turned into the main starter for Trine and rewarded their decision with a 16-8 mark, along with 161 strikeouts and a 1.04 ERA, putting her among the top 10 in the country in that category.
Rosey is another pitcher, who despite big strikeout numbers, displays strong control, walking just 19 batters for the season.
She'll be leaned on heavily by Trine this season in her second go-round as the staff ace.
Sophia DiCocco, Tufts, Junior
After being an all-league pick as a freshman, DiCocco made the leap during her sophomore season, settling into the main starter role and racking up a 19-6 record, along with a 0.96 ERA, which put her among the best in the country.
DiCocco relies on her control and keeping batters off balance, rather than blowing hitters away.
Congrats to sophomore Sophia DiCocco who was named an NFCA Third Team All-American. Read more here: https://t.co/oMoKnT6eM6 ! #jumbopride #tusb pic.twitter.com/PIYMnjbtU4

— Tufts Softball (@TuftsSoftball) May 27, 2022
Despite a sub-1.00 ERA, she fanned just 91 batters in 182 innings, but conceded just 18 extra base hits, walked 12 and saw opponents hit only .195 off her.
She also managed to complete 22 of her 27 starts.
With another year under her belt, DiCocco should be even tougher to make hard contact off in 2023.
Julianna Pretso, Arcadia, Junior
After pitching mostly in relief as a freshman, Presto became the go-to starter for the Knights, and in her bump-up in innings, went from an 8-5 record, to 22-5 as a sophomore.
Presto fanned 112 batters in just 85 innings as a freshman, and more than doubled her strikeouts last season, climbing to 246 in 162 innings, while also giving up only 27 extra base hits.
In 22 starts, 18 went for complete games, including four shutouts. She also continued to be valuable out of the bullpen, registering three saves.
If there's one area for Presto to improve on, it's walks, with 85 last season, but with another year of starting experience under her belt, should be primed for a breakout junior season.