2023 Mark Campbell Collegiate Invitational
Jordy Bahl Knows Ball, And OU Softball Knows Championships
Jordy Bahl Knows Ball, And OU Softball Knows Championships
Standout Jordy Bahl says there's no looking backward for Oklahoma Softball. OU begins the journey for a three-peat with a new look but similar firepower.
Jan 20, 2023
by Kyle Kensing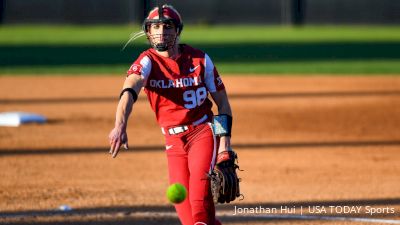 To follow Oklahoma softball in recent years is to follow history being written in real-time. According to pitcher Jordy Bahl, the buzz about the Sooners' excellence is completely external.
"You'd be surprised, but it's nothing we talk about," Bahl told FloSoftball. "In this program, there's a lot of competitive players. And so, in the back of our minds, everyone is kind of zoning into the [new] year.
"Going in day-to-day focused on the journey and the whole process part is how that success comes about."
The arrival of the 2023 campaign marks the start of a new journey, but initial rankings suggest overwhelmingly a familiar destination. Bahl and the Sooners are No. 1 ahead of the coming season, coming off a dominant run through the 2022 NCAA Tournament.
The Sooners tromped through the postseason at 10-1, avenging the sole blemish at the WCWS — a 7-3 setback against UCLA — with a 15-0 rout the same day. Oklahoma completed one of, if not the most impressive tournament ever to claim its second consecutive national championship.
The trophy stays 𝐈𝐍 𝐍𝐎𝐑𝐌𝐀𝐍 🏆 pic.twitter.com/49OO4Y2vsb

— Oklahoma Softball (@OU_Softball) June 10, 2022
Now, OU is the favorite to be left standing in Oklahoma City come June once again. The result is certainly familiar should it come to pass, but the associated stakes mark unfamiliar terrain for the sport during its past three decades.
Thirty-three years ago this coming spring, UCLA completed the first and still only three-peat in Women's College World Series history. Others have come close since: Arizona won 3-in-4 years from both 1991-1994 and 1993-1996/1994-1997, but never three straight. Oklahoma's second and third titles under newly inducted Oklahoma Hall of Fame coach Patty Gasso in 2013 and 2016 book-ended a Florida repeat, while Florida State's 2018 championship ended OU's first run of consecutive crowns in 2016 and 2017.
Winning three straight titles is exceedingly difficult, in other words, for reasons evident in Oklahoma's roster this season. Gone is Jocelyn Alo, who penned her own piece of softball history during her time in Norman as the all-time home-run queen.
A .515 batting average with 54 walks, 1.212 slugging, 85 hits, and 34 home runs — Alo's offensive stat line — leaves plenty of production for Oklahoma to replace at the plate; and that's even with returning Tiare Jennings off a season of .401 batting with 29 homers.
Part of what's made Oklahoma successful, however, isn't in replacing playmakers to fill a preconceived approach.
"I don't know if there will ever be another Jocelyn Alo in our time. She's kinda one-of-a-kind," Bahl said. "But I don't know that our team is about 'replicating' anything in the rear-view mirror. We're all about just knowing what we have and being the best we can be as a team here."
𝐍𝐨 𝐥𝐨𝐨𝐤𝐢𝐧𝐠 𝐛𝐚𝐜𝐤. #ChampionshipMindset pic.twitter.com/D1BHVAEQag

— Oklahoma Softball (@OU_Softball) January 13, 2023
A considerable portion of what Oklahoma has in 2023 is outstanding pitching. Bahl joined the Sooners as the most lauded freshman in the country a year ago and immediately delivered, amassing a 22-1 record with a 1.09 ERA and 205 strikeouts over 141 1/3 innings pitched.
Her first-year numbers would have been even more eye-popping were it not for an injury sustained in the regular-season finale that sidelined Bahl for a month.
Oklahoma freshman pitcher Jordy Bahl strikes out 14 batters against UCLA at the Mark Campbell Collegiate Invitational. pic.twitter.com/dqm0W9vYpH

— FloSoftball (@FloSoftball) February 14, 2022
"It's definitely adversity. It affected me mentally more than anything," she said. "I'd never been injured before, so it was the first time I'd been faced with that. But my teammates were there for me in that time, helping me stay positive."
She returned for the WCWS, including four innings of work in the championship-clinching rout of rival Texas. And while Bahl's teammates kept her positive during her rehab process, the collective Sooners pitching staff flexed its muscle.
Nicole May is 30-3 in two seasons at Oklahoma, and last year struck out 99 en route to a 1.30 ERA and .170 opponent batting average. Meanwhile, the rotation adds an impressive new arm with Alex Storako, the transfer from Michigan, coming off a 25-8 season with a 1.71 ERA and 300 strikeouts over 200 1/3 innings pitched.
The journey may look different for Oklahoma this time around but make no mistake: That wagon is on track to return to the same place.