2023 Mark Campbell Collegiate Invitational
Reigning National Champion Oklahoma Headlines Mark Campbell Invitational
Reigning National Champion Oklahoma Headlines Mark Campbell Invitational
Two-time reigning national champion Oklahoma is 1-of-6 2022 NCAA Tournament teams that make up the field of the seven-team 2023 Mark Campbell Invitational.
Jan 26, 2023
by Kyle Kensing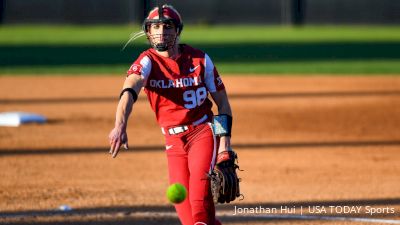 Two-time defending national champion Oklahoma begins its pursuit of a historic, third straight Women's College World Series title facing a stacked field at the Mark Campbell Invitational.
Six teams that reached the 2022 NCAA Tournament, four ranked in the D1Softball preseason Top 25 and three programs that advanced to the Super Regionals or further meet in Orange County, California with the opportunity to start 2023 making a statement.
Check out the complete schedule of the Mark Campbell Invitational below with an introduction to the loaded lineup of teams coming to Irvine.
When is the Mark Campbell Collegiate Invitational?
The first game will begin on Feb. 9, Duke vs. Washington at 1 p.m. PT.
Which college softball teams are playing in the Mark Campbell Collegiate Invitational?
What is the Mark Campbell Collegiate Invitational schedule?
All times listed are Eastern Standard.
Thursday, Feb. 9
1 p.m. - Duke vs. Washington
3:45 p.m. - Loyola Marymount vs. Stanford
7 p.m. - Duke vs. Oklahoma
10 p.m. - Liberty vs. Oklahoma
Friday, Feb. 10
12 p.m. - San Jose State vs. Duke
2:30 p.m. - San Jose State vs. Washington
5 p.m. - Liberty vs. Duke
730 p.m. - Liberty vs. Washington
10:30 p.m. - Oklahoma vs. Stanford
Saturday, Feb. 11
1 p.m. - Liberty vs. San Jose State
3:45 p.m. - San Jose State vs. Stanford
6:30 p.m. - Duke vs. Stanford
10 p.m. - Oklahoma vs. Washington
Sunday, Feb. 12
12 p.m. - Liberty vs. Stanford
3 p.m. - Oklahoma vs. San Jose State
Duke
The Blue Devils open 2023 ranked in the top 20 across most polls are advancing to the Super Regionals a season ago. A trip to Oklahoma City is the next horizon for a program on a meteoric rise under coach Marissa Young, who has now overseen consecutive 44-win campaigns in just four full seasons of the program's existence.
And another featuring the Blue Devils 👀👀👀#Team6 | #GoDuke pic.twitter.com/UQYyzyTnn9

— Duke Softball (@DukeSOFTBALL) January 24, 2023
Duke's roster is undergoing some changes from a season ago, replacing Kristina Foreman, Jameson Kavel and Rachel Crabtree. Kelly Torres and Deja Davis return after batting .349 and .318 in 2022, and standout base-stealer Ana Gold is also back for the Blue Devils.
Arizona State transfer Kristiana Watson adds power at the plate, which Duke knows well: Watson hit a three-run walk-off against the Blue Devils last February.
Jala Wright is poised to be the ace of Duke's pitching staff after a 13-5 season with a 2.09 ERA in 107 innings of work. The rotation also welcomes back Claire Davidson, a two-way player who amassed a 1.94 ERA in 47 innings with an opponent batting average of .189. Lefty Cassidy Curd was a highly touted recruit and could be a name to remember as 2023 progresses.
Liberty
Liberty's recent dominance of the ASUN Conference has made the Flames fixtures of the NCAA Tournament. Building around a veteran corps that features three batters who hit .312 or better in 60-plus games last season is a good starting point for another postseason run.
Caroline Hudson is part of that trio, coming off 17 home runs and a .649 slugging percentage as a sophomore. Devyn Howard hit .316 and boasted an on-base percentage of .417, while Mary Claire Wilson rounds out the group, coming off stealing a team-best 12 bases in '22.
Karlie Keeney split starting pitching duties a season ago and figures to be the top arm for a Flames rotation that will feature a variety of new faces.
Loyola Marymount
Reigning West Coast Conference champion Loyola Marymount makes the short trip south from the El Segundo area, primed to make some noise against the best college softball has to offer.
LMU won 37 games in 2022, including an NCAA Tournament matchup with Ole Miss and a defeat of nationally ranked Arizona State in the regular season. Jenna Perez shined in some of the Lions' biggest games last year, and returns as LMU's ace for 2023.
Perez went 18-7 with a 1.63 ERA in 155 innings pitched, striking out 199 along the way and holding batters to a .149 collective average. Her work in the circle complements the Lions' small-ball offensive approach that emphasizes getting aboard and moving with aggressive stealing and savvy contact at the plate. Sydney Pool and Morgan DeBord combined for 41 stolen bases last year.
Oklahoma
College softball has not seen many teams as dominant as Oklahoma has been over each of its last two national championship seasons. There's no reason to expect the Sooners slow down in 2023, returning a roster full of dangerous hitters and overpowering pitchers.
The first look at this year's squad comes from the Mark Campbell Invitational, and there's plenty to be excited about with the Crimson-and-Cream. Tiare Jennings — a San Pedro native who'll be playing not much more than one of her home runs away from home at the Invitational — hit .401 with 29 round-trippers last season. She's a prime contender for the National Player of the Year honors teammate Jocelyn Alo earned the previous two campaigns.
Woke up a national champion… again😎😎😎 #Back2Back pic.twitter.com/iCpeKl9fkI

— Tiare Jennings (@_tiarejennings) June 10, 2022
She'll have competition within her own roster, of course, including on the flip side of the field with pitcher Jordy Bahl. Her return to the rotation full-time reloads the Sooners in the circle, along with the addition of transfer Alex Storako. Storako makes her Sooners debut in Irvine.
San Jose State
SJSU is the only participant in the Mark Campbell Invitational that did not reach last season's NCAA Tournament. There aren't many better ways to prepare for a new season and pursuit of the postseason than facing the best the nation has to offer, however, and the Spartans certainly are not shying away from opening 2023 in such fashion.
SJSU embarks on the new season with a veteran roster that features all but one of its 2022 starters in the field, and its top pitcher. Alyssa Graham is a two-time All-Mountain West honoree and has led the Spartans in batting average every year she's been at San Jose State.
Jenessa Ullegue, who also earned All-MW recognition in 2022, pitched a team-high 140.2 innings with a 2.79 ERA, struck out 117, and hit an outstanding .309 in 110 at-bats.
Stanford
Stanford advanced to its first Super Regional since 2011 last year, marking a high point in the program's climb back from a rough patch in the mid-2010s. The Cardinal have WCWS potential in 2023, earning preseason rankings and consideration as a contender in the always loaded Pac-12.
The Cardinal return 1st Team All-Pac-12 Alana Vawter, 2nd Team All-Pac-12 outfielder Taylor Gindlesperger, and Pac-12 All-Defensive Team honorees Sydnee Huff and Emily Young.
Gindlesperger, Huff and Young all bit .312 or better last season and combined to drive in 83 runs, while Huff and Young turned 11 and 12 double-plays on defense. Vawter's work over 227.2 innings in the circle produced 164 strikeouts and a 1.97 ERA with an absurd .97 WHIP.
Washington
All-American and reigning Pac-12 Player of the Year Baylee Klingler leads a Washington team looking to bounce back after it came a run shy of advancing to last year's Super Regional.
Klingler is one of the nation's best players, a terrific batter who hit consistently (.434) with no shortage of power (24 home runs and a .948 slugging percentage). She led the conference in batting average, hits, homers and RBI on her way to the Pac-12 Triple Crown, and is just as good in the field as at the dish.
𝙒𝙖𝙩𝙘𝙝 𝙇𝙞𝙨𝙩 👀

Baylee Klingler has been named to the @USASoftball Collegiate Player of the Year Watch List for a third year in a row!

>> https://t.co/9qEciSumrN#MightyAreTheWomen pic.twitter.com/mnDObzuxDx

— Washington Softball (@UWSoftball) January 25, 2023
Her return powers the Huskies into 2023 with Sami Reynolds, Madison Huskey and Olivia Johnson all back in purple-and-gold. Replacing pitcher Gabbie Plain looms as one of the more pressing questions for Washington as it opens the season at the Mark Campbell Invitational.