2023 THE Spring Games Opening Weekend
THE Spring Games Will Help Kick Off 2023 Collegiate Softball Season
THE Spring Games Will Help Kick Off 2023 Collegiate Softball Season
The 2023 college softball season will get underway soon, with numerous tournaments and invitationals taking place across the southern United States.
Feb 1, 2023
by Ron Balaskovitz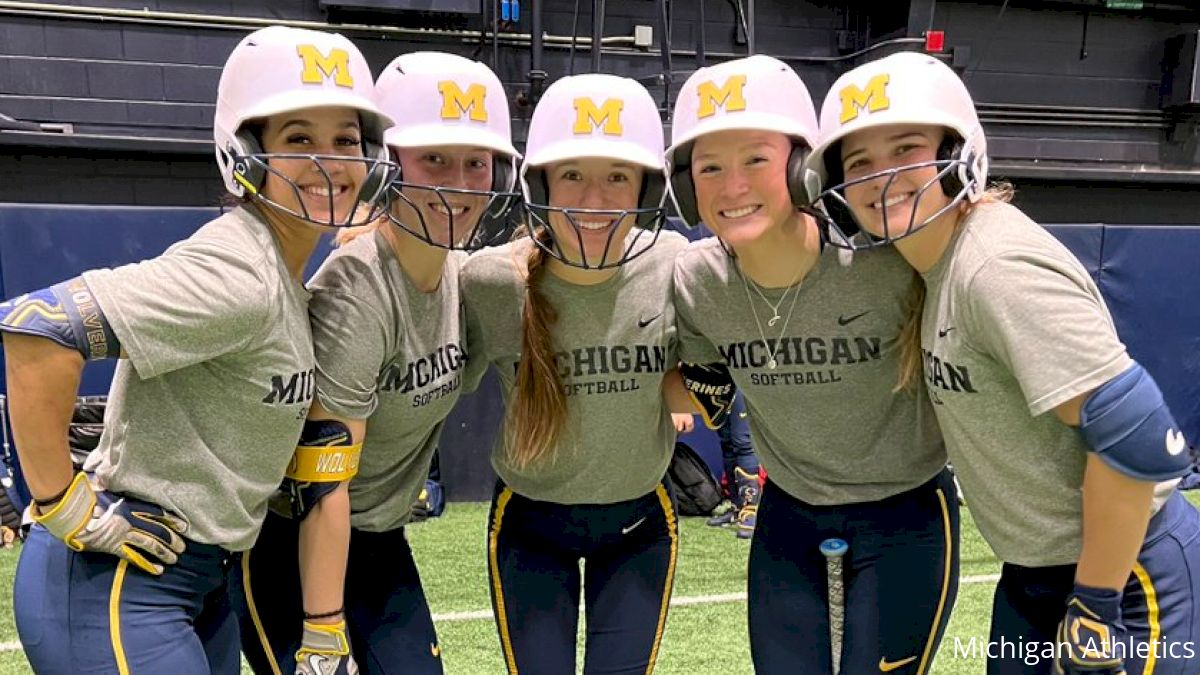 The 2023 college softball season gets underway in the coming days, with numerous tournaments and invitationals taking place across the southern United States.
Teams will begin what they hope will be a long season that concludes with dreams of a championship coming true at the end.
One of the most prestigious early-season events, THE Spring Games, will be streamed exclusively on FloSoftball.
THE Spring Games features a seven-team field that will play 17 total games over three days, and the list of participating teams includes some of the top squads from the Big Ten, Conference USA and more.
The action is slated to start Friday morning, with matchups between Michigan and Minnesota from the Big Ten, Marshall and Western Kentucky from Conference USA, Butler of the BIG EAST, Colgate from the Patriot League and Portland State making the long trip from the Big Sky Conference.
Here's a look at each team in the field and some of their key players.
Coming soon to a softball field in Central Florida! #THESpringGames #TSG @FloSoftball pic.twitter.com/iry2f0FkN3

— 🥎 🌴 THE Spring Games 🌴 🥎 (@THESpringGames) January 31, 2023
Butler
The Bulldogs finished 14 games over .500 last season and went 16-6 in BIG EAST play, before a pair of losses to open the conference tournament brought an end to their season.
Butler will feature one of the youngest rosters at this year's event, with just six upperclassmen on the roster.
Monique Hoosen is the name to watch in the Bulldogs' lineup. She returns after hitting nearly .300 a season ago, while hitting a team-best 10 home runs, while Ella White, who led the team with 29 RBIs, also is back to give the team an experienced 1-2 punch in the heart of the order.
In the circle, Mackenzie Griman will step into the ace role, after going 3-5 with a 2.55 ERA in over 50 innings pitched.
Butler opens play Friday against Minnesota and Western Kentucky, Marshall and Portland State on Saturday and Marshall and Colgate on Sunday.
Colgate
The Raiders struggled to a 20-28 mark last season, but they managed to go .500 in Patriot League play.
The key for Colgate this year is improving at the plate. The Raiders hit just .245 as a team and had only one player hit over .275.
The good news for Colgate is that the one player who did, Jillian Herbst, is back after a freshman campaign that saw her hit .365 with 15 extra base hits on her way to 58 total hits in 48 games. She'll be leaned on to improve on those numbers in 2023.
The Raiders also return last season's top pitcher, Bailey Misken, who was a hard-luck 11-16, despite an ERA under 3.00 as a junior. She fanned 130 batters a season ago.
Colgate will play five games at the event, opening with Portland State and Michigan on Friday, Minnesota and Marshall on Saturday and closing with a single game against Butler on Sunday.
Marshall
The Thundering Herd were a strong team last year, winning 35 games, while going 15-9 in Conference USA games. They played four games in the league tournament, before being eliminated.
Marshall must replace its top 3 hitters in the lineup from a team that slugged its way to the wins season ago, but the squad does return Autumn Owen, who hit .354 last season, while finishing second on the team in doubles.
The better news for Marshall is that Sydney Nester, one of the top pitchers in Conference USA, returns after dominating to the tune of 26-11 last year, with a 2.36 ERA and 294 strikeouts.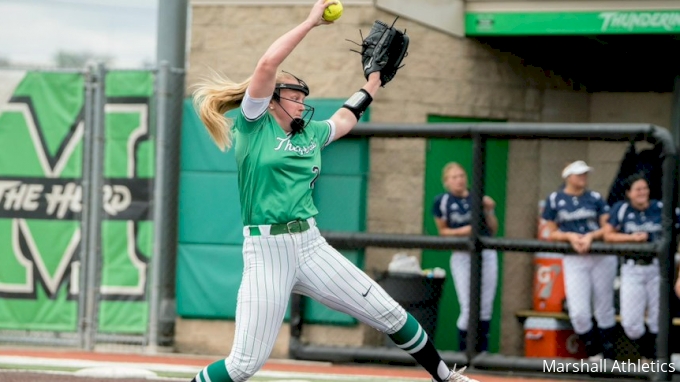 Nester's return should give the young lineup a chance to figure things out, while giving Marshall a chance to win every game she starts.
Marshall opens with Portland State on Friday, followed by Butler and Colgate on Sunday, then closes the event against Butler and Colgate again.
Michigan
Another loaded team a year ago, the Wolverines went 38-18, which included a trip to a NCAA Regional. They also were strong in Big Ten play, going 14-8.
The key for Michigan last year was a dominant pitching staff that saw opponents hit just .184 against them.
The problem for Michigan is that three of the five pitchers they used last season, including their two main options, have departed.
Lauren Derkowski will step into the spotlight after 44 innings and a 2.19 ERA last season.
Graduate student Lexie Blair is the top returning hitter for the Wolverines. Last year, she hit .338, while posting the second-most doubles on the team.
The young Wolverines will play four games over the three days, facing Colgate on Friday, Western Kentucky twice on Saturday and Portland State on Sunday morning.
Minnesota
The second Big Ten team at the event, Minnesota, looks to make the jump, after going 27-26-1 last season. The Golden Gophers advanced to the regional in Norman, Oklahoma, where they managed to go 1-2.
While the Gophers were a good hitting team last year, combining to bat .282, pitching was a problem, seeing opponents hit .300 against their staff.
Natalie DenHartog leads what should again be a strong lineup. She hit .347 last season, blasting 19 home runs and stealing 14 bases. She's a true triple-threat player in the heart of the order.
Graduate pitcher Autumn Pease returns to the circle. She was 11-15 last season and averaged a strikeout per inning.
If Minnesota can improve its pitching, the Gophers could be a dangerous team for any opponent this season.
Minnesota will face Western Kentucky and Butler on Friday, Portland State and Colgate on Saturday and closes play against early Sunday morning against Western Kentucky.
Portland State
The Vikings are a team on the rise after going 28-18 last year and coming within a game in the conference tournament of playing for a spot in the regionals round.
A big key for the Vikings a year ago was their patience at the plate, with three players who drew over 20 walks on the year. Collectively, they drew 45 more walks than their opponents.
Logan Riggenbach returns after a big season at the plate that saw her hit .380 and combine for 20 extra base hits, including eight home runs.
𝐓𝐇𝐄 𝐁𝐄𝐒𝐓 𝐎𝐅 𝟐𝟎𝟐𝟐

A look back at our 1-0 win over Idaho State to advance in the Big Sky Tournament (5.12.22)... Featuring an SC Top 10 play from @emilyjohansen11 and a game-winning double play from @Natxlia_03 👏👏👏#GoViks pic.twitter.com/SDx2EClLHs

— Portland State Softball (@psuviksSB) December 30, 2022
She and Emily Johansen, who hit .344 with nine home runs, give the Vikings as strong a 1-2 punch in their lineup as any team in the field at THE Spring Games.
Top pitcher Olivia Grey also returns. She posted an 18-8 mark with a 2.13 ERA and 214 strikeouts.
One of the most experienced teams in the field, the Vikings hope the strong opposition can prepare them for a postseason run.
Western Kentucky
After going 38-13 last season but seeing their season end in the Conference USA title game, expectations are high for the Hilltoppers, who were tabbed for second in the CUSA Preseason Poll.
Taylor Davis, an all-league pick last season, returns after flirting with .400 at the plate. She finished with a .397 mark, then used her speed to swipe 20 bags. She also came around to score 42 times in 51 games.
Senior Katie Gardner, who went 11-5 last season with a sub-3.00 ERA in over 100 innings, will step into the No. 1 starter role for the 'Toppers. She averaged over a strikeout per inning last season.
WKU will take on Minnesota and Butler, followed by a pair against Michigan, then close the week against Minnesota again Sunday.