GLIAC
GLIAC Preview: Grand Valley Reloads In Championship Pursuit
GLIAC Preview: Grand Valley Reloads In Championship Pursuit
Building around a pair of returning All-Americans and the 2022 GLIAC Freshman of the Year, Grand Valley heads into 2023 seeking a sixth straight title.
Feb 2, 2023
by Kyle Kensing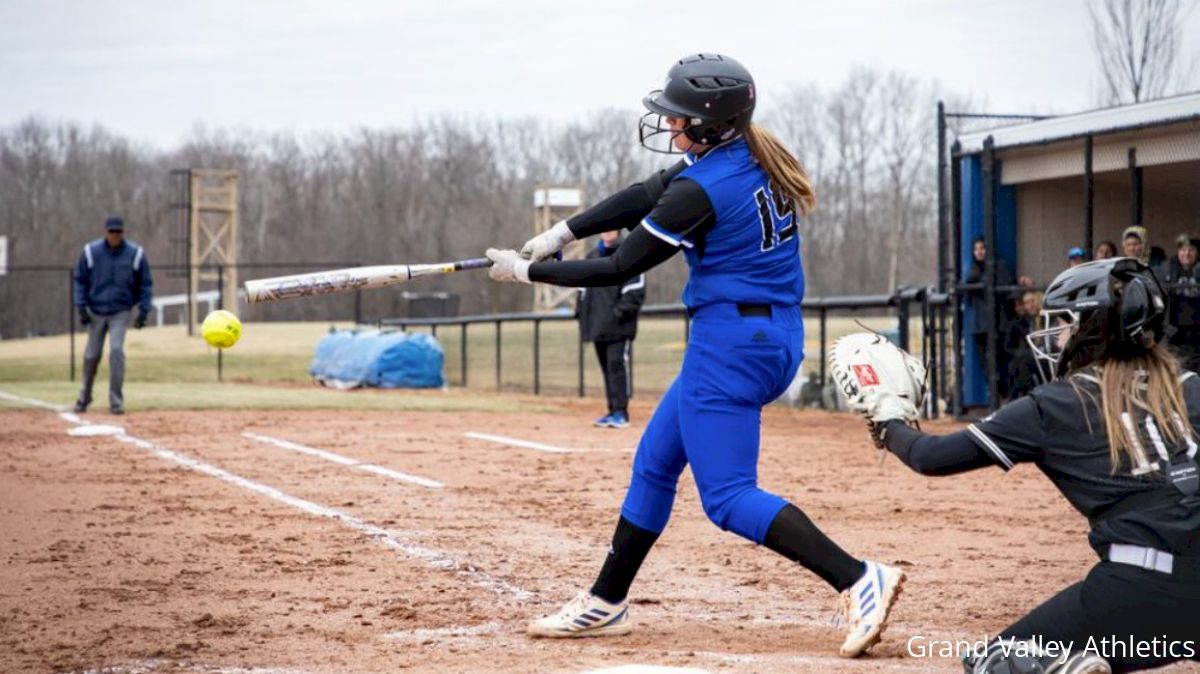 Two runs were all that separated Grand Valley State from advancing to Denver and the 2022 Div. II Women's College World Series. The Lakers head into 2023 ranked No. 10 nationally, but return a corps with the potential to finish No. 1.
GVSU headlines the GLIAC softball landscape ahead of a new campaign, seeking its incredible sixth consecutive conference championship. The Lakers have been nearly untouchable in league play since 2017 with each of their five straight GLIAC crowns coming by two games or more.
Last year, Grand Valley bested fellow NCAA Tournament team Saginaw Valley by 6.5 games.
With nine primary contributors back from a lineup that advanced to the Super Regional a year ago, GVSU isn't just the clear-cut favorite in the GLIAC: This is a team with viable national championship framework.
2022 All-Americans Hannah Beatus and Lydia Goble lead the Lakers once again. Goble hit .465 last season with an OPS of 1.214, slugging percentage of .706, six home runs and 52 RBI.
Goble was also one of GVSU's most dangerous base-runners with 12 steals on 12 attempts. Joanna Cirrincione was also electric on the base paths with 16 steals on 19 attempts, and proved just as adept at getting aboard as Goble. Cirrincione is back after a 2022 with a .409 batting average, 1.018 OPS, and 46 RBI.
Kaitlin Lynch makes it 3-for-3 on Grand Valley welcoming back .400-plus batters. Lynch hit .405 last season and boasted an on-base percentage of .446. Batting with some of the best sluggers in D-II, expect last season's GLIAC Freshman of the Year and first base Kelsey Komorous to build on a debut campaign in which she hit .323 and drove in 42.
With all the offensive firepower on the Lakers roster, Beatus would have plenty of run support to provide a margin for error — if she needed it. However, the reigning GLIAC Pitcher of the Year was one of the nation's top performers in the circle across all of Div. II and amassed a 0.97 ERA in nearly 173 innings of work with 181 strikeouts. Fellow starter Genesis Eggart was dominant in her own right, compiling a 2.36 ERA, striking out 97 and limiting opposing batters to a .178 average.
Saginaw Valley Can Make Another Postseason Run
Grand Valley may be the banner-carrier for the GLIAC heading into 2023, but Saginaw Valley bounces back with plenty of reason for optimism this season.
The Cardinals reached the 2022 NCAA Tournament and rolled off a string of wins before falling to the same Southern Indiana that bounced GVSU en route to Denver. Back from last year's SVSU lineup that finished second in the GLIAC and went 36-20 overall are Sarah Gersch, Jackie Popko and Sara Moos, three of the 2022 squad's leaders in total hits with 54, 45 and 46.
Popok and Moos were both 1st Team All-GLIAC honorees, along with pitcher Emily Depew. Depew will again be the Saginaw Valley ace after a season with a 2.01 ERA and 169 strikeouts in 143 innings pitched.
What's Next for Davenport Without Rachel Griffin?
First baseman Rachel Griffin became the first Davenport representative named GLIAC Player of the Year after hitting .370 with seven home runs and a .644 slugging percentage. Replacing someone who accomplishes the unprecedented may not be realistic, but the Panthers do return other playmakers capable of softening the blow from Griffin's absence.
Gabby Palazzolo hit .329 a season ago and was Davenport's most dangerous base-runner with 11 steals on 12 attempts. Monica Meger showed pop with three home runs, and Riley Hasseld was one of four Panthers batters to hit better than .315 in more than 100 at-bats.
Davenport also got multiple home runs from each of Brooke Cowan, Emma Embry and Emma Miller in limited at-bats.
Purdue Northwest Could Be A Dark Horse to Watch
Three All-GLIAC selections in 2022 are the pillars for Purdue Northwest in 2023. Selena Michko, a 1st Team All-GLIAC designated hitter, bombed 14 home runs a season ago to lead the conference.
Third baseman Madison Schultz, who was also 1st Team All-GLIAC, returns after hitting six round-trippers. The duo combines to pack one of the potent punches seen in any batting order the league has to offer.
Outfielder Aubrey Shroyer hit .343 en route to 2nd Team All-GLIAC and put together a stretch hitting 17-of-31 over nine games late in the season. That consistency, coupled with what the Lions have in terms of power, could make Purdue Northwest one of the most formidable offenses in the GLIAC.