2023 THE Spring Games Opening Weekend
2023 THE Spring Games Softball Division I: How To Watch, Stream, Schedule
2023 THE Spring Games Softball Division I: How To Watch, Stream, Schedule
How to watch Division I softball at THE Spring Games live and on-demand.
Feb 13, 2023
by FloSoftball Staff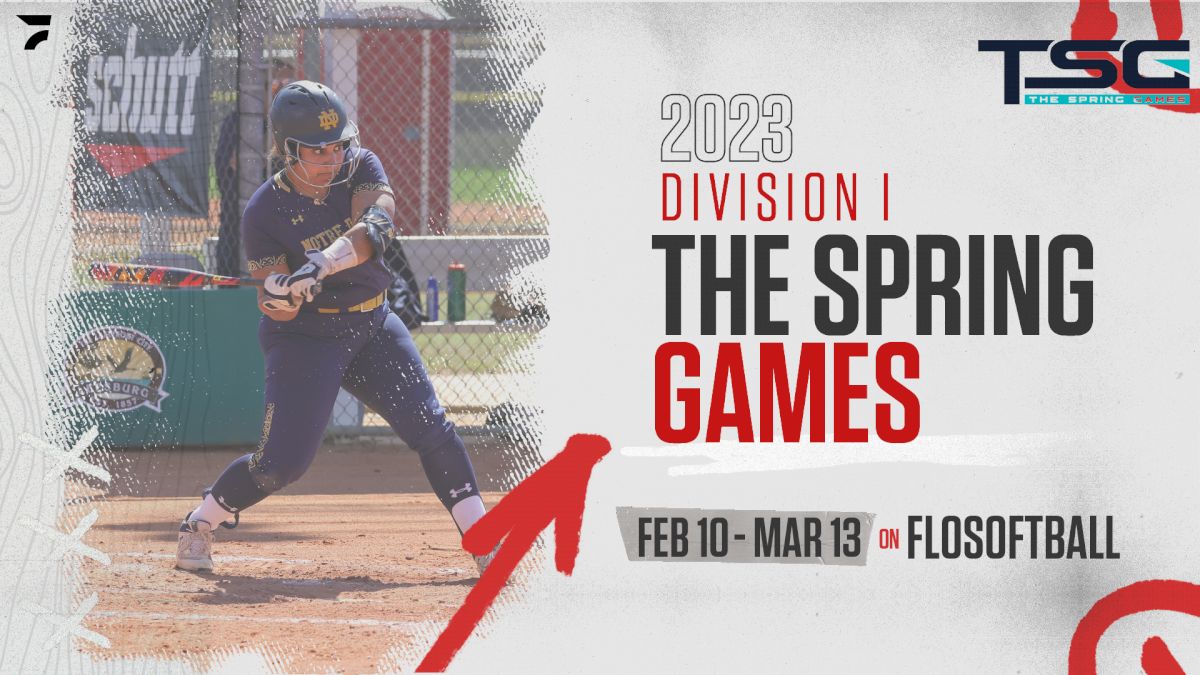 The 2023 collegiate softball season finally is underway, and teams from across the country have wasted no time finding ways to showcase (or hone) their skills on the diamond.
Many are taking their talents on the road for a variety of preseason and early-season tournaments to make sure they're at their best when it's time to dig into their main schedules and conference play.
Among the premier events is THE Spring Games, a collection of the top talent in Division I, Division II, Division III, NAIA and JUCO playing hundreds of games at a variety of venues throughout Central Florida during February and March.
The current concept has grown from 48 Division III teams in 2008 to now include more than 100 Division I softball games alone, and even more in each of the other classifications.
THE Spring Game Opening Weekend (Feb. 10-12) features teams from the Big Ten, BIG EAST, Conference USA, Big Sky and Patriot League – and the programs will play a total of 17 games over the weekend.
The heart of THE Spring Games will take place Feb. 24-March 25 and bring a nearly-endless stream of talent from all corners of the United States.
Where Will THE Spring Games Be Taking Place In 2023?
THE Spring Games will take place across six multi-field venues in Florida.
Auburndale Softball Complex (Polk County)
DiamondPlex Softball Complex (Polk County)
Hancock Park (Clermont)
Legends Way Ballfields (Clermont)
Fortune Road Athletic Complex (Kissimmee)
Sleepy Hollow Sports Complex (Leesburg)
R.O.C Park (Madeira Beach)
How Can I Watch THE Spring Games? Will THE Spring Games be livestreamed in 2023?
Yes. THE Spring Games are streaming on FloSports. FloSports is available on streaming platforms such as Roku and Apple TV and the app can also be downloaded on your phone.
Video footage from the event will be archived and stored in a video library for FloSoftball subscribers to watch for the duration of their subscription.
Which Division I Teams Are Playing In THE Spring Games?
Bethune-Cookman University (SWAC)
Bucknell University (Patriot)
Butler University (Big East)
Central Michigan University (MAC)
Coastal Carolina University (Sunbelt)
Colgate University (Patriot)
College of the Holy Cross (Patriot)
Creighton University (Big East)
Dartmouth College (IVY)
Florida International University (USA)
Georgetown University (Big East)
Hofstra University (CAA)
Iona College (MEAC)
Lafayette College (Patriot)
Lehigh University (Patriot)
Long Island University (NEC)
Marshall University (USA)
Middle Tennessee State University (CUSA)
Oakland University (Horizon)
Portland State University (Big Sky)
Princeton University (IVY)
Siena College (MAAC)
Southeastern Louisiana University (Southland)
University at Albany (America East)
University of Hartford (Independent)
University of Iowa (Big Ten)
University of Michigan (Big Ten)
University of Minnesota, Twin Cities (Big Ten)
University of Notre Dame (ACC)
University of South Alabama (Sunbelt
University of Southern Indiana (OVC)
University of Tennessee at Chattanooga (SOCON)
University of Tennessee at Martin (OVC)
Valparaiso University (MVC)
Western Kentucky University (USA)
Yale University (IVY)
What Is THE Spring Games Schedule for Division I Competition?
*All Times Eastern
| | | | | | |
| --- | --- | --- | --- | --- | --- |
| Date | Time | Visitor | | Home | Site |
| 2/10 | 11 a.m. | University of Minnesota, Twin Cities (Big Ten) | vs. | Western Kentucky University (USA) | SH4 |
| 2/10 | 11 a.m. | Colgate University (Patriot) | vs. | Portland State University (Big Sky) | SH1 |
| 2/10 | 1:30 p.m. | Butler University (Big East) | vs. | University of Minnesota, Twin Cities (Big Ten) | SH4 |
| 2/10 | 1:30 p.m. | Colgate University (Patriot) | vs. | University of Michigan (Big Ten) | SH2 |
| 2/10 | 1:30 p.m. | Portland State University (Big Sky) | vs. | Marshall University (USA) | SH1 |
| 2/10 | 4 p.m. | Western Kentucky University (USA) | vs. | Butler University (Big East) | SH4 |
| Date | Time | Visitor | | Home | Site |
| 2/11 | 11 a.m. | University of Minnesota, Twin Cities (Big Ten) | vs. | Portland State University (Big Sky) | SH4 |
| 2/11 | 11 a.m. | Western Kentucky University (USA) | vs. | University of Michigan (Big Ten) | SH1 |
| 2/11 | 11 a.m. | Marshall University (USA) | vs. | Butler University (Big East) | SH3 |
| 2/11 | 1:30 p.m. | Portland State University (Big Sky) | vs. | Butler University (Big East) | SH3 |
| 2/11 | 1:30 p.m. | University of Minnesota, Twin Cities (Big Ten) | vs. | Colgate University (Patroit) | SH4 |
| 2/11 | 1:30 p.m. | University of Michigan (Big Ten) | vs. | Western Kentucky University (USA) | SH1 |
| 2/11 | 4 p.m. | Marshall University (USA) | vs. | Colgate University (Patroit) | SH4 |
| Date | Time | Visitor | | Home | Site |
| 2/12 | 9 a.m. | University of Michigan (Big Ten) | vs. | Portland State University (Big Sky) | SH4 |
| 2/12 | 9 a.m. | Western Kentucky University (USA) | vs. | University of Minnesota, Twin Cities (Big Ten) | SH1 |
| 2/12 | 9 a.m. | Butler University (Big East) | vs. | Marshall University (USA) | SH2 |
| 2/12 | 11:30 a.m. | Butler University (Big East) | vs. | Colgate University (Patroit) | SH2 |
| Date | Time | Visitor | | Home | Site |
| 2/24 | 11 a.m. | Oakland University (Horizon) | vs. | University of Notre Dame (ACC) | MB2 |
| 2/24 | 11 a.m. | Valparaiso University (MVC) | vs. | Siena College (MAAC) | MB1 |
| 2/24 | 1:30 p.m. | University of Notre Dame (ACC) | vs. | University of Tennessee at Martin (OVC) | MB2 |
| 2/24 | 1:30 p.m. | Florida International University (USA) | vs. | Dartmouth College (IVY) | MB3 |
| 2/24 | 1:30 p.m. | Siena College (MAAC) | vs. | Oakland University (Horizon) | MB1 |
| 2/24 | 4 p.m. | Dartmouth College (IVY) | vs. | University of Tennessee at Martin (OVC) | MB2 |
| 2/24 | 4 p.m. | Florida International University (USA) | vs. | Valparaiso University (MVC) | MB3 |
| Date | Time | Visitor | | Home | Site |
| 2/25 | 11 a.m. | University of Notre Dame (ACC) | vs. | Florida International University (USA) | MB3 |
| 2/25 | 11 a.m. | University of Tennessee at Martin (OVC) | vs. | Oakland University (Horizon) | MB2 |
| 2/25 | 11 a.m. | Dartmouth College (IVY) | vs. | Valparaiso University (MVC) | MB1 |
| 2/25 | 1:30 p.m. | Siena College (MAAC) | vs. | University of Notre Dame (ACC) | MB3 |
| 2/25 | 1:30 p.m. | Florida International University (USA) | vs. | Oakland University (Horizon) | MB2 |
| 2/25 | 1:30 p.m. | Valparaiso University (MVC) | vs. | University of Tennessee at Martin (OVC) | MB1 |
| 2/25 | 4 p.m. | Siena College (MAAC) | vs. | Dartmouth College (IVY) | MB3 |
| Date | Time | Visitor | | Home | Site |
| 2/26 | 10 a.m. | University of Tennessee at Martin (OVC) | vs. | Siena College (MAAC) | MB3 |
| 2/26 | 10 a.m. | Florida International University (USA) | vs. | University of Notre Dame (ACC) | MB2 |
| 2/26 | 12:30 p.m. | Oakland University (Horizon) | vs. | Valparaiso University (MVC) | MB1 |
| 2/26 | 12:30 p.m. | Siena College (MAAC) | vs. | Florida International University (USA) | MB2 |
| 2/26 | 12:30 p.m. | University of Notre Dame (ACC) | vs. | Dartmouth College (IVY) | MB3 |
| Date | Time | Visitor | | Home | Site |
| 3/3 | 10 a.m. | Bethune Cookman (SWAC) | vs. | Hofstra University (CAA) | MB3 |
| 3/3 | 10 a.m. | Middle Tennessee State University (CUSA) | vs. | Yale University (IVY) | MB2 |
| 3/3 | 10 a.m. | University at Albany (America East) | vs. | Long Island University (NEC) | MB1 |
| 3/3 | 12:30 p.m. | Coastal Carolina University (Sunbelt) | vs. | Bethune Cookman (SWAC) | MB3 |
| 3/3 | 12:30 p.m. | Long Island University (NEC) | vs. | Yale University (IVY) | MB2 |
| 3/3 | 12:30 p.m. | Southeastern Louisiana University (Southland) | vs. | University at Albany (America East) | MB1 |
| 3/3 | 3 p.m. | Coastal Carolina University (Sunbelt) | vs. | Middle Tennessee State University (CUSA) | MB3 |
| 3/3 | 3 p.m. | Central Michigan University (MAC) | vs. | Hofstra University (CAA) | MB2 |
| 3/3 | 3 p.m. | Georgetown University (Big East) | vs. | Southeastern Louisiana University (Southland) | MB1 |
| 3/3 | 5:30 p.m. | Georgetown University (Big East) | vs. | Central Michigan University (MAC) | MB2 |
| Date | Time | Visitor | | Home | Site |
| 3/4 | 10 a.m. | Central Michigan University (MAC) | vs. | Southeastern Louisiana University (Southland) | MB3 |
| 3/4 | 10 a.m. | Long Island University (NEC) | vs. | Bethune Cookman (SWAC) | MB2 |
| 3/4 | 10 a.m. | Middle Tennessee State University (CUSA) | vs. | Georgetown University (Big East) | MB1 |
| 3/4 | 12:30 p.m. | Middle Tennessee State University (CUSA) | vs. | Long Island University (NEC) | MB2 |
| 3/4 | 12:30 p.m. | Georgetown University (Big East) | vs. | University at Albany (America East) | MB1 |
| 3/4 | 12:30 p.m. | Yale University (IVY) | vs. | Southeastern Louisiana University (Southland) | MB3 |
| 3/4 | 3 p.m. | University of Southern Indiana (OVC) | vs. | College of the Holy Cross (Patriot) | MB1 |
| 3/4 | 3 p.m. | Hofstra University (CAA) | vs. | Coastal Carolina University (Sunbelt) | MB3 |
| 3/4 | 3 p.m. | Creighton University (Big East) | vs. | Bethune Cookman (SWAC) | MB2 |
| 3/4 | 5:30 p.m. | College of the Holy Cross (Patriot) | vs. | Hofstra University (CAA) | MB3 |
| 3/4 | 5:30 p.m. | University at Albany (America East) | vs. | Creighton University (Big East) | MB2 |
| 3/4 | 5:30 p.m. | Yale University (IVY) | vs. | University of Southern Indiana (OVC) | MB1 |
| Date | Time | Visitor | | Home | Site |
| 3/5 | 9 a.m. | Central Michigan University (MAC) | vs. | Coastal Carolina University (Sunbelt) | MB3 |
| 3/5 | 9 a.m. | University at Albany (America East) | vs. | Middle Tennessee State University (CUSA) | MB2 |
| 3/5 | 9 a.m. | Hofstra University (CAA) | vs. | Yale University (IVY) | MB1 |
| 3/5 | 11:30 a.m. | Coastal Carolina University (Sunbelt) | vs. | Creighton University (Big East) | MB2 |
| 3/5 | 11:30 a.m. | Southeastern Louisiana University (Southland) | vs. | Long Island University (NEC) | MB1 |
| 3/5 | 11:30 a.m. | College of the Holy Cross (Patriot) | vs. | Georgetown University (Big East) | MB3 |
| 3/5 | 2 p.m. | Creighton University (Big East) | vs. | College of the Holy Cross (Patriot) | MB2 |
| 3/5 | 2 p.m. | University of Southern Indiana (OVC) | vs. | Central Michigan University (MAC) | MB1 |
| 3/5 | 4:30 p.m. | Bethune Cookman (SWAC) | vs. | University of Southern Indiana (OVC) | MB1 |
| Date | Time | Visitor | | Home | Site |
| 3/7 | 11 a.m. | University of Southern Indiana (OVC) | vs. | Central Michigan University (MAC) | MB1 |
| 3/7 | 11 a.m. | Long Island University (NEC) | vs. | Creighton University (Big East) | MB2 |
| 3/7 | 1:30 p.m. | Creighton University (Big East) | vs. | University of Southern Indiana (OVC) | MB2 |
| Date | Time | Visitor | | Home | Site |
| 3/8 | 10 a.m. | TBD | vs. | Creighton University (Big East) | MB2 |
| 3/8 | Noon | University of Southern Indiana (OVC) | vs. | Long Island University (NEC) | MB3 |
| 3/8 | Noon | TBD | vs. | Central Michigan University (MAC) | MB1 |
| 3/8 | 12:30 p.m. | Creighton University (Big East) | vs. | TBD | MB2 |
| 3/8 | 2:30 p.m. | Central Michigan University (MAC) | vs. | TBD | MB1 |
| 3/8 | 2:30 p.m. | Long Island University (NEC) | vs. | University of Southern Indiana (OVC) | MB3 |
| Date | Time | Visitor | | Home | Site |
| 3/10 | 11 a.m. | University of South Alabama (Sunbelt) | vs. | University of Tennessee at Chattanooga (SOCON) | MB2 |
| 3/10 | 11 a.m. | Long Island University (NEC) | vs. | Bucknell University (Patriot) | MB1 |
| 3/10 | 1:30 p.m. | University of Iowa (Big Ten) | vs. | University of South Alabama (Sunbelt) | MB2 |
| 3/10 | 1:30 p.m. | Bucknell University (Patriot) | vs. | University of Hartford (Independent) | MB1 |
| 3/10 | 1:30 p.m. | Iona College (MEAC) | vs. | Lafayette College (Patriot) | MB3 |
| 3/10 | 4 p.m. | University of Hartford (Independent) | vs. | Iona College (MEAC) | MB1 |
| 3/10 | 4 p.m. | University of Tennessee at Chattanooga (SOCON) | vs. | University of Iowa (Big Ten) | MB2 |
| 3/10 | 4 p.m. | Lafayette College (Patriot) | vs. | Long Island University (NEC) | MB3 |
| Date | Time | Visitor | | Home | Site |
| 3/11 | 9 a.m. | University of Hartford (Independent) | vs. | Bucknell University (Patriot) | MB3 |
| 3/11 | 9 a.m. | Iona College (MEAC) | vs. | Long Island University (NEC) | MB1 |
| 3/11 | 9 a.m. | University of South Alabama (Sunbelt) | vs. | Lehigh University (Patroit) | MB2 |
| 3/11 | 11:30 a.m. | University of South Alabama (Sunbelt) | vs. | Iona College (MEAC) | MB2 |
| 3/11 | 11:30 a.m. | University of Tennessee at Chattanooga (SOCON) | vs. | University of Hartford (Independent) | MB1 |
| 3/11 | 11:30 a.m. | Princeton University (IVY) | vs. | University of Iowa (Big Ten) | MB3 |
| 3/11 | 2 p.m. | Bucknell University (Patriot) | vs. | University of Tennessee at Chattanooga (SOCON) | MB1 |
| 3/11 | 2 p.m. | Lafayette College (Patriot) | vs. | Princeton University (IVY) | MB2 |
| 3/11 | 2 p.m. | University of Iowa (Big Ten) | vs. | Lehigh University (Patroit) | MB3 |
| Date | Time | Visitor | | Home | Site |
| 3/12 | 9 a.m. | Lehigh University (Patriot) | vs. | Iona College (MEAC) | MB1 |
| 3/12 | 9 a.m. | Lafayette College (Patriot) | vs. | University of Tennessee at Chattanooga (SOCON) | MB2 |
| 3/12 | 9 a.m. | Princeton University (IVY) | vs. | University of South Alabama (Sunbelt) | MB3 |
| 3/12 | 11:30 a.m. | University of Iowa (Big Ten) | vs. | Bucknell University (Patriot) | MB1 |
| 3/12 | 11:30 a.m. | Lafayette College (Patriot) | vs. | University of Hartford (Independent) | MB2 |
| 3/12 | 11:30 a.m. | Lehigh University (Patriot) | vs. | Princeton University (IVY) | MB3 |
| Date | Time | Visitor | | Home | Site |
| 3/14 | 9:00 AM | Lafayette College (Patriot) | vs. | University of Iowa (Big Ten) | MB2 |
| 3/14 | 9:00 AM | Lehigh University (Patroit) | vs. | Iona College (MEAC) | MB1 |
| 3/14 | 11:30 AM | Iona College (MEAC) | vs. | Lafayette College (Patriot) | MB2 |
| Date | Time | Visitor | | Home | Site |
| 3/15 | 10:00 AM | Princeton University (IVY) | vs. | University of Tennessee at Chattanooga (SOCON) | MB2 |
| 3/15 | 12:30 PM | University of Tennessee at Chattanooga (SOCON) | vs. | Lehigh University (Patroit) | MB2 |
| 3/15 | 3:00 PM | Lehigh University (Patroit) | vs. | Princeton University (IVY) | MB2 |