2023 Mary Nutter Collegiate Classic
Sooners Boom Their Way Past UCLA And Other College Softball Takeaways
Sooners Boom Their Way Past UCLA And Other College Softball Takeaways
The path to a college softball national championship rarely is straightforward, as Oklahoma was reminded of this past week.
Mar 2, 2023
by Briar Napier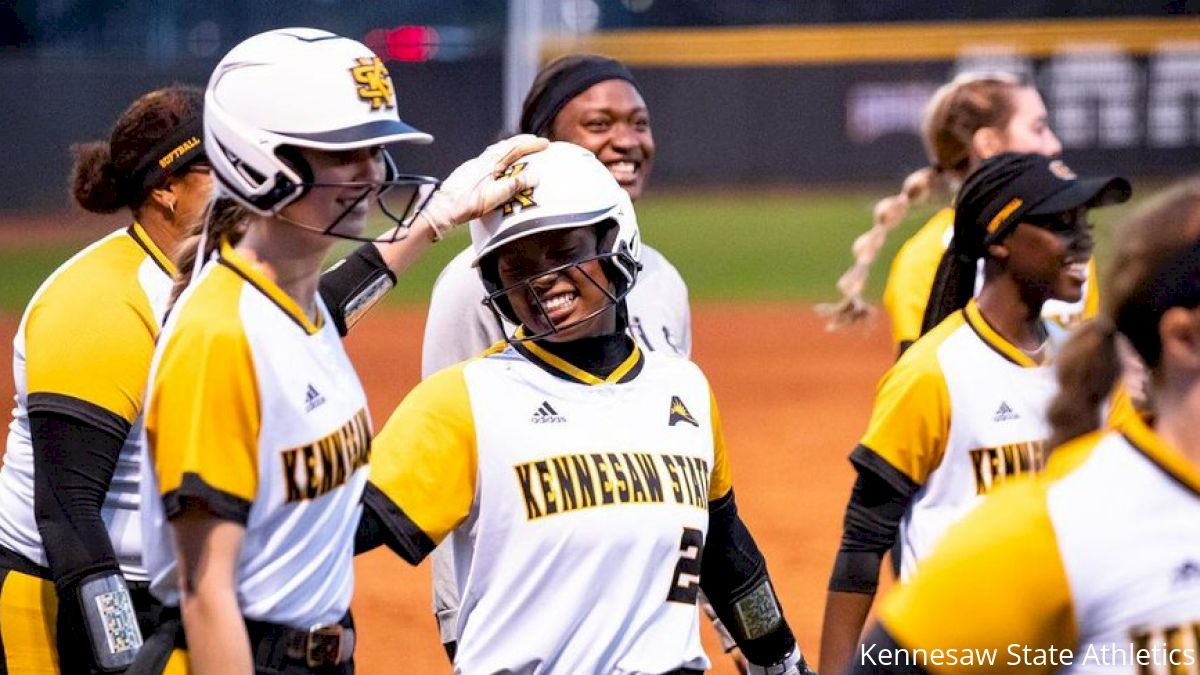 The path to a college softball national championship rarely is straightforward, as Oklahoma was reminded of this past week.
Some days on the diamond, you simply don't have it – but others, you do in the best of ways.
A week after dropping their only game of the year, the two-time defending national champion Sooners took down one of their top rivals in devastating fashion, showing that the road to the top of the sport is perhaps harder to keep hold on than getting to it in the first place.
OU's dominance, though it probably was the most high-stakes result of the weekend in college softball, certainly wasn't the only major thing that occurred.
With three weeks of the nonconference season now in the books, the haves and have-nots in the ongoing race to Oklahoma City are beginning to take their places – and there are a few names jumping into the pot that weren't on everyone's radars before the season.
Here's a look at five major takeaways from the recent week of college softball, with games featuring some of the biggest names and programs of the sport being streamed live on FloSoftball throughout the year.
Oklahoma Mercy-Rules UCLA In Statement Victory At Mary Nutter
Oklahoma, as it's tended to do in recent seasons, turned what was supposed to be a tightly contested showdown into an absolute offensive clinic.
A rematch of their classic two-game war in last year's Women's College World Series semifinals, No. 2-ranked OU wrecked the then-No. 1 Bruins 14-0 (run-ruling them in five innings) to reclaim its spot on top of the college softball world.
In the onslaught, which came in the finale of the Mary Nutter Collegiate Classic, the Sooners popped six home runs off of UCLA's lauded pitching staff.
It was an emphatic ending to OU's 5-0 stretch at the event, in which it outscored opponents by a staggering 50-4 margin, with the Sooners tagging the Bruins for 20 hits and multiple runs in each of the final four innings of play, even with All-American hurler Megan Faraimo (who was pulled after allowing four earned runs off of seven hits in 1 2/3 innings) getting the start on the mound.
Hugs & chest bumps & strikeouts 🤝🏼❤️ pic.twitter.com/O2eQZZyoQ0

— Alex Storako (@alexstorako) March 2, 2023
Redshirt senior pitcher Alex Storako – an offseason transfer from Michigan – was the more unsung hero of the game, however, holding UCLA's hitters at bay and pitching a five-inning, three-hit, five-strikeout shutout to ensure that the Sooners' powerful offensive efforts were not wasted.
After a slip-up against Baylor the week prior, it certainly looks as if OU is back on track in the most stunning of ways.
Megan Faraimo Magical On The Mound As She No-Hits Florida
Yes, Faraimo's final game in the Mary Nutter Collegiate Classic didn't exactly go to plan, but her opener in that same event showed exactly why she's one of the most feared names in the circle across the country.
UCLA's 10-0 victory over No. 3 Florida on Thursday saw a pitching masterclass from Faraimo, who no-hit the Gators for the seventh no-no of her storied career.
It was the Bruins' first such effort against a top-3 opponent in 20 years. Faraimo finished the run-ruled matchup with nine strikeouts to just one walk.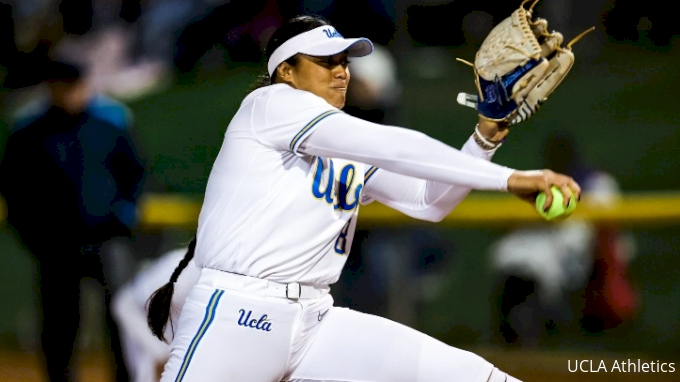 It was Faraimo's second no-hitter of the year already – the first came against San Diego on Feb. 12. The redshirt senior was one of the leaders behind the Bruins' epic 17-0 start to the season, and though UCLA didn't leave the Mary Nutter unbeaten, it's more than likely not the last time this year the Bruins will see the Sooners.
Odds are that Faraimo, even after getting tagged often against the Sooners' lineup, is going to come out of the Mary Nutter just fine. She already has 91 strikeouts (compared to just six walks) over 49 2/3 innings to start the 2023 season and at least nine strikeouts in five appearances, setting the native Californian up for yet another elite year leading the UCLA rotation.
Dariana Orme Continues To Shine For Surging Baylor
Not long after being the pitcher who contained the OU lineup enough to where her Baylor team was able to pick up an epic 4-3 win over the Sooners at the Getterman Classic, Orme has kept firing on all cylinders for the Bears amid their rapid 13-1 start to the year.
A week after throwing the first seven-inning perfect game in program history against Stephen F. Austin (and five days after being the only pitcher to this point in the year to beat Oklahoma), Orme followed it up by no-hitting a ranked opponent in No. 21 Maryland to kick off in style what would be a 5-0 weekend for Baylor at its own invitational.
𝐎𝐑𝐌𝐄 𝐇𝐀𝐃 𝐀 𝐃𝐀𝐘🔥

Dariana Orme pitched a no-hitter to help No. 22 Baylor pick up another top-25 win over No. 23 Maryland! #NCAASoftball x 📸 @BaylorSoftball pic.twitter.com/JK6rTSjky3

— NCAA Softball (@NCAASoftball) February 25, 2023
Her performance against the Terrapins saw her strike out a career-high 11 batters, and she now holds an 0.88 ERA with 36 strikeouts compared to just six walks.
She finished her weekend by picking up a win over Minnesota and contributing to another victory against Texas A&M-Commerce in the meantime, too.
The Californian, who showed strides in 2022 (12-14, 3.34 ERA) as an All-Big 12 second-team pick in her first season in Waco after transferring from Fresno State, has looked to have broken out into a bona fide star for 2023 who's ready to give the rest of the Big 12's elite names in the circle a run for their money.
Tennessee Edges Clemson In Tense Top-10 Showdown
It seemed for a while as if no team was ever going to give in the meeting between the Lady Volunteers and Tigers at the USF Softball Stadium this weekend, but thanks to the cool head of a first-year player, UT found itself ahead in the end.
True freshman Karlyn Pickens – facing a former first-time All-American in Valerie Cagle – threw the gem of her young career for the Lady Vols, striking out eight and giving up just four hits in a seven-inning shutout win – a performance No. 9 Tennessee needed every bit of, as they beat No. 5 Clemson 1-0 in Tampa to hand the Tigers their first defeat of the season.
Sophomore McKenna Gibson's two-out RBI single that brought home freshman Amanda Ahlin in the sixth inning made the difference on the offensive end, as the Lady Vols had their own troubles against the excellent Cagle (six hits allowed, eight strikeouts).
In a pitching duel in the Sunshine State, every chance to break through mattered.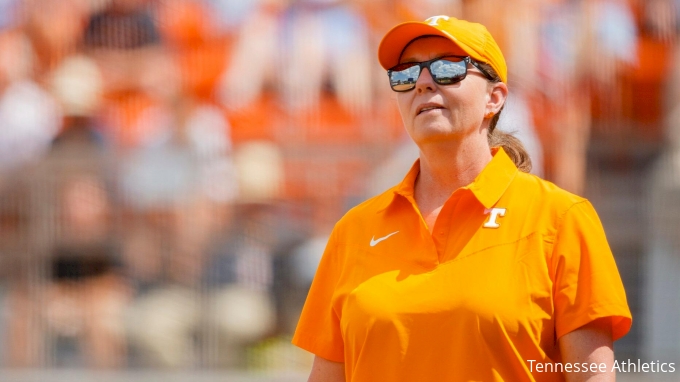 And with UT's run-ruled win later that day over Illinois-Chicago, legendary coach Karen Weekly also picked up the 1,000th win in Knoxville, a career that spans 22 seasons.
That win total will continue to grow higher with time this year, as the Lady Vols look to be cooking. They're 11-1 to start the 2023 campaign.
Kennesaw State, Louisiana Pick Up Top Upsets Of The Weekend
In one of the biggest shockers of the college softball season thus far, Kennesaw State – which is 4-10 and hasn't finished a full season over .500 since 2018 – stunned No. 7 Alabama in Tuscaloosa on Sunday by a 5-3 margin. It marked the Owls' first victory over a ranked opponent since the 2015 season and an Atlantic Sun Conference softball team's first win over the Crimson Tide – ever.
Not gonna lie, we're still in this moment right here.#𝐎𝐧𝐞𝐇𝐞𝐚𝐫𝐭 | #𝐓𝐡𝐞𝐒𝐚𝐰 🦉 pic.twitter.com/SBiYFFM9lH

— Kennesaw State Softball (@KSUOwlsSB) February 27, 2023
The win was sparked by a two-hit, two-RBI day from outfielder Kiera Cooper and just enough on the mound from true freshman Kenley Hilleary (four hits allowed, four strikeouts in a complete game).
'Bama, for its high expectations as an elite softball program and solid wins of its own (such as against Duke and Florida State) this year, has had a few clunkers (losses to KSU, Lehigh) mixed in, leaving room to wonder where the Tide truly stand among the national title contenders, with Southeastern Conference play looming next month.
And, speaking of the SEC, LSU took its first L of the year Saturday at the hands of in-state rival Louisiana – a result that was less shocking than the Tide's, considering the Ragin' Cajuns' status as a top-level mid-major program, but also likely a bit disappointing for the No. 15 Tigers, who got revenge on Louisiana the next day in Lafayette by a 4-1 margin.