2023 THE Spring Games
THE Spring Games: Show To Close With High-Level Showdowns In Sunshine State
THE Spring Games: Show To Close With High-Level Showdowns In Sunshine State
This Division I portion of this year's THE Spring Games will conclude this weekend, as 10 programs arrive to compete against each other in Florida.
Mar 9, 2023
by Briar Napier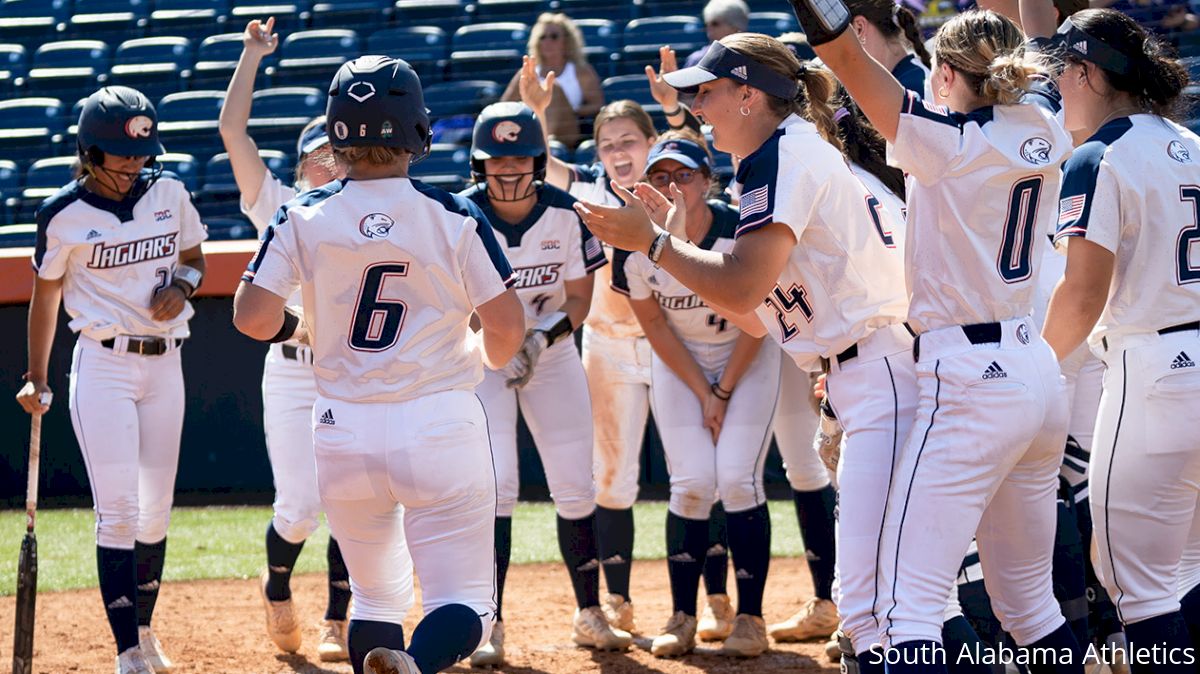 What a month of play it has been at THE Spring Games.
The world's largest college softball event has been welcoming Division I power-conference contenders and mid-major sleepers alike over to the sunny Southeast each weekend of the season so far.
This Division I portion of this year's event will come to a close this weekend, as 10 programs arrive to compete against each other at the R.O.C. Park in Madeira Beach, Florida.
As nonconference matchups dwindle, and the meat of the season begins to kick into high gear, events such as THE Spring Games will be few and far between the rest of the year.
As one last weekend of the event gets underway in a few days, there are bound to be plenty of exciting matchups to close the time in the Sunshine State on a high note.
Here's a look at some noteworthy matchups to watch this week at THE Spring Games, all of which is being streamed live on FloSoftball.
NOTE: All first pitch times are listed in Eastern Time and are subject to change.
Chattanooga Vs. South Alabama, Friday at 11 a.m.
Know the feeling of having a long-awaited vacation ahead and being aware that you did plenty of hard work beforehand to deserve it? That's got to be the vibe South Alabama has entering its trek down to sunny Madeira Beach for a few days.
The Jaguars enter their stint at THE Spring Games coming off their best win of the season, a 2-1 victory Saturday over a ranked Auburn squad.
Hardy and Lackie toss gems to lead Jags to a pair of BIG wins on Saturday at the Jane B. Moore Memorial!

📰 https://t.co/P9yDM8uBdy#AllGasNoBrakes pic.twitter.com/UForkpMgjv

— South Alabama Softball 🥎 (@SouthAlabamaSB) March 5, 2023
It was an upset punctuated by a top-tier, complete-game pitching performance from Olivia Lackie (one earned run on one hit, plus five strikeouts) that snapped what was a 16-game winning streak for the Southeastern Conference power.
South Alabama, on paper, has one of the tougher slates of the weekend at THE Spring Games, and that stretch starts with a game against a Chattanooga squad that is coming off four wins in five games at a tournament last week at Gardner-Webb.
Among the strengths for the Mocs is freshman pitcher Taylor Long (3-0, 1.30 ERA, 34 strikeouts in 27 innings), who has been excellent in the circle to start her college career.
The Jaguars' last appearance in THE Spring Games a season ago didn't go so well, with the team losing all four games it played last February in Leesburg, Florida.
Now, as it enters this year's field with a surge of positive momentum from its win over a ranked SEC opponent on its own field, South Alabama will be looking to get out on the right foot in its Spring Games opener, but the Mocs, who are coming off a NCAA Regional trip (even winning a game in Tuscaloosa against Murray State), stand in the way.
There's more firepower in the Chattanooga rotation beyond Long for the Jaguars to worry about, as well.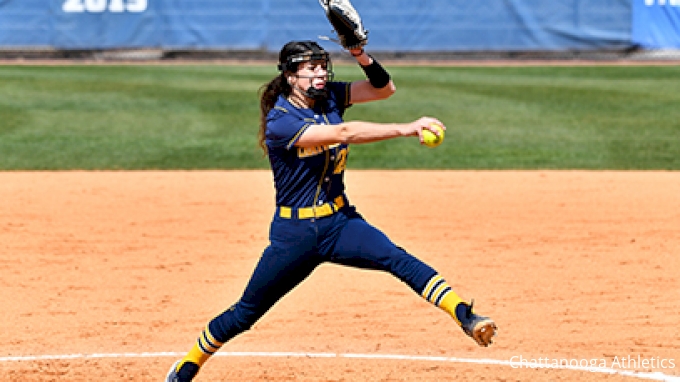 Alyssa Lavdis struck out 15 batters in a complete-game shutout against Detroit Mercy on Sunday, earning her SoCon Pitcher of the Week honors. In the effort, she was one strikeout shy of the single-game school record.
Lehigh Vs. Iowa, Saturday at 2 p.m.
With a nonconference win at perennial power Alabama on its resume, and a six-game winning streak in tow heading into its trip down to Florida, Lehigh has a right to feel good about where it stands.
The reigning Patriot League Tournament champs made national noise on opening weekend by shocking the Crimson Tide for the Mountain Hawks' first victory against a top-10 team.
Since then, they haven't let the upset win get to their heads too much, as Lehigh enters THE Spring Games at 10-2 overall.
𝗣𝗮𝘁𝗿𝗶𝗼𝘁 𝗟𝗲𝗮𝗴𝘂𝗲 𝗦𝗼𝗳𝘁𝗯𝗮𝗹𝗹 𝗪𝗲𝗲𝗸𝗹𝘆 𝗔𝘄𝗮𝗿𝗱𝘀

Lehigh sweeps weekly laurels.

🔗 https://t.co/tpZqEBPU57 pic.twitter.com/FW5wXghf1M

— Patriot League (@PatriotLeague) February 14, 2023
That hot start has been anchored by a dominant rotation that has posted a 1.40 ERA as a team, with junior Katelyn Young (5-0, 1.75 ERA, 38 strikeouts in 44 innings) and freshman Chloe Hess (4-1, 0.68 ERA, 32 strikeouts in 30 2/3 innings pitched) being the stars of the show on the mound.
Another key contributor in the outfield is senior Emily Cimino (.333 average, .641 slugging), who's already up to 18 RBIs on the season.
Lehigh would love nothing more than to upend another power-conference foe in the Hawkeyes down in Madeira Beach, but Iowa is almost certainly going to make itself a tough out.
Iowa holds a win of its own over a ranked team, which it nabbed on opening weekend, topping Mississippi State.
At the Mary Nutter Collegiate Classic on Feb. 24, Iowa took then-No. 1 UCLA to the limit in a 2-1.
Lehigh's pitching staff is going to get a proper test at the plate in junior Denali Loecker, who looks to be amid a breakout campaign. She already has blasted five home runs and collected 23 RBIs in 61 at-bats to start the year as the powerhouse of the Hawkeyes' lineup.
Hartford Vs. Lafayette, Sunday at 11:30 a.m.
Ignore the records and resumes of the two teams listed here, and pay more mind to the story going on at Hartford right now.
For the Hawks, this season is a swan song. Two years ago, the school voted to drop all of its athletic programs down to Division III starting in the 2023-2024, meaning Hartford's days as a Division I institution are numbered.
And, starting with the 2022-2023 academic year, Hartford stopped offering athletic scholarships to incoming student-athletes and began playing independently without a conference. It has been severely limiting in its pull to recruits across multiple sports, but it is necessary, as the athletic department prepares for the drop down.
All that change (both current and incoming) also has meant the Hawks have only played five games this year, but they're doing the most with what they've got.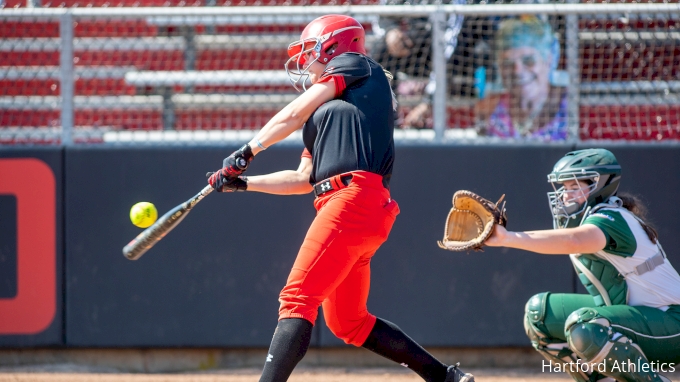 Hartford is 3-2 to start its season and has a graduate catcher/first baseman in Kelsey Galevich, who has been impressive in the Hawks' time on the diamond. She is batting .467 (7-for-15), with a .667 slugging average.
The program's trip down to Madeira Beach for THE Spring Games will see it double its amount of games played on the season in just one weekend and get a beach trip out of it, too, granting a bit of positivity to a team that's been part of an athletic department that has gone through the wringer over the past couple of years.
The Hawks' weekend finale against Lafayette is one of their better chances for a win in the Sunshine State, with the Leopards having struggled to a 1-8 start to the year, but with two games against Bucknell and single matchups against Iona and Chattanooga on the docket, too, Hartford is going to get plenty of game time – something it won't see much more of at the Division I level.