2023 Midseason Review: The Road to OKC Goes Through Oklahoma
2023 Midseason Review: The Road to OKC Goes Through Oklahoma
National champion Oklahoma and rival Oklahoma State are ranked 1 and 2 at the midway point of the 2023 softball season.
Mar 20, 2023
by Kyle Kensing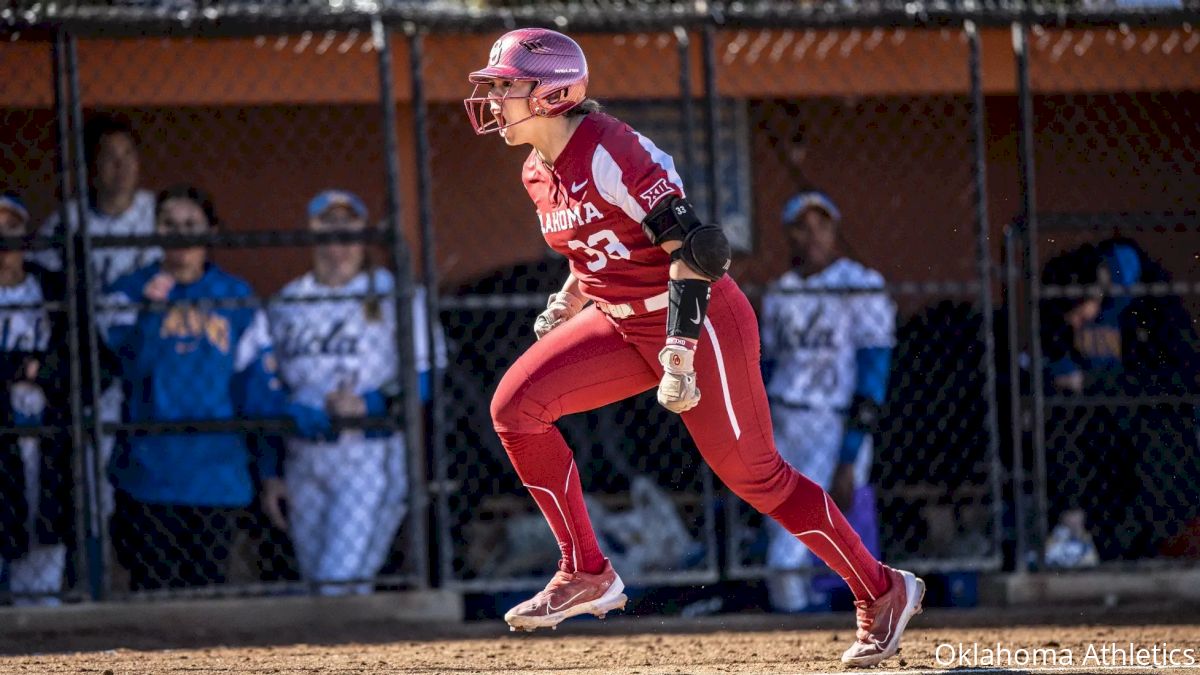 Two-time national champion Oklahoma's pursuit of becoming just the second three-peat title-winner in NCAA softball history is off to a strong start. As the 2023 season approaches its midway point, the top-ranked Sooners are holding strong at 27-1 after a perfect showing in the Omni Hall of Fame Classic.
The dominant tournament performance, concluded with emphatic wins over top 20-ranked Auburn, perhaps foreshadowed what June will bring: The Sooners hoisting hardware in Oklahoma City.
But a long road from this point to the Women's College World Series remains, and Oklahoma can expect plenty of stiff competition along the way — including in its home state.
Bedlam rival Oklahoma State looms at No. 2, sporting a 25-2 record with an impressive resume through nearly two months of competition.
A pair of Cowgirls in Kiley Naomi and Micaela Wark combine to form one of the most dangerous home hitting combinations in the game, combining for 12 home runs and 60 RBI through March 19. Oklahoma State's slugging percentage is a stout .569 as a team with Naomi and Wark among the top contributors (.770 and .750), and Rachel Becker not far behind at .732.
Few teams around the nation have been as good offensive as Oklahoma State, but Oklahoma's one.
𝐓𝐚𝐧𝐤 𝐓𝐫𝐢𝐨 ☄️ pic.twitter.com/wlvgAKCe8J

— Oklahoma Softball (@OU_Softball) March 19, 2023
The Sooners lead Div. I in team batting average (.399), on-base percentage (.481), slugging percentage (.720) and runs-per-game (9). Jayda Coleman and Alyssa Brito have been nothing shy of spectacular along with Tiare Jennings.
Coleman is batting a team-best .507, with Brito hitting .447. Each have homered seven times on the year. Coleman is also a terror on the base paths with nine steals in nine attempts this year.
Coupled with the predictably excellent pitching — Nicole May and Alex Storako are a combined 18-0 with sub-1.00 ERAs — and Oklahoma continues to carry itself as the team to beat in the 2023 postseason.
The Unhittables
OU's May boasts a .14 ERA in 50 innings pitched this season, but she's alone at the top of college softball. Stanford freshman NiJaree Canady has a mirroring .14 ERA in 51-and-a-third innings of work.
Count 'em up!

That's 1⃣8⃣ strikeouts and no-hitter #⃣2⃣ for NiJaree Canady!@CanadyNijaree | #GoStanford pic.twitter.com/mdyheIy70H

— Stanford Softball (@StanfordSball) March 4, 2023
Tennessee features a pair of sub-1.00 ERA pitchers in Ashley Rogers and Karlyn Pickens. The senior and freshman have each surrendered just three earned runs all season and sit at .40 and .47, good for third and fifth nationally.
Behind them, and one of the ironwomen of the season's first half, is Clemson's Valerie Cagle.
In 17 appearances, Cagle has put in 86 1/3 innings for the No. 5-ranked Tigers, amassing an ERA of just .49. Cagle is the leader in a group of standout pitchers to work more than 70 innings on the season and accrue sub-1.40 ERAs to date.
Gabby Sacco, FAU: 71 1/3 innings, 1.18 ERA, 51 strikeouts (10-2)
Bailey Parshall, Penn State: 72 innings, 1.07 ERA, 75 strikeouts (8-3)
Hannah Marien, Stetson: 72 innings, .88 ERA, 71 strikeouts (7-4)
Megan Faraimo, UCLA: 77 1/3 innings, 1.36 ERA, 121 strikeouts (13-1)
Dariana Orme, Baylor: 79 2/3 innings, .79 ERA, 85 strikeouts (10-2)
Alana Vawter, Stanford: 80 innings, 1.05 ERA, 70 strikeouts (11-1)
Ruby Meylan, Washington: 81 innings, 1.30 ERA, 117 strikeouts (10-2)
Maddie Penta, Auburn: 86 1/3 innings, 1.05 ERA, 133 strikeouts (11-4)
Stephanie Schoonover, Kentucky: 89 1/3 innings, 1.25 ERA, 129 strikeouts (11-1)
Myka Sutherlin, Cal State Fullerton: 91 innings, 1.38 ERA, 101 strikeouts (7-5)
Autumn Pease, Minnesota: 99 innings, 1.34 ERA, 124 strikeouts (12-3)
Sydney Nester, Marshall: 101 innings, 1.04 ERA, 126 strikeouts (14-2)
Alyssa Kelly, USC Upstate: 103 innings, .68 ERA, 82 strikeouts (15-2)
Leanna Johnson, Troy: 110 1/3 innings, 1.21 ERA, 118 strikeouts (16-2)
Pop at the Plate
Fifteen batters through March 19 have socked 10-plus home runs on the season. Jordyn VanHook of Arizona State is setting the pace nationally with 14 round-trippers in 25 games, while Tennessee's Kiki Milloy and Marshall's Autumn Owen trail with 13 each.
Erin Coffel has also been dynamite at the plate with 12 home runs to lead a Kentucky team with Women's College World Series aspirations.
The nation's most prolific home run-hitting team, however, has been Virginia Tech. The Hokies are blasting an average of 2.11 per game, a staggering figure adding up to 57 through 27 outings.
Bre Peck leads Virginia Tech with nine home runs, Addy Greene's hit eight, and both Emma Ritter and Jayme Bailey have knocked out seven home runs for the Hokies.
Bre decided she wanted to hit her 7th of the season as well 😁 pic.twitter.com/EkXfY02F2J

— Virginia Tech Softball (@HokiesSoftball) March 18, 2023
Surprise Teams Breaking Through
Ranked in the D1Softball.com Top 25 and checking in with a national RPI of 11th, Louisiana stands out as the surprise team of the 2023 season's first half.
The Ragin' Cajuns are 21-9 with wins over LSU, Ole Miss and Florida. They've also played tough games against Texas and UCLA as part of a demanding early-season schedule. Karly Heath has been outstanding for Louisiana through the first two months of the campaign, hitting .338 with seven home runs, 24 RBI and steals on all six of her attempts.
Another surprise team boasting a top 25 RPI: 21st-ranked Central Arkansas.
With some lights-out pitching from Kayla Beaver, who sports a 1.79 ERA with 107 strikeouts and a .98 WHIP in 90 innings of work, the Bears are 18-7 with wins over Utah and Arkansas.
An immaculate performance as they come.

Watch all 9 strikes for Kayla Beaver's immaculate inning from last night.

⬇️⬇️⬇️#BearClawsUp pic.twitter.com/VaID52bvBJ

— UCA Softball (@UCASoftball) March 4, 2023