2023 Hofstra vs North Carolina A&T
CAA Softball Games Of The Week: UNCW Welcomes Ranked Foe For Doubleheader
CAA Softball Games Of The Week: UNCW Welcomes Ranked Foe For Doubleheader
It's still early in the CAA schedule, so it's not easy to say that the haves and have-nots have developed for certain, but some teams are making arguments.
Mar 31, 2023
by Briar Napier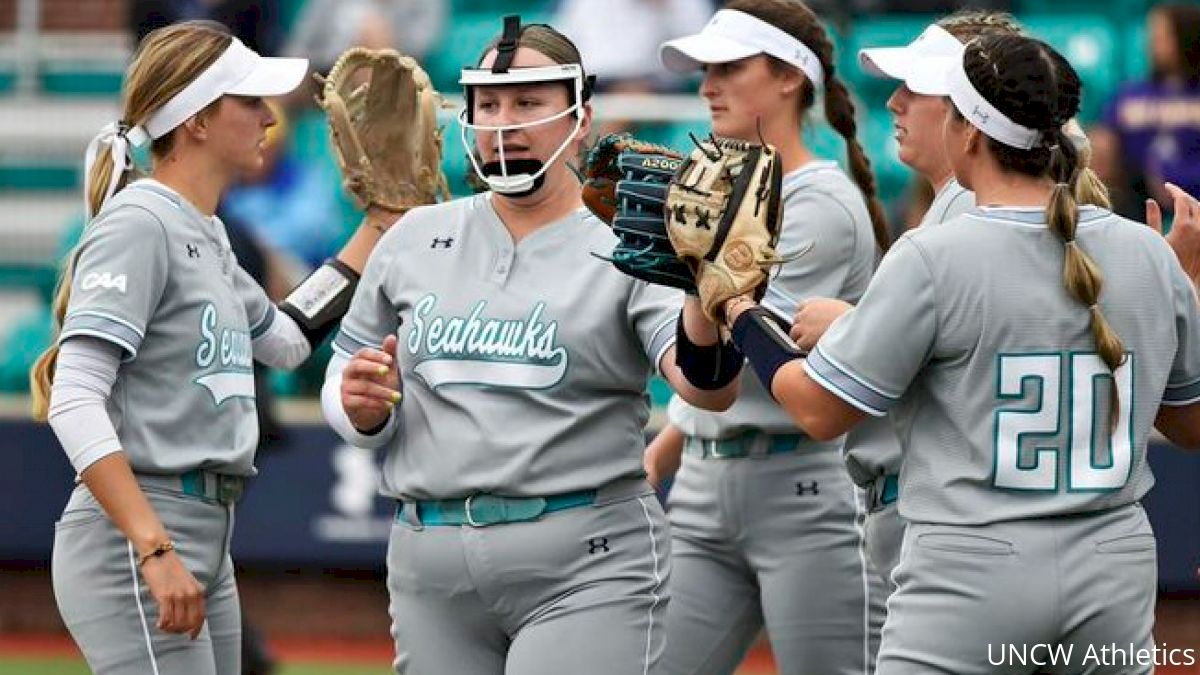 It's still relatively early in the league's conference schedule, so it's not quite accurate to say that the haves and have-nots of the Colonial Athletic Association softball season have developed for certain.
But there certainly are programs making their statuses known each way.
Five teams as of this writing (Thursday morning) hold winning conference records, and four are on multi-game winning streaks heading into the weekend matchups, which also signal the beginning of the all-important April.
By the end of the month, the league's title picture should be much clearer.
Not only that, but a top-tier national program (more on who that is down below) is going to test itself against a CAA program in nonconference play this week, too, in what's both an intriguing matchup on the surface and an opportunity for said program to toughen up in the thick of a possible regular-season championship push.
The league grind continues as the weather gets warmer, and tensions should rise right along with the temperatures.
Here's a look at the games to watch across the CAA schedule this week, with many matchups throughout the conference schedule being streamed live on FloSoftball.
NOTE: All times are listed in Eastern Time and are subject to change.
Elon Vs. Hampton
Things have been much better for Elon softball, compared to its slow start to 2023, with the Phoenix winning seven of their past 11 games to stay near the forefront of the CAA title race and behind on percentage points at the moment to league-leading Hofstra.
Hampton, meanwhile, is going in the opposite direction, having lost 6-of-7 as of this writing. The program is trying to find its way in its first season since moving over from the Big South Conference.
So, the Phoenix should roll when the two teams meet for a series this weekend (Saturday at 1 p.m. and 3 p.m. and Sunday at 1 p.m.), right? Not so.
Don't be mistaken and think of the matchups as guaranteed games for Elon.
Hampton, for starters, is a much better team at home (8-8) than it is on the road (1-6), and has also been working fifth-year designated player/catcher/first baseman Janae Lyles back into the mix after she was inactive for the part of the year.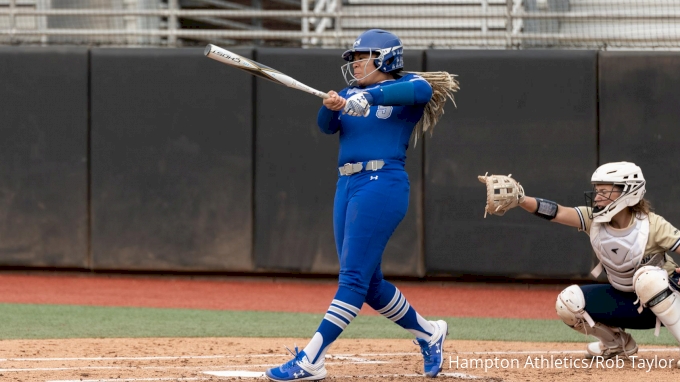 Lyles has batted .417 across the seven games she's played since her return in mid-March for a matchup against Georgetown.
Still, Elon demands respect right back as one of the CAA's more well-rounded teams.
When players such as senior first baseman/outfielder Claudia Penny (.391 average, 1.106 OPS, four home runs, 12 doubles, 27 RBIs) and reigning CAA Player of the Week Kaitlyn Wells (5-for-8, two homers, five RBIs in the Phoenix's series win over Towson this past weekend) are playing the way that they are, it acts as an indication that the program may be hitting its stride.
Hofstra Vs. North Carolina A&T
If there was any worry that the Pride were about to go through a rough 2023 season when they began a dreadful 0-9 (against a brutal nonconference slate that included two games each against Washington and Georgia, to be fair), the program's recent play has helped ease most concerns.
Seeking its first CAA regular-season crown in a decade, Hofstra likely will lead the league standings heading into April with a 5-1 conference record. That includes series wins over CAA debutants Stony Brook and Monmouth.
And, if picking on the new guys is a viable strategy to racking up victories, the Pride get another opportunity this weekend when they travel to Greensboro to face the Aggies in the first meeting between the two teams.
There's little sugarcoating the fact that A&T has struggled out of the gates in its new league. The Aggies have a 6-22 record and have lost six straight entering the weekend.
The Aggies also are a bottom-half offense and pitching staff, and they're tied for the most errors committed (18) of any team in the CAA across league play.
HOMERUN #DeziannaPatmon @NCATAGGIES @NCATSOFTBALL pic.twitter.com/HkeoYm7Xpu

— Amanda (@Dezsmom24) February 19, 2023
Sophomore infielder Dezianna Patmon (.342 average, 10 doubles, .579 slugging) does help in giving the Aggies a fighting chance, but Hofstra third baseman/shortstop Meghan Giordano – a reigning All-CAA first-team selection who rocketed out of the gates with a league-high eight home runs on the season – arguably has no equal in the league when it comes to raw power and the ability to send a pitch over the fence.
Think of Hofstra's visit to A&T as another iteration in a stretch of tuneups and check-ins for the Pride. If things go smoothly, they'll be in good position when the series against main CAA title rivals begin later in the month. If there's trouble, maybe those early-season worries after the winless start were a bit more justified.
Duke Vs. UNC Wilmington
The second ranked opponent to visit Boseman Field this year (Virginia Tech did it on opening weekend), No. 13 Duke has only fielded a softball program since 2018, but the Blue Devils have done well to become a new threat in the college softball landscape.
Duke won its first NCAA Regional last season, before bowing out to mighty UCLA in the Los Angeles Super Regional. The Blue Devils won over 40 games in back-to-back seasons, too.
Up to 26 wins entering the weekend against a stacked schedule that's seen Duke already emerge victorious against powerful opposition such as Arkansas, Stanford and Florida State, it wouldn't be an unwise idea to suggest that the Blue Devils could be in the running for a push to Oklahoma City this season.
We keep building 📈

Ready for the road test ahead 😈#Team6 pic.twitter.com/SVyMCjpN4t

— Duke Softball (@DukeSOFTBALL) March 29, 2023
As for this midweek matchup against the Seahawks, UNCW gets a tough midseason doubleheader to try and get the gears turning for good after just a 12-17 start to the year (as of Thursday morning).
UNCW earned the CAA's automatic bid to last year's NCAA Tournament and are looking to return to that form.
The Seahawks' sweep of NC A&T in a bounceback series following a sweep at Delaware, should give them a boost of confidence heading into both this weekend's league series at Stony Brook and the visit from one of the ACC's best teams.
UNCW is batting .378 as a team, with 24 runs scored against the Aggies last weekend.
Whether or not it has the production at its disposal to keep up with Duke standout and sophomore infielder Ana Gold (.333 average, 10 home runs, 31 RBIs) and the rest of the Blue Devils' crew in either game is yet to be seen.