2023 Stony Brook vs Delaware - Doubleheader
CAA Softball Matchups Of The Week: Delaware Gripping Onto League's Top Spot
CAA Softball Matchups Of The Week: Delaware Gripping Onto League's Top Spot
Delaware surged into first place in the CAA with a sweep in its league series, while main title rivals dropped games, opening the door for UD to pounce.
Apr 7, 2023
by Briar Napier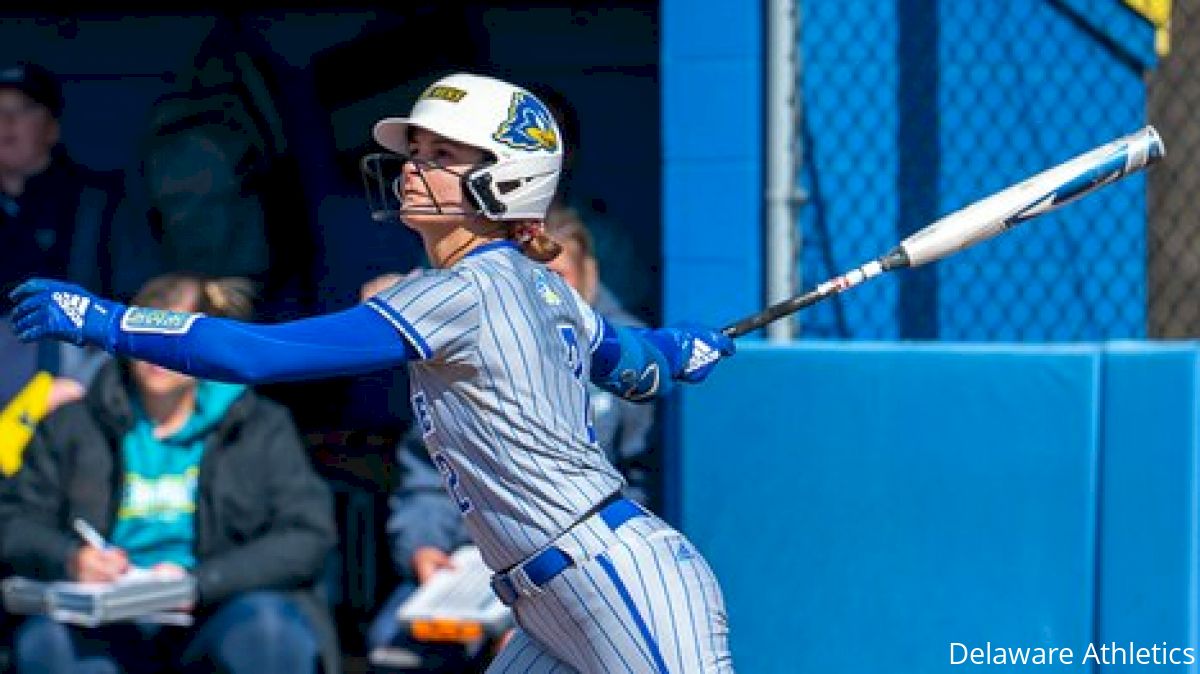 Do you hear the sounds of the Hens approaching in the distance?
The top Colonial Athletic Association softball programs did over the weekend.
Delaware surged into first place in the league, thanks to a sweep in its league series, while main title rivals dropped games, opening the door for UD to pounce and put itself in a premier spot with a month left in the regular season.
The grind won't stop for a while, but for the Blue Hens – who are looking to go to the NCAA Tournament for the first time in program history – they'll host next month's eight-team CAA Softball Championship. Any extra seeding advantage greatly would benefit them as the postseason looms.
Couple of no-brainers! 🙌

📰: https://t.co/r12qN7qYpY pic.twitter.com/PZMJjVG9hD

— Delaware Softball (@Delaware_SB) April 3, 2023
And speaking of the CAA Softball Championship, teams aren't at the point where they're clinching spots in the field yet (and far from it), but it's never too late for those same teams to further solidify their statuses early and get the job done with little extra fuss or stress.
Stress levels are going to be amping up regardless of the outcomes of the next few weeks, however, but whichever programs handle the peaks and valleys best are going to be in good position going into May.
Here's a look at the games to watch across the CAA schedule this week, with many matchups throughout the conference being streamed live on FloSoftball.
NOTE: All times are listed in Eastern Time and are subject to change.
Delaware Vs. Stony Brook
For now, there's a new sheriff in town.
Delaware, taking advantage of some first-place rivals making some slip-ups over the weekend, is in sole possession of the top spot in the CAA standings.
The Blue Hens swept Monmouth in each teams' last conference series with authority, shutting out the Hawks in all three games, as the Blue Hens' rotation rolled in New Jersey.
A midweek nonconference victory over Saint Joseph's on Wednesday puts UD on a league-high four-game winning streak heading into its meeting with Stony Brook and grants it a major chance to extend its lead atop the field with a four-game homestand ahead.
On the surface, it's a favorable matchup for coach Jen Steele's UD team. Stony Brook has one of the lowest team batting averages (.246) in conference play, and no pitching staff has limited CAA hitters to a lower cumulative average across the year than Delaware (.195).
But what can make the Seawolves dangerous is their ability to play fearless. After all, they became the first current CAA team in five years to beat a ranked opponent when they took down then-No. 23 Mississippi State on opening weekend in Florida.
🚨 𝐃𝐎𝐖𝐍 𝐆𝐎𝐄𝐒 #𝟐𝟑 🚨

✅ First win of the season
✅ Shutout
✅ First current CAA team to beat a ranked opponent since 2018

🌊🐺 x #NCAASoftball pic.twitter.com/i41DDzRVlo

— Stony Brook Softball (@StonyBrookSB) February 11, 2023
Unfortunately, Stony Brook's league record perhaps has been hampered a bit by the fact that of 11 games played, nine have come against Elon, UNC Wilmington and Hofstra – the No. 2, 3 and 4 teams in the CAA standings.
Beating the Seahawks in their Sunday series finale last weekend was a good way for Stony Brook to launch into the week ahead, and if top players, such as senior catcher Corrine Badger (two home runs, three RBIs in the UNCW series) can follow up that with strong showings against the Blue Hens, UD's stay atop the league could be in jeopardy.
North Carolina A&T Vs. Monmouth
As of Wednesday evening, the Aggies and Hawks have a combined 14 wins in 2023, which is the same amount, or less, than four other CAA teams by themselves.
So, why exactly should you care about this series between them?
Mainly because A&T is on an awesome stretch, and it could play the role of spoiler down the line in the race to the postseason, if the good vibrations continue.
Hofstra, which entered last weekend as the only one-loss team in league play, lost both games of a Sunday doubleheader to the Aggies, who completed the upset series win by scoring a walk-off run in Game 2, completing an epic 8-7 comeback victory after being down four runs entering the bottom of the sixth inning.
Things only got even better when A&T shocked South Carolina Upstate (a 28-10 team and one of the nation's winningest programs last year with 48 victories) in the first leg of their Tuesday doubleheader by a 3-2 margin, with freshman outfielder Sierra Baldwin's three-run home run in the fourth inning proving to be enough to propel the Aggies past the Spartans.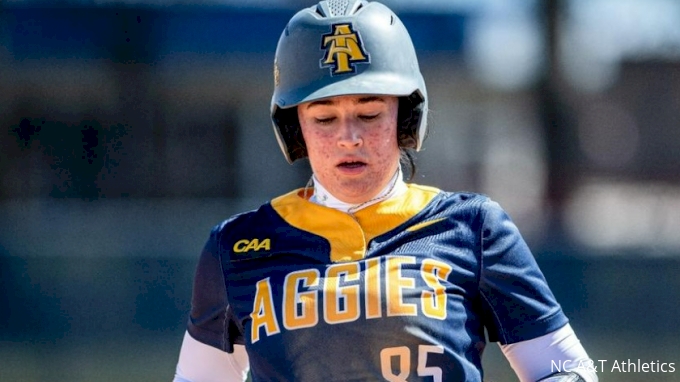 At a best-case scenario of winning six of their past seven following this weekend (which would be the case if A&T were to sweep Monmouth), the Aggies suddenly are finding a new groove after multiple long losing streaks, though Monmouth – which picked up a well-needed nonconference win against Columbia on Wednesday to snap a seven-game losing run – will be trying to string together some positive mojo of its own against a beatable CAA opponent.
Keep an eye on Hawks ace Billie Kerwood sometime this weekend, who quietly is the conference's strikeout leader with 91 Ks in 78 2/3 innings. She has pitched well (2.67 ERA), but holds a 2-10 record, due to a lowly offense (.204 team batting average, 55 runs in 28 games) backing her up.
Villanova Vs. Hofstra
The Pride playing a tough nonconference schedule is little surprise for a successful program that has made the NCAA Tournament 17 times.
To make it 18 times, however, things may need to improve a bit on Long Island.
Sitting at just 13-20 with a 2-5 record at home, Hofstra has had an up-and-down year that included a nine-game losing streak to start the season, a 6-1 surge to begin CAA play and a recent, aforementioned series loss to NC A&T that saw the Pride dip a bit down the conference pecking order entering this weekend's slate.
Towson travels to Bill Edwards Stadium for a CAA series, but after that, is the single game against the Wildcats, who are the two-time defending BIG EAST Tournament champions and definitely are in the mood to try and make it three straight, as evidenced by a 10-game winning streak last month.
M9 | VU 5, UD 1

This Ryan Henry RBI double plus a Sydney Hayes sac fly give us a four-run edge!#GoNova pic.twitter.com/IfJQ4SqHgu

— Villanova Softball (@VUSoftball) March 26, 2023
Catcher Ryan Henry (six home runs, 21 RBIs, .603 slugging percentage) has been a powerful option in the 'Nova lineup and will provide a proper test for a Pride rotation that's allowed the second-most home runs in the CAA (23), though part of that number can be attributed to Hofstra playing some powerful top-tier programs, such as Washington and Georgia, earlier in the season.
Hofstra looked to be turning a corner and building some consistency with four wins in five games, before losing three straight between the doubleheader against A&T and a nonconference loss Wednesday at Fordham, making the series against the Tigers, plus the matchup with the Wildcats (all of which will be at home) that much more important for the Pride to get back on track and push toward the top of the CAA hierarchy.