2023 Delaware vs Drexel - Doubleheader
CAA Softball Matchups Of The Week: UD Can Make Win Streak Double Digits
CAA Softball Matchups Of The Week: UD Can Make Win Streak Double Digits
There's still a long way to go before Delaware officially can be called the CAA's best softball team of 2023, but its winning streak has been impressive.
Apr 14, 2023
by Briar Napier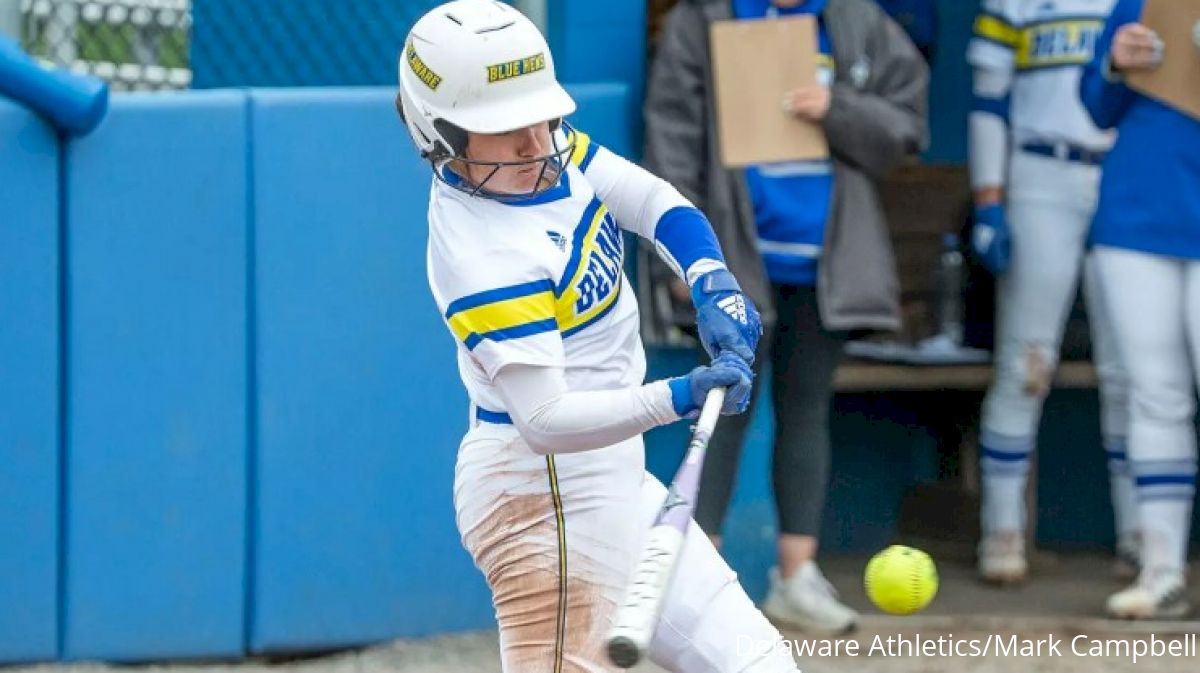 There's still a long way to go before Delaware officially can be called the Colonial Athletic Association's best softball team of 2023.
But if the Blue Hens do end up staying in first place and riding the wave all the way to a regular-season conference crown, they'll likely recall their midseason winning streak as a major part of their title push.
UD has the opportunity to extend its winning streak to double figures, while rivals just below them in the standings are tussling against one another this weekend and possibly growing the gap because of it.
It makes the matchups for the weekend ahead crucial for the dynamic of the rest of the season. A win here and a loss there could have huge implications as the weeks of the regular season dwindle down.
And, when time begins to run out, it is much, much better to be looking down at the rest of the standings than looking up and wondering how in the world to catch up.
Here's a look at the matchups to watch across the CAA schedule this week, with many games throughout the conference schedule being streamed live on FloSoftball.
NOTE: All start times are listed in Eastern Time and are subject to change.
Delaware Vs. Drexel
Can anyone stop Delaware?
The past eight games, at least, no one has been able to do so.
The Blue Hens enter this weekend on that long of a winning streak, having swept Stony Brook last weekend in CAA play and taken down in-state rival Delaware State in a nonconference midweek matchup, handling the nail-biters well (with three victories coming by a run) and surging to the top of the conference standings because of it.
Delaware holds a two-game lead over UNCW.
UD's pitching staff has been spectacular, as of late, tossing four shutouts during the winning streak and allowing no more than four runs in any game.
Not 1⃣, not 2⃣, not 3⃣. Make it *4⃣* @CAASports Pitcher of the Week nods for @emily_winburn85! 👏

📰: https://t.co/bkFQj89FKt pic.twitter.com/ViQE7thhVt

— Delaware Softball (@Delaware_SB) April 10, 2023
Senior Emily Winburn won the CAA Pitcher of the Week award for the second consecutive time and fourth on the season, going 2-0 with a 0.50 ERA in 14 innings of work against the Seawolves last weekend.
Delaware has won three straight CAA series via sweeps, and if Drexel is going to be the one to break that stretch in a couple of days, the Dragons are going to have to find some consistency – and quickly.
Drexel has lost 12 of its 15 games since winning its opening conference series of the year against North Carolina A&T last month, bogged down by a rotation that allows the highest team ERA (5.21) of any team in the CAA across league play.
It'll be a tall task to get the Blue Hens staff to crack, but crazier things have happened, and maybe the league leaders get caught being a bit too comfortable at the top of the standings as they travel to Philadelphia this weekend.
UNC Wilmington Vs. Elon
While Delaware tries to hold steady at No. 1 in the CAA, the teams below the Blue Hens are fighting to be as closest as possible – though the grind to doing it often results in teams beating up one another.
Such may be the case this weekend, as UNCW and Elon face off for their series as No. 2 and No. 3 teams in the CAA standings as of Wednesday night, respectively.
Nonetheless, the Phoenix and Seahawks should put on a show, and whomever emerges from the rubble after Sunday should set themselves up well for the rest of the year.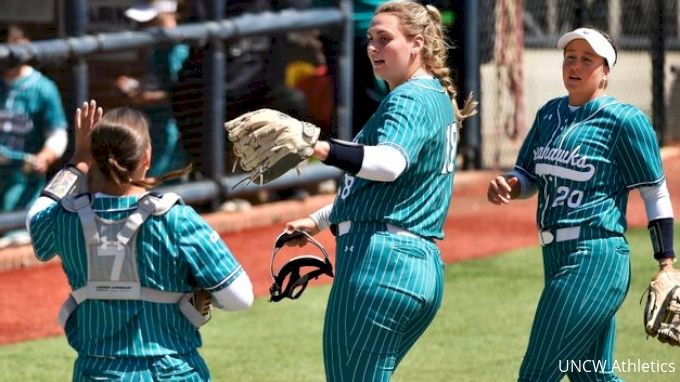 Let's start with discussions about UNCW, which currently holds both the No. 1 hitting lineup (.329 team batting average) and the No. 1 overall pitching staff (1.51 ERA) against CAA foes, but doesn't lead the conference standings. That's due to the fact that the Seahawks were swept by Delaware last month in a series in which the Blue Hens won all three games by two runs or less.
Toppling the Phoenix and winning the series would go a long way toward making up the gap and giving UD some added pressure, and with a trio of hurlers in the circle with sub-2.00 ERAs in conference play (Janel Gamache, Kara Hammock and Emily Winstead), UNCW definitely is going to be in good hands rotation-wise.
Still, that same rotation must respect the leading hitter in CAA play, Elon's Claudia Penny, who is batting .455 and slugging .818 for top marks in the conference in both categories. She garnered two hits, while reaching home twice, in a cut-and-dry 8-0, five-inning nonconference victory over North Carolina Central on Tuesday.
Something's got to give, and someone has to budge, making the series all the more enticing and worth putting on the screen this weekend.
Towson Vs. North Carolina A&T
Quietly, the Tigers have won five of their past six CAA games and have found their way to fourth place in the league standings.
Therefore, if there's any program that could be in place to benefit more from UNCW and Elon getting into a slugfest, it's Towson.
Coach Lisa Costello's team looked strong in a series win over Hofstra last weekend and secured its first 20-win season since 2019 with a nonconference triumph over UMBC on Wednesday, a big moment for a school that, since Costello was appointed in 2002, generally has been one of the league's strongest teams year-in and year-out.
The Tigers will be favored against the Aggies, who have been holding their own in their first year in the CAA since joining from the Big South Conference in the offseason, but must be cautious all the while, as A&T is beginning to find some mojo, winning two straight league series after starting the CAA slate 1-5.
Towson softball downs UMBC 15-7 on Wednesday for their first 20-win season since 2019https://t.co/IeC6zCWZUX#GohTigers | #UnitedWeRoar

— Towson Softball (@Towson_SB) April 13, 2023
Regardless, Towson still has conference play's leader in RBIs in junior Madyson Peters (22), garnering four of those in the Tigers' two wins against the Pride over the weekend to help bump her batting average to .374, which ranks second on the team behind fellow junior Mackenzie Lake (.395).
They each are likely to get in their fill of offense, but A&T's recent improvement in the circle also must be considered.
Joey Barkheimer and Kayla Douglas combined to pitch nine innings of shutout ball in a 1-0 win over Monmouth in the latter half of last Friday's doubleheader with the Hawks, while in the second game of a nonconference twin bill with a strong Campbell program Tuesday, Sharla Kirkpatrick allowed just one run in seven innings to give the Aggies enough leeway to find a winning run, which they got via a two-run walk-off from junior Alyxx Estrada.