2023 Seton Hall vs Providence
Seton Hall Softball: Kelsey Carr Driving Pirates In The Circle, At The Dish
Seton Hall Softball: Kelsey Carr Driving Pirates In The Circle, At The Dish
After missing the 2022 season due to injury, Kelsey Carr has roared back with an outstanding 2023 season hitting and pitching for Seton Hall.
Apr 20, 2023
by Kyle Kensing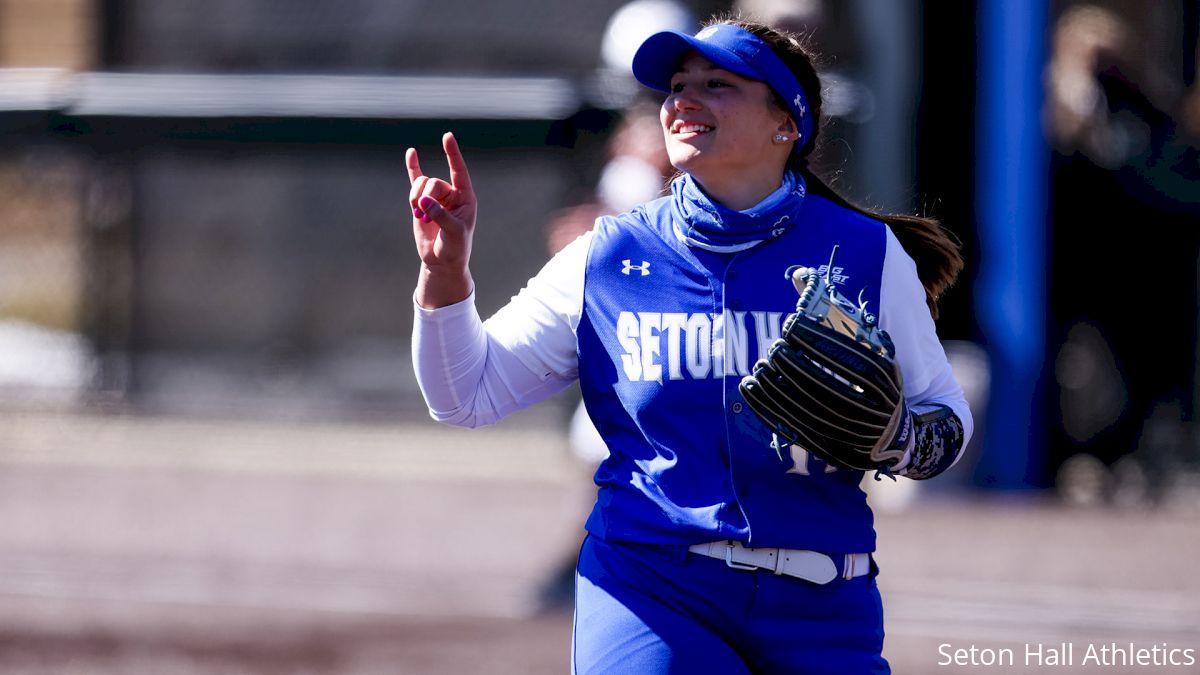 Kelsey Carr took a negative situation a year ago and has turned it into a positive both for herself and the Seton Hall Pirates in 2023.
With less than a month remaining in the regular season, Seton Hall finds itself very much in the hunt for the BIG EAST Conference championship. The Pirates are tied atop the league in the loss column with reigning champion and overwhelming preseason favorite UConn, and Carr has been a leading catalyst.
She sports an 8-3 record through 16 appearances and 14 starts with a BIG EAST-best 1.72 ERA. Carr's setting the pace for top pitching honors in the league, and that's all before noting her outstanding plate presence.
With a slugging percentage of .667, OPS of 1.125 and eight home runs — all team-highs — and a batting average of .323, Carr has been arguably as important to Seton Hall's success as a hitter as she has a pitcher.
And, as Pirates head coach Angie Churchill notes, "Everyone loves a pitcher who can hit."
Indeed, there's plenty to love about Kelsey's Carr game, and plenty has come as a result of her efforts a year ago amid a difficult situation.
After a promising debut campaign in 2021, striking out 70 in 85 innings and amassing an ERA of 4.20, Carr missed the entire 2022 season with a shoulder injury that required surgery.
Shoulder injuries are never ideal for a pitcher, but Carr used the time to gain a unique perspective on the game.
She describes assistant coach Laura Messina compiling charts from each Pirates game that mapped pitches for location and effectiveness.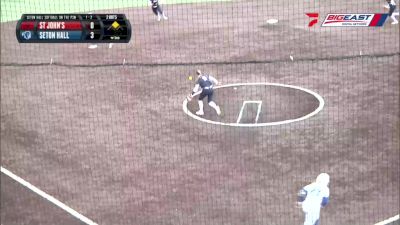 Unlock this video, live events, and more with a subscription!
Get Started
Already a subscriber? Log In
"I started tracking where other pitchers were throwing us," Carr said. "And that helped me stay focused in every single game. I really enjoyed that last year."
And it's evident in her performance that more than just enjoying the learning opportunity, Carr has succeeded in putting her lessons into action.
"You can learn a lot by, unfortunately, having to sit out and do that," Churchill said. "That can give you a different perspective than actually getting the ball out on the mound, and I think that prepared her for where she is now."
Carr is applying data in a tangible way, but her awe-inspiring return in 2023 isn't as simple as gathering the information. Turning that knowledge into physical performance takes concerted effort, which Churchill lauded as being central to Carr's play.
"She didn't rush anything," Churchill said. "It took a lot of work...Half the battle is mentally preparing, and she trusted that process."
The process applied as much at the plate as in the circle.
Carr's hitting wasn't poor by any stretch in her freshman season, when she produced a .250 average with 14 RBI. But even early into the 2023 season, when Carr said initially she struggled with strikeouts, her batting was not the dangerous weapon into which it's evolved.
A combination of "swinging at pitchers" Carr knows "she can hit" and the POV she gained through last year's pitch-tracking have bolstered her plate presence and made Carr a player Churchill describes as "the complete package."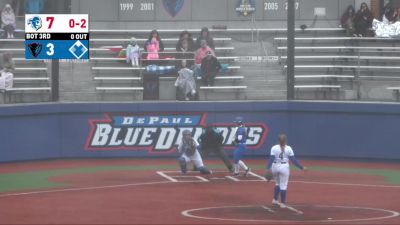 Unlock this video, live events, and more with a subscription!
Get Started
Already a subscriber? Log In
For both Carr individually and Seton Hall as a team, that completeness starts with pitching.
"Pitching's the name of the game, and we have a great staff that works really well together," Churchill said.
The Pirates rotation also features Shelby Smith who, in 13 starts and 104 innings of work, sports a 2.63 ERA. Smith's struck out 105 and limited opponents to a .244 batting average.
Carr also credited her fellow Hall pitchers for boosting her, both in games and during her rehabilitation process.
"[The team's chemistry] was huge for me, coming off of not playing last year, to build my confidence," she said.
Carr's playing with confidence, and so is Seton Hall. The Pirates head into the home stretch with three BIG EAST series remaining — a road tilt at Providence, then back-to-back home matchups with Villanova and Butler — with wins in 11 of their last 12 conference games.
And while Carr built toward 2023 from her own unfortunate circumstances in 2022, so too did the Seton Hall team.
"We learned a lot last year. I thought we pressed too much at the plate, and we were in a lot of close games; we lost seven conference games by one run," Churchill said. "We learned a lot in those moments, and I think maybe last year we were a little bit afraid of failing in those moments. This year, you're seeing us not be afraid of the moments and taking it head-on."
Turning negatives into positives indeed appears to be the theme for Seton Hall in '23, and it just might be the piece that lands the Pirates a conference championship and spot in the NCAA Tournament.