2023 Davenport vs Grand Valley St. - Doubleheader
After A 'Hard Look In The Mirror,' Hannah Beatus, GVSU Found A New Gear
After A 'Hard Look In The Mirror,' Hannah Beatus, GVSU Found A New Gear
Even after a pair of visits to the NCAA Division II Women's College World Series, Hannah Beatus (and her GVSU teammates) didn't quite feel satisfied.
Apr 20, 2023
by Briar Napier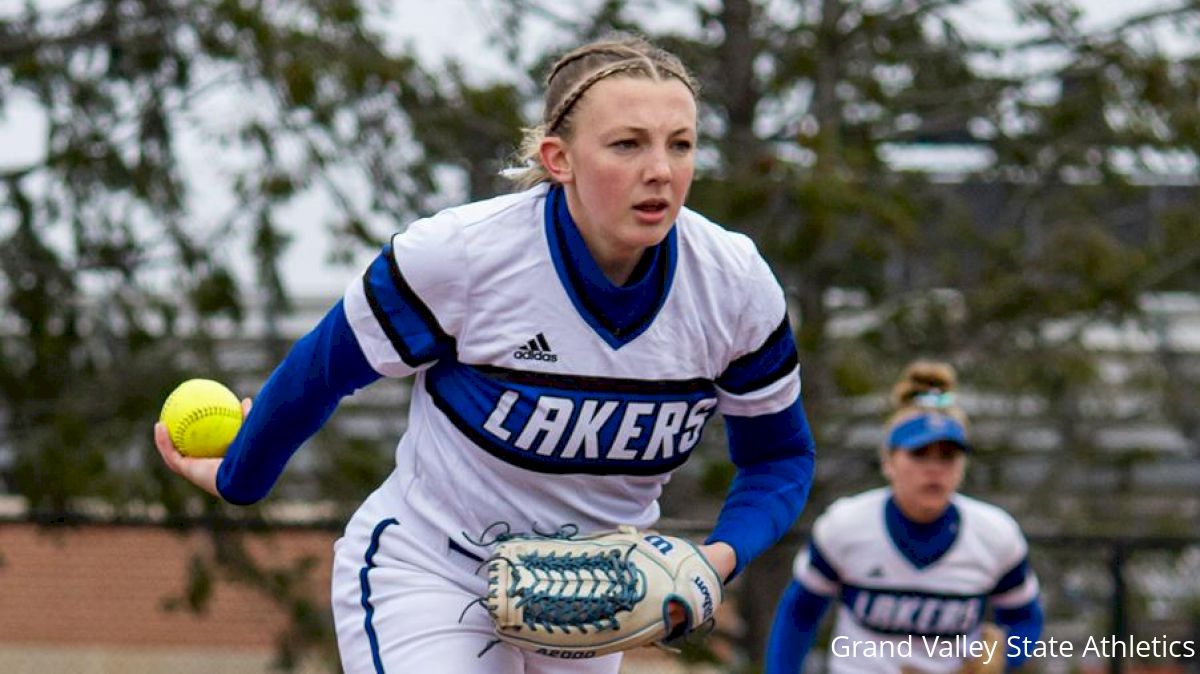 Even after a pair of visits to the NCAA Division II Women's College World Series, Hannah Beatus (and her experienced Grand Valley State softball teammates) didn't quite feel satisfied.
Most softball programs could only dream of a several-year stretch like the Lakers have had, winning at least 43 games in every completed season since 2018, including three Regional and two Super Regional titles during the run.
But according to Beatus – a redshirt senior pitcher and one of the most decorated players in program history – GVSU's abundance of talent in that time frame was both a blessing and a curse.
It was a blessing because, obviously, the Lakers won a lot of games, accolades and trophies because of it. It was a curse because they were so good throughout much of the year that Beatus said they felt as if they could coast through on skill alone.
But in the latter parts of the postseason, when everyone remaining in the field is elite, relying on skill alone doesn't exactly work as well, and GVSU found out the hard way.
"We were winning based off of talent, and we weren't necessarily winning based off our passion and how we were showing up for every game," Beatus, an All-American and two-time Great Lakes Intercollegiate Athletic Conference Pitcher of the Year, said of past years. "That was something that, right away, we had to kind of have a hard look in the mirror as a group and kind of recognize."
Well, as they hold a 31-3 overall record, with a top-10 national ranking, is it safe to say the Lakers have gotten the point yet?
No. 7-ranked GVSU, on a 15-game winning streak and unbeaten in GLIAC play, seems to be playing like it has – and that could mean bad news for the rest of the Division II softball landscape over the next few weeks.
1⃣5⃣ W's in a row! #AnchorUp pic.twitter.com/qpKoec6MSd

— GVSU Softball (@GVSUSoftball) April 19, 2023
During their ongoing stretch of victories, the Lakers have outscored opponents 104-25 and won via run rule in half of those games, paced by a lineup that ranks in the top 10 nationally in team batting average (.356), with three players batting over .430 – redshirt seniors Lydia Goble (.472), Morgan Wagner (.446) and Joanna Cirrincione (.432).
But good luck trying to catch up with that firepower against a GVSU rotation that ranks among the best in the country with a 1.48 team ERA – and especially if Beatus is slated to start.
The final qualified pitcher in Division II to allow a run in 2023, the Illinois native holds the lowest individual ERA in the division at a miniscule 0.46, dipping her career ERA to 1.13 as part of a legendary stretch in Allendale in which she's gone 82-15 with 37 shutouts, 641 strikeouts and five (yes, just five) home runs allowed. She has faced 2,580 collegiate batters.
There's a "killer instinct" Beatus talks about her and her team wanting to have, and when GVSU is clicking, there's almost no one in the nation with the ability to stop it on its path of destruction.
"We are a really, really great team and have really, really great pieces," Beatus said. "I think just kind of trusting in that and just showing up to every single game with that confidence and with competing in mind and being aggressive … we've got a really good thing going, and it's going to be really, really hard to beat us."
That's Pitcher of the Week award No. 🖐️ this season for Hannah Beatus! #AnchorUp

📰: https://t.co/liwsdVsPOM pic.twitter.com/KEix9OCKkn

— GVSU Softball (@GVSUSoftball) April 17, 2023
It is incredibly difficult to stay so consistently good for so long, especially in a league like the GLIAC that only has seven teams, meaning players throughout their careers likely will see the same programs and players on multiple occasions.
Beatus noted that there are teams she'll pitch against this season she already has faced "maybe eight, nine, even 10 times" already throughout her six years at GVSU.
But part of her role as a team veteran also involves her getting the newbies in the program up to speed, which GVSU's older guard has been doing by way of breaking quieter, more reserved underclass players out of their shells in order to get them prepared for when they'll be tasked with the same leadership responsibilities in the future.
"Physical touch has become a big thing for our group," Beatus said. "So, whether that's a high-five, whether that's a knuckle tap, it's a fun dynamic we have with our group.
"Upperclassmen sometimes are a little bit more aggressive and more rah-rah and like in your face about things, whereas our underclassmen are super stoic and super calm. And so, it's been really nice to kind of be able to pick on bits and pieces of that on each other. … (It's) recognizing the privilege of pressure and being able to kind of use those to out-compete our opponents."
The NCAA hasn't released its first Division II regional rankings of the season yet, but the Lakers are almost certainly going to be at, or near, the top of the totem pole in the always-brutal Midwest Region, if current trends continue.
As the wins keep piling on for GVSU, and its stature in the national-title hunt grows, painful lessons from the past have gone on to shape the team of the present.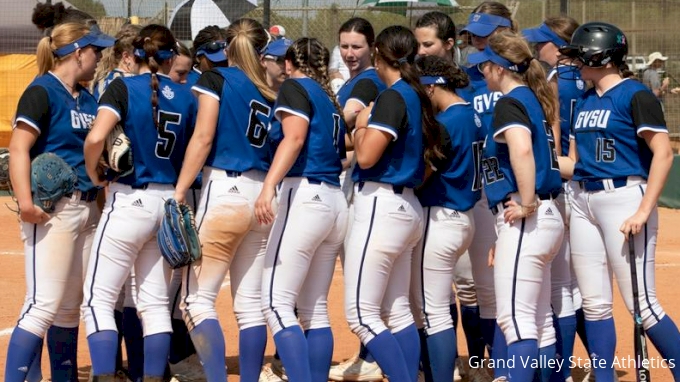 GVSU knows how many teams want to push for an upset against the Lakers, but so far, GVSU is succeeding in driving those attempts away more than it is failing.
The strategy of thinking more cerebrally about the game is giving the Lakers an edge that feels different, featuring a confidence that oozes swagger, but not arrogance.
It's an equation that's working for the Lakers right now to great avail, and all it took was a little bit of honesty with themselves.
"For a lot of people who play us, that's kind of like their World Series," Beatus said, "Which is an awesome thing because it creates a really, really cool environment. Everyone wants to play their best game against us and that sort of thing. … I think we just kind of try and take that as, 'All right, well, they're going to play their best game against us. We're going to up our game here.'"