2023 CAA Softball Championship
Regular-Season Champ Delaware Softball Headlines 2023 CAA Championship
Regular-Season Champ Delaware Softball Headlines 2023 CAA Championship
Delaware leads the largest field in the history of the CAA Softball Championship, with eight teams vying for the title.
May 8, 2023
by Kyle Kensing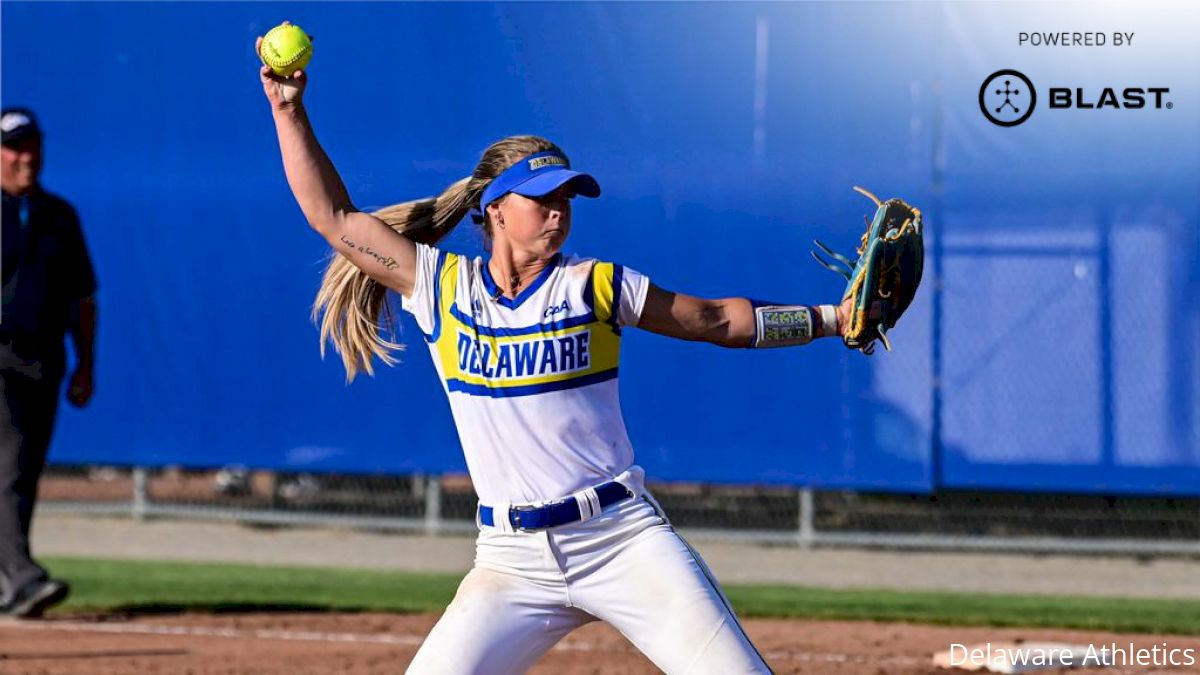 Regular-season champion Delaware leads the first eight-team field converging on Hofstra for the 2023 CAA Softball Championship.
The Blue Hens sewed up the crown and top seed in the tournament with an 18-5 mark in the league, part of their CAA-best 29-18 record.
The slates are wiped clean now, as the largest field in the history of the CAA Championship begins play Tuesday at Bill Edwards Stadium on the Hofstra campus in Hempstead, New York.
Competition begins with fifth-seeded Towson taking on North Carolina A&T, the No. 8 seed. The other opening-round matchup pits sixth-seeded College of Charleston against No. 7 Stony Brook.
Tuesday's games send the winners into matchups Wednesday with No. 3 Hofstra and No. 4 Elon. The two losers in the first round will head to elimination contests.
The top overall seeds, Delaware and UNC Wilmington, meanwhile, await with byes into Thursday.
Here's a look at the tournament's top 4 and how they reached this point, with a bid in the NCAA Tournament just a few wins away.
No. 1 Delaware
Record: 29-18 (18-5 CAA)
Clinching a regular-season championship with a no-hitter, as Delaware managed behind ace Emily Winburn, is a heckuva way to send a team into the postseason.
Winburn's no-no against Hampton put an exclamation point on her 17-8 campaign, during which she produced a 2.16 ERA with 100 strikeouts.
8⃣5⃣ was 🔥 today, firing Delaware's first no-hitter since 2019!! 👏 pic.twitter.com/Qg3eanLvqm

— Delaware Softball (@Delaware_SB) May 5, 2023
Combined with Taylor Wroten, who went four of her last five appearances without surrendering an earned run en route to a 1.90 ERA, UD boasts one of the most fearsome pitching staffs in the country.
The two led the way, as Delaware limited opponents to one or no runs over 16 games since March 18. The Blue Hens' record during that stretch is 21-6, including a four-game streak sending them to Long Island for the CAA Championship.
Offensively, Delaware leveraged a collective .283 batting average into the conference's best stolen-base percentage. Blue Hens were successful on 69 of their 82 swipe attempts, with five starters boasting from eight to 17. Julz Garber, who batted .371 in the regular season, set the pace.
Delaware looks to parlay that mix of stellar pitching and defense, with its effectively small-ball offense, to land a historic NCAA Tournament bid.
No. 2 UNC Wilmington
Record: 23-25 (17-7 CAA)
UNCW seeks its second CAA Championship title in as many seasons after capping an outstanding 2022 with the CAA's automatic berth into the NCAA Tournament.
The 2023 Seahawks faced some struggles in nonconference play, but they rallied effectively in league play. UNCW heads into the CAA Championship having won 5-of-6 overall, and five of its last six CAA series.
What a last ride…

Our Queen of literally the whole field reigns over the @CAASports in ERA, finishing out the season at 1.50 (Also 30th in the @NCAASoftball😉)

👉🏻 Top 10 of the CAA in SIX different hitting categories
👉🏻Top 10 in TWELVE different pitching categories… pic.twitter.com/6bBLcUEGQQ

— UNCW Softball (@UNCWsoftball) May 7, 2023
Janel Gamache has had an outstanding season for the Seahawks. She rolls into the CAA Championship with a team-leading .360 batting average and .992 OPS. She's also UNCW's star in the circle with a 1.50 ERA in 70 innings pitched.
Along with Kara Hammock, who has a 1.79 ERA, the Seahawks boast as impressive a 1-2 punch as any opponent will see in the postseason.
No. 3 Hofstra
Record: 24-24 (16-7 CAA)
Host Hofstra is a winner in 6-of-7 ahead of the CAA Championship, getting hot at the ideal time.
The Pride really began picking up steam at the beginning of March, however, coming on after a trying start to their schedule.
The field is set for the #CAASports Softball Championship which gets underway on Tuesday

1. @delaware_sb
2. @UNCWsoftball
3. @HofstraSoftball
4. @ElonSoftball
5. @Towson_SB
6. @CofCSoftball
7. @StonyBrookSB
8. @NCATSOFTBALL

➡️ https://t.co/wO0Uh14OQW pic.twitter.com/Xx09MLeFkz

— Colonial Athletic Association (@CAASports) May 6, 2023
Meghan Giordano has been central to Hofstra's performance of late.
She boasts a team-best 13 home runs, good for second in the CAA, and has hits in 14 of Hofstra's last 16 games. Her slugging percentage of .695 is tops in the CAA.
The Pride also have the conference's leader in stolen bases, Chelsea Manto. She has been successful on 25-of-27 attempts.
No. 4 Elon
Record: 22-24 (15-7 CAA)
A sweep of North Carolina A&T sends Elon to the CAA Championship with some positive momentum. The Phoenix scored late-season series wins over the Aggies and Hofstra, two of the teams in the tournament field.
Starting pitcher McKenna McCard has made several strong starts down the stretch including a four-strikeout effort against A&T, six strikeouts against Charleston and a seven-inning start against UNCW, in which she allowed only one earned run.
At the plate, Chloe Hatzopoulos is arriving at the CAA Championship having hit a staggering five home runs over the last two games of the regular season.
T2 | "My name is Chloe and I hit dingers!"

Hatzopoulos with her FOURTH homer of the series on this two-run 💣 to put the Phoenix back in front!

3-1 | #EUSB 🥎 pic.twitter.com/lwKzAE6Ug2

— Elon Softball (@ElonSoftball) May 6, 2023