2023 CAA Softball Championship
2023 CAA Softball Championship: Five Players To Watch
2023 CAA Softball Championship: Five Players To Watch
After three months of long travel hauls, two-game days and quarreling in the CAA softball standings, the league's season has come down to just a few days.
May 9, 2023
by Briar Napier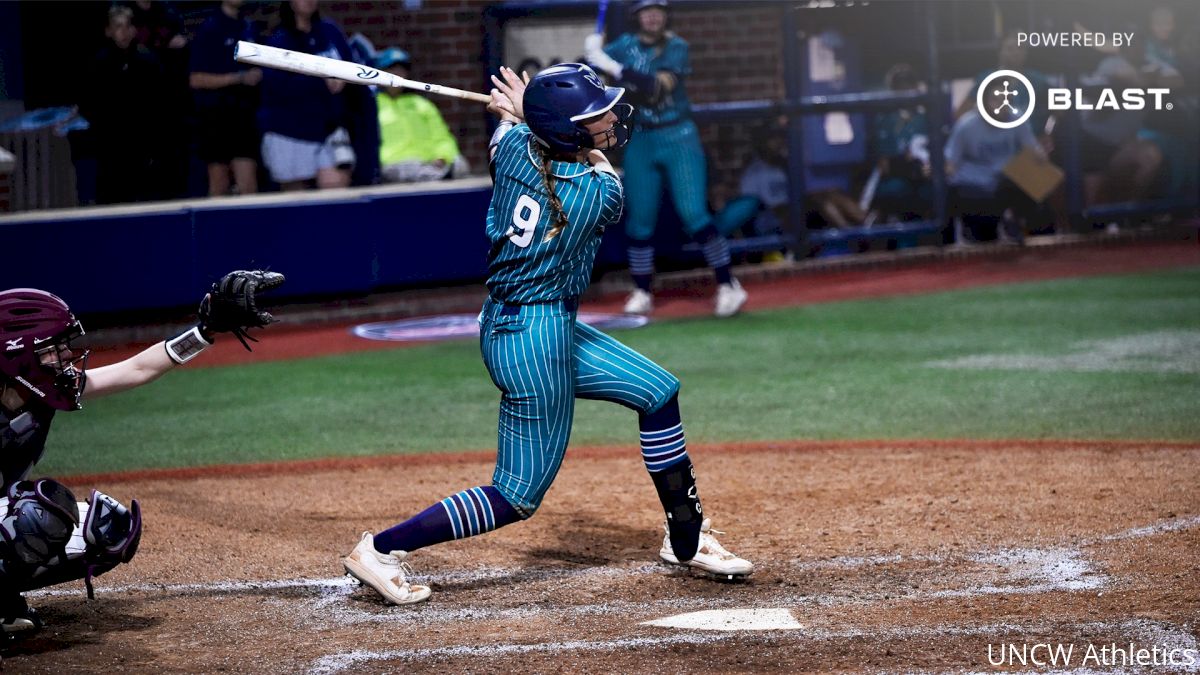 After three months of long travel hauls, two-game days and quarreling in the Colonial Athletic Association softball standings, the league's season has come down to just a few days.
It's CAA Softball Championship time, and it's back in a new format.
Since the conference's annual year-end tournament to decide its representative at the NCAA Tournament began 21 years ago, it never featured a bigger field than this year's eight-team event, opening a huge range of possibilities and shake-ups.
Play will begin Tuesday with loser-out games between the four lowest seeds, followed by a six-team, double-elimination format that features the top four seeds mixed in with Tuesday's winners.
Ready for things to get a little wild?
The players in each dugout certainly can seem like they are, though only a select few who stand out this week on Hofstra's home field can prove via a show of force on the diamond that they actually are ready.
Look for the players mentioned below (and others, of course) as ones to watch this week in the CAA Softball Championship. See just how ready they are to be up to the task when play gets underway at Bill Edwards Stadium in Hempstead, New York.
All games in the tournament are being streamed live on FloSoftball.
Janel Gamache, UNCW, INF/P, Gr.
CAA softball's equivalent to baseball superstar Shohei Ohtani, no one in the league is a better two-way player than Gamache, the fifth-year heartbeat of the Seahawks' program who already has handled the pressure of a postseason run in her decorated career.
Rhode Islander finished the regular season as the league's ERA leader with a 1.50 in 70 innings pitched and finished seventh in the CAA in batting average (.360) and slugging percentage (.574). She also was second on her team in RBIs (26).
And after the heights UNCW reached a year ago as the winner at the CAA Softball Championship, Gamache – who batted .500 in last year's league tourney and then became the first Seahawk to record a hit in a NCAA Regional game – has helped the Seahawks win enough to start this year's postseason as the No. 2 seed in the CAA tourney with a double bye, not having to suit up until quarterfinal play begins Thursday.
A UNCW repeat should see Gamache be heavily involved and integral to the effort.
Chloe Hatzopoulos, Elon, OF, Soph.
Much of the time in conference tournaments, it's about which players on which teams find their footing at just the right moments.
Take a look at Hatzopoulous' blistering recent offensive explosion, and keep an eye on her when the Phoenix take to the diamond on Long Island this week.
Hatzopoulous – who was a CAA All-Tournament pick last season, by the way – had one of the best back-to-back offensive performances you'll find anywhere this year to close her regular season.
CAA Softball Player of the Week 🥎@ElonSoftball's Chloe Hatzopoulos batted .778 (7-9) with five home runs, 12 RBIs and seven runs scored, slugging 2.444 to lead Elon to a weekend sweep.

➡️ https://t.co/G5f2hONgiw pic.twitter.com/Tf7JUgOKgX

— Colonial Athletic Association (@CAASports) May 8, 2023
She smashed three home runs with seven RBIs in the back end of Friday's doubleheader against North Carolina A&T, then smacked two more over the fence a day later against the Aggies, giving the Phoenix a sweep and Hatzopoulous the school record for most homers hit across a three-game series.
Time will tell if Hatzopoulous' epic weekend merely was just a red herring or the start of something remarkable entering postseason play, but her power hasn't exactly come out of nowhere, as she closed the regular season as Elon's home run leader with 11 long bombs, the third-most in the CAA.
Emily Winburn, Delaware, P, Sr.
The Blue Hens' push for a CAA regular-season title came down to the final weekend, as UNCW was looking to take advantage of a potential UD slip-up against Hampton.
Winburn helped ensure – with authority – that there would be no opportunity for the Seahawks to take over.
The Florida native threw a seven-inning no-hitter in Game 1 of a Friday doubleheader against the Pirates – the first of her career and her league-leading seventh shutout of the season.
Later in the day, when Delaware won Game 2 by an identical 5-0 scoreline, UD was able to clinch its second straight conference regular-season championship.
Back-to-Back!! 🏆 pic.twitter.com/cRscIfGDdL

— Delaware Softball (@Delaware_SB) May 5, 2023
Of course, Winburn has been putting up stellar performances in the circle all year for UD, leading the CAA in wins (holding a 17-8 record as of Sunday night), while featuring a 2.16 ERA, with 100 strikeouts in 142 2/3 innings, making her the league's only hurler to this point with an ERA under 2.25 and triple-digit Ks.
Perhaps that consistency finally can get her and Delaware to a point the Blue Hens haven't reached since the CAA began holding a conference tournament in 2002 – being CAA Softball Championship winners.
Mackenzie Lake, Towson, INF, Jr.
Towson, as a whole, faded a bit late into the regular season, making the Tigers slip to the No. 5 seed for the CAA tourney and forcing them into first-round play Tuesday against eighth-seeded North Carolina A&T.
Lake has had no problem with continuing to make an impact through the latter part of the stretch, though.
The CAA's batting champion (.403) finished league play on a strong note, going 5-for-11 with five RBIs and two home runs in Towson's final CAA series of the year against Stony Brook on April 29 and 30 (the Tigers didn't play a conference team this past weekend), then followed it with a three-RBI performance – giving her a career best 36 on the year – in the Tigers' regular-season finale, a shutout win in nonconference play against Coppin State.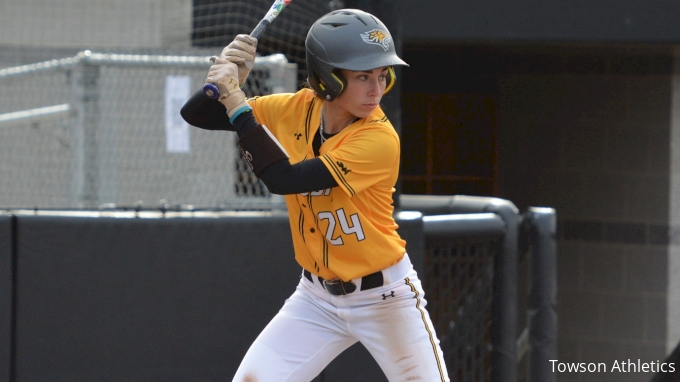 Even amid a great comeback season after batting .398 as a freshman in 2021, but dropping down to a .303 average in 2022 as a sophomore, Lake and her Towson teammates are in a tough spot to start the Championship in the newly expanded field, but if they can look closer to the team that won six straight games in early- and mid-April, the Tigers could be a dangerous spoiler down the line, as long as Lake is rolling.
Corinne Badger, Stony Brook, C, Sr.
Corrine is clutch. Want proof?
With just two swings of her bat over the weekend, she helped send Stony Brook to the CAA Softball Championship in its debut season in the league.
A sweep of Monmouth in the Friday doubleheader sent the Seawolves to the postseason, and Badger (the CAA's regular-season home run queen) was directly involved in both thrilling victories.
Facing league strikeouts leader Billie Kerwood in a 0-0 pitcher's duel in the bottom of the seventh inning of Game 1, Badger blasted a solo walk-off shot to put Stony Brook on the brink of qualifying.
B6 | 🚨 𝐁𝐀𝐃𝐆𝐄𝐑 𝐁𝐎𝐌𝐁 🚨@corinne_badger ties the game after blasting her second home run of the day!

🌊🐺 x #NCAASoftball pic.twitter.com/LzDLtZYqnd

— Stony Brook Softball (@StonyBrookSB) May 5, 2023
Later, in the second game, Badger homered again to center field to give the Seawolves a 3-2 sixth-inning lead, which the Seawolves turned into another walk-off victory in extra innings to book their ticket to the CAA tourney for the first time.
Stony Brook may be the No. 7 seed (playing against No. 6 Charleston in the first round), but it's also won seven of its past eight games against conference opponents and, led by Badger's power, leads the league in home runs (43) by a wide margin, 16 ahead of Towson.
With Badger's bat white-hot at the moment (four home runs, seven RBIs in her past five games), the Seawolves could make some statements this week in their first postseason as a CAA member.