2023 UW-Parkside vs Saginaw Valley St. - Championship
Back-To-Back: SVSU Defends GLIAC Championship With Win Over Parkside
Back-To-Back: SVSU Defends GLIAC Championship With Win Over Parkside
Saginaw Valley State University cruised to a 12-2 win in five innings over Parkside on Sunday to win its second consecutive GLIAC Tournament championship.
May 8, 2023
by FloSoftball Staff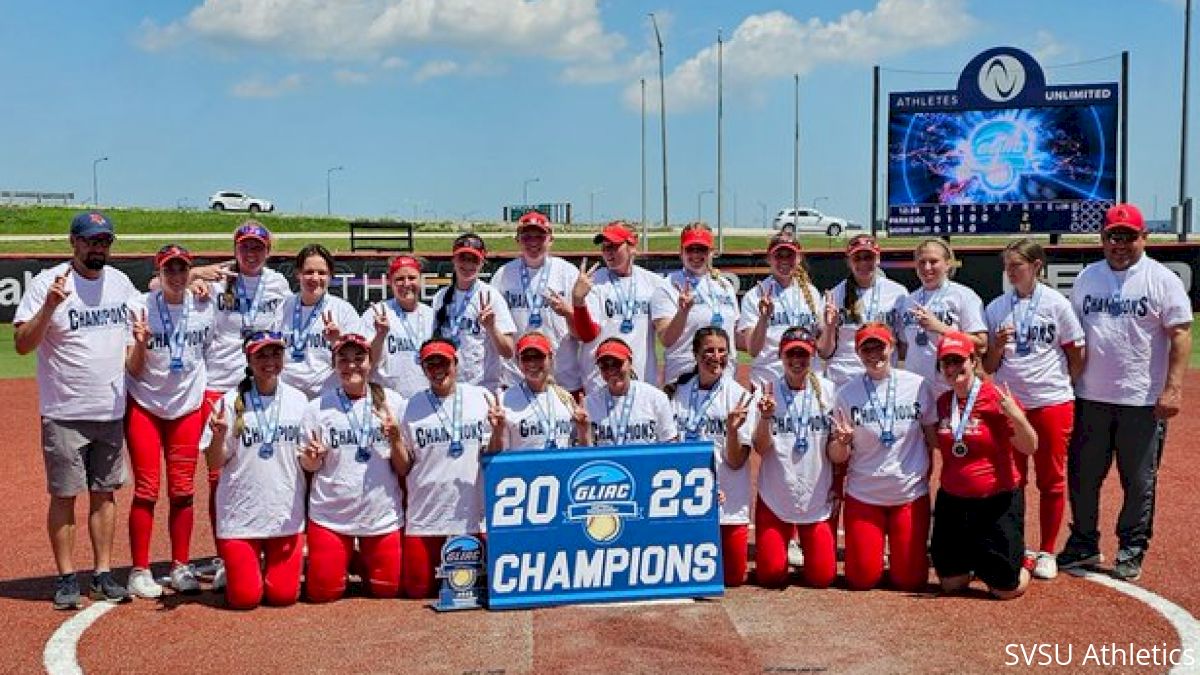 The Saginaw Valley State University softball team cruised to a 12-2 win in five innings over Parkside on Sunday to win its second consecutive Great Lakes Intercollegiate Athletic Conference Tournament championship.
The Cardinals (35-14) earn the automatic bid to the NCAA Division II Softball tournament with the victory and claimed the program's fifth conference tournament title.
Sara Moos led the way offensively with a team-high three RBIs. Jackie Popko and Alexis Gills brought home two runners each.
Gills also scored three runs, while Popko crossed the plate twice.
Sarah Gersch, Olivia Sabin and Sydney Herioux had one RBI and scored a run, as well.
Patient batting helped the Cardinals build an early lead, while six walks in 1 1/3 innings contributed to a 7-1 lead.
Popko walked to lead off the bottom of the first inning. Gills hit a single up the middle to score Popko for the 1-0 lead.
A stolen base and a walk loaded the bases, before an error put two more runs on the board for the 3-0 lead. Two walks with the bases loaded, plus a sacrifice fly, ended the first with a 6-0 lead on the board.
The Rangers scored a run off a single in the second inning to put things at 6-1.
A single and a walk put runners on base, before Moos singled up the middle to bring Gills home for the 7-1 lead early.
A second run by Parkside in the top of the third inning preluded another five runs from SVSU, as the lead increased the lead to 12-2, where it would stay for the remainder of the contest.
Popko doubled in the bottom of the third inning to score Sabin, Gersch singled to centerfield to bring home Popko and Moos doubled to left center for scores from Gersch and Gills.
Emily Depew (W, 17-6) pitched another complete game, which included four strikeouts – three of which were in the final inning to end the game. She allowed six hits and two earned runs.
BACKKK 2 BACKKK ❤️💪🏼💙https://t.co/r5CWZpnqbS pic.twitter.com/3YzqhqiU2B

— Cardinal Softball (@SVSU_Softball) May 7, 2023
UP NEXT
The Cardinals will await their destination and matchup next week when the NCAA Division II Tournament selection show airs Monday at 10 a.m. Eastern.