2023 St. John's vs UConn
Seton Hall Softball's Kelsey Carr & Four BIG EAST Players To Watch
Seton Hall Softball's Kelsey Carr & Four BIG EAST Players To Watch
The talent on display during the BIG EAST Softball Championship – being held Wednesday through Saturday – has been standing out and showing up all year.
May 10, 2023
by Briar Napier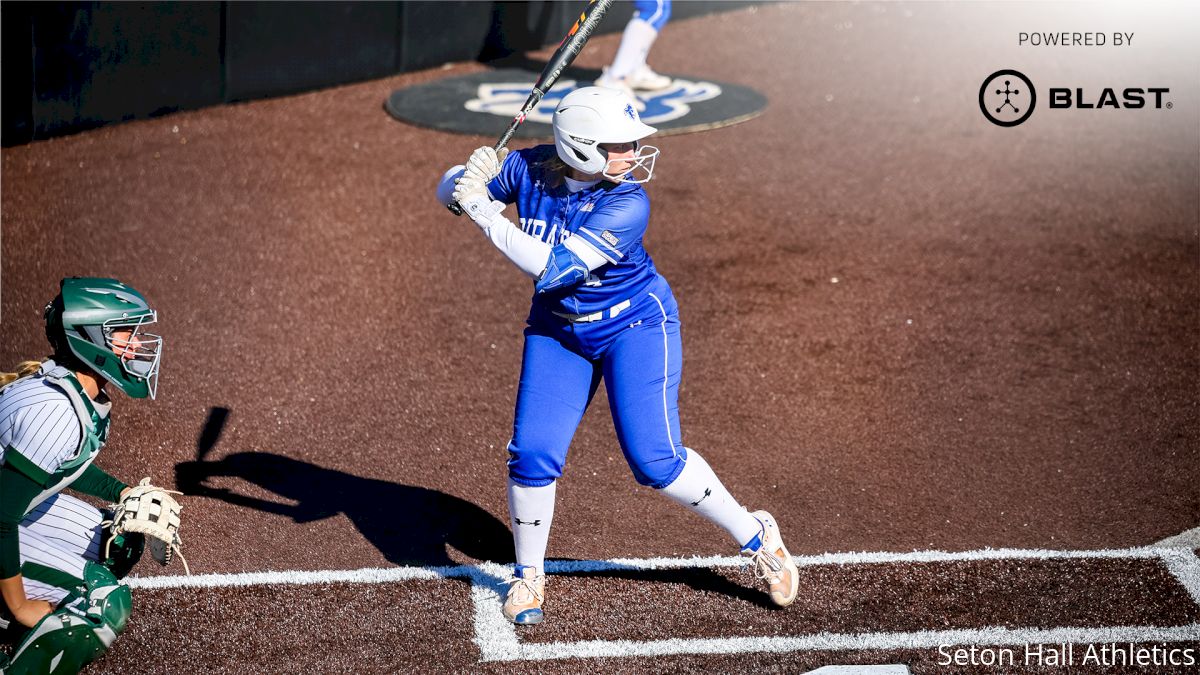 There's a new era of the BIG EAST Softball Championship on the horizon.
The league's annual conference tournament has been completely revamped for 2023 and given a new format that changes the landscape and atmosphere of the conference's postseason completely – increasing the number of teams participating from four to six.
However, the high stakes remain the same: the winner gets the glory and spoils of a BIG EAST tournament title and gets to represent the conference at the NCAA Tournament, where it'll take on the very best in college softball, who all will be in the hunt to make it to the Women's College World Series.
Sounds exciting to you? Good.
The talent on display during the BIG EAST Softball Championship – being held Wednesday through Saturday in a double-elimination format – has been standing out and showing up all year, but in case you need a refresher or an idea of the players who have been particularly impressive this season, look no further.
And, most importantly, watch them for yourself, starting Wednesday.
Here's a look at five names to look out for as the BIG EAST Softball Championship gets underway this week at Burrill Family Field at the Connecticut Softball Complex, with numerous games in the tournament being streamed live on FloSoftball.
Kelsey Carr, INF/P, Jr., Seton Hall
Carr has made a living this season off not just shutting opposing hitters down, but also making life difficult for imposing pitchers.
A two-way, all-around star, the New Yorker has been the engine behind Seton Hall's most successful season in nearly two decades – and one that could get even better for the No. 3-seeded Pirates as they chase what would be a massive BIG EAST Softball Championship title for the program.
𝐏𝐈𝐓𝐂𝐇𝐄𝐑. 𝐎𝐅. 𝐓𝐇𝐄. 𝐘𝐄𝐀𝐑.

No one was better in the circle this year than Kelsey Carr. She becomes the first Pirate in program history to win the award!#HALLin🔵⚪ pic.twitter.com/S7yfM9iILF

— Seton Hall Softball (@SHUSoftball) May 9, 2023
Carr not only holds the lowest ERA (1.87) of any qualifying pitcher left standing at this point in the conference season, she also has the most RBIs (43) and third-most home runs (11), too, a monumental comeback season that could see her capture the BIG EAST Player of the Year award after missing the 2022 campaign due to injury.
Carr has taken over games essentially by herself.
In a 7-2 late-March win against Creighton, for instance, Carr went the distance and struck out six Bluejays, while allowing just two earned runs. At the plate, she was 3-for-3 with a home run, two RBIs and two runs, meaning that even if you took out the stats of every other Pirate in that game, The Hall still would've won based on Carr's performance alone. Yeah, she's pretty good.
Lexi Hastings, OF, Soph., UConn
Hastings was narrowly beaten to the BIG EAST regular-season batting title by Seton Hall's Abby Wingo, who prevailed by one-thousandth of a decimal point with a .403 average, but of course, Hastings doesn't need that individual distinction to prove herself – she's already one of the most feared offensive weapons in the league for the back-to-back regular-season champions.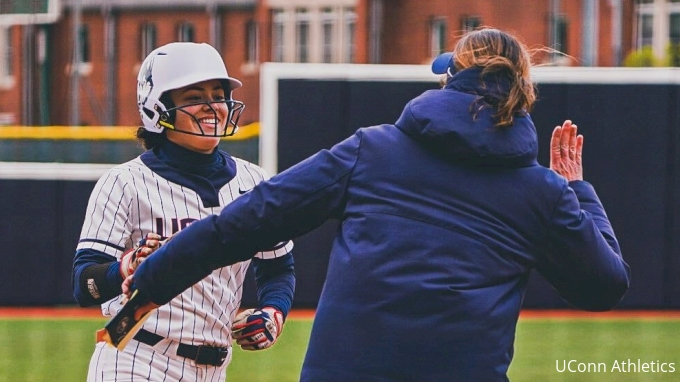 She's particularly been lethal over the past few weeks, which is bad news for the opponents she and the Huskies will take on this week.
Hastings has recorded 12 hits in her past five games, and with lethal speed on top of it all (36 stolen bases, second in the BIG EAST), she's clearly had no problem living up to the expectations placed on her this year after being named an All-BIG EAST second-team selection in 2022.
The top-seeded Huskies will be looking to finally complete the milestone the program was crushingly pushed away from in last year's conference tournament – winning it all and clinching a spot in the NCAA tourney for the first time since 2001.
With Hastings in their corner – getting on base and wreaking havoc with an improved game – UConn is sure to be a much tougher out this time around.
Ava Franz, INF, Soph., Villanova
Franz was a .227 hitter in mid-March, struggling to consistently hit the ball. By the time Villanova's big Georgetown series (from March 11-12) came around, the native Pennsylvanian had only recorded a single RBI across her opening 20 games.
Of course, it makes total sense that Franz finished the regular season as both a .346 hitter and the Wildcats' leader in slugging percentage (.624).
Yes, you read that correctly.
It can be argued that no BIG EAST hitter has comprehensively had a better past two months than Franz, but it's pretty much indisputable that no BIG EAST hitter has had a better past 10 games than Franz.
One more look at Ava's dinger? Sure, why not!!!#GoNova pic.twitter.com/oqtY0p7Lhr

— Villanova Softball (@VUSoftball) May 7, 2023
That's because she's recorded a hit in all 10 of those games, which have led into the conference tourney, with half of them being multi-hit outings, including a monster 4-for-4 day with a homer in Villanova's regular-season finale against Providence last weekend.
The performance helped her earn the final BIG EAST Player of the Week honor of the season, which was awarded by the league Monday.
Considering that Franz finished her 2022 season well below the .200 mark (.159), it's safe to say she's on the run of her career right now.
Can it help Villanova secure a third straight BIG EAST Championship crown, too?
Monique Hoosen, OF, Jr., Butler
When you're watching the BIG EAST Softball Championship this week, look for the instant memorable moments and the people who make them happen.
Hoosen makes them happen.
The East Peoria, Illinois, native broke double-digit numbers on home runs for the second straight year by smacking 14 over the fence in the regular season, a number that was the highest in the league, and also has seemed to find her mojo as a contact hitter recently with a run of eight hits in her past four games.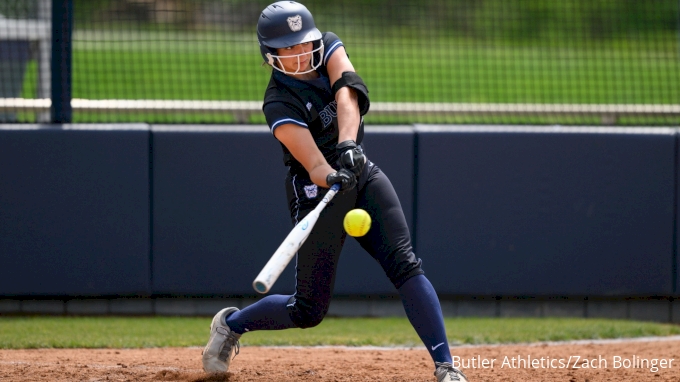 Because Butler was two-and-out at last season's BIG EAST tourney, Hoosen didn't get much of a chance to show off her stuff, but with the potential of more games upcoming in this year's event due to the expanded six-team field (and the fact that the fourth-seeded Bulldogs will be playing a lower seed this time around in No. 5 St. John's in Wednesday's tournament opener), there are more chances for magic and for Hoosen and company to build momentum and strike.
And if Hoosen can go yard, or make a serious impact elsewhere to give the Bulldogs a boost in the early rounds, watch out.
Hope Jenkins, P, Fr., UConn
Proving herself to be one of the best freshman arms in the BIG EAST, Jenkins – who has been part of an effective 1-2 punch for the Huskies on the mound all year with her more experienced counterpart, junior Peyton Kinney.
Jenkins put the exclamation point on her awesome first year by going six innings with no hits allowed (with Meghan O'Neil closing the show in relief to complete the no-hitter) in a 7-0 victory over Saint Peter's in UConn's regular-season finale Sunday, with Jenkins striking out seven Peacocks along the way.
The right-hander earned the most recent BIG EAST Pitcher of the Week honor for that outing.
𝐂𝐎𝐌𝐁𝐈𝐍𝐄𝐃 𝐍𝐎-𝐇𝐈𝐓𝐓𝐄𝐑‼️

Hope Jenkins and Meghan O'Neil combine for the 41st no-hitter in program history!#WEbeforeme pic.twitter.com/Eq37kc6Hb1

— UConn Softball (@UConnSoftball) May 8, 2023
But, as the Huskies' wins leader at 14-4 overall, with half of those wins coming against in-league opponents, Jenkins has been showing out much, much longer than just the recent weekend.
Now, it's time to test her ability to keep calm under pressure.
If UConn makes a deep run into the conference tournament, it'll almost certainly mean Jenkins will get the start in the circle and/or see the field during a critical moment at some point.
The level of maturity the freshman responds with may be the difference between the Huskies playing in a regional or watching from home.