2023 CAA Softball Championship
Stony Brook Erases Deficit, Defeats UNCW At CAA Softball Championship
Stony Brook Erases Deficit, Defeats UNCW At CAA Softball Championship
Stony Brook scored nine runs over the final three innings to erase a five-run deficit and defeat defending champion UNCW at the 2023 CAA Championship.
May 12, 2023
by FloSoftball Staff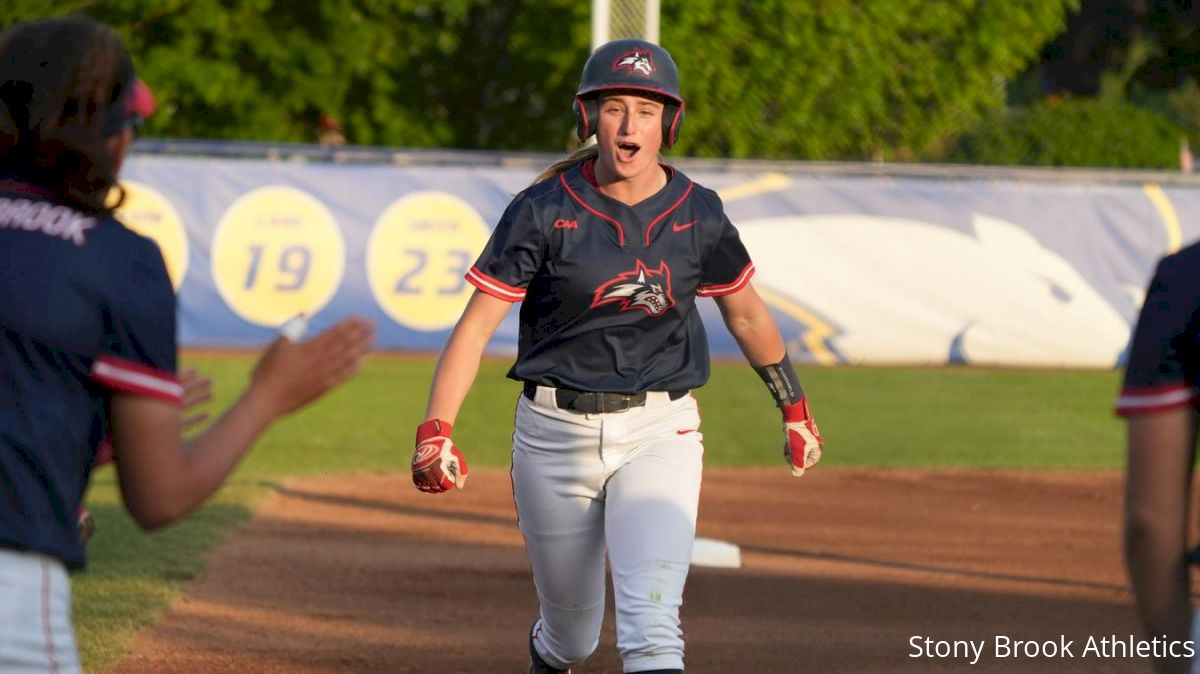 Seventh-seeded Stony Brook scored nine runs over the final three innings, including a three-run seventh, to erase a five-run deficit and defeat second-seeded UNCW on Thursday, 11-9, in Game 8 of the 2023 CAA Softball Championship.
The Seawolves (28-26) staved off elimination for the second straight day and will continue to fight for their season in a third consecutive elimination game. They'll face top-seeded Delaware at Bill Edwards Stadium on Friday at 2:30 p.m.
UNCW, the defending CAA champion (22-27), sees its season end after a pair of setbacks on Thursday.
Stony Brook's Alyssa Costello recorded a season-high four hits and reached base five times, going 4-for-4 at the plate with a walk, four runs scored and two RBIs.
The four-hit performance is the second-most in tournament history and the most in a tournament game since 2016.
We see you 8️⃣ 👏

4-for-4 (second-most hits in CAA tourney history and the most in a tourney game since '16)

Scored 4 runs (tied the single-game tourney record)

8 hits through four games (one shy of tying the all-time tourney record)

22 game hit-streak

🌊🐺 x #CAAChamps pic.twitter.com/qTZE4rhsnF

— Stony Brook Softball (@StonyBrookSB) May 12, 2023
In the circle, Mia Haynes (18-8) continued to lay it on the line for the Seawolves, improving to 3-0 in the conference championship with her third complete-game effort. Haynes scattered nine hits and was charged with three earned runs, while striking out six on 136 pitches.
Costello wasted no time extending her hitting streak to 22 games, getting Stony Brook on the board in the top of the first inning with a one-out solo home run.
Down 0-2 in the count, Costello launched her eighth homer this season, sending it over the right field wall.
The Seawolves weren't done in the inning, as Ashley Jacobson started a two-out rally with a walk, before Corrine Badger reached on an error.
Naiah Ackerman kept the line moving and recorded an RBI single to score Jacobson, giving Stony Brook a 2-0 lead.
UNCW scored five runs on four hits and two errors, batting around in the bottom of the third.
The two-out rally started with Tayler Vitola reaching on an error, before Arial Pearce singled to put runners on first and second. Janel Gamache drove in Vitola with an RBI single, and Jada Santiago doubled to the left-center gap, scoring Pearce and Gamache.
Morgan Britt walked to extend the inning, before an RBI single from Mary Sobakata scored Santiago. Sobakata attempted to get in a run down, and an errant throw resulted in Britt scoring and Sobakata safe at second.
B4| Adding another one! Pearce's RBI-Double gives @UNCWsoftball a 6-2 lead#CAAChamps | 🥎x🏆 pic.twitter.com/a6rlcx2IzV

— Colonial Athletic Association (@CAASports) May 12, 2023
The Seahawks carried the momentum in their half of the fourth, adding two runs to extend their lead to 7-2.
Mackenzie Amodeo drew a one-out walk and advanced to second on a ground out during the next at-bat.
UNCW continued to take advantage with two outs, as Pearce drove in Amodeo with a double, before Gamache beat out an infield single. Heads-up base running by Pearce tacked on another run.
Stony Brook climbed back within one after a four-run fifth.
Sofia Chambers led off the inning with her first career triple. Alicia Orosco followed with an RBI single, before Costello recorded her second hit to put runners on first and second.
After a fielder's choice, Jacobson loaded the bases with one out before Badger was pegged, scoring Costello.
The Seahawks got a force out at the plate, before another hit batter, this time Julia Sanzone, allowed Jacobson to score, followed by a walk from Brooke Dye to make it 7-6.
UNCW got one run back in the bottom half of the fifth, pushing its lead to 8-6.
Sobakata recorded a two-out triple and scored during the next at-bat, with Skylar Stockton reaching on an error.
Catherine Anne Kupinski brought Stony Brook all the way back with a game-tying two-run homer in the top of the sixth inning.
Costello recorded her third hit in the game with a one-out single, before Kupinski tallied her seventh long ball this spring.
UNCW put the pressure on the Seawolves, regaining the lead with one run in the bottom of the sixth.
A pair of one-out walks from Vitola and Amodeo placed runners on first and second, before a fielder's choice pinned runners on the corners with two outs.
The Seahawks delivered another clutch hit, with Santiago recording the RBI single to score Vitola.
With their season on the line, Stony Brook answered the call.
The Seawolves put their first two on with back-to-back walks by Sanzone and Dye.
Chambers moved the runners with a sac bunt, before Orosco tied the game on a ground out to the pitcher. Costello followed the go-ahead RBI single, scoring Dye and giving Stony Brook a 10-9 advantage.
Costello took second on a wild pitch, before Kupinski added an insurance run with an RBI double.
Haynes worked around a leadoff double in the bottom of the seventh, retiring the next three batters in order, via strikeout.
What a way to end a big day of Softball #CAAChamps

Roll those HIGHLIGHTS of @StonyBrookSB's 11-9 win over UNCW#CAAChamps | 🥎 x 🏆 pic.twitter.com/Av5DZXAZ3H

— Colonial Athletic Association (@CAASports) May 12, 2023
Four Seahawks recorded multi-hit efforts, led by Sobataka, who was a home run shy of the cycle in four plate appearances, with an RBI and one run scored.
Santiago went 2-for-4 with a team-high three RBIs, totaling six for the tournament.
Gamache also went 2-for-4, adding two RBIs and one run scored, while Pearce was 2-for-3 with a walk, two runs scored and one RBI.