2023 CAA Softball Championship
Hofstra, Towson Advance To 2023 CAA Softball Championship Final Round
Hofstra, Towson Advance To 2023 CAA Softball Championship Final Round
Host Hofstra takes on a surging Towson bunch in the final round of the 2023 CAA Softball Championship.
May 13, 2023
by Kyle Kensing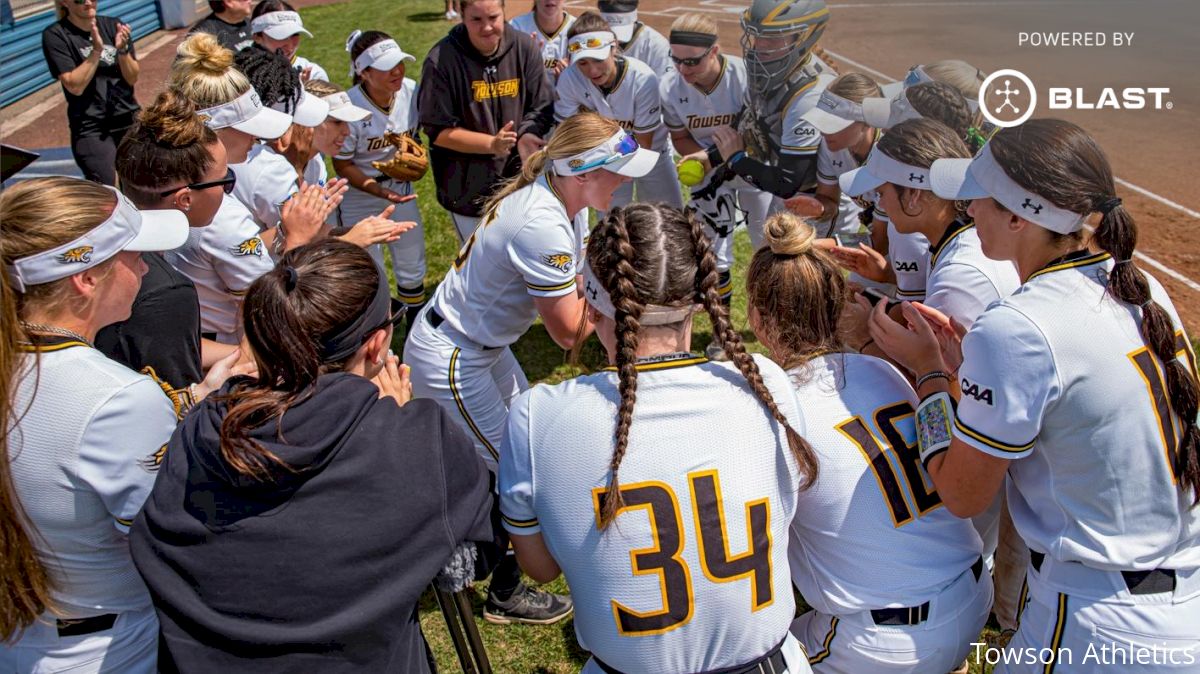 Two of the most intriguing stories of the 2023 Colonial Athletic Association Softball Championship reach the final destination, as host Hofstra and recently red-hot Towson earned their way into the conference finale.
Saturday's showdown, determining the 2023 CAA title and the league's automatic berth into the NCAA Tournament, is the second in as many days between the Pride and Tigers.
Towson took down Hofstra in the first game of Friday's semifinal round, continuing what has been a dominant tournament for the Tigers.
Another outstanding pitching and defensive effort kept Towson within striking distance, as Tigers pitcher Maddie Gardner gave up just one run and went the distance. Her ability to limit Hofstra at the plate, which scored its lone run on Aliya Catanzarita's fourth-inning homer, opened the door for a dramatic sixth inning.
Elizabeth Yoskowitz led off with a single, then Cori Jones legged out a single from her bunt to move Yoskowitz into scoring position. That factored prominently into the final outcome, as having both runners aboard with Mackenzie Lake at bat, allowed Yoskowitz and Jones each to advance after a wild pitch.
Yoskowitz scored the tying run on Madyson Peters' fielder's choice, and an error on the play scored what proved to be the game-winner with Jones. Yoskowitz also came up clutch defensively with a terrific grab to seal the win.
Elizabeth Yoskowitz with the GAME SAVING grab in left! Towson moves on to the CAA Championship game tomorrow afternoon!#GohTigers | #UnitedWeRoar | #SCTop10 pic.twitter.com/W4Jjh5FJZE

— Towson Softball (@Towson_SB) May 12, 2023
The 2-1 Tigers victory was their third in which they allowed two runs or fewer thus far in the CAA Championship.
Gardner was in the circle for both Friday's defeat of Hofstra, and the tournament-opening, 3-2 win over North Carolina A&T.
Cheyenne Beayon pitched all eight innings and allowed just two runs in Thursday's 4-2 defeat of top-seeded Delaware, won in extra innings on Addie Ferguson's two-run single.
Knocking off the regular-season CAA champion Blue Hens relegated Delaware to a do-or-die situation Friday, and it had no answer for Stony Brook's Mia Haynes.
Have a tournament Mia Haynes

The @StonyBrookSB pitcher sets a #CAAChamps record with 36.1 Innings pic.twitter.com/o1eFRJETtS

— Colonial Athletic Association (@CAASports) May 12, 2023
The pitcher was electric in seven shutout innings, allowing just three Delaware hits. Her outstanding play in the circle preserved a lead established in the first inning, when Catherine Anne Kupinski being hit by a pitch set in motion a sequence of events that eventually sent her home.
For Stony Brook, the 1-0 win marked the Seawolves' third straight win facing elimination — with each coming by one or two runs. They outlasted Elon on Wednesday in a 2-1 extra-inning affair, then outslugged UNC Wilmington for an 11-9 win Thursday.
Their magic may have run out in the Friday-evening finale, but the theme of close contests did not, in an all-Long Island showdown.
Hofstra threatened to run away in the elimination matchup, plating four runs in the first inning, with Meghan Giordano kicking things off on an RBI double. Her base hit ignited things for the Pride, and she drove in another run on a sacrifice fly in the second inning, after Stony Brook pushed three across to pull within one.
Stony Brook scored another two runs in the third inning, tying the game at 5, but the Pride answered immediately with three runs in their half of the inning.
Hofstra's 8-5 lead extended to 9-5 in the sixth, when Madison McKevitt hit an RBI single. The Pride appeared to have slammed the door with that lone run scored off Haynes, who came on in relief in the fourth inning.
B6 | Add another one! @hofstrasoftball's lead is 9-5 #CAAChamps | 🥎 x 🏆 pic.twitter.com/oH5kjwy5iw

— Colonial Athletic Association (@CAASports) May 12, 2023
But, as it had throughout the week, Stony Brook made it a nail-biter down the stretch.
Kupinski's three-run home run drove in Shauna Nuss, pinch-running for Sofia Chambers, and Alicia Orosco, who got aboard with a single. The Seawolves' magical run ran out of outs, however, when Julia Apsel recorded the save by forcing a game-ending line-out.
The Pride's wild win over their nearby rival sends the CAA Championship host into Saturday's finale. Before Thursday's encounter, the two last met for a series April 7-8 at Bill Edwards Stadium.
The Tigers took 2-of-3, scoring 20 combined runs in their two wins. Towson catcher Peters delivered five hits and four RBI in the two Tigers wins, while Apsel gave up just four hits in a dominant six innings to lead Hofstra in its 9-1 win during that series.