2023 CAA Softball Championship
Hofstra Claims 2023 CAA Softball Championship With Thrilling Walk-Off
Hofstra Claims 2023 CAA Softball Championship With Thrilling Walk-Off
A pair of big innings put a fitting cap on Hofstra's remarkable run through the 2023 CAA Softball Championship.
May 13, 2023
by Kyle Kensing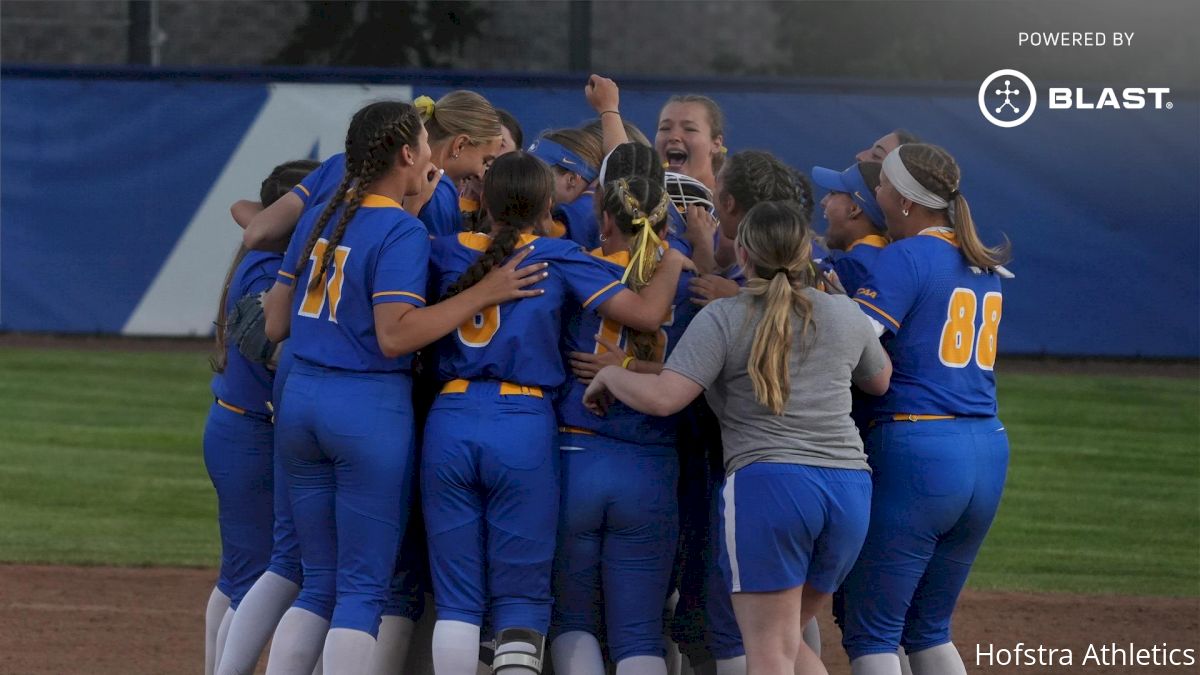 In a 2023 Colonial Athletic Association Softball Championship marked by drama for champion Hofstra, the Pride concluded their run with the most thrilling theatrics of the week.
Hofstra knocked off Towson, previously undefeated at the CAA Championship, in a pair of pivotal seventh innings Saturday to earn the Pride a conference title and the CAA's automatic berth in the NCAA Tournament.
Meghan Giordano played a terrific pair of games. In the first, she knocked out a three-run blast in the top of the seventh inning.
T7 | That one is LONG GONE! Meghan Giordano tacks on three runs with one swing for @HofstraPride #CAACHamps | 🥎 x 🏆 pic.twitter.com/seUUMgilL1

— Colonial Athletic Association (@CAASports) May 13, 2023
Her homer, driving in Chelsea Manto and Kasey Collins, proved vital, as Towson did not go down easily.
The Tigers got a trio of one-out hits from Mackenzie Lake, Madyson Peters and Addie Ferguson that produced a run, then Cara Bohner drove in a second on a fielder's choice.
Giordano tacking on three additional runs in the Hofstra half of the seventh inning offered back the breathing room the two runs Towson scratched out. It also was enough to win the game, and eventually, the tournament.
The win for Hofstra forced a do-or-die finale.
In Saturday's second contest, Briana Ramirez went 3-for-4 at the plate for Towson, Lake drove in two runs and Tigers ace Maddie Gardner pitched more than six strong innings, as the Tigers came just an out away from their first CAA championship.
Towson broke a 2-2 stalemate — reached on Giordano's second home run of the day — when Sdyni Byers drew a bases-loaded walk in the sixth inning.
B4| Have a day! Meghan Giordano homers to center to tie the game, 2-2, for @HofstraPride #CAAChamps | 🥎x🏆 pic.twitter.com/p7T9ef7z11

— Colonial Athletic Association (@CAASports) May 13, 2023
Ramirez drove in another run on an RBI single that gave the Tigers a two-run lead.
Hofstra cut that in half in its portion of the sixth inning when Giordano scored on Becca Waillancourt's RBI single, but Towson maintained its slim lead going into the seventh.
The final half-inning packed all the drama one could want from a title showdown into two outs and two runs.
Hofstra threatened immediately, getting the tying run into scoring position on the first at-bat, when a pinch-hitting Alanna Morse knocked a leadoff double. Olivia Malinowski, also pinch-hitting, drew a walk.
A Collins single loaded the bases with no outs, but Gardner forced a pair of ground balls that produced outs for Towson at the plate — the second on a terrific defensive play from Ally Hickman.
The Tigers third baseman dove to snare a hard-hit grounder by Giordano, sprang to her feet, and in one motion, fired a strike to Peters for the force-out at home plate.
Great play for a force-out at home in the CAA Softball Championship pic.twitter.com/I8vKcIVzvD

— The Press Break (@ThePressBreak) May 13, 2023
The game and season came down to the next at-bat for both the Pride and Tigers, and it was Hofstra's Angelina Ioppolo playing hero.
The first baseman and upperclassman hit a single to center, with all runners going on contact, pushing across tying run Collins and the winning run represented with Manto.
The wild seventh inning signaled a fitting conclusion to a CAA Championship with a remarkable 11 games decided by just one or two runs — including each of the final six.