SEC
Five Championship Contenders To Watch At 2023 NCAA Softball Tournament
Five Championship Contenders To Watch At 2023 NCAA Softball Tournament
With the 2023 NCAA Tournament getting underway Friday, here's a look at five teams that could make a run to, and in, Oklahoma City over the next few weeks.
May 18, 2023
by Briar Napier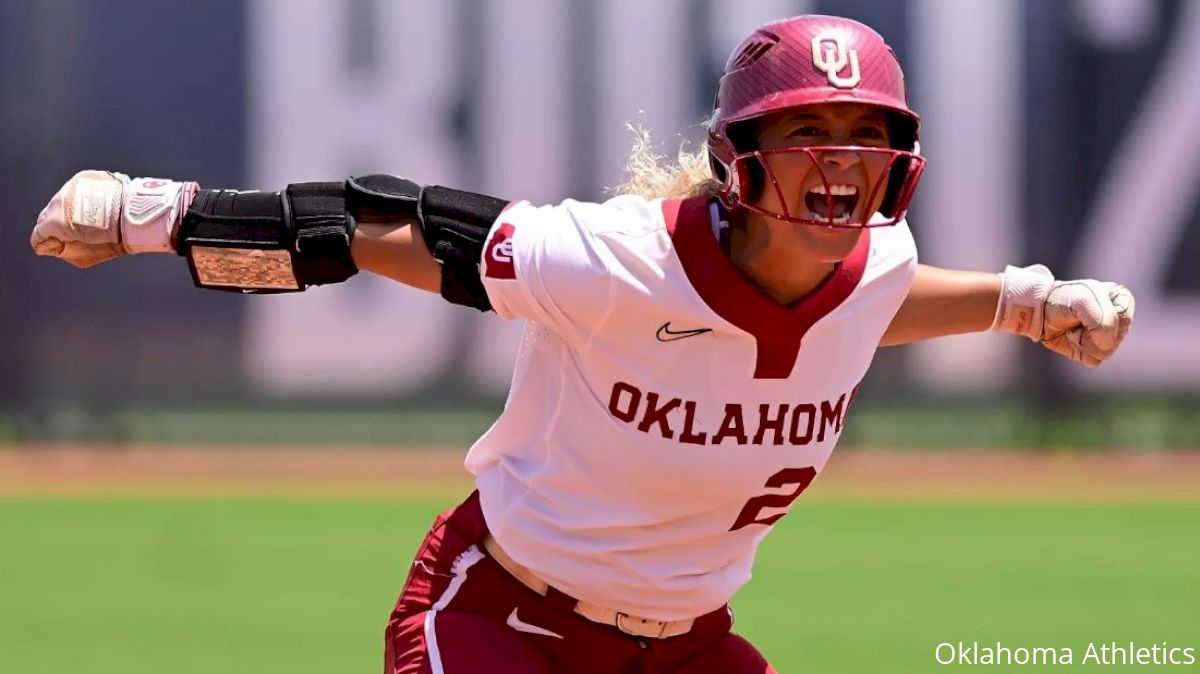 The road to a college softball national championship is not paved for anyone, no matter how good they are.
So, while the top seed in this year's NCAA Division I Softball Tournament looks awfully imposing (and for good reason), a lot of things need to go right for any team to win a national title.
Of course, the top seed being referred to is Oklahoma, the holder of an incredible 166-8 combined record over the past three years as the undisputed queen of college softball, winning national titles at the Women's College World Series in both 2021 and 2022 and being the heavy favorite for another this year.
While the history-making Sooners are without a doubt a powerful program worthy of proper respect and attention, they haven't won the 2023 title yet. A lot of very, very good teams stand between OU and a three-peat in Oklahoma City – from longtime powers to upstart programs and everywhere in between.
When things get going this week at the grandest tourney in college softball, keep an eye on the teams listed below, as they look to make their marks and stake their own claims to being designated as contenders.
And, if a certain team hits its stride just right, who knows, there could be a new group standing atop the rest of pile at the end of the WCWS Championship Series next month at Hall of Fame Stadium.
With the 2023 NCAA Softball Tournament set to get underway Friday, here's a look at five of the top teams (in no particular order) that could make a run to, and in, Oklahoma City over the next few weeks. The list that includes both blue-bloods and under-the-radar schools.
Oklahoma (51-1)
Yeah, duh. This isn't a truthful list of title contenders, if the Sooners aren't at the top of the conversation.
If Oklahoma makes it back to Oklahoma City without a scratch, it'll break Arizona's 27-year-old record for the longest winning streak in NCAA softball history at 48 games, an absurd feat to accomplish, considering how hard it is to avoid an off night from time to time.
Yet, the three peat-chasing juggernaut coach Patty Gasso has unleashed upon the rest of college softball just doesn't miss.
A one-run loss to Baylor in February was the only mishap. Otherwise, OU holds the nation's best team batting average (.368) by three-hundredths of a point, holds the nation's best team ERA (.86) by nearly half a run and has stomped out rival after rival, often in dominating fashion.
𝐎𝐧𝐞 𝐠𝐨𝐚𝐥. pic.twitter.com/qrQ3uUQbd5

— Oklahoma Softball (@OU_Softball) May 17, 2023
A highly anticipated 2022 WCWS rematch against UCLA in February at the Mary Nutter Collegiate Classic? The Sooners won 14-0 in five innings.
The Big 12 Conference series rematches in Waco against Baylor in mid-April? OU swept the Bears and didn't let them score a single run across three games on their own field.
The likes of Jayda Coleman (.434 average, 14 home runs, 42 RBIs) and Tiare Jennings (.429, 12 home runs, 53 RBIs) at the plate, and the three-headed monster of Nicole May (0.60 ERA), Alex Storako (0.75 ERA) and Jordy Bahl (1.15 ERA) on the mound, is near-impossible to contain and makes this year's OU team worthy of arguable distinction as the most talented top-to-bottom team of all-time.
That makes it not just about how Oklahoma unquestionably is the best team in America and a ginormous favorite to win to take home its seventh national championship, but also about how the Sooners are lapping the field on their way to potentially doing it.
UCLA (52-5)
The Bruins would like to remind you all that they were the ones who first made dominating college softball a thing, and the most decorated program in the sport's history – plus the last non-Oklahoma national champion – isn't about to let another title slip by without a fight.
UCLA didn't lose for the entire month of April, riding a 25-game winning streak, before it was upset by Utah in the inaugural Pac-12 Conference Tournament title game, though the Bruins' body of work across the season was more than impressive enough to help them secure the No. 2 overall national seed behind the Sooners.
Featuring a stacked resume that includes nonconference wins over fellow national elites, including Florida State, Alabama and Northwestern – plus a regular-season championship in the loaded Pac-12 – don't be surprised if a UCLA-OU rematch occurs in OKC with high stakes like it did a year ago.
In 2022, the Bruins forced a winner-take-all game with the Sooners in the WCWS semifinals that OU won on its way to the national title.
Sure, it's easy (and reasonable) to mark down Oklahoma as the favorite to be the first college softball team to three-peat since UCLA did it from 1988-1990, especially after OU run-ruled the Bruins earlier in the year, but this also is a Bruins group that appears much more polished than it did earlier in the year.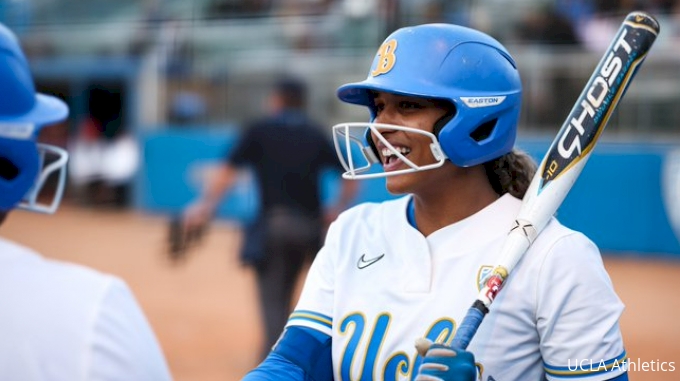 Redshirt junior Maya Brady (the niece of NFL legend Tom Brady) is batting an absurd .458, All-American pitcher Megan Faraimo is 29-2 and became the fourth Bruins pitcher in history to crack the 100 wins mark and the program as a whole made it 50 victories in back-to-back years for the first time since the 2018-2019 season.
The last time such a stretch happened, by the way, it was UCLA that stood tall at the end of it as the national champ at Hall of Fame Stadium.
Tennessee (44-8)
It would feel wrong not to put a Southeastern Conference school on this list, especially with the league having 12 postseason bids, double the number of any other conference in the country.
Between the five programs that made the cut as nationally-seeded teams in the recently released NCAA tourney bracket, the Lady Vols – who won the SEC regular-season and tournament double for the first time in their history – may have the best shot of the bunch to go all the way.
Alabama fans may not like that statement very much, but UT did win the season series against the Crimson Tide and beat them in the SEC Tournament this past week, too, showing through those performances, a sweep over an elite LSU team and notable nonconference wins over Clemson and Northwestern that it deserves to be designated as a top-level contender.
Regular season 🏆
SEC Tournament 🏆

A title sweep for @Vol_Softball!

SEC Inside: Softball Tournament | Tonight at 7 PM ET pic.twitter.com/lvMsE8jgQ2

— SEC Network (@SECNetwork) May 16, 2023
One of the most decorated college softball programs to have never won a national title (it has made the WCWS seven times and finished as runner-up twice), Tennessee, with two top-10 finalists for the USA Softball Player of the Year award in pitcher Ashley Rogers (16-1, 0.70 ERA, 160 strikeouts in 119 1/3 innings) and outfielder Kiki Milloy (.421 average, 23 home runs, 52 RBIs), is stacked to the brim with talent.
The aforementioned standouts are two of four Lady Vols to be named to the All-SEC first team, along with McKenna Gibson (team-leading 57 RBIs) and Zaida Puni (.356 average).
Finally getting over the hump and winning it all in Oklahoma City arguably is tougher than ever for Tennessee, considering the strength the favorite has, but this also is a Lady Vols team that, if it were to make it to OKC, would have its most victories in a season since 2013 – the last time it played for a national championship, ironically against Oklahoma.
Duke (45-10)
Duke softball has only existed for six seasons, but the Blue Devils, seeded eighth in the NCAA tourney and hosting a regional for the second time in their short history, are rapidly rising up the ranks as a force to be reckoned.
And, after appearing in a Super Regional for the first time in 2022, what's stopping them from taking the next step and making their first WCWS?
Wins over Arkansas, Stanford and Atlantic Coast Conference rival Florida State were the highlights of the regular season, along with a series win over Virginia Tech and an ACC Tournament victory over Clemson, too, giving Duke plenty of pedigree and announcing to the rest of the sport that even though it's a relative newbie, it's here to try and take over.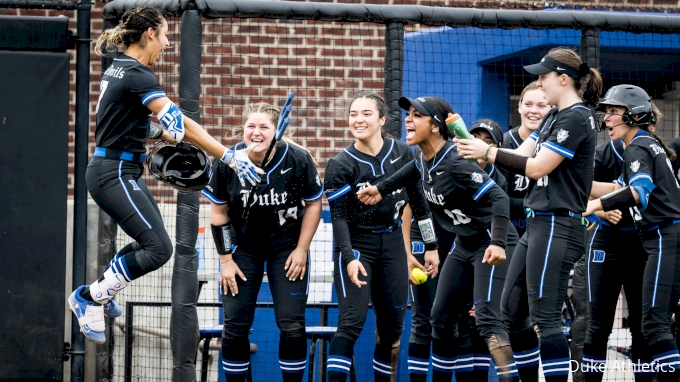 Plus, even if the Blue Devils don't get their goal of the WCWS done this year under coach and former Michigan standout Marissa Young, the future is very bright.
Of Duke's five All-ACC first-team selections this season, four were underclassmen and three were freshmen. The list includes leading hitter and outfielder D'Auna Jennings (.453 average), electric second baseman Aminah Vega (.374 average, 12 home runs, 47 RBIs) and ace Cassidy Curd (16-1, 1.57 ERA, 136 strikeouts in 111 1/3 innings).
But the sophomore of that bunch, third baseman Ana Gold, arguably made the biggest waves on the diamond for Duke this year.
She broke the program's single-season homer record with 18 blasts, the most notable stretch of which came in early April, when she went yard in all three of Duke's games against VT to help her team pick up a big series win.
Inexperience on the big stage may mean the Blue Devils are a year or two away from truly contending on the highest level – or youthful fearlessness may give Duke a critical edge when the pressure ramps up.
Wichita State (43-10)
Want an off-the-board pick that can shock (pun intended) its way to the WCWS, so you can tell your peers "I told you so" in a couple of weeks?
Wichita State is your team.
Yes, the Shockers are unseeded. Yes, they have to get through No. 6 Oklahoma State and All-American pitcher Kelly Maxwell (14-5, 1.89 ERA, 197 strikeouts in 122 innings) on the Cowgirls' home field in the Stillwater Regional to even reach the Supers, but as Texas proved last season when it became the first unseeded team to reach the WCWS Championship Series, the glass ceiling for what teams not seeded entering the NCAA tourney can do has been completely shattered.
Plus, Wichita State softball is so, so fun to watch when it's on – and it's on much more often than not.
𝐒𝐭𝐢𝐥𝐥𝐰𝐚𝐭𝐞𝐫 𝐁𝐨𝐮𝐧𝐝 🚌

For the 3rd straight season and 7th time in program history we're NCAA Regional bound!@NCAASoftball x #SelectionSunday pic.twitter.com/weenkVnVoD

— Wichita State Softball (@GoShockersSB) May 14, 2023
Where that excitement begins and ends, though, is through infielder Sydney McKinney.
The senior and American Conference Player of the Year almost certainly is going to finish the season as the nation's batting champion, as she holds a ridiculous .519 average – her second campaign batting over .500 – as of this writing.
She's also one of just three players in the country with over 70 runs entering the NCAA tourney and the only mid-major player to be a top-10 finalist for the USA Softball Player of the Year Award.
The Missourian is the heart and soul of Shocker softball, while the program's all-time home run leader, Addison Barnard, is its engine. Her historic 33-homer 2022 season may not have been repeated in 2023, but it's hard to complain about 14 homers and a .760 slugging percentage entering the regional. Plus, there's always the looming possibility of the Nebraska native going on a powerful tear at the right time.
Freshman right-hander Alex Aguilar (14-2, 1.54 ERA, six shutouts) has evolved into a more-than-capable ace in the meantime, too, giving WSU yet another weapon in its arsenal that's going to make it a difficult out in this year's postseason.