Looking Ahead To The 2023 WCWS: Can Anyone Stop The Sooners?
Looking Ahead To The 2023 WCWS: Can Anyone Stop The Sooners?
A hard-fought Super Regional vs. Clemson sends Oklahoma to a 2023 Women's College World Series with rival Oklahoma State, upstart Utah and more.
May 29, 2023
by Kyle Kensing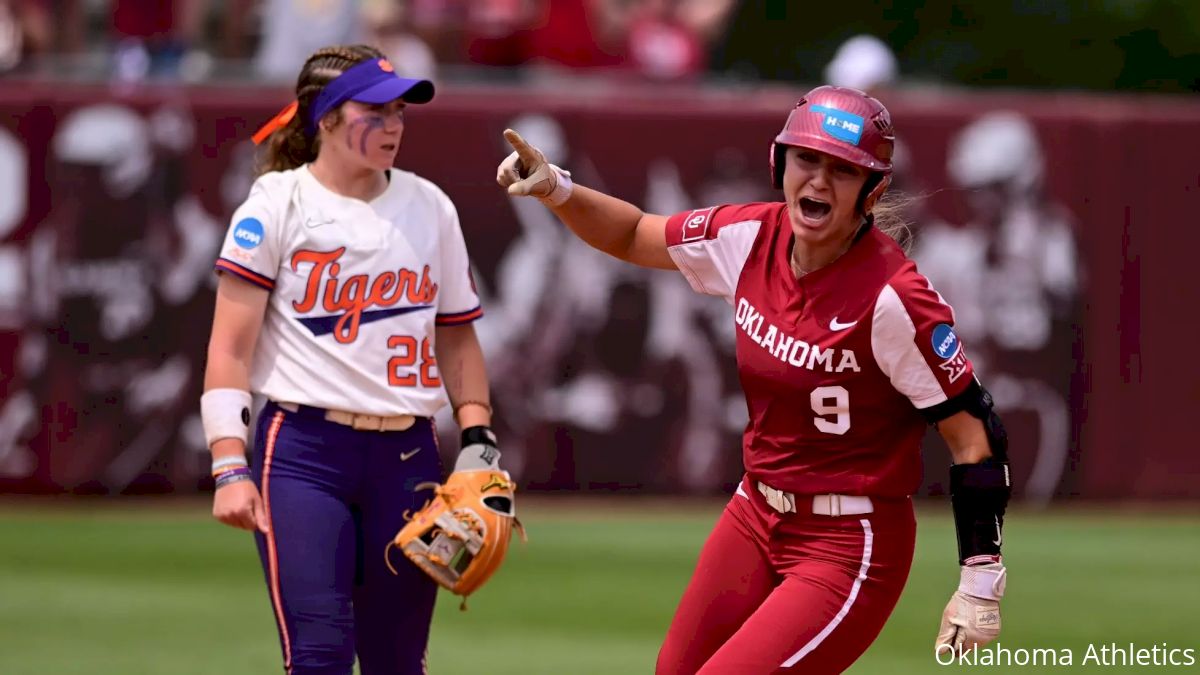 With a thrilling, extra-inning defeat of Clemson for its remarkable, 48th consecutive win, Oklahoma advanced to the Women's College World Series in pursuit of a historic third straight national championship.
Joining the Sooners in Oklahoma City are seven teams with their own designs on a title, including OU's Bedlam rival, Oklahoma State.
With the two in-state counterparts there to represent the Big 12 Conference, the 2023 WCWS features three leagues with multiple participants in the final round of the NCAA Tournament, joining the Southeastern Conference (Alabama and Tennessee) and Pac-12 (Stanford, Utah and Washington).
Florida State is the only WCWS participant flying solo, representing the Atlantic Coast Conference.
Here's how all eight of the last championship hopefuls standing reached the Women's College World Series, and what to look for when they converge on Oklahoma City.
Alabama
Record: 45-20
How The Crimson Tide Got Here
Tuscaloosa Regional: Beat LIU, 5-0; beat MTSU, 12-5; lost to MTSU, 4-1; beat MTSU, 1-0
Tuscaloosa Regional: Lost to Northwestern 3-1; beat Northwestern 2-1; beat Northwestern, 3-2
In a WCWS field of teams that overpowered their competition en route to Oklahoma City, Alabama is the rare participant that survived a difficult road through both the Regional and Super Regional.
After losing to Middle Tennessee State in the Regional, Alabama avoided elimination with a seventh-inning, Ally Shipman home run.
The Crimson Tide then had their backs against the wall with a Super Regional-opening loss to 2022 WCWS team Northwestern, but Alabama bounced back in a pair of one-run contests — including another final-inning thrilling in a 2-1 victory when Ashley Prange drove in the decisive run.
Alabama's cardiac run opens with an SEC matchup against rival Tennessee.
The Crimson Tide is coming for you, OKC! 🥳#RoadToWCWS x 🎥 ESPNU / @AlabamaSB pic.twitter.com/LBAcc8zMqa

— NCAA Softball (@NCAASoftball) May 28, 2023
Florida State
Record: 55-9
How The Seminoles Got Here
Tallahassee Regional: Beat Marist, 9-0; beat UCF, 5-1; lost to South Carolina 4-0; beat South Carolina, 1-0
Tallahassee Super Regional: Swept Georgia, 8-1 & 4-2
Power and Direction 😤#Team40 pic.twitter.com/aMZFl2GlVJ

— Florida State Softball 🥎 (@FSU_Softball) May 28, 2023
ACC champion Florida State owes its place in the WCWS at least in part to a bunt single. Jahni Kerr's successfully executed bunt in the third inning accounted for the only run in a 1-0 win over South Carolina, with the winner advancing to the Super Regional.
Once in the Super Regional, the Seminoles had little trouble with another SEC opponent, Georgia. Kalei Harding's hitting has proved clutch for Florida State in the postseason, and she delivered on a pair of two-hit performances in the Super Regional.
Florida State pitcher Makenna Reid sports a sub-1.00 ERA coming into the WCWS, but the Seminoles also got some impressive innings from Mack Leonard on the way to Oklahoma City. The standout utility player Leonard could be an X-factor in the Seminoles' chase for the championship.
Oklahoma
Record: 56-1
How The Sooners Got Here
Norman Regional: Beat Hofstra, 11-0; beat Missouri, 11-0; beat Cal, 16-3
Norman Super Regional: Swept Clemson, 9-2 & 8-7
Two-time defending national champion Oklahoma faced one of its stiffest challenges on an incredible, 56-1 journey — and still came out on top. An 8-7 defeat of Clemson in extra innings maintained Oklahoma's perfect record in the postseason, and marked the 48th consecutive win for the Sooners.
Record breakers. 𝐓𝐫𝐨𝐩𝐡𝐲 𝐜𝐡𝐚𝐬𝐞𝐫𝐬. pic.twitter.com/0S3I9RpfAD

— Oklahoma Softball (@OU_Softball) May 29, 2023
Tiare Jennings' second two-home run game of the postseason punctuated Oklahoma's return to the WCWS. She has 16 homers on the season, matching Jayda Coleman and one behind Alyssa Brito for the power-hitting Sooners lineup.
Nicole May has 10 strikeouts in the postseason and Jordy Bahl has 16. The standout starting pitching duo helps set the tone in the circle to complement Oklahoma's otherworldly hitting.
Oklahoma State
Record: 46-14
How The Cowgirls Got Here
Stillwater Regional: Beat UMBC, 9-0; beat Wichita State, 6-0; beat Nebraska, 5-2
Stillwater Super Regional: Swept Oregon, 8-1 & 9-0
With four shutouts through the Regional and Super Regional, Oklahoma State's pitching is rolling heading into Oklahoma City. Kelly Maxwell in particular has pitched lights out, mowing down 25 batters via strikeout to improve her season punchouts to 223.
Oklahoma State's return to the WCWS also features some stellar hitting from Kiley Naomi, who homered in both of the Cowgirls' Super Regional wins over Oregon, giving her three home runs in the postseason.
BREAKING: After reports of an unidentified object in orbit over Stillwater, Oklahoma, NASA confirms the object in question was last night's Kiley Naomi home run ball.#AllOne | #GoPokes pic.twitter.com/aQuoPdOsRS

— OSU Cowgirl Softball (@cowgirlsb) May 20, 2023
The Cowgirls are on fire at a most opportune time, rallying from a late-season swoon that included an early exit from the Big 12 Championship. Since that 8-7 defeat to Kansas, Oklahoma State has allowed a total of three runs.
Stanford
Record: 45-13
How The Cardinal Got Here
Stanford Regional: Beat Long Beach State, 1-0; beat Florida, 8-0; beat Florida, 11-2
Stanford Super Regional: Swept Duke, 3-1 & 7-2
No pitching staff has been tougher thus far in the Tournament than Stanford's, which opened with back-to-back shutouts and has allowed just five combined runs through five games.
NiJaree Canady has given up seven hits through all of her NCAA Tournament appearances and only one run. The stellar Stanford starter now boasts an ERA of a staggering .48 heading into Oklahoma City.
Oklahoma City bound!@StanfordSball outlasts Duke 7-2 to advance to the WCWS.#Pac12SB | #GoStanford pic.twitter.com/y5NH1Me7Bs

— Pac-12 Conference (@pac12) May 27, 2023
Along with Alana Vawter, the one-two punch in the circle powers Stanford's pursuit of a national championship.
Tennessee
Record: 49-8
How The Vols Got Here
Knoxville Regional: Beat Northern Kentucky, 12-0; beat Indiana, 9-1; beat Indiana, 7-3
Knoxville Super Regional: Swept Texas, 5-2 & 9-0
Tennessee didn't just go undefeated on its way to the Women's College World Series; the Vols breezed through both the Regional and Super Regional with no opponent coming any closer than three runs.
That stretch includes 2022 WCWS participant Texas, which Tennessee handled in commanding fashion.
Kiki Milloy's outstanding season at the plate has continued into the postseason, with the highlight thus far coming in a two-home run game against Indiana. Zaida Puni has been on fire at the plate with hits in every NCAA Tournament game.
ANOTHER. ONE. KIKI. MILLOY.

📺 https://t.co/H0IMhRNR3u pic.twitter.com/FzKiDaBmRY

— Tennessee Softball (@Vol_Softball) May 20, 2023
Coupled with lights-out pitching from both Ashley Rogers and Payton Gottshall, Tennessee is playing its best ball of the season.
Utah
Record: 42-14
How The Utes Got Here
Salt Lake Regional: Beat Southern Illinois, 11-9; beat Ole Miss, 7-1; beat Ole Miss, 4-1
Salt Lake Super Regional: Lost to San Diego State, 4-3; beat San Diego State, 10-1 & 7-2
A late-season hot streak keeps Utah's dream 2023 season rolling. The Utes won the Pac-12 Tournament to earn hosting duties in the NCAA Tournament, and have lost only once since the calendar turned to May — that sole defeat coming in the Super Regional-opening matchup with San Diego State.
Since dropping that 4-3 heartbreaker, Utah avenged the defeat with dominant showings to oust the Aztecs and power into the program's first WCWS since 1994.
Here's how it ended!#GoUtes /// #SOTL pic.twitter.com/7uyvtzfTb4

— Utah Softball (@Utah_Softball) May 28, 2023
Utah's .400 hitter Aliya Belarde has multiple-hit performances in 4-of-6 NCAA Tournament outings, including a 3-for-4 showing in one of the Super Regional defeats of San Diego State.
Washington
Record: 43-13
How The Huskies Got Here
Seattle Regional: Beat Northern Colorado, 10-2; beat McNeese, 3-1; lost to McNeese, 1-0; beat McNeese, 7-6
Seattle Super Regional: Swept Louisiana, 8-0; 2-0
Baylee Klingler came into the 2023 season one of the most well-established stars of college softball after completing the Triple Crown in the Pac-12 a season ago. However, teammates Sami Reynolds and Madison Huskey stepped up in a big way to help power Washington to the Women's College World Series.
Super Weekend 🎥 pic.twitter.com/jsDquZ1BKD

— Washington Softball (@UWSoftball) May 28, 2023
Reynolds rides a four-game hitting streak into Oklahoma City, while Huskey delivered a pair of three-hit performances in the Seattle Regional.
Washington's pitching staff is in strong form at the ideal time after putting together back-to-back shutouts in the Super Regional. Freshman Ruby Meylan struck out seven in a dominant performance against Louisiana.