2023 Women's College World Series Down To Four With Semifinals Set
2023 Women's College World Series Down To Four With Semifinals Set
The 2023 Women's College World Series is down to its final four teams after thrilling elimination games on Sunday.
Jun 5, 2023
by Kyle Kensing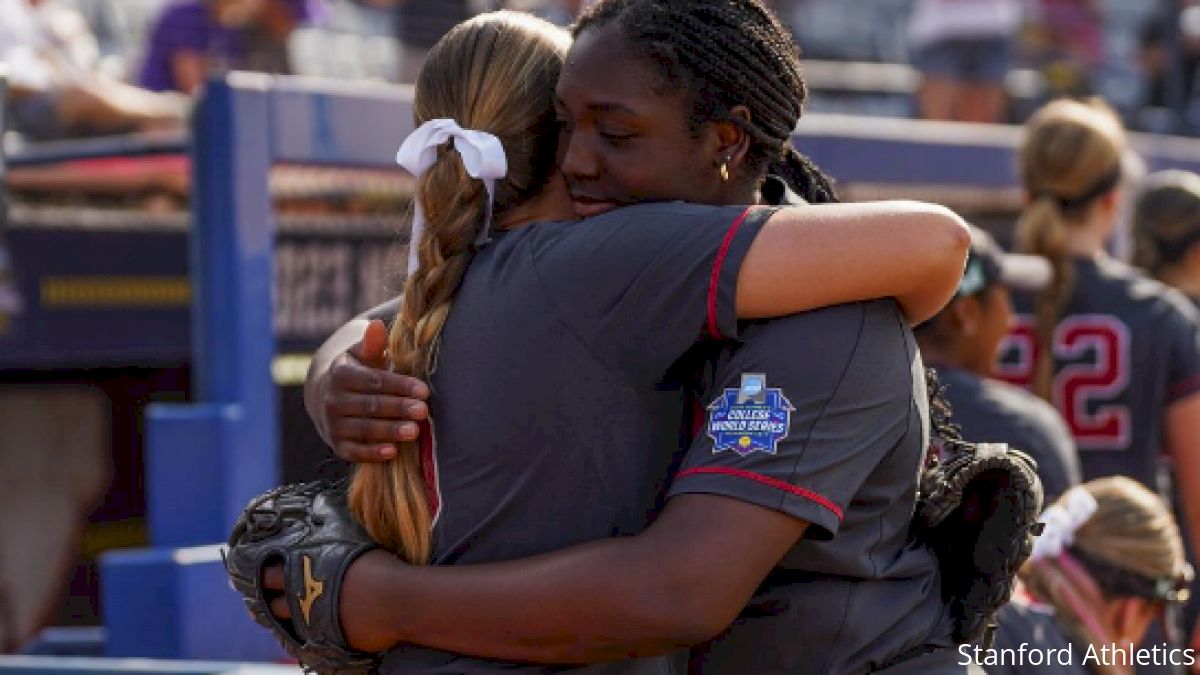 Thanks to their wins on Sunday, Tennessee and Stanford successfully advanced to the semifinal round of the 2023 Women's College World Series. Joining the Lady Vols and Cardinal among the nation's last four standing are Florida State and two-time defending national champion Oklahoma.
After dropping its first game of the WCWS to powerhouse Oklahoma, 2-0 — which was also its first defeat of this postseason — Stanford won consecutive elimination games over Alabama and Washington without surrendering a run.
Sydney Steele's bat came alive at the most opportune time Saturday against Alabama. She struck for a run-scoring double and a solo home run, providing all the support needed to back a lights-out Cardinal pitching performance.
Alana Vawter gave up just one hit in 5 1/3 innings, while NiJaree Canady continued her outstanding NCAA Tournament with 1 2/3 innings of hitless work in relief to close out the Crimson Tide.
Canady's dominant showing from the bullpen on Saturday foreshadowed her effort on Sunday against Pac-12 Conference counterpart Washington.
Canady struck out nine and allowed only one hit as she went the distance in a pitcher's duel. Washington's Rudy Meylan was nearly every bit as terrific in her six innings pitched, but Taylor Gindlesperger's lead-off single in the sixth ignited a sequence that made the difference.
Gindlesperger stole second, which turned into her advancing to third on an error. A Kylie Chung single on a full count later was enough to drive in the game's deciding, and only, run.
"Our bats got better throughout the game," Chung said in the postgame press conference. "We all had confidence if we just kept sticking with it, something was going to fall. ... That's the biggest key for us."
Breaking through at the plate will again be the challenge in the semifinals, if Stanford's first matchup with Oklahoma was any indication.
The Cardinal gave the Sooners their stiffest challenge on the road to an NCAA record 50 straight wins, with the two runs Oklahoma mustered marking its low since an April Big 12 Conference date with Baylor.
Stanford's inability to convert five hits against Jordy Bahl, who struck out an incredible 11 batters, kept the Cardinal from scoring the upset. So, too, did a pair of errors committed in the fifth inning when Oklahoma plated its only runs of the game.
The Sooners followed up their defensive tussle with Stanford getting back to the kind of offensive outpouring that has been Oklahoma's signature all season, deluging Tennessee in a 9-0 rout on Saturday.
"Everything was exactly the way we hoped it would be," Oklahoma coach Patty Gasso said in her postgame press conference on Saturday. "Very proud of this team. Really stepping forward, getting the day off (Sunday), getting to recover is really important."
Oklahoma and Stanford face in the early game on Monday. The day's other semifinal round features Florida State and Tennessee.
Florida State earned its way into the semifinals with an 8-0 blowout of Oklahoma State to start its stay at the WCWS. Kaley Mudge and Michaela Edenfield both homered in the Seminoles romp.
The Seminoles completed their trip to the semifinals on Saturday with a 3-1 defeat of Washington. Josie Muffley drove in a run and made a highlight-reel defensive play leading to a double play that secured the victory.
JOSIE FREAKIN MUFFLEY ARE YOU KIDDING

NOLES WIN NOLES WIN NOLES WIN

📺ESPN#Team40 pic.twitter.com/6QYoOF8qaE

— Florida State Softball 🥎 (@FSU_Softball) June 4, 2023
"Josie's so athletic. That's just pure athleticism," Kathryn Sandercock said in the postgame press conference. "Then, to have the wherewithal to throw it to second base and get the double play, she's just a great athlete, great teammate."
Florida State draws Tennessee, which advanced to the semis with its 3-1 win Sunday night over Oklahoma State.
Ashley Rogers' outstanding pitching performance helped power the Vols to the semifinals, as she went all seven innings allowing just four hits and the one run.
The victory marked Tennessee's 50th of the campaign. UT needs to make it 52 in order to advance to the best-of-three Championship Round.