Big 12
2023 WCWS Final Set, Three-Peat Within Reach For Oklahoma In Oklahoma City
2023 WCWS Final Set, Three-Peat Within Reach For Oklahoma In Oklahoma City
Oklahoma and Florida State, two blue-blooded titans, have reached the pinnacle of college softball before. They'll battle for the title at the 2023 WCWS.
Jun 6, 2023
by Briar Napier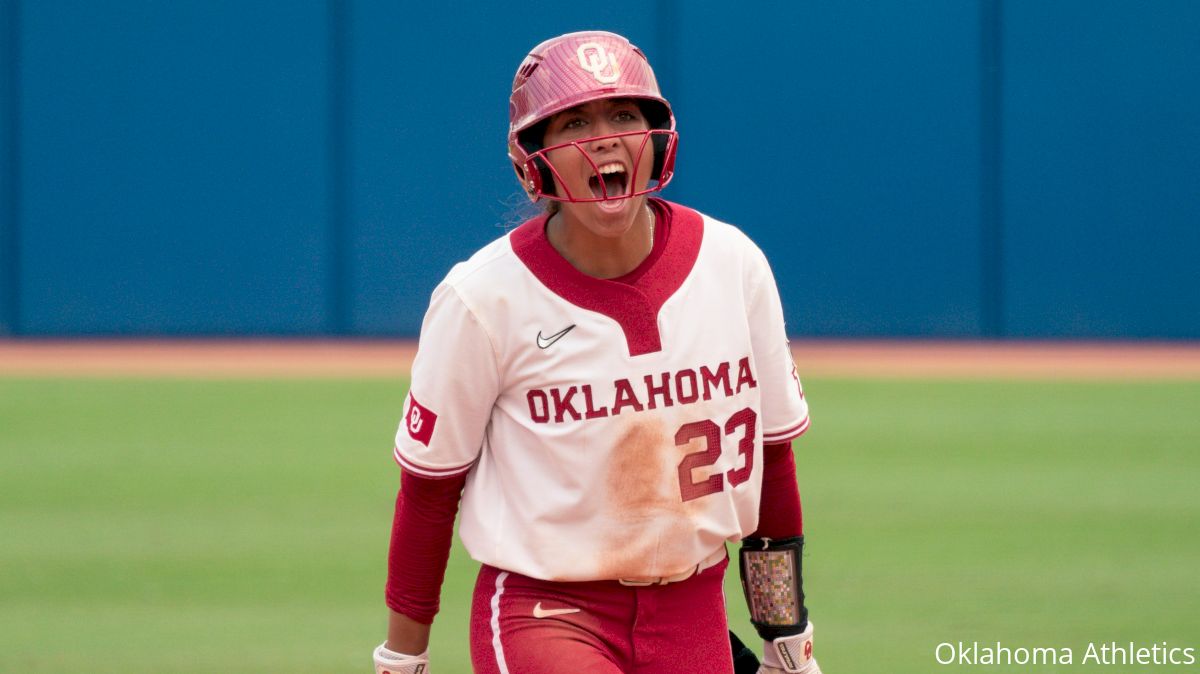 We've made it.
A months-long regular season. Nervy Regional and Super Regional rounds. The bright lights and national exposure of the Women's College World Series.
And the 2023 college softball season, finally, all comes down to three games.
Oklahoma and Florida State, two blue-blooded titans of the sport, have reached the pinnacle of college softball before.
They now have a series between them left (starting Wednesday and continuing nightly until Friday, if necessary) to determine the year's NCAA Division I national champion, which comes at the end of another season of Sooner dominance.
The sport arguably has never had a team as dominant as this 2023 Oklahoma squad, for various reasons, but those involved in making OU the juggernaut it is won't look back on the season as fondly if the team can't close the year with another national championship.
The Seminoles are the last ones left to try and stop OU from authoritatively staking its claim as possibly the greatest college softball team in history.
𝐓𝐡𝐞 𝐍𝐚𝐭𝐢𝐨𝐧𝐚𝐥 𝐂𝐡𝐚𝐦𝐩𝐢𝐨𝐧𝐬𝐡𝐢𝐩 𝐢𝐬 𝐒𝐞𝐭 🏆

(1) @OU_Softball 🆚 (3) @FSU_Softball

📅 Wednesday, June 7
⏰ 8 PM ET
📺 ESPN

📅 Thursday, June 8
⏰ 7:30 PM ET
📺 ESPN

📅 Friday, June 9 (if necessary)
⏰ 8 PM ET
📺 ESPN#WCWS pic.twitter.com/TK5O3jqOad

— NCAA Softball (@NCAASoftball) June 6, 2023
FSU – the team the Sooners defeated in three games on this very stage two years ago to start their run of national titles – is looking for redemption and a return to the top of mountain. Ending OU's reign of dominance, along with the greatest win streak in college softball history, would be an explosive way to do it.
Early June often is where legends are made in college softball. It's time for a couple more timeless tales to be written in Oklahoma City.
Here's a look at this week's WCWS championship final between Oklahoma and Florida State, with just two victories in the best-of-three format (starting with the first meeting at 8 p.m. Eastern on Wednesday) separating each school from being named national champion.
No. 1 Oklahoma Sooners
Record: 59-1
Past titles: 2000, 2013, 2016, 2017, 2021, 2022
The lowdown: What's left to say that hasn't already been said about Oklahoma?
The Sooners' dynasty as a whole, not just their mind-blowing 2023 season, has been nothing short of astonishing and hard to succinctly put into words. The best way to put it is that there's never been another team like this OU group in the history of college softball.
If the heavily favored Sooners do indeed get two more victories in a row – to both win their third straight national championship and extend their NCAA-record winning streak to a beyond-belief 53 games – Oklahoma very well may settle the greatest-team-of-all-time debate once and for all with an emphatic, history-making title.
The Sooners' lone defeat of the 2023 season (a 4-3 loss to Baylor on Feb. 19 at the Getterman Classic) ignited the fire behind one of the most dominant campaigns ever seen in the sport.
Between the 34 shutouts thrown the by nation's No. 1 pitching staff (0.98 team ERA), the sheer amount of firepower produced by the nation's No. 1 most productive lineup (.368 batting average, 493 runs) and the calm, collected nature of the nation's No. 1 defense (.989 fielding percentage) – all directed by one of softball's greatest minds in legendary coach Patty Gasso – there are, quite literally, no weaknesses for Oklahoma.
The Sooners can, have and will dismantle teams, even elite-level ones that made it to Oklahoma City, in a multitude of ways and leave fantastic teams wondering what hit them.
Some teams have given the Sooners fits this postseason, sure.
Clemson forced OU to rally from three runs down in the top of the seventh inning, before the host clinched the Norman Super Regional title (and sole possession of the all-time win streak mark, toppling Arizona's 47 from 1996-1997) in extras.
Stanford, with superstar freshman pitcher NiJaree Canady, took a 2-0 lead on OU in Monday's WCWS semifinal and dragged the game to nine innings, though a two-RBI Tiare Jennings double in the ninth gave the Sooners their ticket to the championship series.
𝐔𝐧𝐝𝐞𝐧𝐢𝐚𝐛𝐥𝐞. #ChampionshipMindset pic.twitter.com/Yeu4f8lPdG

— Oklahoma Softball (@OU_Softball) June 6, 2023
But beating the Sooners, with Jennings being one of a national-best five first-team All-Americans on the roster, means an opponent must play essentially perfect softball, which is hard enough to do just once.
Doing it twice in front of a pro-OU crowd salivating for a Sooner three-peat (which would be the first since UCLA from 1988-1990) at the Hall of Fame Stadium might just be next to impossible.
No. 3 Florida State Seminoles
Record: 58-9
Past title: 2018
The lowdown: On the surface, it would feel a bit ridiculous to declare the event of FSU shocking Oklahoma by beating the Sooners twice and winning the program's second national title a massive upset, considering that the Seminoles are very, very good in their own right.
Only OU has more wins on the season, after all, and capturing the regular-season and tournament double in the brutal Atlantic Coast Conference is an extremely hard feat to pull off – a feat FSU hasn't even done since its hardware-winning 2018 campaign.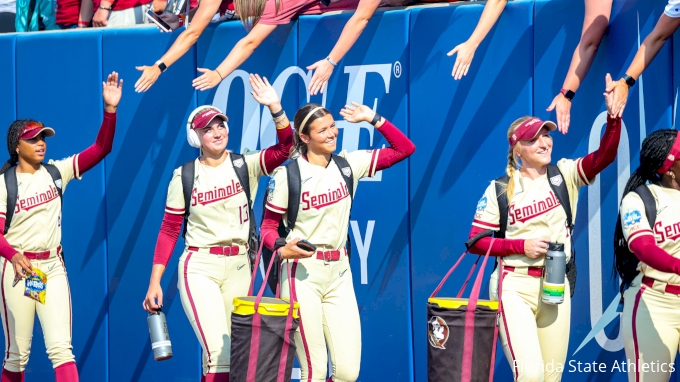 But Oklahoma really is just that good, and the Seminoles really have that difficult of a challenge in front of them this week.
Events over the past few weeks have made coach Lonni Alameda's program the rest of the country's best hope for a non-OU champ, however.
After No. 2 UCLA shockingly went down and out in its own regional during the first weekend of the NCAA Tournament, a hole suddenly opened for a new top contender to upend Oklahoma's rule, and FSU has more than earned the right to be called the team with the most chance of shutting down the Sooners' three-peat hopes.
A loss to South Carolina in the regional aside, the 'Noles have won every other game of the postseason and only allowed more than one run in those eight victories once, looking particularly strong once they got to OKC.
At the Hall of Fame Stadium, FSU run-ruled Oklahoma State in its opener, beat Washington 3-1 in the second round and then took care of Tennessee 5-1 in the semifinals behind another masterful pitching performance from one of the best rotations in America (1.60 team ERA).
That crew includes Mack Leonard, Makenna Reid and All-American Kathryn Sandercock, who combined to allow just one run on three hits against the Lady Vols.
WE WILL SEE YOU WEDNESDAY NIGHT‼️pic.twitter.com/b3DY5OC2Ef

— Florida State Softball 🥎 (@FSU_Softball) June 6, 2023
As far as FSU's chances against Oklahoma, the idea of not just the Sooners' streak ending, but a national title being under threat is very, very real.
In fact, during OU's record 51-game (and counting) winning streak, its opponent had kept their meeting to a one-run deficit four times.
One of those teams to do it was Florida State, which went into Norman on March 14 and forced Oklahoma into a 4-3 hole in the fourth inning, right before a two-run OU bottom half came, and All-American pitcher Jordy Bahl arrived to make a three-inning save to help the host win by a 5-4 margin.
That's all to say if there has to be one team left standing in Oklahoma's path to three straight titles, the rest of the sport could do a lot worse than throwing out a very talented FSU as the final hope.
Whether or not it ultimately matters will be determined later this week.