SEC
2023 Gatorade National Player Of The Year Ava Brown Is Someone To Rely On
2023 Gatorade National Player Of The Year Ava Brown Is Someone To Rely On
Brown's unblemished career mark of 81-0 concluded with a 15-strikeout showing in Lake Creek's 5A State Championship Game triumph.
Jun 21, 2023
by Kyle Kensing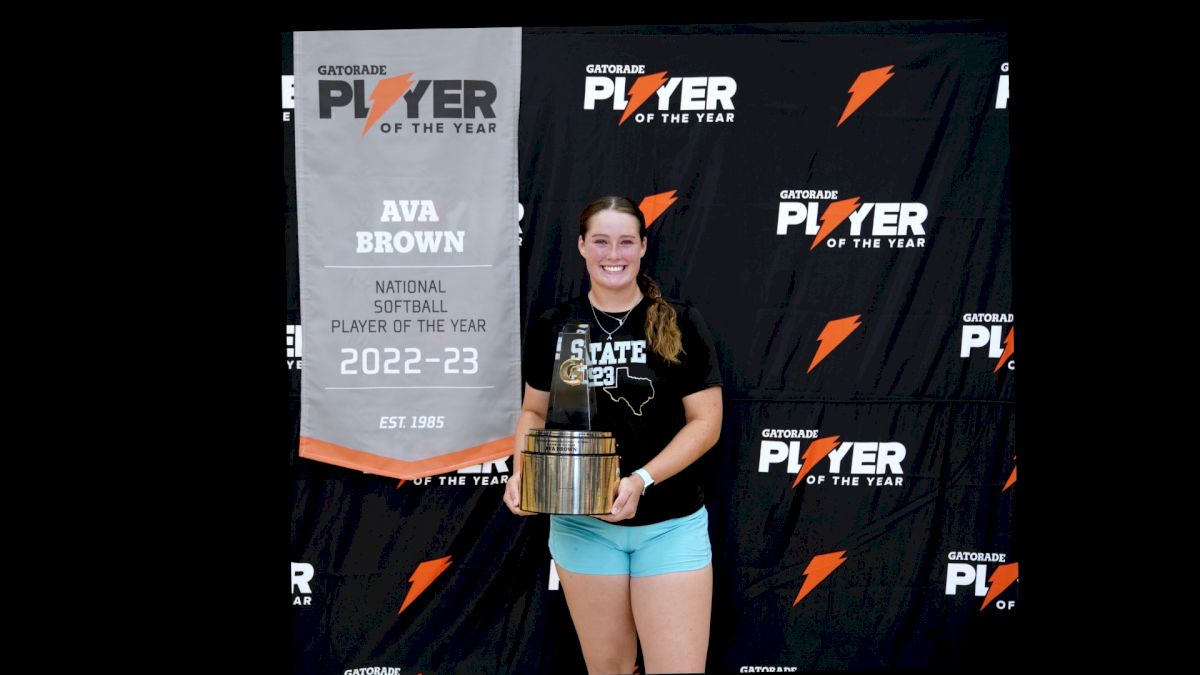 Reliable is one way to describe the 2022-2023 Gatorade National Softball Player of the Year Ava Brown, on and off the diamond.
Brown, of Montgomery (Texas) Lake Creek High School, earned the Gatorade National Player of the Year after an exceptional senior season in which she went 27-0 with a 0.53 ERA.
Her unblemished career mark in the circle of 81-0 concluded with a 15-strikeout showing in Lake Creek's 5A state championship game triumph, putting an exclamation point on the Lions' second straight title.
The team's success, Brown said, brought out the community en masse. She cited the support of Montgomery as a highlight of her time in high school.
"There were people who didn't have any relationship to anybody on the team who would come to every game," Brown said. "They would travel with us. They would come watch us at state. They asked for pictures, they asked for autographs. Being able to know that you're playing for something bigger than just any personal award, team award; we knew there was a lot of youth in our stands."
The community that came out to follow the Lions, and particularly the youngsters, had a player on whom they could rely to deliver in Brown.
And Brown hopes to continue being a reliable presence to anyone who might watch her pitch, or any peers who just need support.
"I love being the person [who] is asked to basically be relied on," she said. "I want to be the person you ask for when you're struggling, and I want to be the person you reach out to for advice or you reach out to let something off your chest.
"Anything I give is supposed to be a positive thing, it's supposed to help you, and I'm going to try and push people to move forward and help them overcome whatever they have if they have the confidence or the courage to bring that to me."
Brown has reached highs few can match as both a 2022 Texas Player of the Year and the 2023 National Player of the Year, a two-time state champion and a signee to the University of Florida.
However, Brown's journey that will take her to Gainesville wasn't without lows, which she said inspires her efforts to be a pillar for others. Put simply, she knows what it's like to seek out support.
"I have had my own struggles, and there [were] times when I didn't feel like there was anybody around me that I could go to," she said. "I want to radiate the fact that that's never the case to other people because that was by far one of the biggest obstacles I've had to overcome in my athletic career."
Such an attitude conveys a maturity that belies Brown's age. Coupled with elite talent that should translate immediately to the college, expect her to make an immediate impact for a Gators club welcoming the nation's top recruiting class, per ExtraInningSoftball.com.
The incoming corps of standout prospects — with the MaxPreps No. 2 overall recruit Brown joining top-ranked Keagan Rothrock — gives 2022 Women's College World Series participant Florida the framework for plenty of trips to Oklahoma City in the coming years.
She may be the Gatorade National Player of the Year, but Brown already is switching gears from the perspective of a player starting on the ground floor in pursuit of her goals at Florida.
"It started from the time I signed the [National Letter of Intent]," she said. "Just making sure, mentally, I'm going to be ready when I get there. It's going to be a big adjustment. It's far away from everything I've known: small-town feel, everybody knows everybody, I'm away from my family...But I knew that when I told coach [Tim] Walton I wanted to go to school there."
Any difficulties adjusting Brown might face should be assuaged with the atmosphere she touted as central to her interest in Florida.
"I'm very big on personality, and I'm very big on relationships, and that was something I felt like was taken very seriously at the University of Florida," Brown said, adding: "Also, the fact that coach Walton is very big on empowering women and the importance of women's sports...That really spoke to me."
College softball is a sport on a measurably meteoric rise in public exposure.
The 2023 NCAA Tournament set records for viewership, including a 1.37-million audience for the Women's College World Series championship round between Oklahoma and Florida State that surpassed the 1.25-million record mark set just a year prior.
With the game's continued growth, a new generation of fans will look to stars like Ava Brown for example; and Ava Brown is happy to be someone who can be relied upon, and looked to for support.