2023 Mary Nutter Collegiate Classic
The 10 Best Games Of The 2023 College Softball Season
The 10 Best Games Of The 2023 College Softball Season
A historic college softball season delivered with classic games that shaped not only 2023, but possibly the future of the sport.
Jun 30, 2023
by Kyle Kensing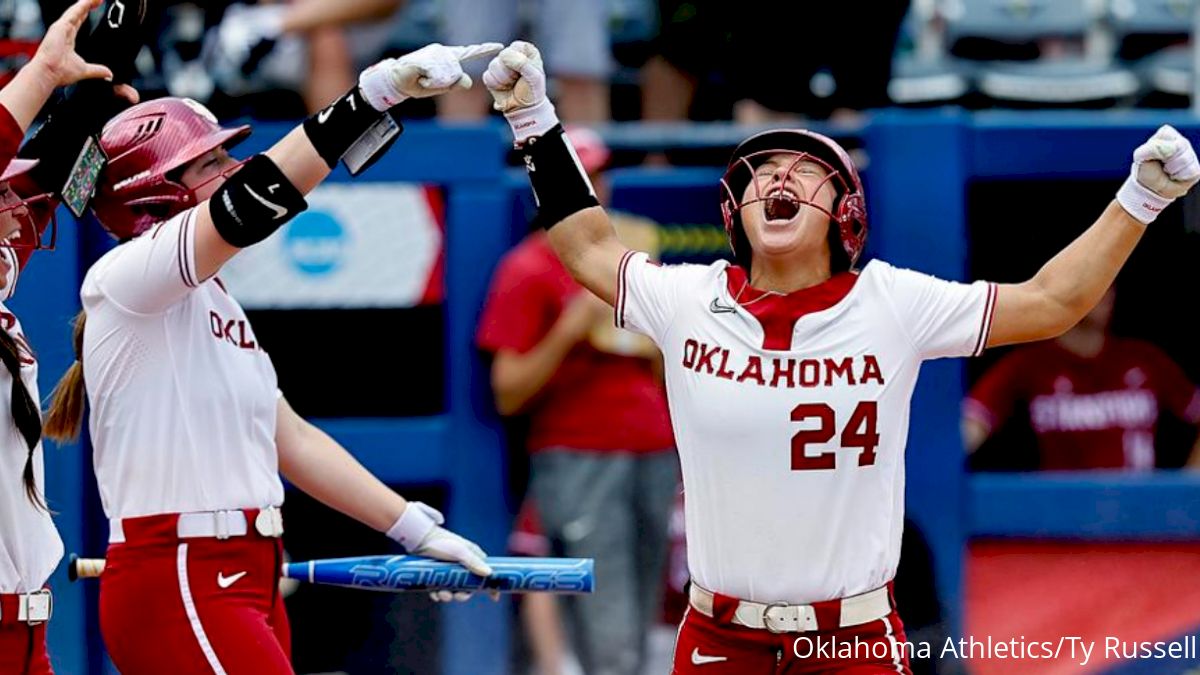 The 2023 season carved a place in history as one of the most significant ever for college softball.
On the way to becoming just the second program to three-peat — an accomplishment more than three decades in the making — Oklahoma also set the standard for excellence with record-setting marks of 61 wins and a staggering 53 straight.
Indeed, OU raised the bar for softball as a whole. But the Sooners' dominance should not overshadow just how great the game is right now, and it's set up for the future.
Remarkable up-and-coming programs such as Clemson and Duke continued to take strides in their rapid ascents.
The always-strong Pac-12 Conference seems to have added a new burgeoning powerhouse with Utah reaching the Women's College Series — and the league's longtime benchmark program, UCLA, bowed out of the NCAA Tournament early in a sign of college softball's collective strength.
This was indeed a memorable, and perhaps defining, season for the sport, and these 10 standout games demonstrate that.
10. Kentucky 11, Washington 3 - Mary Nutter Collegiate Classic, Feb. 23

Unlock this video, live events, and more with a subscription!
Get Started
Already a subscriber? Log In

It's not often a game decided by eight runs can be declared one of the best from the perspective of anyone not affiliated with the winning side. However, Kentucky's defeat of Washington in a top-20 showdown at the Mary Nutter Classic is an exception for how unusual the path to an eight-run deficit it followed.
Washington scratched out runs in the first and third innings to build a lead, but Kentucky's two-run half of the fourth, and another run in the fifth, gave the Wildcats an advantage.
Kinsey Fiedler's solo homer in the sixth drew the teams even and set up extra innings, where what had been a pitchers' duel, turned into a slugfest for Kentucky.
The Wildcats poured on eight runs in the decisive extra frame and did it without a single big-play swing.
They went sac bunt, single, bunt-single, single, hit by pitch, single, walk, single, single for the Wildcats to tally an eight-run inning.
9. Michigan 4, Purdue 0 and Michigan 5, Purdue 0, April 14 & 15
This entry actually is two games for the remarkable feat reached during this Big Ten Conference series.
On Friday night, Michigan pitcher Lauren Derkowski struck out 13 batters and walked only one, while no-hitting Purdue.
Derkowski turned around a day later and struck out seven for another no-hitter of the Boilers.
Of note, the Michigan pitcher followed her consecutive no-hitters with a five-inning shutout win three days after the Purdue series in a rout of rival Michigan State.
8. Utah 7, UCLA 4 - Pac-12 Championship, May 13
Utah's unpredictable run to Oklahoma City and WCWS began with the Utes claiming their first Pac-12 Conference championship in dramatic fashion.
Facing regular-season champion and a team ranked No. 2 nationally for much of the season, UCLA, Utah came up in the clutch with a sixth inning destined to go down as one of the program's most significant stretches - ever.
Hailee White's run-scoring double broke a 4-4 tie and set the scene, as Halle Morris connected for a two-run home run that clinched the Utes' title and home-field advantage in the NCAA Tournament.
For a UCLA team with national championship aspirations, the heartbreak of the Pac-12 Championship carried over into the Tournament.
7. Liberty 2, UCLA 1 - NCAA Tournament Los Angeles Regional, May 20
In perhaps the most stunning upset of the postseason, Liberty faced UCLA in an elimination game of the Los Angeles Regional after the Bruins dropped an earlier surprise to Western Athletic Conference champion Grand Canyon.
UCLA had the outstanding Brooke Yanez in the circle, and she was close to untouchable for 6 2/3 innings. But it was that final third when KC Machado knocked a single that broke through and scored Rachel Roupe, who walked earlier in the inning, to give the Flames a monumental win.
While the elimination matchup was indeed an upset for the ages, Liberty showed the capacity to hang with college softball's best previously in the campaign.
6. Oklahoma 1, Liberty 0 - Mark Campbell Invitational, Feb. 9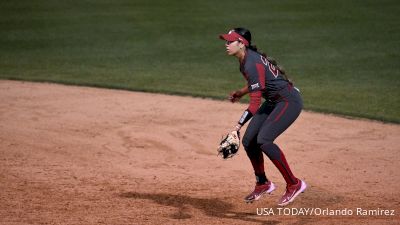 Unlock this video, live events, and more with a subscription!
Get Started
Already a subscriber? Log In

A taste of late spring and the NCAA Tournament came in winter and at the start of the season with an absolutely loaded Mark Campbell Invitational.
The Southern California event brought together Liberty and Duke — a pair of NCAA Tournament teams — and WCWS qualifiers Washington, Stanford and juggernaut Oklahoma.
While the Sooners lost just once all season, they were taken to their limit in a pair of one-run contests at the Mark Campbell Invitational.
The first was a true pitchers' duel against Liberty, with Flames starter Karlie Keeney going more than six innings without surrendering a run to the most prolific offense in softball history.
And, in fact, the lone run scored wasn't earned by Keeney. It came on an error in extra innings.
Nicole May, who worked eight innings, struck out 10 in the Sooners victory.
5. Baylor 4, Oklahoma 3 - Feb. 19
Some came close to Oklahoma, but only once did the Sooners fall. That noteworthy outcome was courtesy of OU's Big 12 Conference counterpart, albeit not in Big 12 play - Baylor.
And the Bears did their damage all in one inning.
The bottom third inning at the Getterman Classic, on Baylor's home field, saw Amber Toven hit a run-scoring single that sent home Presleigh Pilon and moved McKenzie Wilson to third. That set the scene, as Shaylon Govan took the plate for a swing of the bat that proved most consequential.
Her three-run home run was all that separated Oklahoma from an undefeated season.
4. Hofstra 5, Towson 4 - CAA Championship, May 13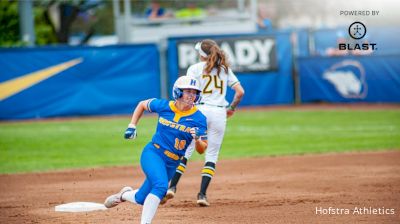 Postseason madness doesn't start with the NCAA Tournament, and there may not have been a better example than this season's Colonial Athletic Association title round.
Towson and Hofstra faced in a pair of instant classics, with the host Pride needing to score two wins to claim the title.
Towson — unbeaten in the CAA Championship to that point — rallied from a 3-1 deficit with a run in the sixth inning then a huge seventh with two more runs to take the lead.
With her team's back against the wall, Meghan Giordano stepped to the plate and delivered one of the most important at-bats in program history. Her three-run home run powered the Pride to a 6-4 win and forced an immediate sudden-death finale.
And that finale was every bit as incredible as the game that preceded it, with Towson once again taking a slim, late-game lead before Hofstra answered.
A run in the sixth cut a 4-2 deficit in half. Then, in the seventh, Angelina Ioppolo connected with a bases-loaded knock to the outfield that scored Chelsea Manto and Kasey Collins.
The dramatic pair of comebacks propelled the Pride to a 13th CAA championship and berth in the NCAA Tournament.
3. Alabama 1, MTSU 0 - NCAA Tournament, May 21
In another sudden-death showdown, the Tuscaloosa Regional came down to the final inning between host Alabama and MTSU.
Conference USA's Blue Raiders got an absolutely stellar performance from pitcher Kamryn Carcich, who went six scoreless innings and surrendered just a single score in the seventh.
That one run was the difference, however, as Ally Shipman feinted a bunt attempt before blasting a shot down the line.
ALLY. FREAKIN. SHIPMAN.@ally_shipman

📺ESPNU | https://t.co/VXCbn5E3rb#Team27 #RollTide pic.twitter.com/LeUSJGtXWX

— Alabama Softball (@AlabamaSB) May 21, 2023
Combined with Jaala Torrence's eight-strikeout, complete-game shutout, it was enough to send Alabama to the Super Regional — and, ultimately, the WCWS.
2. Florida State 1, South Carolina - NCAA Tournament, May 21
Of all the individual performances that shaped the 2023 season, arguably the most defining came from Florida State pitcher Kat Sandercock.
Facing South Carolina in a winner-moves-on matchup in the Tallahassee Regional, Sandercock retired all 21 batters she faced for a perfect game.

1. Oklahoma 4, Stanford 2 - WCWS, June 5

One can practically imagine the late, legendary voice of NFL Films, John Facenda, invoking the Immovable Object versus the Irresistible Force in describing the dynamics at play between Stanford's pitching staff and Oklahoma's batting.

Cardinal pitchers NiJaree Canady and Alana Vawter finished the 2023 season with ERAs of 0.57 and 1.81, 218 and 155 strikeouts, and opponent batting averages of .137 and .240. Oklahoma hit .366 as a team with 117 combined home runs, eye-popping numbers.

In a previous WCWS matchup, Stanford's All-American Canady struck out seven Sooners and gave up only four hits. The two runs resulting from those hits, however, were enough to give Oklahoma the victory.

In the rematch, both Canady and Vawter pitched terrific games. Vawter went four innings with two runs allowed, and Canady limited Oklahoma to four hits again over five innings.

The duo pitched brilliantly, and Stanford scratched out enough offense in the first inning that Oklahoma's piece-meal scoring was only enough to force extra innings.

Tiare Jennings finally broke the stalemate in the ninth inning with a two-run double, the big breakthrough that finally decided a truly outstanding WCWS contest.