Big Ten
Best Freshmen Of The 2023 Collegiate Softball Season
Best Freshmen Of The 2023 Collegiate Softball Season
For a few freshmen in college softball this past season, they sidestepped the usual process of slowly building up to being key contributors someday.
Jul 29, 2023
by Briar Napier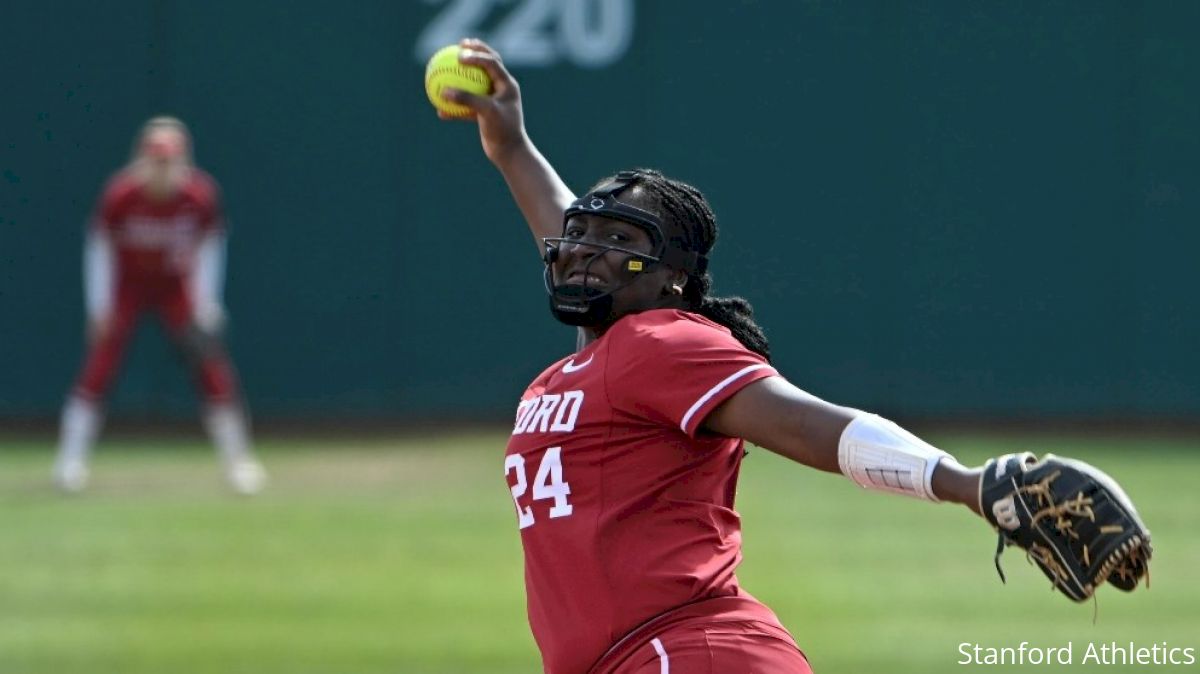 Why wait on developing into a superstar when you can just be one immediately?
For a few freshmen in college softball this past season, they sidestepped the usual process within their teams of slowly building up to being key contributors by their upperclassman years.
Instead, they made major impacts (even as much as directly influencing runs to the Women's College World Series) that helped their programs soar to epic heights.
Their successes also double in being exciting indicators that more is to come in seasons ahead, if things go well, which is good news for fans of the programs those players stand out with.
And, with the 2023 college softball season now done and dusted, it's worth taking a peek at who will be among the best of the best in the game at their current trajectories.
Here's a look at five of the best first-year players who made an impact across college softball this past season – along with the trajectories of where their teams may be going next.
NOTE: The list below is in no particular order
NiJaree Canady, RHP, Stanford
Without Canady, Stanford wouldn't have been breaking its 19-year WCWS drought this past season. It's that simple.
The two-time Kansas Softball Gatorade Player of the Year in high school was scarily good as a freshman and made a Cardinal squad that had a run to the Super Regionals the year before she arrived enter a lethal new gear.
The nation's leader in ERA (0.57), strikeouts per seven innings (11.3) and strikeout-to-walk ratio (10.38), Canady won the NFCA National Freshman of the Year award and joined Oklahoma's (now Nebraska's) Jordy Bahl and Florida State's Kathryn Sandercock as pitchers named to the WCWS All-Tournament Team – extremely high praise considering the quality of those names, but well-deserved.
Canady's masterful performances in the circle in Oklahoma City saw her be within two runs of ending Oklahoma's national-record winning streak (twice) and her be the catalyst behind the Cardinal's run to the semifinals, where they took OU to extra innings and gave the national champs their toughest game at the WCWS.
With reinforcements coming to Stanford (more on those in this article), Canady, now indisputably a superstar, will be the ace the rest of the team revolves around. The program now is a serious threat for a national title as long as she's on the mound.
Mihyia Davis, OF, Louisiana
Catch Mihyia Davis if you can – and don't assume any ball hit her way is out of her range.
The national leader in stolen bases with 52 swipes on the season, the lightning-quick Davis, a member of the NFCA All-America third team, was the first Ragin' Cajun freshman to be given an All-America honor in 20 years, a remarkable achievement in its own right, considering the fact that Louisiana consistently has churned out superb talent throughout that stretch, which has included three WCWS trips.
Finished Year 1️⃣ on 🔝
⮑ led D1 with 𝟱𝟮 𝘀𝘄𝗶𝗽𝗲𝘀 https://t.co/y1Tt4MBHLF

— Louisiana Ragin' Cajuns® Softball (@RaginCajunsSB) June 1, 2023
Though the Texan is without question an elite threat on the basepaths – her being named as the inaugural New Balance/NFCA Golden Shoe Award winner only reiterated that fact – speed alone doesn't get you to a .380 average with 22 multi-hit games.
Plus, Davis had an affinity for the web gem and otherworldly defensive play in center field.
A laser throw from deep center to get out a double-chasing Washington player in the Seattle Super Regional was good enough, but an early-season diving catch against LSU in which Davis went head-first into the outfield wall (she was OK) announced to the rest of college softball she truly had arrived.
Extra-base hits are no guarantee when she's in the Cajuns' outfield.
D'Auna Jennings, OF, Duke
You need standard-setters and players who set benchmarks to build any college athletics program from the ground up, and Duke softball – still in its relative infancy, having only played its first season in 2018 – looks like it has one with Jennings.
No freshman in the country had a better batting average than Jennings' .462, and when the Blue Devils needed her to deliver in the Durham Regional, she showed a poise well beyond her years.
Still thinking about this @deeyawnuh catch 😳 🔥 @DukeSOFTBALL pic.twitter.com/xPUzYVcKjT

— ACC Network (@accnetwork) June 30, 2023
The team's hits leader for the season with 80, Jennings went an incredible 7-for-7 at the plate across two wins over Charlotte, winning Duke the regional and giving it hosting rights to a Super Regional for the first time in program history.
Duke came up just short of a first WCWS appearance, however, as Stanford sliced through the Blue Devils in the supers, but after a new school-record 48 wins, ranking as high as No. 5 in the country and knowledge that Jennings (who made the NFCA All-America second team and was an All-Atlantic Coast Conference first-team nod) would be back to help build on the foundation set from that success, coach Marissa Young's program is in very, very good hands for the future.
Grace Jenkins, C, UConn
Teaming with twin sister and teammate, Hope, to make an immediate impact for the Huskies, Grace captured the BIG EAST's Freshman of the Year Award and became the fifth UConn player to earn the honor after starting all 49 games, slashing .352/.572/.444 and leading the team in RBIs with 44.
Among freshmen nationally, only UCF's Aubrey Evans had more doubles than Jenkins' 17, and the Huskies' capture of back-to-back regular-season conference titles for the first time in 25 years would've been a lot harder had Jenkins not delivered many clutch performances and big moments throughout the season.
T7 | GRACE JENKINS BREAKS IT OPEN!

She brings in two runs with a long single! @gracee_jenkins pic.twitter.com/TGbttpnhg7

— UConn Softball (@UConnSoftball) April 22, 2023
UConn still is waiting for its return to the NCAA Tournament after last qualifying in 2001, having been agonizingly short of earning the BIG EAST's automatic bid through winning the conference tournament multiple times (including this past season).
But with players like Jenkins coming through the ranks and making moves to help the Huskies perform on a new level in future seasons, it feels more and more like it's merely a matter of time for UConn softball to get its day and snatch a ticket back to the postseason.
Taryn Kern, IF, Indiana (formerly)
Indiana softball hadn't made much noise on a national stage entering this season, only making the NCAA Tournament twice since the turn of the century with no Big Ten Conference regular-season or tournament titles in that stretch, either.
Taryn Kern then came to Bloomington and immediately raised the Hoosiers' ceiling.
The Californian was sensational for IU in 2023, sweeping the Big Ten's Player and Freshman of the Year Awards after smashing the school's single-season records for home runs (23), RBIs (65) and runs scored (68), while batting a team-high .404.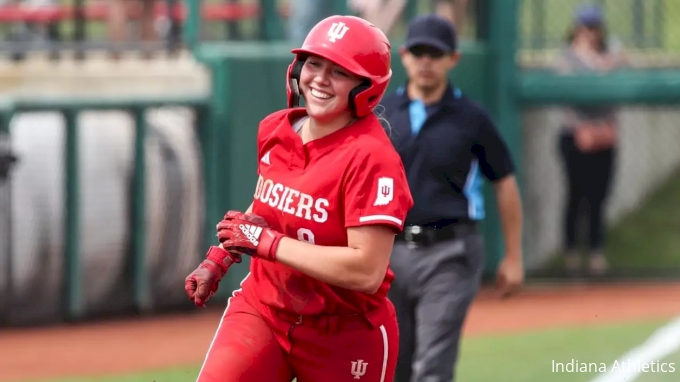 She had a midseason 47-game on-base streak as the driving force for an Indiana team that wasn't projected by most to contend in the Big Ten, yet ended up finishing second and taking champion Northwestern to the brink, as the program qualified for its first regional since 2011.
IU softball will need to go forward without her, though, as Kern entered the transfer portal and eventually committed to home-state power Stanford off the back of its WCWS appearance, giving the Cardinal two of the best incoming sophomores in the sport for next year in her and Canady – and even more weapons at their disposal coming off one of the best seasons in program history.