2019 FloSoftball Big Ten Schedule
Recruit Spotlight: All-American Meghan Beaubien
Recruit Spotlight: All-American Meghan Beaubien
What a year it's been for Meghan Beaubien, the talented 2017 pitcher from St. Mary Catholic Central High in Monroe, Mich.
Aug 25, 2015
by Brentt Eads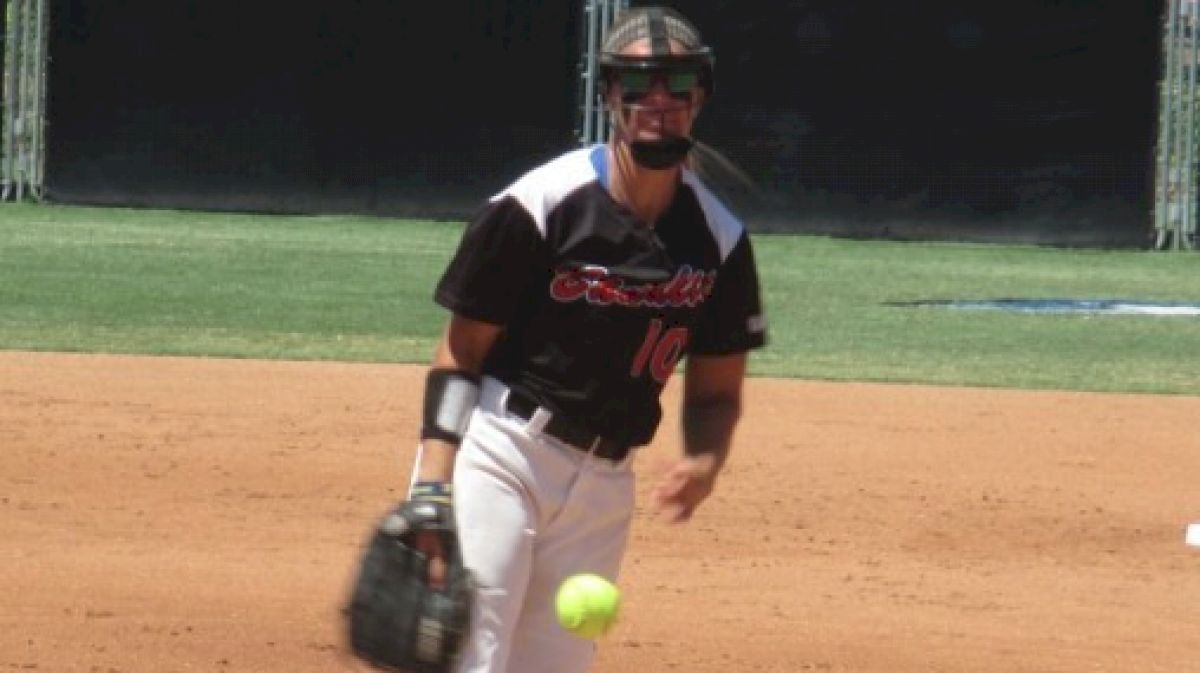 What a year it's been for Meghan Beaubien, the talented 2017 pitcher from St. Mary Catholic Central High in Monroe, Mich.
As a sophomore this past spring she led her team to a state title, earned 1st Team FloSoftball All-American honors as well as was named All-State and the Michigan Gatorade Player of the Year.
Meghan went 33-3 in the circle with a 0.31 ERA and had an amazing 456 strikeouts (yes, that's in one season—not a career!). She even hit .438 and had 35 RBI to help her cause.
This summer, Meghan was equally dominant for the Beverly Bandits DeMarini 16U team that lost its first game at PGF 16U Premier Nationals and then won 10 games in a row to get to the championship game where it lost a thriller 1-0 to the Tampa Mustangs.
The pitcher, who has one of the best change-ups in the nation, went 7-2 for the Bandits with a 1.12 ERA and had 75 strikeouts in 62 1/3rd innings.
You can watch this University of Michigan-bound pitcher in action at the PGF Labor Day Showcase on September 5-7 as FloSoftball.com will be streaming the games. Join Now to watch live.
Til then, here's the latest on this outstanding pitcher—one of the best in the nation today…
***
FloSoftball: When did you kick off your junior year of high school?
Meghan Beaubien: We went back a week ago yesterday (last Monday).
FS: What's it like to be back after a long summer of softball?
MB: The classes get harder and it's weird being one of the older students now, but it still kind of feels like it should be summer! We played softball games this past weekend in Iowa at a showcase and it feels like summer.
FS: You're on the Bandits-Conroy 16U team now; what's it like having Bill Conroy—who was coaching the 18U team—now being your coach?
MB: It's pretty exciting as everyone has a lot of respect for him as the lead person over the (Bandits) organization. It's a big honor, but we have to rise to the challenge as he wants us to play for him for a reason.
FS: Do you see yourself as a leader on this new team, especially since it's just you and Sydney Supple (2019, Northwestern) as the pitchers?
MB: I do, there are only two 2017's and I'm one of them so I definitely feel like I'm one of the older players. Sydney has a great personality and is a strong leader too—she's really mature for her age—and I love being around her. We can help each other out and hopefully help the team win.
FS: You're just a few weeks off the PGF 16U Premier National Championship… have you overcome losing the title game?
MB: It was hard, it's tough to lose 1-0 in the National Championship game and I was upset for a while but you have to get over eventually. When we started practice with the new team, it created a new mindset and we thought, "We'll change it and win it all this year."
FS: What a great summer you had and everyone was raving about your change-up; tell us what makes it so hard to hit…
MB: I think part of it is I sell it well with my arm speed and what sets it apart is I can locate it pretty well. I'll throw it on any count, too; a lot of pitchers will throw the change only when ahead in the count, but I'm comfortable throwing it at any time. You think it might be coming on a count you'd expect me to throw it, but I'll throw in a count when you're not totally expecting it.
FS: How did you develop such a nasty change?
MB: Honestly, it's only starting getting that good in the past couple years. I worked on it really hard and my dad pushed me and worked with me to sell it and sell it better. That going me to this point–I worked on it so much that it's where I can now throw it for strikes.
FS: Do you like to set up the change with any other pitches?
MB: I can't say I have a set-up pitch—the change doesn't have to be set up, but I can throw a rise that goes up and hard and then come in with the offspeed which is a big adjustment for the hitter.
FS: You've had a lot of personal and team success in 2015 so far… what would be the highlight for you?
MB: It's gotta be Nationals. To go on a run like we did, to go through everything and win 10 straight, was great and fantastic. The PGF Nationals is the biggest it can get and to lose in the first round and then make it to title… I will always remember them. Also, JT's (Jen Tyrrell) team beat us on Tuesday in the first round and then we won three in the loser's bracket on Wednesday, three on Thursday and then four on Friday to make it to the Saturday championship game.
FS: So what are you like off the field?
MB: (laughs) I hate that question! Whenever I'm on a new team and we have to go around to each player and introduce yourself, I can't think of anything to say interesting about me!
FS: How far away is it to practice being you're from Michigan and play for a team based in Chicago?
MB: It's a five hour drive, but I'm not the farthest on the team—Casey Skeens comes in from West Virginia and last weekend she flew to our showcase in Iowa.
FS: What do you do on the 10-hour round-trip drive?
MB: Homework and sleep! Most weekends when we're driving to Chicago, I've been riding with Hannah Carson (a 2018 catcher from Michigan also committed to the Wolverines). I'm on the southeast side of the state and she's from central Michigan and we meet in the middle on the way there.
FS: The PGF Labor Day Showcase is in a week and a half… what are your thoughts on the event?
MB: We know there's a lot of good competition for our team and we're excited about it. I'm looking forward to it because it will be the first time I've pitched in a game since the National Championship game. Last weekend, I hit and kept the book but didn't throw. After throwing a ton of pitches during the high school season and throughout the summer, we all felt it was good to give my arm a break and Coach Hutch (Univ. of Michigan head coach Carol Hutchings) thought it would a good idea to give my body a break and rest up for this fall, starting with the PGF Labor Day Showcase.
Here's video of Meghan in action at the PGF 16U Nationals championship game: