2015 FloSoftball All-Americans – 1st Team
2015 FloSoftball All-Americans – 1st Team
It was another exciting year of high school softball across the nation going back to the fall when states like Georgia, Missouri and Oklahoma competed for state championships. Kelly Barnhill's play last fall wasn't forgotten as the Georgia senior set a st
Jul 9, 2015
by Brentt Eads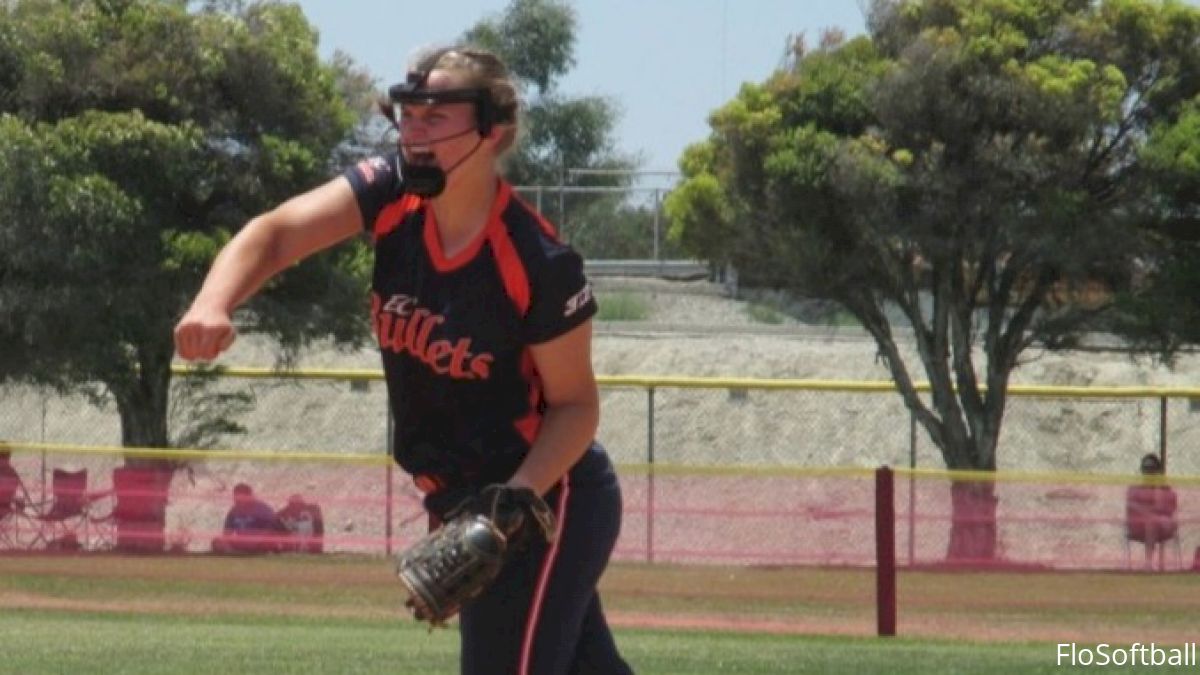 It was another exciting year of high school softball across the nation going back to the fall when states like Georgia, Missouri and Oklahoma competed for state championships.
This year was notable for record-setting performances by pitchers setting state strikeout records, batters shattering home run records and base runners rewriting the record books.
The criteria for selection to the FloSoftball All-American team includes a combination of all the following factors:
performance on the field
overall contribution to the team's success
talent and skills (athletic and softball-specific)
off the field success (academic, community, charity, etc.)
Congratulations to all the players who excelled and earned the right to be called an "All-American!"
See the 2nd Team All-American list
here
.
---


1ST TEAM FLOSOFTBALL ALL-AMERICANS
PITCHERS
Sr.
Kelly Barnhill
Pope (Marietta, Ga.)—Florida
Barnhill was named as the USA Today National Player of the Year after leading her team to a AAAAAA state title and setting a single season state record with 534 strikeouts last fall. Ranked as the No. 1 pitcher in the 2015 Hot 100, she has been clocked in the low 70's and made the USA Jr. National Team. She was twice honored as the Georgia AAAAAA Pitcher of the Year.
So.
Meghan Beaubien
St. Mary Catholic Central (Monroe, Mich.)—Michigan
Beaubien did it all as a sophomore, leading her team to a Division 3 state title, pitching a shutout in the championship game and accounting for her team's runs with a two-run homer. She was named All-State and earned Gatorade Player of the Year honors after going 33-3 with a 0.31 ERA and 456 Ks this spring. She also hit .438 with 35 RBI.
Sr.
Brooke Bolinger
Yucaipa (Calif.)—Nevada
Bolinger was the key cog in leading Yucaipa to the CIF Southern Section Div. II title and the No. 1 final national ranking by FloSoftball.com. She comes from a family of softball players as two older sisters, Britanny and Brianna, played at UNLV. Brooke had a miniscule 0.26 ERA this year and kept the opposition to a .088 batting average. She also had 306 Ks on the year.
Sr.
Kendra Friedt
Southington (Conn.)—Boston College
Friedt was perfect in her career, going 42-0 as a varsity pitcher and led the Blue Knights to three straight Class LL state championships. This year, Kendra went 18-0 with a 0.47 ERA and 233 strikeouts in 105 innings to earn New Haven Register honors for the second straight year. She also limited opponents to a .066 batting average. In her career she had 524 Ks in 267 innings pitched.
Sr.
Jenna Goodrich
American Heritage (Plantation, Fla.)—Georgia Tech
Goodrich posted a 15-1 record and a 0.38 ERA to lead the Patriots to the Class 5A title game. She had 148 strikeouts in 92 innings and threw four no-hitters on the year. She was the Gatorade State Player of the Year and also did well at the plate with a .471 batting average.
Sr.
Regan Green
Laurel (Del.)—Mississippi State
Green's high school is in Delaware even though she lives in Maryland and she's dominated her state for the last two years. This tear, she went 18-3 with a 0.53 ERA and had 322 strikeouts versus only 13 walks in 145 innings. She also hit .409. Regan won two state titles for the Bulldogs and the last two years has been 1
st
Team All-State and the Gatorade State Player of the Year.
So.
Julia Jensen
Reed (Sparks, Nev.)—Nevada
Julia went 34-2 on the year with an ERA of 0.80 and 346 strikeouts in 211 innings. As just a sophomore, she threw 10 shutouts and three no-hitters. Julia was the catalyst to leading her high school to the Nevada State Championship and also hit .477 with 43 RBI to help her cause. The 2017 Hot 100 pick is also a standout in volleyball.
Sr.
Taylor McQuillin
Mission Viejo (Calif.)—Arizona
McQuillin had a statistically better year as a senior than her junior campaign when she was the Gatorade National Player of the Year and led the Diablos to the FloSoftball National Championship. She fell one game short of an undefeated season, losing to this year's No. 1 team, Yucaipa, despite striking out 15 in the title game. She beat Yucaipa n the two previous meetings. Taylor went 30-1 with a 0.31 ERA and is the No. 3 overall player in the 2015 Hot 100.
So. P
Kelsey Oh
Mount St. Dominic (N.J.)—Boston College
Oh is one of the most promising young pitchers in the country and the 6-foot-1 right-hander was dominant again after leaded her team to a Non-Public A state title as a freshman. This spring she went 26-2 with a 0.25 ERA and 310 strikeouts in 170 innings. Kelsey was also the star at the Wendy's Spring Classic in Ohio as she had 28 Ks in 17 innings in the April tournament.
Sr. P
Sydney Smith
Maple Grove (Minn.)—LSU
Smith, a 6-foot right-hander, was a repeat Gatorade State Player of the Year pick and earned Star Tribune Metro Softball Player of the Year honors. She hadn't lost a regular season game in three years, going 53-0, and went 19-1 before suffering a 1-0 loss in the Class 3A semi-finals. Sydney still finished with a 0.14 ERA and also hit over .500 on the season.
Sr.
Emily Sorem
Tualatin (Ore.)—Lehigh
Sorem was perfect on the year, going 26-0 with 329 strikeouts in 116 1/3 innings. She only allowed eight earned runs all year and compiled a 0.33 ERA. This spring, the senior had 21 shutouts and five no-hitters in one of the most dominating campaigns in the country. Emily also led her team to the Oregon 6A state championship, beating the No. 1 seed in the process. In the title win, she gave up just two hits, while striking out seven.
Jr. P
Ashley Swindle
Curry (Jasper, Ala.)—Auburn
Swindle was one of the nation's leaders in wins as she went 43-5 and had 323 strikeouts in 284 innings to lead her team to the 4A state title. Ashley had a 0.22 ERA and recorded 25 shutouts with six no-hitters and 10 one-hitters. She earned State All-Tournament honors and also helped her own cause with a .353 batting average and 45 RBI.
CATCHERS
Jr.
Kayla Konwent
Central (Westosha, Wisc.)—Wisconsin
Konwent was the Div. 1 and Gatorade State Player of the Year after putting up Babe Ruth-like numbers, batting .627 batting average with a single-season state record 21 home runs, 46 RBI and a 1.470 slugging percentage. Kayla homered about every fourth at-bat and helped the Falcons to a state championship. She can also play third base and some say she's perhaps the best player ever from the state.
Jr.
Bailey Hemphill
St. Thomas More (Lafayette, La.)—Alabama
A two-time FloSoftball All-American, Hemphill didn't get a three-peat in Class 4A state titles, but she did earn all-state honors and her third all-district notice after hitting .489 with nine homers and a .758 on-base percentage thanks to 49 walks in 25 games. Bailey was also all-district in basketball, but her future is on the field where she is rated as the No. 3 prospect in the 2016 Hot 100.
Sr.
Taylor Pack
Sutter Union (Sutter, Calif.)—UCLA
Pack led her team to a third straight CIF Northern Section Div. IV championship by hitting .551 with 21 doubles, eight home runs and 45 RBI. The All-Area Player of the Year is outstanding defensively and is consistent at the plate. She hit .552 with 25 home runs and 164 RBI for her career. She was a 2
nd
Team FloSoftball All-American as a junior.
INFIELDERS
Sr.
Kaitlyn Alderink
Keller (Texas)—Texas A&M
Rated in the Top 20 of the 2015 Hot 100, Alderink played shortstop and leadoff for her team which made it to the Elite 8 at the 6A level. She hit .396 with a .489 on-base percentage and had 21 steals. Kaitlyn was also a 1
st
Team District 5-6A pick and was on the Dallas/Fort Worth All-Star Team because of her ability to place the ball anywhere and also because of her standout defense.
Jr.
Nicole Bates
Ceres (Calif.) —Washington
Bates hit .518 on the season with a .567 on-base percentage on 59 hits. She is also a standout in basketball and was all-conference in softball and in hoops where she led the conference with an 18.4 points per game average. A triple-threat lefty who can bunt, power slap and hit to all fields, she and her brother Jimmy were honored as the top female and male athletes at their high school.
Sr.
Aubrey Leach
The Woodlands (Texas)—Tennessee
Leach is an athletic infielder and speedy leadoff hitter with great bat control. She hit .594 as a senior with 60 hits and 49 steals in 34 games. She was the key component for one of the top teams in Texas as The Woodlands finished 3
rd
in the state, losing in extra innings to eventual state champion Katy. In her four-year career, she went to the regional finals each season and had a .532 batting average with 172 steals in 149 games.
Sr.
Alexis Mack
Brecksville-Broadview Heights (Broadview Hts., Ohio)—South Carolina
Mack is a base-stealing machine and rewrote the Buckeye State record books, setting the single-season mark with 79 (out of 81 attempts) and career record with 234. She hit .682 with a .717 on-base percentage and reached base in 94 out of her 120 plate appearances. The four-time All-State honoree also struck out only three times all year.
Sr.
Toni Polk
Niagara Falls (N.Y.)—Penn State
Polk was a three-time All-State selection and was the Gatorade State Player of the Year after hitting .532 as a senior, utilizing her speed and triple-threat abilities from the left side to get on base. An outstanding all-around athlete, she was the first at her school to earn all-league honors in three sports: softball, volleyball and basketball. She's also been a varsity starter since the eighth grade.
Sr.
Vada Sherrill
Alexander Central (Taylorsville, N.C.)—Pfeiffer
You could argue that Sherrill had the greatest softball career in North Carolina high school history. The middle infielder won two 4A state titles and her teams went 126-4 in her four years, including a 33-0 mark last year and No. 1 ranking by USA Today. Vada hit .588 as a senior and broke her own single-season state record with 62 runs scored. She was 48-for-48 in steals this year and finished second in state history in steals (150-for-154) and runs (196). She's following her father to Pfeiffer Univ., where's he's the new head coach.
Sr.
Alex Sobczak
Mercy (Farmington Hills, Mich)—Michigan
Sobczak was named the state's "Miss Softball" after hitting .440 this spring with six homers and 33 RBI. A dangerous power hitter, she was walked 39 times, 18 of them intentionally and had a .625 on-base percentage. The third baseman/shortstop hit 17 homers as a sophomore and finished with 40 for her career. The Wolverine signee averaged .524 at the plate as a four-year starter and showed a great arm and quick release on defense.
Sr.
Tannon Snow
Chino Hills (Chino, Calif.)—Washington
Snow emerged as one of the top power hitters in the country and had one of the most explosive seasons in California history. The third baseman set CIF-Southern Section records with 28 home runs and 89 RBI in 32 games and now holds the all-time California state records with 60 career homers and 212 RBI. She hit .501 for the year and is on this All-American team with sister, Taylon, an outfielder who will also play with Tannon at Washington.
Sr.
Lacey Sumerlin
Baker (Ala.)—Georgia
No one had a bigger rise to national prominence than Sumerlin, who last summer was considering going Div. II in softball or playing volleyball only. The 5-foot-11 shortstop ended up signing with Georgia and leading her high school softball team to a 50-6-1 record and the Class 7A state title. Lacey hit .435 with 12 homers, 30 steals, 71 runs scored and 68 RBI. She even pitched for the first time and went 22-1.
OUTFIELDERS
Jr.
Ciara Bryan
Newton County (Ga.)—Georgia
Bryan finished her high school season last fall with a .545 batting average (54-for-99) with more than half of her hits going for extra bases: 13 doubles, 10 triples and eight home runs. She was the Regional Player of the Year in softball and also qualified for state in three track events—long jump, 100 meters and 4 x 100. Ciara used her great speed to also steal 45 bases as a junior.
Sr.
Brittany Edmondson
Ezell Harding Christian (Antioch, Tenn.) —Tennessee
Edmondson was a four-time All-State pick with 2.6 home-to-first speed, which she used to hit .545 with a .588 on-base percentage and get 25 steals in 26 attempts. A prototype leadoff hitter from the left side, she also has pop as she showed by hitting a three-run home run to send her team to the regional championships.
Jr.
Hannah Edwards
Catasauqua (Pa.)—Pitt
Edwards is a dangerous lefty slapper with great speed and already holds the Keystone State career steal record with 140 with a year yet to go. She set the single-season mark with 57 thefts this year and put herself into a position to do so with a .687 batting average and .726 on-base percentage. The three-time All-State pick also only struck out once in 95 at-bats. She's a top 5 player in the 2016 Hot 100.
Sr.
Amanda Lorenz
Moorpark (Calif.)—Florida
Lorenz is ranked as the No. 1 player in the 2015 Hot 100 because she's such an outstanding hitter with excellent bat control and pitch selection (she had 27 walks this season). She hit .525 as a senior with a career .592 batting average and only struck out 10 times in 405 career high school at-bats. Opposing teams pitched around her this year and Amanda still put up numbers any player would love to have.
Sr.
Lily Mann
Harmony (Fla.)—Florida
Mann led the Florida Class 7A in batting (.652), on-base percentage (.714), runs scored (45) and triples (10) to earn 1
st
Team All-State honors and 7A Offensive Player of the Year. Lily used her speed to go 30-for-30 on the base paths as a slapper who can bunt or power slap equally well. She also earned All-Area Player of the Year honors and was All-Conference in all four years of high school ball.
Sr.
Alyssa Palomino
Mission Viejo (Calif.)—Arizona
Palomino was one of the most feared power hitters in the high school and club ranks and won national championships at both levels. She finished her career second in state history with 58 home runs (No. 1 was fellow FloSoftball All-American Tannon Snow). Alyssa hit .532 with 16 homers this spring and had a .619 on-base percentage. She is playing for the US Jr. National Team and is ranked as the No. 11 player in the 2015 Hot 100.
So.
Julie Rodriguez
Northern Valley Regional (Old Tappan, N.J.)—UCLA
Although just a sophomore, Rodriguez earned All-State honors as one of the leading hitters in New Jersey . She batted .658 with a .740 on-base percentage because of her excellent speed, which helps her get great jumps out of the box and on balls hit when she's playing in the outfield. She also had 31 RBI and 23 walks (15 intentional) with no strikeouts on the year. In two playoff games, she was walked in all eight at-bats.
So.
Taylon Snow
Chino Hills (Chino, Calif.) —Washington
Taylon burst onto the national scene as a freshman last year when she set the all-time CIF-Southern Section record with 72 hits in a season. If she stays healthy, she could break the all-time career mark as Taylon is averaging two hits per game so far in her 66 played. A smooth, technically-sound player, she batted .496 in the leadoff spot although she does hit for power too. She's the younger sister of fellow All-American Tannon Snow and will one day join her sister at the Univ. of Washington.
MULTI-POSITION
Sr. C/1B
Haley Bearden
Clarksville (Tenn.) —Tennessee
A catcher most of her career, Bearden was moved to first base this spring and excelled at her new position, hitting .426 with seven home runs, 49 RBI, 19 walks and a .690 on-base percentage. Haley is an excellent all-around athlete and was all-district in softball and basketball (12 points and 10 rebounds per game) and all-state in softball. She can hit anywhere from leadoff to the No. 4 spot in the order.
Jr. P/IF
Cayla Drotar
Hartsville (S.C.)—South Carolina
Drotar earned the rare honor of being a five-time All-State pick as she's been a varsity starter since the 7
th
grade. The repeat Gatorade State Player of the Year, she is equally dangerous in the circle or at the plate. In the circle she went 21-3 with a 0.68 ERA and had 209 Ks in 143 2/3 innings. As a batter, Cayla hit .635 with 14 home runs and 62 RBI. She's currently rated the No. 18 player in the 2016 Hot 100.
Jr. P/UT
Miranda Elish
Crown Point (Ind.)—Oregon
Elish is a two-time Gatorade State Player of the Year and was chosen as the Chicago Post-Tribune's Player of the Year after going 15-1 in the circle with a 0.65 ERA and 198 strikeouts in 107 innings. She also led her team in hitting with a .479 average, 46 hits and 32 RBI. Miranda is also the No. 2 overall player in the 2016 Hot 100.
Sr. P/UT
Brittany Finney
Bishop Carroll (Wichita, Kan.)—Oklahoma
Finney had a dominating career, culminating with a perfect senior campaign as she led the Golden Eagles to a fifth straight 5A state championship. Her teams went 50-0 the last two years and in the circle Brittany was 14-0 this spring with a 0.30 ERA. She also pitched a no-hitter in the state title game and was as equally dominant at the plate, hitting .774. The Sooner signee also holds state records for most career home runs (38), RBI (140), hits in a game (5) and home runs in a game (3).
Sr. P/UT
Rachel Garcia
Highland (Palmdale, Calif.)—UCLA
Garcia was the Gatorade National Player of the Year as a senior after earning State Player of the Year honors as a sophomore. One of the top two-way talents in the country, she went 26-2 as a pitcher with 418 strikeouts, while batting .691 with 57 RBI and 18 home runs. She threw three perfect games—amazingly, one of them she lost—along with seven no-hitters. A USA Jr. National Team selection, she suffered a knee injury prior to the 13
th
inning of the CIF-SS Div. IV title game in which she had struck out 24. Her status for the summer and beyond has yet to be determined.
Sr. C/IF
Abby Lockman
Norco (Calif.) —Tennessee
In talent rich Southern California, Lockman was chosen as the CIF-SS Div. I Player of the Year after helping the Cougars win the DI championship. That's nothing new for Abby, who played as a freshman and helped Norco win the FloSoftball No. 1 ranking three years ago. This season, she hit .457 with a school-record 14 home runs and a team-leading 38 RBI. She literally saved the season for her team when, down to its last strike and trailing by two runs, she got an infield hit that allowed the team to score four runs to win its third title since 2009.
Jr. P/SS
Madilyn Nickles
Merced (Calif.)—UCLA
Nickles was the only underclassman chosen to the USA Jr. National Team because of her ability to pitch and play multiple positions. She won 22 games and compiled a 1.18 ERA with 287 strikeouts in 178.2 innings, while hitting .526 with eight homers and 46 RBI. She has twice been named the Central California Conference MVP and the Merced Star Player of the Year.
Sr. P/IF
Samantha Show
East Bernard (Texas)—Texas A&M
Show earned her second straight Gatorade Player of the Year award after a senior campaign in which she helped her team win the 3A state championship. Samantha dominated at the plate with a .688 batting average, 22 home runs and an on-base percentage of .781. She was just as dominant in the circle where she went 33-2 with 437 Ks in 215 innings. She is rated as the No. 15 player overall in the 2015 Hot 100.
Sr. P/IF
T Statman
Horizon (Scottsdale, Ariz.)—Arizona
Statman finished her prolific career with 1,071 strikeouts in the circle to be the first in state history to do so at the 43 feet pitching distance. As a senior, she recorded 279 K's in 200.2 innings and went 25-8 with 14 of the wins being shutouts. With a bat in her hands, T hit .509 on 56 hits. Possessing a great eye at the plate, she only had one strikeout in 127 plate appearances. Her diverse talents off the field include being a third degree black belt in Taekwondo.
Sr. P/IF
Tara Trainer
(Lebanon, Ohio)—Indiana
Trainer was the Buckeye State Gatorade Player of the Year and went 19-1 with the sole loss coming in the title game where she pitched eight innings and gave up just one hit. Her other numbers were daunting: 274 strikeouts in 131.1 innings, a .422 batting average and 36 RBI. She was also a two-time All-State honoree and has been a standout since her freshman year. A near-fatal car crash derailed most of her sophomore year, but she has fought back to be one of the top pitchers at the high school level.
Follow Us on Twitter @FloSoftball.