Player Profile: Sydney Supple (11/24)
Player Profile: Sydney Supple (11/24)
Nov 24, 2014
by Brentt Eads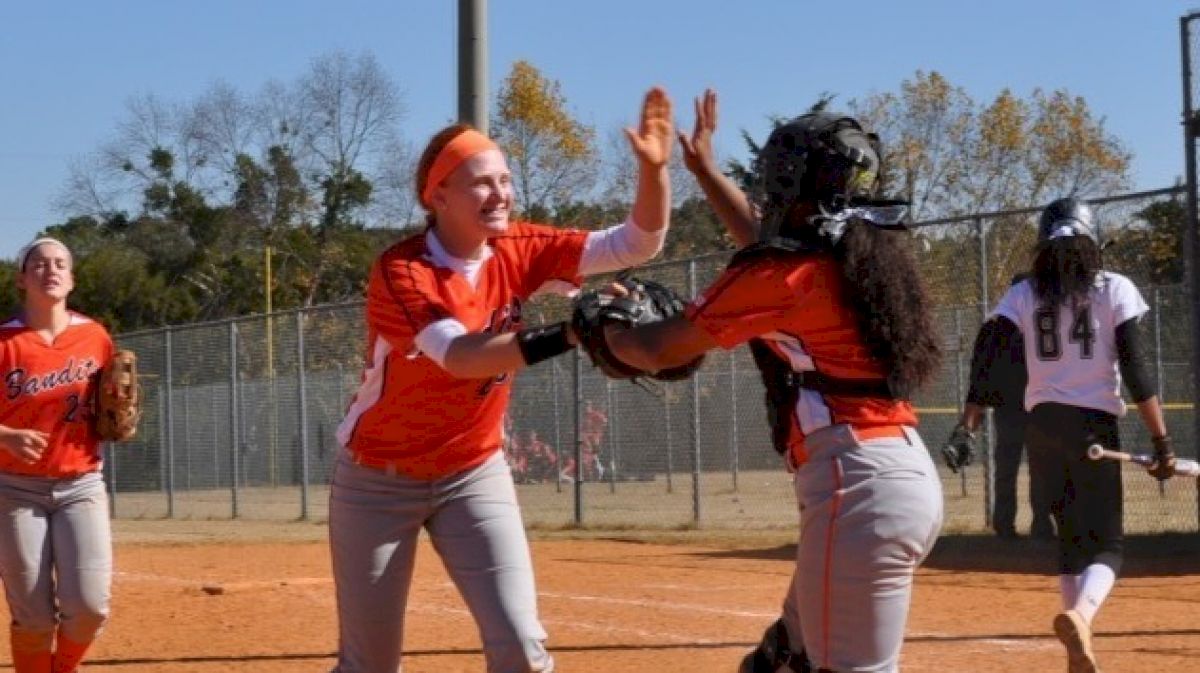 Only a handful of 2019's have committed and one of them is this Midwest standout who pulled the trigger in committing to a Big Ten program in the last few weeks…
Name: SYDNEY SUPPLE
Grad Year: 2019
Pos: pitcher/1B
Current School: Carl Traeger Middle School (Oshkosh, Wisc.)
Future High School: Oshkosh North High School
Club: Beverly Bandits
Accomplishments: Won back-to-back Northern Nationals B in 10U (2012) and 12U (2013).
College: Northwestern
***
FullCountSoftball.com: As far as we know, you were the second player in the 2019 class to commit… what are your thoughts about that?
Sydney Supple: I am very blessed to have looked at a lot of schools at an early age. When I found the school that was the perfect fit for me, I knew I didn't want to wait another day to become an Northwestern Wildcat.
FCS.com: You're a lefty pitcher and also play first, was it your pitching or your all-around game that got you the offer?
SS: My pitching is what initially got me noticed, especially as a lefty, but I also put equal time into my hitting and defensive skills as I do my pitching. My strength is in the circle, but my all-around game, being a leader and a really good teammate is what got me my offer.

FCS.com: What do you throw and what do you think you do best as a pitcher?
SS: I am a North to South pitcher. I throw a hard drop, rise and change-up and work hard to keep the hitters off balanced and off plane.
FCS.com: Did you check out other schools on visits or was Northwestern the one you wanted from the beginning?
SS: Northwestern was always one of my top schools, but I wanted to make sure that I knew what else was out there. I was fortunate to have unofficial visits to some great Pac-12, Big 10, SEC, ACC and CAA schools. But after each one, my heart led me back to Northwestern.
FCS.com: Tell us how you were first seen by the coaches, then how long until they offered?
SS: I attended my first Northwestern camp the summer before seventh grade when I was playing with my local Oshkosh Raiders team and then went back that January for their elite camp with a lot of my Bandit teammates. I had great connections with Coaches Kate (Drohan), Caryl (Drohan) and Courtnay (Foster) and they invited me back to for an unofficial visit in April and offered me a scholarship. They were great about never asking me for a decision because of my age, but they showed up at every tournament all summer long and again this fall, no matter how late or cold the game was.
FCS.com: When did you decide to commit and what led into the decision?
SS: After my final fall showcase I had to a chance to review all of the schools I had visited or had been invited to visit. I knew that after every trip I kept wanting to go back to Northwestern, either for a game or a pitching clinic or any chance I could to go back and talk to the coaches, the alumni and the players. I would like to study broadcast journalism and the Medill School of Journalism is incredible. The legacy of the players and the commitment the coaches made to me as not only a player but as a person helped me make my decision.
FCS.com: How did you tell the coaches, in person, on the phone, on an unofficial visit?
SS: I went down to Northwestern with my parents on Sunday Nov. 16, after I asked the coaches if I could meet with them but I didn't tell them why. All four coaches were there and I committed in person by reading them a letter I wrote called "Why Northwestern."
FCS.com: Describe your emotions around telling them, were you more nervous or more excited?
SS: I could not have been more excited. I knew for sure that Northwestern is what I wanted and I didn't want to waste another day before committing. After I read my letter, it ended up being very emotional with all of us hugging.
FCS.com: What is it about softball you love the most?
SS: What I love most about the game is how with one swing of the bat or one pitch you can change an entire game. I also love the team aspect, knowing that when you step on the field you always have eight other girls who always have your back.
FCS.com: What's your background in sports? Have you played other sports or has it always been softball?
SS: I love all sports, I grew up playing basketball, soccer, gymnastics, volleyball, tennis, even sailing, and of course softball. My favorite thing to watch on TV is any sport competition.
FCS.com: What's been a top memory or two for you in your athletic career?
SS: Throwing a perfect game to win my first Northern National championship game with my local Oshkosh Raiders team and being a double short of hitting for a cycle. Another top memory is the day I tried out and was invited to join the Beverly Bandits.
Quick Hitters
Fill in the blank… I may be young, but I'm really good at:_________________
… bringing out the best in other people.
What is your hometown/area most known for and what are you most proud of being from there ?
Oshkosh hosts the world's largest airshow, EAA's Airventure. It is incredible to see the planes and meet people from around the world. And who can't be proud to be a Green Bay Packer Fan!
Favorite color:
Purple.
Favorite food:
My Grandpa's smoked salmon.
Least favorite food:
Cheese (which is funny being from Wisconsin!).
Clothing item you have the most of:
Athletic leggings and softball t-shirts.
What's your dream vacation?
Going to the College World Series.
What's something cool about you most people don't know?
I can walk on my hands the length of a basketball court.
What is your personality like on the field? Off the field?
I think it's pretty similar on or off the field. I love the game and my teammates and I think it shows both on and off the field. I am intense on the field, but coaches tell me I have great poise because if you were watching me, you would never know if I was throwing a no-hitter or just gave up a hit.
If you were stranded on a desert island and could only take one thing with you, what would it be?
My catcher.
Do you have any softball superstitions or rituals?
I always wear my cross necklace.
If you could have a super power, what would you want it to be?
Reading the hitter's minds.
What's playing in your earphones/buds right now?
Girl on Fire by Alicia Keys.
If you were given a $1,000 bill what would you do/buy with it?
New tires for my Dad's truck as a thank you for driving to all my lessons, practices and tournaments.
What did you want to be when you were little?
I always said I wanted to be a star. Of course I thought I wanted to be Taylor Swift, and I think I asked for a different musical instrument each year for Christmas (keyboard, guitar, drums, and yes, even a harp, although that may have been a Little Mermaid phase).
Favorite athlete:
The Captain, Derek Jeter.
Nickname(s)?
Syd, Soup, and Syd the Kid
Something on your bucket or "must do" list:
Win the College World Series.
What's the best piece of advice you've been given?
"Don't give up. Don't ever give up." — Jimmy Valvano
With Thanksgiving coming up, what are you most thankful for?
My family and my favorite twin coaches (Kate and Caryl Drohan).
What's the No. 1 request on your Santa gift list?
Northwestern gear.