Friday Focus: Peyton St. George… Duke's 1st commit
Friday Focus: Peyton St. George… Duke's 1st commit
It's not often that a recruit can say she was a program's first ever verbal, but that's the case for today's spotlight standout, a talented pitcher we've been following over a year who committed on Thursday, Aug. 27 to a program that will officially take
Sep 4, 2015
by Brentt Eads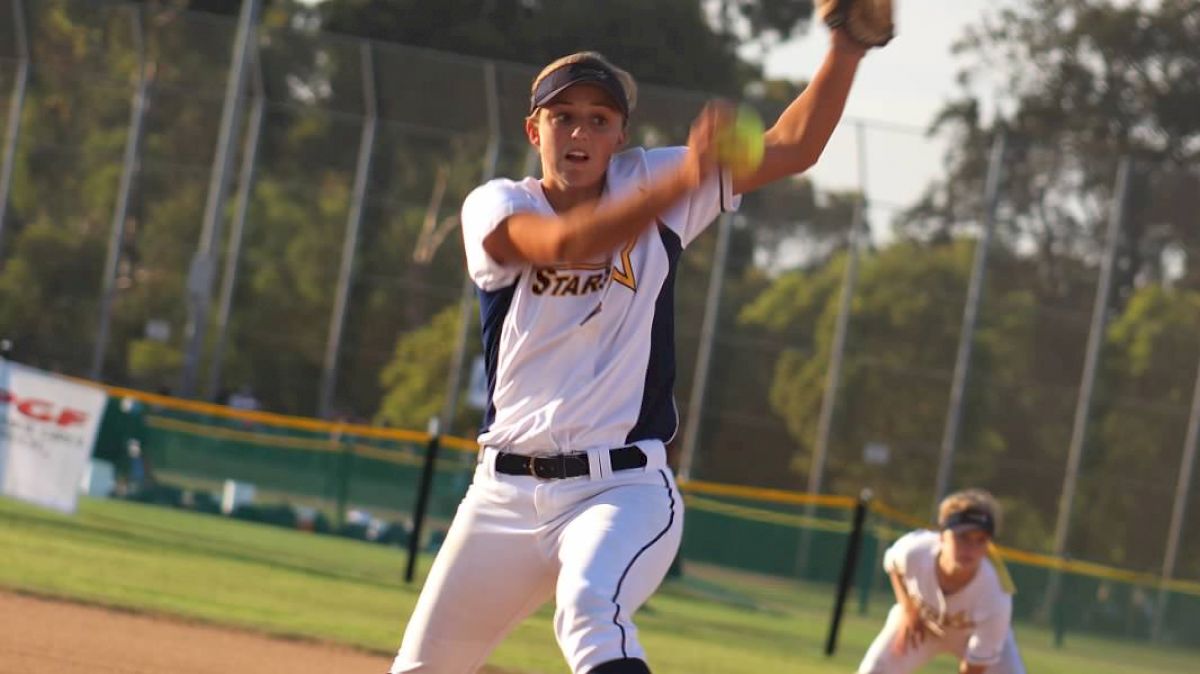 It's not often that a recruit can say she was a program's first ever verbal, but that's the case for today's spotlight standout, a talented pitcher we've been following over a year who committed on Thursday, Aug. 27 to a program that will officially take the field in the spring of 2018…

Name: PEYTON ST. GEORGE
Grad Year: 2017
Pos: pitcher
High School: Atlee (Hanover, Va.)
GPA: 4.1(weighted)
Club: Vienna Stars - Adkins
Stats: high school: went 11-3 with 125 K's in 80 innings pitched with a 0.71 ERA to lead team the 5A State Championship, also hit .429; club: for the Vienna Stars 16U team this summer had 65 K's in 65 inning pitched with a 1.09 ERA and .375 batting average.
Honors: 1st team 5A All-State, All-Region, All-Metro
Height: 5-foot-10
College: Duke

FloSoftball.com: You are the first commit in the history of Duke softball… how cool is that?
Peyton St. George: I think it's amazing, to be a part of building program from the ground up! It's unbelievable that I have the chance to do with an amazing coach and staff. How could you turn it down, it's a fantastic opportunity!

FS.com: Walk us through the recruiting process and how Duke first learned of you to when/how you committed?
PSG: It was last Thursday, a week ago yesterday, when I had my unofficial visit to the Duke campus. Coach (Marissa) Young was an assistant at North
Carolina and she is cousins with one of the assistants on the Vienna Stars, Nicole Thompson-Andrade, and after she went to Duke I was at practice one day and Nicole handed phone and said she Coach Young wanted to talk. She said she was interested in me and wanted me to tour campus. I spent the day on the
campus and it was awesome. At the end of the day she was sitting at her desk and said, "I really like you as a player and as a person and I want to build my program around you." She offered me and it took me 25 seconds to say yes! That she would say that about me meant a lot.

FS.com: What was going through your head in the actual moment when you told Coach Young you'd be a Blue Devil?
PSG: I think I was just so thrilled, but it felt surreal. Here I was committing to a great school where I'll play the sport I love and go to an awesome academic program.It didn't get through my head til a couple days later that I was going to a program like Duke. I was really excited in the moment, though.

FS.com: Think back over the recruiting process… what's the one major thing you learned?
PSG: I was definitely late in getting into the process, but going to camps, sending email and calling coaches really helped. I would tell young players coming up to be yourself as the coaches want to see how you are not just as a player but as a person.

FS.com: Have you talked with the Coach Young about how Duke will use you, meaning will you pitch only or pitch and hit too?
PSG: She told me that, not having a lot of time to recruit, she's getting a lot of utility players and would like me to be in the line-up to help as much as I can at the plate. That's assuming I can hit as good in college as I may be hitting now!

FS.com: Duke's a great school and program, obviously, but were there any concerns about going to a program just getting off the ground?
PSG: I wasn't concerned really about that at all because being part of a first year team, I will be a freshman when we start playing. It's like my pitching coach said, "Do you want to go to a school to break records or set them?" I want to set them! We may not win a lot of games at first, but we'll go out and compete as hard as we can.
FS.com: What did the coaches say they liked most aboutyou and your game?
PSG: Coach Young said she liked my mound demeanor and overall competitiveness.. She said she liked how, if things are not well, I still keep my head up and don't let it get me down.

FS.com: Let's talk about your pitching and what you like to throw…
PSG: I throw a curve inside and outside, I think that's my best and fastest pitch. I can make it go up and down and I'm working on different speeds with it. That's my go-to pitch. My change is working a lot better now and it gets a lot of outs. I also like to throw my riseball inside to get people out along with my drop curve down and away.

FS.com: What was the highlight of your year other than the Duke commit?
PSG: I know travel ball is important, but high school this year was really fun as winning state was great, especially for me being a sophomore. It had a big impact on not just our team but on our school as well. That has been a highlight of my career so far.

Quick Hitters

Most high schools have started again across the country… when do you begin again and do you like the late start?
We start September 8, next Tuesday, and will get out in the middle of June next year. I like having all three months of summer and coming back when fall starts.

Fill in the blank… When I'm in the circle I feel: _________________
… in control.

If you were stranded on a desert island, what's the one thing you'd want to have (and it can't be aphone because there's no service!)?
My dog, Macey. She's a chocolate lab.

What's something unusual or different about you that few know?
I'm really good at drawing and painting, but I don't do it much. I just don't have the time. I do a lot of landscapes, flowers and body parts like hands and feet.

What's the funniest thing you've seen happen on the softball field?
Well, it was something that happened to me. One time I was pitching and on my negative motion I let go out of the ball and it rolled into center field!

Do you have any softball superstitions or rituals?
My shirt always has to be talked in and I always have to wear ankle socks under my softball socks. In high school I have to wear a black bow and also wear eye black.

What was the last movie you saw and how many stars out of five would you rate it?
Yesterday I watched Dirty Dancing… I'd give it five out of five stars!

What's your "guilty pleasure," something you hate to admit you love?
I really like eating avocados plain. My friends think it's kind of weird!

If you could have a super power, what would you want it to be?
Invisibility.

What's playing in your headphones these days?
Either country or a band called The Weeknd (Canadian singer).

What did you want to be when you were little?
I wanted to be a teacher.

What do you want to be now?
Yet to be decided!

Best advice you've received?
Someone is always working hard to take your spot.

What's your city, Hanover, Va., known for?
I'd probably take them to a baseball game in downtown Richmond, which is about 20 minutes away, to see the Richmond Flying Squirrels. They're the Double-A affiliate of the San Francisco Giants.