Hannah Pridemore is a 2016 catcher on the Tampa Mustangs 18U team. Coached by TJ Goelz, this Tampa Mustang team won the 16U PGF National Championship last summer after losing its first game in the double-elimination bracket play. Down but not out, the Mustangs fought back and won 12 straight games to take home the championship.
Pridemore relived the Mustang's win this past summer, explained her recruiting process with Duke University, and let us get to know her a little better when we caught up with her at the Rising Stars Fall Showcase on Friday.
FloSoftball will be streaming Saturday and Sunday games played at the Bamford Sports Complex. Log in or Join NOW to watch Hannah's Mustangs and dozens of other teams LIVE this weekend!
***
When did you commit to Duke University?
I committed in September while I was on my unofficial visit. Coach Young saw me at PGF Nationals because she came to watch another player on my team. She asked my coach (Coach TJ Goelz) about me and that was it!
What was the deciding factor in choosing Duke?
I wanted a challenging school academically — I was originally all about Harvard and was also looking at Boston University and Boston College. My visit on campus really was the deciding factor. Once I stepped on campus, I knew nothing was going to beat Duke. Plus, Coach Young is such a family-oriented person and that was important to me. I think it's pretty amazing and exciting to be part of an inaugural team too.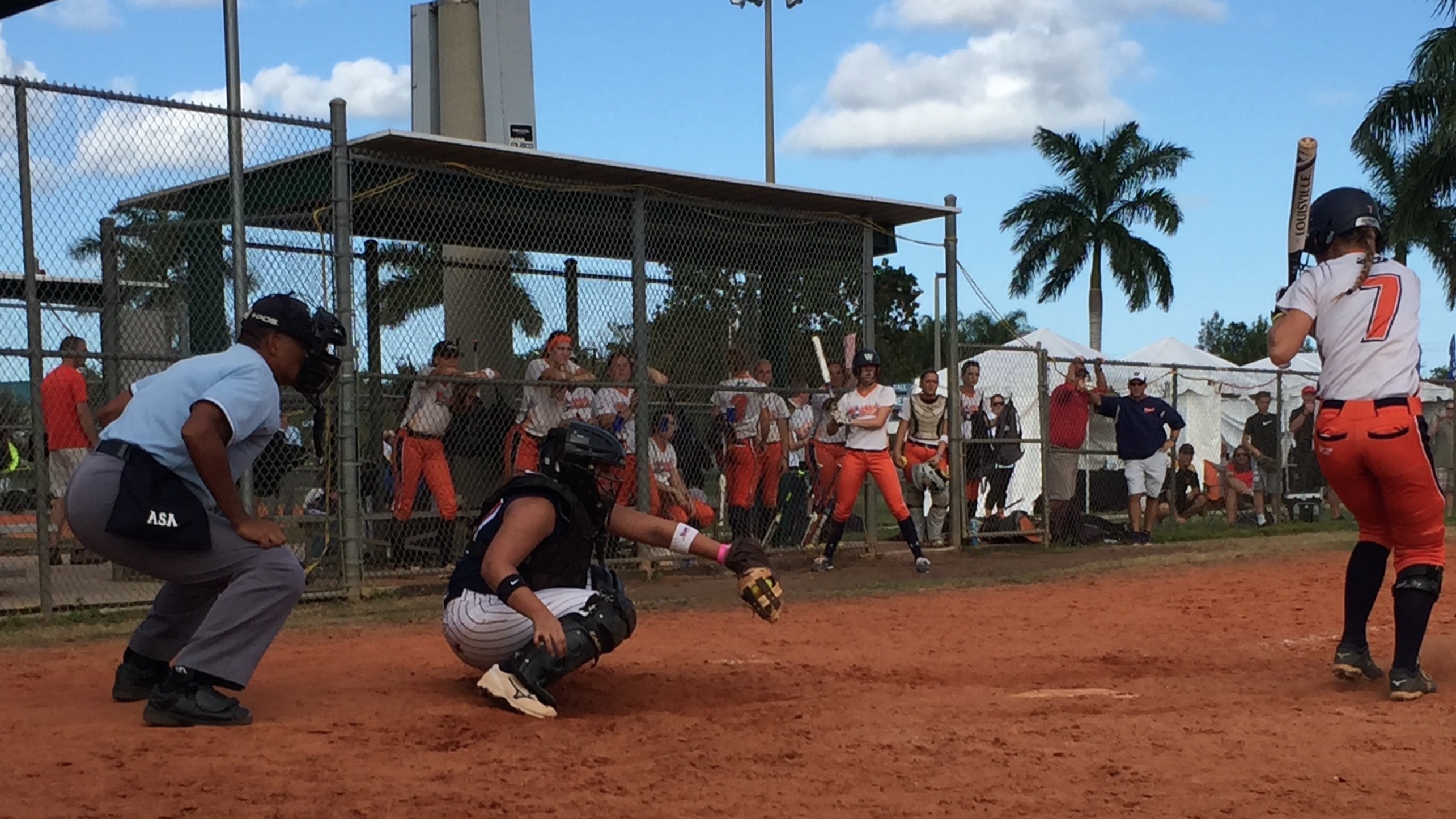 Hannah behind the plate for her Tampa Mustangs at the Rising Stars Fall Showcase
Duke's varsity program will start its first season during the 2017-2018 school year. What is your plan for next year as a freshman at Duke?
There are two 2016s going to Duke next year, and Coach Young said that we'll play some with the club team. We'll also be practicing and getting one-on-one attention from Coach Young. The team already has a strength and conditioning coach, so we'll be able to start training in the weight room too.
How will you feel next spring when you won't be competing?
It'll be a little weird but I think it'll be good. I'll get a chance to acclimate to college and get stronger in the weight room. I will be redshirting my freshman year so I'll still have four years of eligibility.
You were on this Mustangs team when they won the 16U PGF National Championship this past summer. What was the key to your team's win?
Our team motto last year was "OT2BNC" and we had it printed on our sweatbands. It stands for "Our Time to be National Champs." This is my first year with the team, but I know the past two summers they got second at nationals, and we all really wanted it this season. I think the key has been how we all came together and really played as sisters on the field.
What is the team's focus going into next season?
Honestly, we're preparing to win another national championship. We have two new girls on the team, so integrating them into the team is something else we're working on. We also want to go undefeated this fall.
What has been your best softball experience so far?
Winning PGF Nationals and high school state championship in the same year last season.
What is your strength as a player and what to do need to work on?
I'm pretty vocal and I'm very good at getting the ball in play and making the defense work. I need to increase my arm strength to make me a better player.
Pridemore considers hitting a strength of hers. She hit this pitch so hard that it literally ripped the pitcher's glove right off her hand at the Rising Stars Showcase
When you're not on the softball field, where can we find you?
I'm actually very involved in school. I'm on the school council and student government and I'm also the National Honor Society President. I do a lot of community service as well.
Tell us something about yourself that other people may not know?
I was in an earthquake while on a mission trip in Nicaragua. We weren't in the middle of it, but we did have to evacuate the airport we were in. It was pretty crazy and scary!