NCAA
Big 12 Softball Tournament Breakdown
Big 12 Softball Tournament Breakdown
Losing Nebraska, Missouri, Texas A&M, and the Big 12 Tournament in the last five years landed a big blow to the Big 12 Softball Conference. As a fan and for
Oct 24, 2015
by Chez Sievers
Losing Nebraska, Missouri, Texas A&M, and the Big 12 Tournament in the last five years landed a big blow to the Big 12 Softball Conference. As a fan and former Longhorn, it makes me sad to see a once powerful conference dismantled into seven teams (Baylor, OU, Oklahoma State, Texas, Texas Tech, Kansas, and Iowa State). Don't get me wrong the Big 12 has heavy weight fighting teams in OU, Baylor, and Texas. But can you imagine what the conference would be like if the Big 12 still had those teams?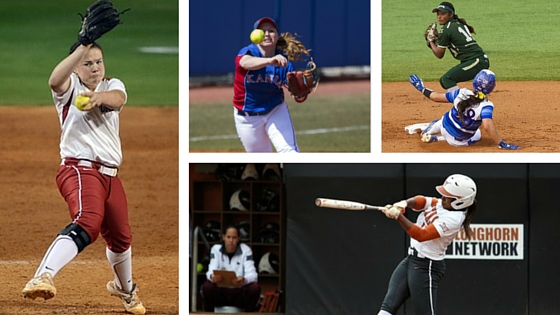 Powers have shifted to the SEC and the SEC assembled 13 competitive softball programs who now dominate rankings and recruiting. How does the Big 12 Conference respond? 2017 will mark the reinstatement of the Big 12 Tournament. "The Big 12 is looking forward to bringing another competitive conference championship to a city that has an established history for Big 12 postseason events and is also a strong market for the sport of softball," Big 12 Commissioner Bob Bowlsby said. "We are excited to showcase the student-athletes and level of play in our conference as well as enhance the Big 12 softball brand."
Bringing the Big 12 Tournament back seems like a no brainer. The SEC, ACC, and Big 10 each have a conference tournament that makes for great coverage and acts as a preview to what regionals and the Women's College World Series will look like. Unranked teams get the opportunity to be the underdog and make it into regionals by winning the tournament. Ranked teams realize they better get their sh*t together or their season may be ending next weekend. The drama of it all is great softball.
Reviving the Big 12 Tournament is one small step towards rebuilding the strength of Big 12 Softball Conference. Over the next five years, I hope the Big 12 expands to make the conference great again. With the rise of softball coverage and new softball programs like Duke being funded, it is my hope that other universities will follow suit.
Coming May 12-13, 2017, the Big 12 Tournament will once again be hosted at Oklahoma City's ASA Hall of Fame Stadium featuring the top six Big 12 teams. The Big 12 Tournament will no doubt draw big crowds, more attention, and better recruits.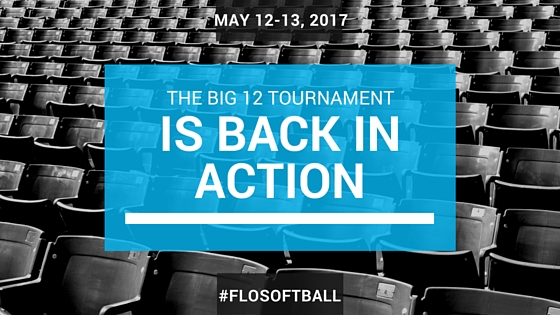 What are your thoughts on the Big 12 Conference and the Big 12 Tournament?