We had the opportunity to speak with Kelsey Stewart for the upcoming documentary series on the Florida Gators rise to SEC and national dominance, and here's just a portion of what the Gator's star senior had to say about her time at Florida.

Be sure to catch the trailer for The Program: Florida documentary November 25 and watch episode 1 on December 2 only on FloSoftball!

Florida's Kelsey Stewart is the Robinson Cano of second basemen. If you don't follow Major League Baseball, Cano is arguable the best second basemen in the game today. Largely regarded for his outstanding bat and base running, the Seattle Mariners' $240 million All-Star second basemen manages to be considered the best despite being considered an average defender.
Not so with Florida's Stewart — She is the complete package, making her one of the best middle infielders in the game today and I dare say better than Robinson Cano! If you don't believe me, believe the numbers...
Stewart by the Numbers


Even with a year left in her collegiate career, Stewart has inked her name in the record books. She holds the school's career records in batting average (.417) and on-base percentage (.476) while also leading the Gators' all-time offensively with 293 hits, 27 triples, and 98 stolen bases.
Stewart is one of only two players to post 30+ steals and 100+ hits in a single season — and she's done it twice!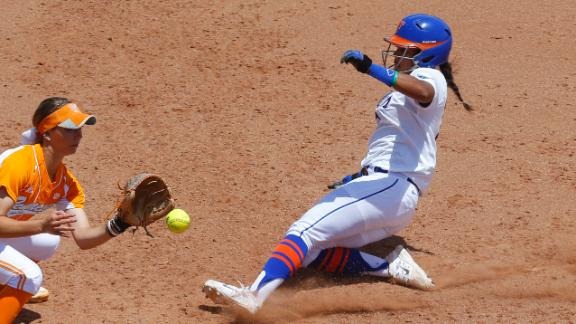 As a junior last season, Stewart led the Gators in almost every major offensive category. Her team-leading batting average of .435 was good for fourth overall in the SEC while also leading the Florida offense in the following categories: runs scored (71), hits (101), doubles (19), triples (11), total bases (148), and stolen bases (26).
In addition to offensive prowess, Stewart can flash some leather. She posts a career fielding percentage of . 968 and had a mere 6 errors on the season last year out of 183 chances.
We all remember that behind the back running throw to nail Georgia's speedy slapper Cortni Emanuel, don't we? The Sports Center Top 10 play looks effortless, a testament to Stewart's athleticism as well as her work ethic. "I actually practice that all the time," Stewart revealed. "I"ve been practicing that play almost every day for three years because sometimes it's the only way to get a fast slapper. It just came naturally in the game against Georgia."
[tweet url="https://twitter.com/GatorsSC/status/589541374187278338" hide_media="0" hide_thread="1"]
Success with Florida and Team USA


Stewart's laundry list of accolades goes on seemingly indefinitely, but one of her most obvious in back-to-back national champion with the Gators in 2014 and 2015.
Stewart offered some insight into what it's like to be a back-to-back national champion. "The 2014 win was hard to believe. It was our first ever win and we really couldn't sit back and enjoy it. We just kept thinking, 'What's next?' The 2015 win we were able to enjoy every single part of it and it sunk in a little more."
[tweet url="https://twitter.com/stewartkels7/status/647220197187809284" hide_media="0" hide_thread="1"]
Besides her two national championships, Stewart is a two-time NFCA First Team All-American (2014-2015) and earned 2015 SEC Player of the Year honors last season. She's also been named to both the SEC All-Defensive Team and the WCWS All-Tournament Team during the 2014 and 2015 seasons. As a freshman, she took home SEC All-Tournament Team and SEC All-Freshman Team. A three-time member of Team USA, Stewart played with the Junior National Team following her 2013 season and joined the National Team her junior and senior seasons.
She is also one of 43 players invited to the USA Softball Women's National Team Selection Camp on January 2-8, 2016. Stewart has had quite a successful career with Team USA, playing for the Junior National Team in 2013 and making the National Team in 2014 and 2015. Last summer during the World Cup of Softball X, Stewart hit .350 over eight games to help the US win a gold medal.
Coach Walton and Gator Pride


Some may wonder how Stewart, a native Kansan, wound up in sunny Florida and that has everything to do with Coach Tim Walton. When asked about her coach, Stewart said the selling point was how family-oriented Coach Walton is. "He has his wife and kids, and he really cares about you as a human being. I wanted a staff that would care about my life outside of softball."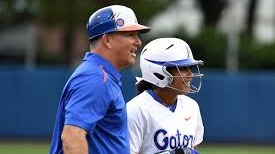 Stewart reveres Walton not only for the personal touch he puts on coaching, but for his coaching ability in and of itself. "He always gets the best out of you. He's proven to us that we can do more than we think we can do. I never doubt him as a coach and believe in him."
That same awe and respect that she has for Coach Walton comes out when she speaks about being a Gator. "The day I signed was surreal," Stewart explained. "I didn't really hit me for a while that I was a Gator...It's still surreal to have a Gator across my chest." Stewart realizes that part of having that Gator on her chest means wearing a bullseye on her back. "Everyone loves to beat the Gators," Stewart declared. "So as a team we can't really have bad days, but I know I have 18 other girls to count on if I'm not at my best."
That sense of teamwork is something that has made Stewart and Florida so successful and something Stewart wants Gator fans to remember about her. "I want my legacy to be that people remember me as a good person, as someone who believes in the program and puts others before myself. I don't play the game for personal accolades; I play for my teammates and the program."
Stewart's Career after Florida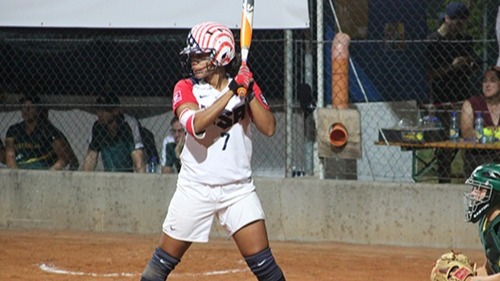 While Stewart is in no way looking past her senior season and the opportunity to be the first team since UCLA to three-peat (1988-1990), she is considering her career after Florida. Her three — and most likely four — successful stints with the national team make her a prime candidate for the Olympic team in 2020 if softball is reinstated as an Olympic sport in the final vote at the Rio Olympics next year. "My dream has always been to play in the Olympics," Stewart reveals. "It's unreal that it's a possibility again. I'd love to play four more years and make the Olympics."
If the Olympics don't become a reality for Stewart, she aims to continue playing in the National Pro Fastpitch league. The demands of playing on the national team plus the fact that the NPF season is during the summer probably won't allow players to participate in both even if they would like to.