Oregon: Jane Sanders Stadium
Oregon: Jane Sanders Stadium
On game day, players arrive hours before warm up, headphones on opening the door to the softball sanctuary that awaits. Placing her bags in her locker, she
Feb 3, 2016
by Chez Sievers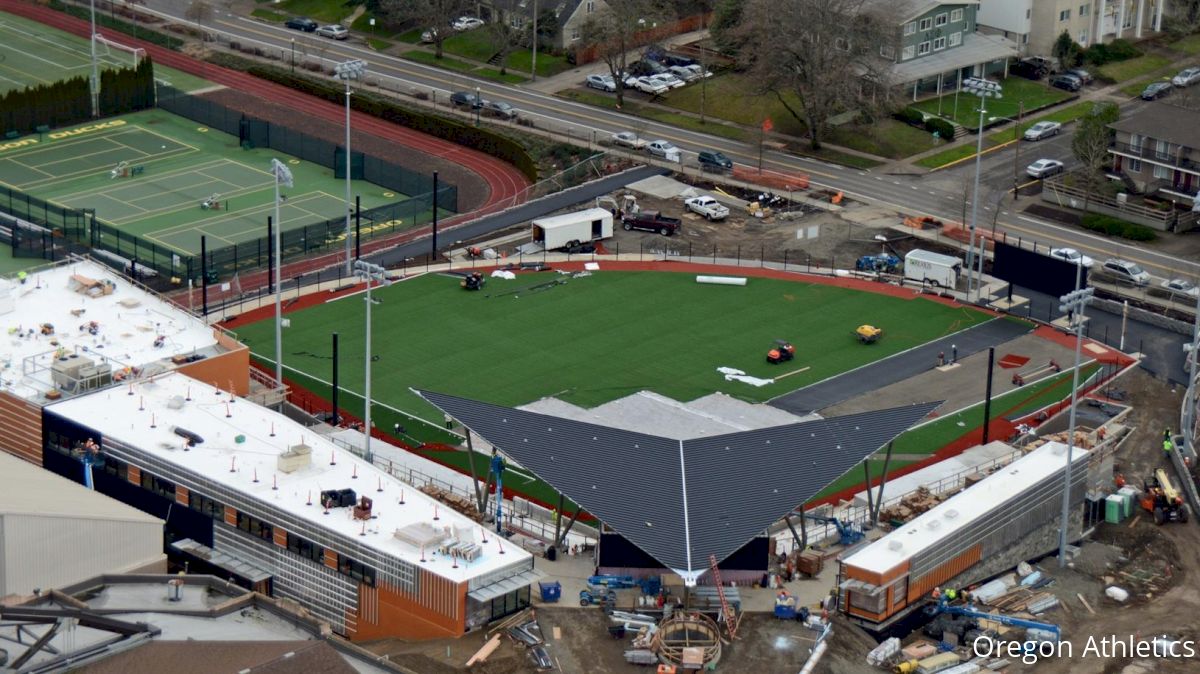 On game day, players arrive hours before warm up, headphones on opening the door to the softball sanctuary that awaits. Placing her bags in her locker, she glances at her favorite quote or mantra taped to the inside her locker. This is where I'm supposed to be. This is the place.
Oregon's Jane Sanders field will be the new home for the Oregon Ducks softball team. The stadium was named after Bob Sanders' late wife Jane Sanders. Bob and Jane met at the UO, where Bob, class of 1951, was a fullback on the football team and Jane, class of 1950, was a cheerleader. Bob and Jane Sanders enjoyed great success in the lumber industry, with businesses in California, Oregon and Washington. Jane frequented softball games with her grandkids and Bob wanted to honor his wife and his support for the Oregon Ducks. In addition to Sanders' $16 million gift, former softball head coach and UO administrator Becky Sisley announced a matching gift challenge for the stadium fund on May 1. Sisley matched all other donations, up to $200,000.
The Ducks have transformed their program over the last five years developing a powerhouse program in the PAC-12. Coach Mike White has led the Ducks to three straight PAC-12 titles (2013, 2014, 2015) and will likely make it four in row in 2016.
One of the sweetest reward will be Jane Sanders Stadium opening day March 24, 2016. Fans will bring their family and friends to witness the very first game at Jane Sanders Stadium against the Stanford Cardinals.
[album albumId="450076"]
The stadium has been completely built from the ground up. ESPN and Fox worked with SRG and Howard S. Wright to design the stadium to have the perfect specifications for TV broadcasts. The specifications include two radio booths, TV booth, full press box, and six camera platforms. On the third base side, the indoor multipurpose facility includes an infield turf area, drop down cages with cameras set up for video playback for swings. Two pitching lanes will also have video playback for the pitchers.
Oregon fans will enjoy the full HD radio board in left field that is 12 feet high 36 feet wide. 1500 chair backs that wrap around the first and third base line. Once the field is completed, 1000 additional seats will be added behind the outfield. The playing surface is synthetic turf to combat adverse weather with a dirt infield. The home dugout leads to the locker room, team area, coaches room, film room, training room, and equipment room.
Related:
Top 3 College Stadiums
THIS JUST IN: Top 25 Recruiting Classes (2016s)
2016 Oregon Schedule