2019 Judi Garman Classic
The Greatest Players In Michigan Softball History
The Greatest Players In Michigan Softball History
On April 2, 2016, Coach Carol Hutchins became the winningest NCAA softball coach in history with her 1,458th win. To honor her and the Wolverines' huge acco
Apr 6, 2016
by Chez Sievers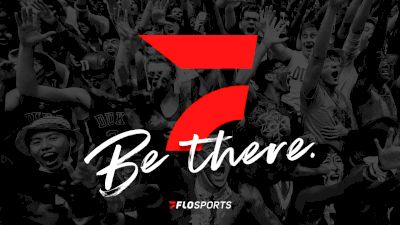 On April 2, 2016, Coach Carol Hutchins became the winningest NCAA softball coach in history with her 1,458th win. To honor her and the Wolverines' huge accomplishment, we're highlighting the ten best players to ever go through Michigan's program.

Want to see the next generation of Michigan greats? Watch Michigan take on state rival Michigan State LIVE on October 12 only on Flosoftball.

No.10: Marissa Young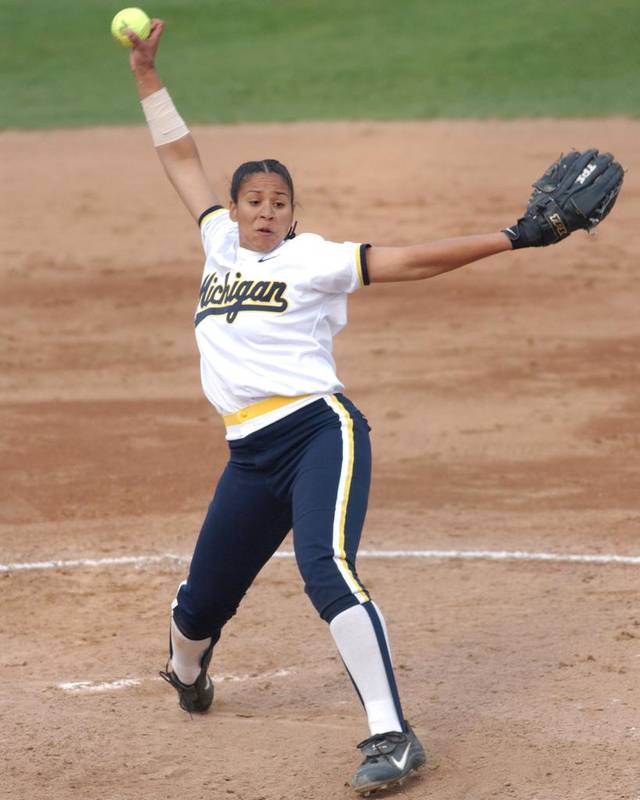 In 144 appearances on the mound, Marissa Young registered 927 strikeout victims and 36 shutouts. During her second start, Marissa Young struck out 14 of the 18 batters she faced in the 2002 season.
No. 9: Tiffany Haas
Tiffany Haas deviated from the west coast track of PAC-12 softball followers by moving to Ann Arbor, Michigan, to become a Wolverine. From 2003-2006, Haas tallied 286 hits, 199 runs, and 48 stolen bases. During the 2005 championship season, Haas set a single-season record for hits (91). At the time, Coach Hutchins called her "the best second baseman in the country."
No. 8: Amanda Chidester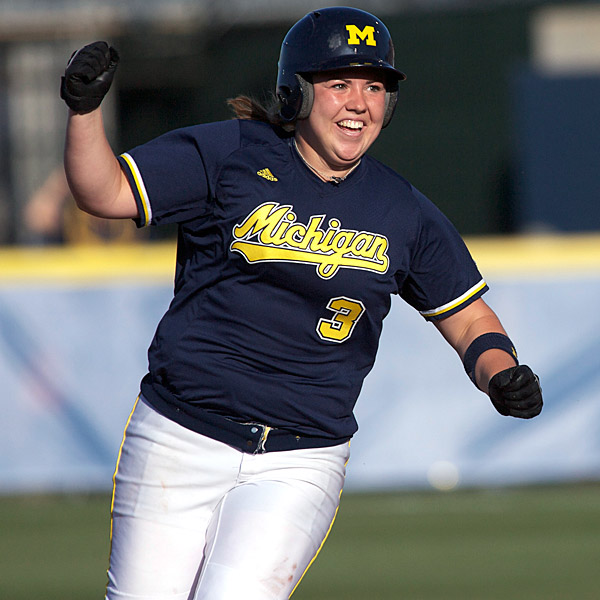 Chiddy! Chiddy chiddy bang bang. If you're around Michigan softball, you know exactly who Chiddy is. Amanda Chidester, the catcher from Allen Park, Michigan, was two-time Big Ten Player of the Year and two-time All-American who went on to make the USA National Team. Chidester racked up 200 RBIs, which is third all-time in career RBIs.
No. 7 Haylie Wagner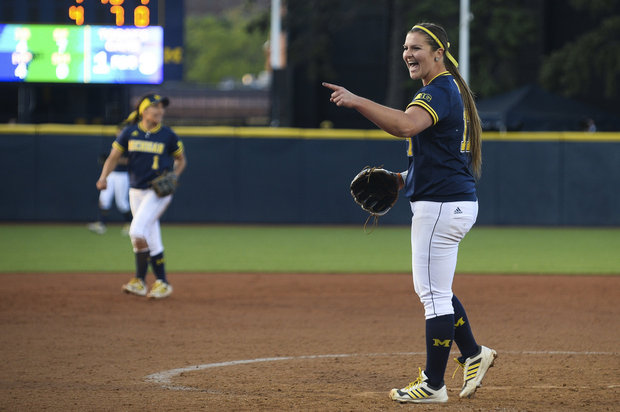 Last year, Haylie Wagner and the Wolverines were one win away from a national title. From 2012-2015, Wagner recorded 100 wins and only 18 losses. In addition, Wagner boasts the second-highest winning percentage of all-time, and is third in career wins.
No. 6 Sara Griffin
The house of Griffin ruled in the circle and the batter's box with records in both hitting and pitching categories. From 1995-1998, Griffin dominated the mound with 106 wins, 40 shutouts, and 602 strikeouts. At bat, Griffin put up 275 hits with a career average of .384.
No. 5: Samantha Findlay
Samantha Findlay's ferocious swing blasted the walk-off home run to clinch the 2005 NCAA Championship title. From 2004-2007, Findlay was every pitcher's worst nightmare as she knocked 62 home runs and tallied 219 RBIs.
No. 4: Traci Conrad
Frankfort, Illinois, native Traci Conrad set a new precedent for Michigan softball. From 1996-1998, the Wolverines made an annual visit Oklahoma City to compete in the NCAA Women's College World Series. Conrad registers in the record books as the all-time leader in career hits (345) and career runs (223).
No. 3: Jennie Ritter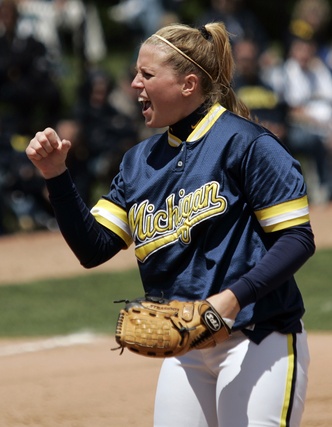 Once upon a time, there was little girl named Jennie Ritter from Dexter, Michigan, who dreamed of becoming a Wolverine. In 2003, she realized that goal as a freshmen and closed her season with only seven games under her belt. But by 2005, Ritter was a NCAA Women's College World Series champion, USA Player of the Year, Big Ten Pitcher of the Year and Female Athlete of the Year. The 2005 NCAA Women's College World Series Championship was the first and only national title in Michigan history.
No. 2: Jordan Taylor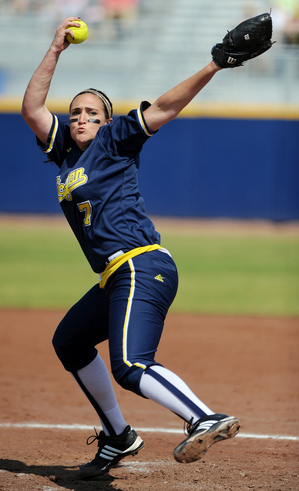 Jordan Taylor stepped in the circle 162 times in her career at Michigan, and walked away with 107 wins. How do you earn the highest winning percentage in Michigan history? Jordan "Taylor-made" drop balls and devastating change-ups set the all-time records for strikeouts, saves, and no-hitters in maize and blue. In four seasons, Taylor earned 13 Big Ten Pitcher of the Week honors, Big Ten Pitcher of the Year, and Big Ten Freshmen of the Year.
No. 1: Sierra Romero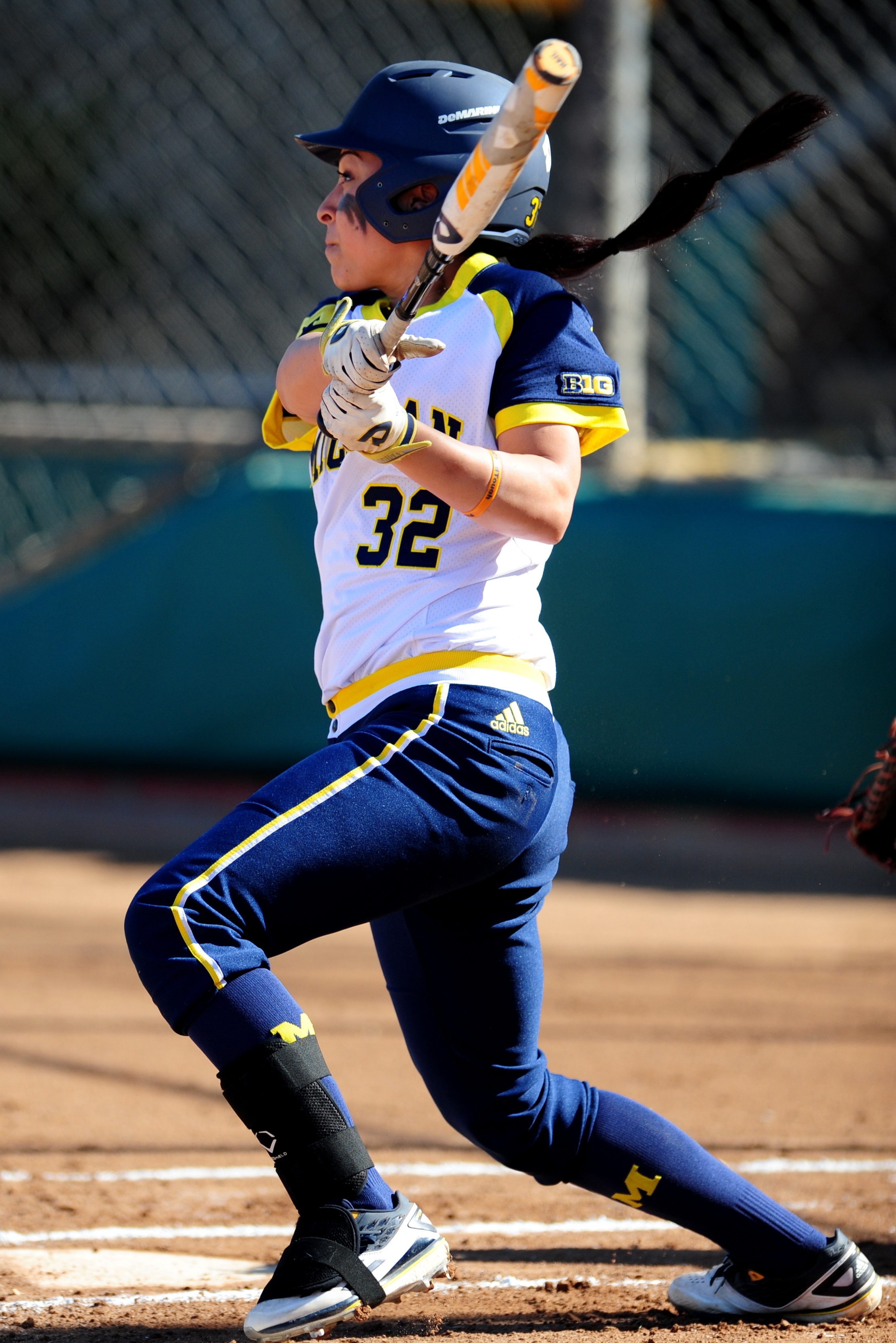 The smeared eye black; that sweet swing. Inspired by her frequent home runs, her "Rom-bomb" nickname tells the truth -- she's known for dropping bombs. Romero holds the NCAA record for most grand slams (10). In true form, Romero is the all-time home run leader in Michigan history with 74 Rom-bombs and counting. No. 32 is a three-time All-American, espnW Softball Player of the Year, two-time Big Ten Player of the Year, and a two-time USA Softball Player of the Year Finalist. In 2016, Romero will go down as the face of softball.

See Michigan's greatest player ever take on her own sister in our original documentary Bragging Rights: The Romeros premiering April 20 only on FloSoftball.com.