If you follow club softball, you know that one of the best stories from last year--and maybe from the last 10 years--was the Tampa Mustangs' amazing run at PGF 16U Nationals. After losing the play-in game, they reeled off a dozen straight wins to capture the National Championship.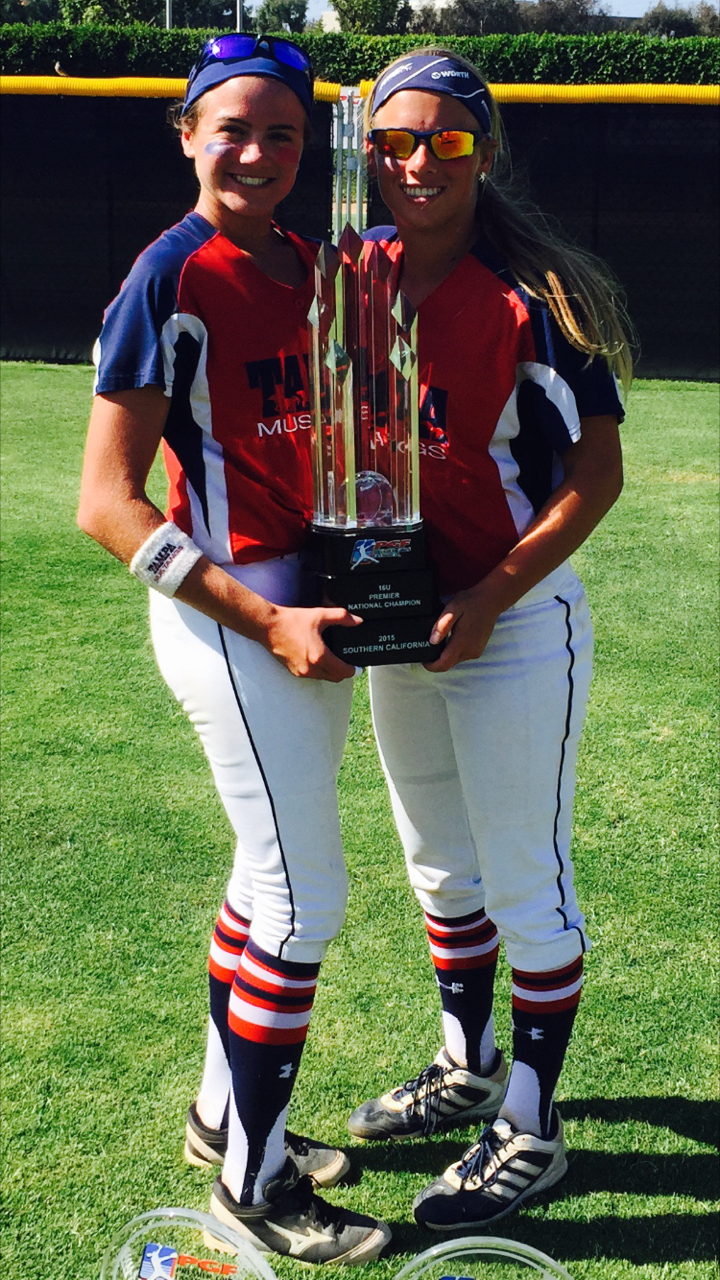 One of the key players on that team was head coach T.J. Goelz's daughter, Kinsey; a 2017 Hot 100 honoree who plays the infield and has committed to South Florida.

But there was a third Goelz on the team during that legendary championship run: Avery, an incoming 8th-grade first baseman/outfielder.
"I was fortunate enough to be pulled up on the team and play as they won it all," recalled Avery, who is now being heavily recruited as one of the nation's top 2020 prospects. "Although I had a limited role, it was still awesome to watch our team win 12 games in a row. What made it even better was my sister, Kinsey, had the game-winning hit!"
Kinsey and Avery are three years apart--an age gap that rarely sees siblings play together on the same team.
Pictured right: Avery and Kinsey Goelz hold the PGF 16U National Championship trophy from last summer.
"Winning a National Championship with both of my daughters on the team was truly a dream come true," Coach Goelz said. "The chances of that happening were so slim since they are further apart in age, but some special circumstances created a lifetime opportunity.
Down a couple of players on their roster, the Mustangs coaching staff agreed they needed to bring on another athlete -- someone who could play outfield if another player got injured or run the bases as a courtesy runner or pinch runner.
"After coaching Avery at the 12U World Championships, it was obvious to me she was more than ready and capable to help us out. She knew our language, signs, the whole system, so it would be an easy transition," Coach Goelz said. "I casually mentioned the idea to Avery, and she got so excited to be able to play up at the highest travel ball level, at PGF, and she said she would love to do it. Then, I discussed the idea with my team and they were very receptive to her and thought it was a great fit. So knowing Avery was there physically and mentally, and knowing my team would embrace her, it became obvious she would help us."
Avery played well at the U16 level from her position in the outfield, and was used quite a bit as a courtesy runner. She even collected a couple of stolen bases.
"As I go back and watch the video of the final out and see both of my girls celebrating and jumping around with their teammates, it brings the biggest smile to my face," Coach Goelz said. "It has truly given our family a memory of a lifetime."
A fast-rising recruit who started playing rec ball at age six, Avery began to love the game at age four while she was following her big sister around on the fields.
Following in the footsteps of a successful sibling can be daunting, but Coach Goelz said the experience has been a positive one for Avery.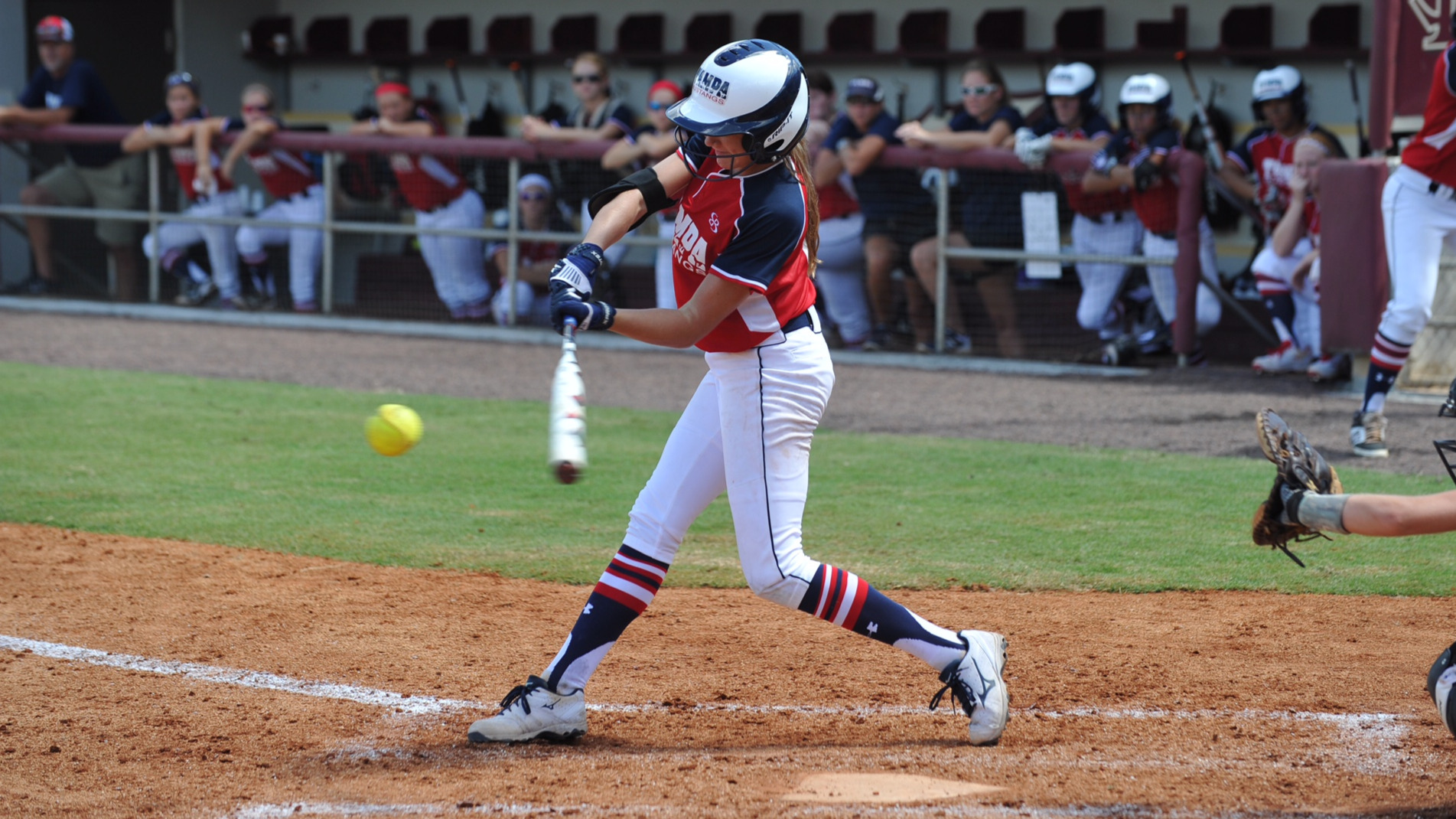 "Kinsey was recruited early as well, and I had wondered if that would spook Avery in trying to live up to that, but fortunately, she has worked hard, developed her talent and made herself into her own player."
A great athlete who hits for average and power while playing her best in clutch situations, Avery is also advanced in her running and defensive abilities. In fact, she has been described as a "six-tool player," meaning she has the standard physical tools plus a high softball IQ.
"Avery also passes the uniform test, as quite a few coaches have asked me about her just by seeing her warm up, run in the outfield or play catch," Coach Goelz said.
Then there's the interesting dynamic of father/coach and daughter/player.
"I try to keep it simple in that when we are at or on the fields, she's a player on the team I coach," Coach Goelz said. "We don't communicate differently than other players and she doesn't get any special treatment. I can't tell you how many times people have said to me that they didn't know I had a daughter on the team after watching us practice or play."
Obviously, it's a different story when the family returns home.
"Outside of softball activities, the 'Dad Hat' comes back on," Coach Goelz said. "I am also very open with my daughters about the advantages and disadvantages of being a coach's daughter and how the expectations for them are different. We discuss it openly and often. I have been very fortunate that they understand and feel it is a blessing for this all to happen."
Avery agrees that it's a win-win relationship.
"Playing for my dad is actually pretty cool because if I had bad at-bats all game or made an error, I have the rest of the day to talk to him about fixing it. Plus, I have someone who really knows the game in the same house as me. My dad and I could talk softball for hours! He's hard on me, but fair and never turns me down when I ask for extra work. His only rule is that I have to ask; he won't ask me, which means I have to want it… and I do."
You'd expect Avery to be competitive coming from a softball-crazy family, but often the best battles come from within the family.
"Avery and I are both lefty/lefty, while Kinsey and my wife, Liz, are righty/righty," laughed Coach Goelz. "We have many competitions based on those teams. Also, we built a barn that has an indoor batting cage and workout area, and we probably spend more time in there as a family than we do at our dinner table!"
***
Player: AVERY GOELZ
Pos:
1B/CF
Year:
2020
Middle School / High School:
R. Dan. Nolan Middle School / Lakewood Ranch High
Club:
Tampa Mustangs - TJ
GPA:
4.0
College:
University of Florida, with strong interest from ACC, AAC and SEC schools. She has taken unofficial visits to SEC schools among others and has multiple offers in consideration.
What is your earliest memory of playing sports, softball or other?

I started playing soccer when I was four. When I was six, I began playing rec softball, and a year later, I started playing travel ball.
What's been the highlight of your young softball career so far?

Definitely getting to play for the Tampa Mustangs --TJ 16U team and winning the PGF National Championship!
Favorite item in your closet:

Anything that says "Tampa Mustangs" on it; specifically, my jerseys!
Favorite place you've traveled to:

The Appalachian Mountains in North Carolina, because the weather is beautiful in the summer and I love to hike in the mountains.
What's your favorite song we'd find you listening to right now?

"You Can't Stop Me" by Andy Mineo.
What's one thing unique or unusual about you few know?

I'm a lefty, but I write with my right hand.
Any special hobbies or talents you like to do away from the fields?

I like to go whitewater rafting in the mountains.
If you were to go to Mars for a year, what's the one thing you'd have to take with you?

Kevin Kiermaier (Tampa Bay Rays outfielder), because he wouldn't be able to escape.
Where are you in the recruiting process?

I am deep into the recruiting process at this point. I have been on a few unofficial visits and received some offers. I am currently weighing all my options.
Is being recruited enjoyable or stressful at this point?

Being recruited is enjoyable because I have seen many different schools and met the coaches and players. It also gives me an idea of what college is like as a softball player.
Do you have a philosophy or favorite quote you live by?

"If you run into a wall, don't turn around and give up. Figure out how to climb it. Go through it, or work around it." --Michael Jordan
Any superstitions or rituals you have around softball?

I put my cleats on from left cleat to right cleat.
Other than family, who do you look up to most (who's your hero)?

I've always wanted to be a doctor, so I look up to doctors I've met over time.
Describe yourself in one word, one the field and off:
On the field:
C
ompetitive
Off the field:
E
asygoing