2020 Florida Softball
Recruiting Roundup: Gators Get Future Star Catcher
Recruiting Roundup: Gators Get Future Star Catcher
One of the top players across age divisions committed last week in a way we've never heard before, and we have additional 2019 verbals!***For the past two y
Apr 13, 2016
by Brentt Eads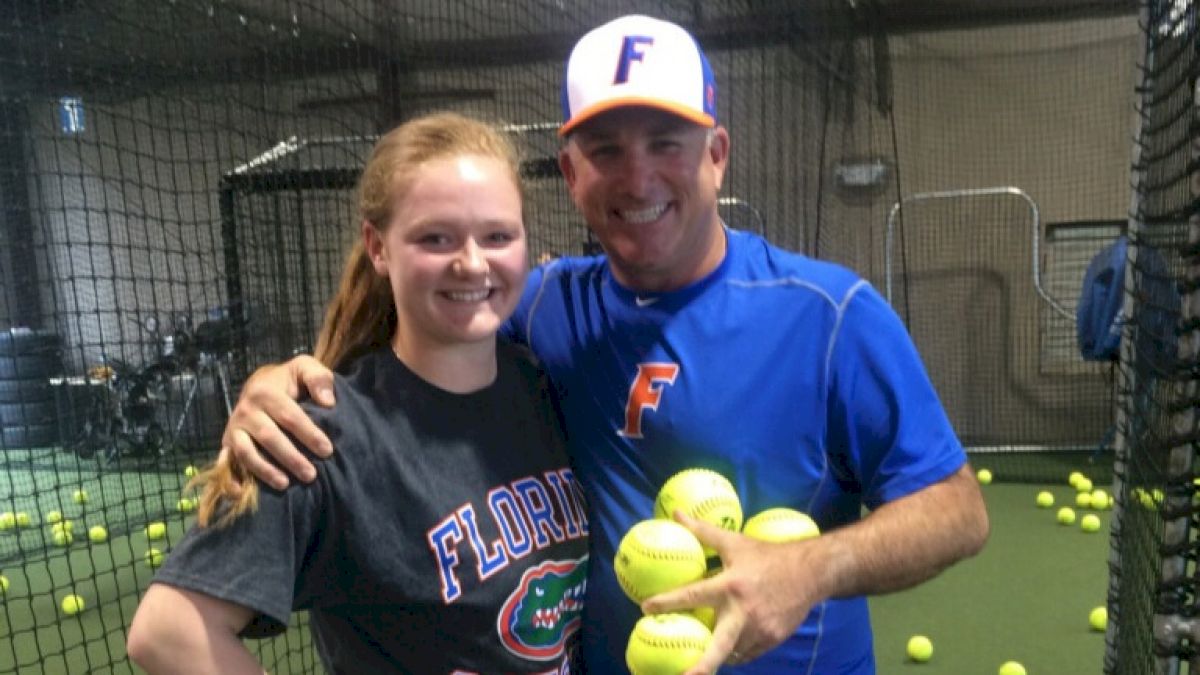 Unlock this article, live events, and more with a subscription!
Get Started
Already a subscriber? Log In
One of the top players across age divisions committed last week in a way we've never heard before, and we have additional 2019 verbals!

***
For the past two years, Julia Cottrill has been one of the most heavily sought-after softball players in the country across all age levels. In the 2019 Hot 100 released in January, she was rated No. 3 in (and more than a few thought she should have been No. 1!). Scouts have said she already has a college arm, and one coach said she could walk into 75% of the D1 schools today and not only start as a catcher, but hit in the three or four spot in the lineup.
To the chagrin of college coaches everywhere except Gainesville, Florida, Cottrell recently announced her college commitment in an unforgettable way.
Last weekend, the Andover Central High freshman from the Wichita, Kansas, area took an unofficial visit to Florida's campus to watch the Gators play Alabama. An in-person visit from head coach Tim Walton precipitated her arrival.
"Coach Walton showed up at Julia's school recently," Jeff Cottrill, Julia's father and director of operations for Oklahoma State softball, said. "He spent practically the entire day there -- he even watched her basketball practice. Julia had visited top schools like Oklahoma and LSU three or four times, but had only been to Florida once, and that was during the week, so she decided she wanted to go for a weekend and catch a game to see how they do things."
Julia went with her grandfather, who coached golf at Wichita State while Walton was the head softball coach for the Shockers. In another ironic twist, Julia had been recruited by the Gators previously, but it was mostly by then-assistant Kenny Gajewski, who is now the head coach for Oklahoma State… and Jeff Cottrill's boss!
"Julia built up a relationship with Coach Walton, and decided on her trip that she wanted to be a Gator. She called me, and I was actually on the road to a game at Texas Tech. She told me, 'Dad, this is it,' and I told her, 'If you know that, then let him know while you're there.'"
Julia decided to reveal the news by writing on a softball, "I want to be a Gator for the love of the game," but she wasn't the one who ended up writing it. According to her father, "Her hand was shaking so bad, she had to have Taylor Schwartz write it for her!"
The excited athlete walked over to Coach Walton during a pre-game batting practice and handed him the ball, which led to a big hug and smiles all around.
Back in Kansas this week, Julia's high school team is six games into the spring schedule. The 2019 catcher, who got her start in the Wichita Mustangs organization, currently plays for the Gold Coast Hurricanes. Julia was so good that she was batting in the three-hole on the Mustangs 18U Gold team that won the USA Softball JO Cup last summer although she was just fresh out of the eighth grade.
Despite her long history with the sport, last night marked Jeff Cottrill's first time seeing his daughter play high school ball.
With a job in Stillwater, Oklahoma, he's separated from Wichita by a two-hour drive, and gets back to see his family about every other week. The plan is to have the family relocate in a few months so they'll all be together in Stillwater.
Naturally, you have to wonder how Coach Gajewski and his staff -- including Jeff Cottrell -- feel about Julia's future with the Gators. Fortunately, her father says everyone at OSU has been happy for her.
"Kenny was really excited and super supportive of Julia after her decision," says Jeff. "She came to our campus about three or four weeks ago, and had some conversations with Kenny to get his thoughts, and that set her mind at ease."
***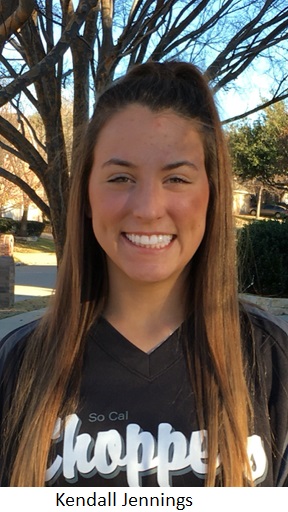 Fortunately for the Cowgirls, they also got a great 2019 pick-up in recruiting last week when SS Kendall Jennings, No. 24 in the Hot 100, committed to Oklahoma State.
Kendall is from Texas, and regularly flies from Dallas to L.A. to play with the So Cal Choppers – Fausett team.
According to Dean Fausett, the Choppers' coach, "Kendall has become one of the most well-liked players on the team. She's a hitting machine who can hit and slap the ball over the field.
*** Oklahoma State also got another talented Texan in P/1B Emily Clark, a class of 2017 athlete who plays for Impact Gold – Shahan and attends Rockwall Heath High School.
Her coach, John Shahan, told FloSoftball: "She joined the Impact Gold organization in January this year, and over the last few months, has worked very hard during our winter conditioning program. Emily adds both versatility and speed to an already strong team. She plays several defensive positions, hits with power and has strong short-game skills. We look forward to her many contributions for the 2016 season."
Emily's parents, Marc and Jeannie, also provided input on how they approached the recruiting process to get Emily on the radar, and ultimately a Big 12 scholarship:
"As far as the recruiting process, Emily has done all the prototypical things, such as identify the universities of interest; send mass and targeted emails; attend showcases, tournaments and camps; prepare and distribute a skills video. Most recently, she distributed live game footage to complement her skills video to help showcase her abilities.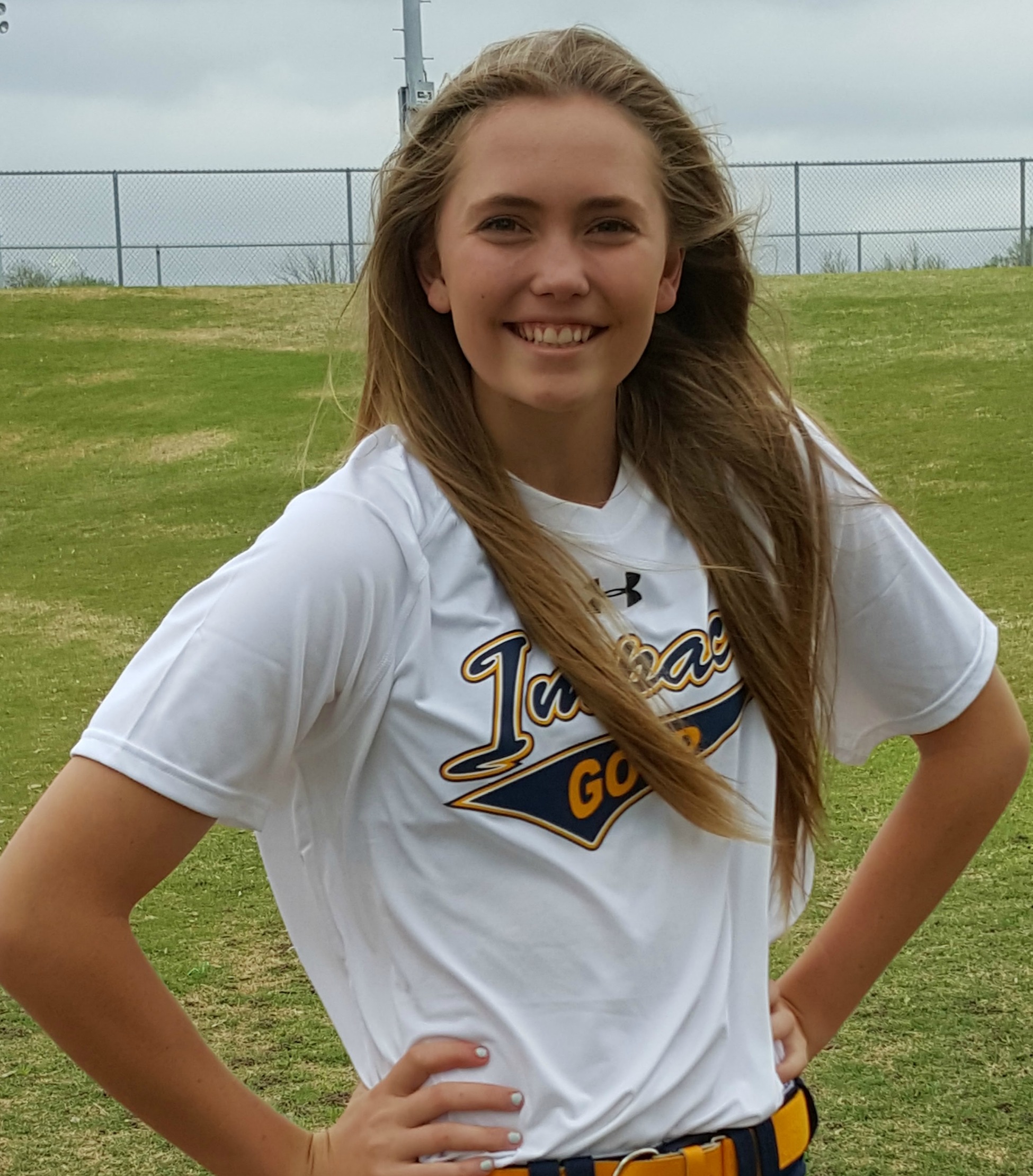 "While we did not know which of these things would yield the biggest impact, we felt compelled to do them all. We now feel the best tool for us was the creation of a 'quality skills video' by an individual that knows what coaches are looking for. Our video was shot by a former college player and coach, which gave us a significant advantage—there are a lot of really poor videos out there. We have had very positive responses from college coaches specifically stating, 'I liked your video,' 'I'm contacting you because of your video,' and even 'I had all my coaches in my office watching your video.'
"We believe the video was the best means for coaches to observe the skills. Once a coach sees those skills, I believe they also want an opportunity to see you live. That is why we also made some 'non-quality' videos of actual game footage to send with the skills video."
They also detailed how quickly the recruiting process can move once a coach gets excited about a player:
"In our specific case, the time interval from the initial interest to commitment was relatively short. I feel that both parties had a good idea of what they wanted and it just so happened to line up nicely. For Emily, her education was a priority -- she wants to pursue a degree in health sciences, and OSU offered a nice path to realize that goal.
"She also wanted to play softball at the highest competitive level while staying relatively close to family. OSU has that small-town/college-town appeal with all the benefits of a major university.
"Obviously, as a student-athlete you want to be comfortable with the coaching staff, the culture at the university, and have a clear understanding of expectations. OSU is an absolute fit for what Emily had hoped for in a university."
Jazz Jackson-Veseley, Program Director for the Impact organization added: "We are pleased that Emily Clark and the Clark family have truly found a home with Oklahoma State. During the recruiting process it's easy to get to get caught up in the large process but thankfully they had great guidance from IG-Shahan coaches and recruiters. Having coaches and parents who truly understand and trust the process make it all worth it."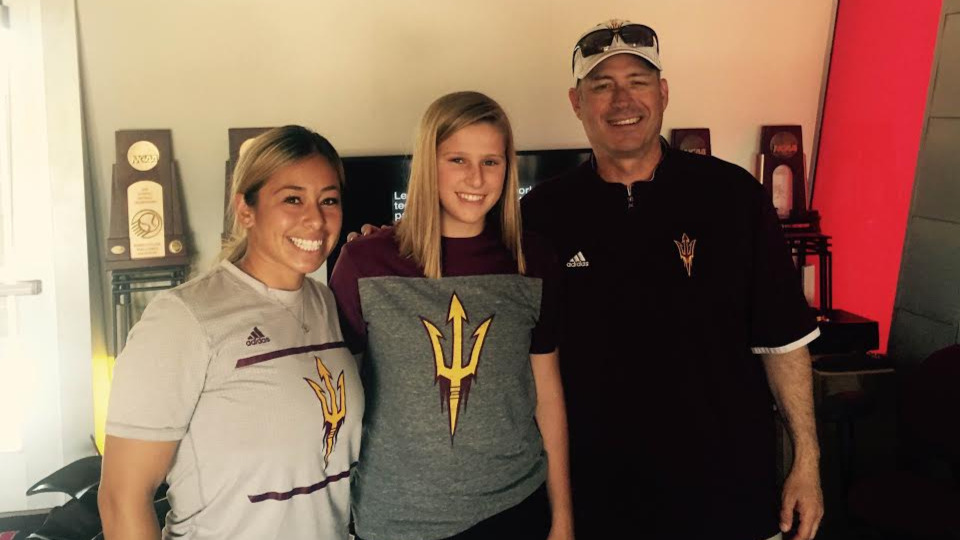 Pictured: Carley Brown is all smiles after committing to the Arizona State coaching staff.

*** Carley Brown, a 2019 pitcher with the Firecrackers Brashear/Thornburg team who was recently ranked No. 7 in FloSoftball's FAB 50 14U ratings, verballed to Arizona State last week.
Carley has been with the Brashear/Thornburg team since 2014, and throws in the 60s with great control. One coach told us, "Carley is very even-keel; you don't know if she's winning or losing since she controls her emotions well. Not only can she pitch, but she also hits for power."
Carley was also recruited by top schools like Utah, Oregon St., and Louisville, but ultimately chose Arizona State because she was very comfortable with the staff, loved the campus and the university offered her desired major, sports journalism.
***
Continuing the theme of talented 2019's, Bailey Morris, a 2019 catcher/infielder for the Virginia Team Glory 16U team, told FloSoftball this week: "My season is going well despite the fact I broke a bone in my throwing hand's index finger. Luckily, it's at the tip, so I'm still able to play despite the pain. It should be healed fully in six weeks."
Despite playing injured, she's still having a great high school season -- check out her video of some big hits and defensive plays:
Last fall, she played in top showcases and hit .438 for the fall. She's getting a lot of attention from top schools, and has been invited to several elite camps this summer, including ones at Florida State, Duke, Alabama, Georgia Tech and Maryland.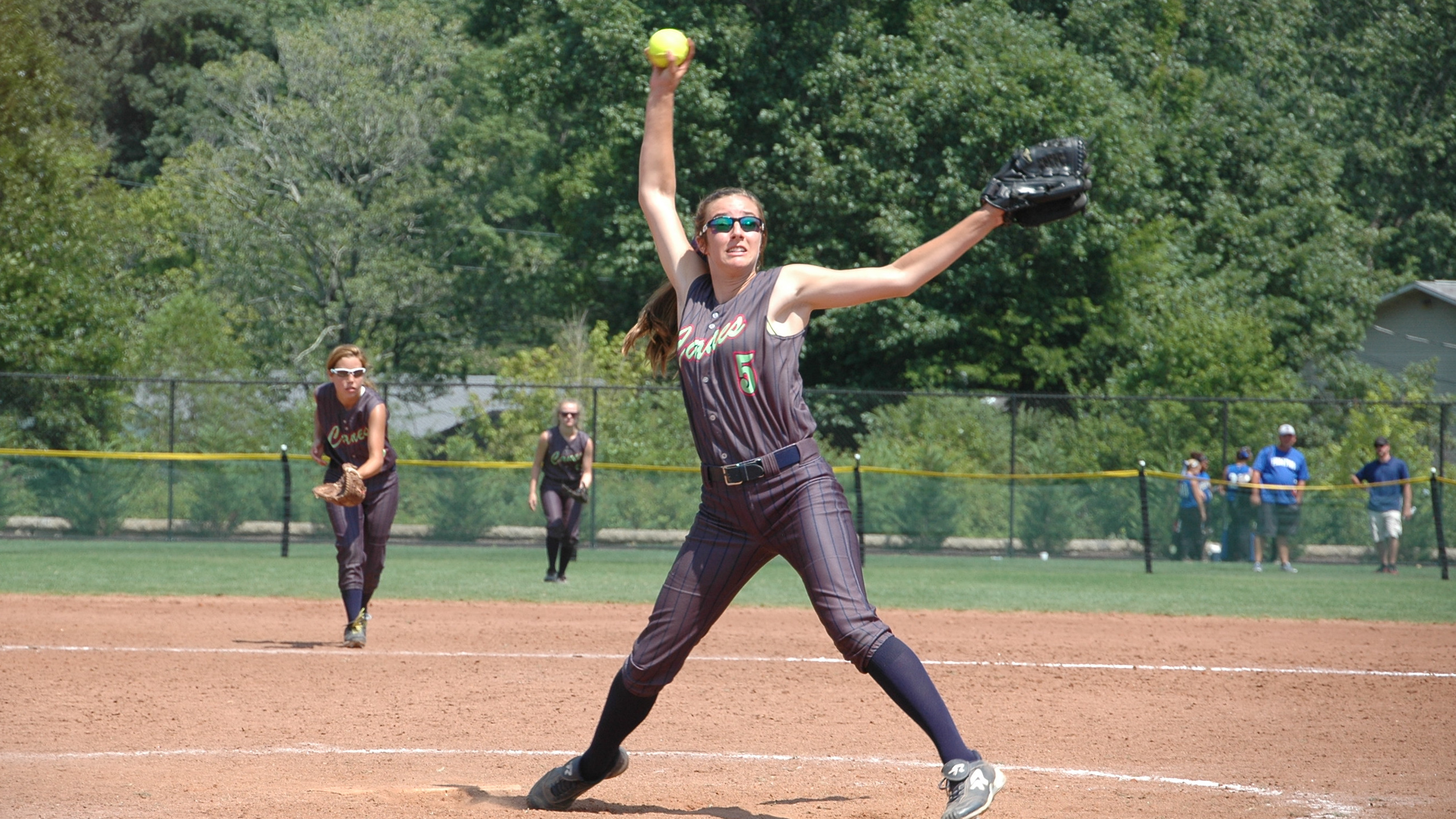 *** LSU fans will want to keep a close eye on Mt. Carmel Academy out of New Orleans -- the team has two future Tiger signees in 2018 P Shelby Wickersham (pictured right) and P/3B 2018 Jordyn Perkins.
The team is 20-3 in Class 5A with Wickersham at 13-2 with two saves and has a 0.98 ERA while striking out 104 in 100 innings. Opponents are only hitting .191 so far against her.
Perkins is also pitching well, and is the big bat in the lineup as she has big-time home run power.
*** In two weeks, we're going to releasing our updated 2017 Hot 100 list, and there will be a LOT of changes. Here's a profile of a player to watch who's under consideration for the revised list:
Player: CARTER SPEXARTH
Pos:P/1B
Grad Year: 2017
City/ST: Spring, Texas
Club: Texas Pepper's Gold
High School: Oak Ridge High School
GPA: 4.0
Key Stats: 2014 PGF 18U batted .725, 2015 16U pitched a no-hitter at PGF Nationals. 2015 High School batted .425, responsible for all 7 RBI that gave Oak Ridge the win over No. 3 team in Texas (The Woodlands).
Other Sport Accomplishments: 2013 district champion in the discus, in her younger years competed in year-round swimming and junior high volleyball.
College: Mississippi State University
Coach's Comment: "Carter is one kid who I let swing on 3-0 in a game that matters." - Coach John Prater,