Create a free account to unlock this article!
Get Started
Already a subscriber? Log In
Starting Friday, 15 of the best club teams in the country will battle at the So Cal Athletics Invitational and FloSoftball will be there LIVE streaming the pool, bracket, and championship action!

One of the teams we're excited to see is Ryan Taylor's DeMarini Aces team from Missouri which has very quickly become competitive and stacked with top talent.

Loaded with Big 12, Pac-12 and SEC-level commits, the program also had its first alum go pro as Kiki Stokes was the No. 6 overall pick in the 2016 NPF Draft and the first overall by the new Scrap Yard Dawgs franchise.

The DeMarini Aces are based out of the Kansas City, MO area with a Top 25 finish at PGF. The Aces have key returners Olivia Kinsey (Oregon commit) Missouri Gatorade Player of the Year, Toni Martin (Syracuse commit), and PGF All-American Lexey Kneib (Nebraska).

You'll see a new face in the circle, pitcher Madison Preston who is committed to go to the University of Alabama. The Aces have added more depth with Lauren Lauvetz and Sydney Nichols.


To see every game that will be LIVE streamed see the Ultimate Streaming Guide for the So Cal Athletics Invitational


You must be excited for this weekend to play at the So Cal A's Invitational as you'll be facing two of the top 18U club teams in the country Friday right out of the gate, the Firecrackers and the Beverly Bandits…
I think everyone is ready for the trip. Our players and coaches are excited to see where we measure up early in the summer season. This will be great preparation for Boulder and PGF Nationals. We're pretty familiar with the bandits as we play them 2-3 times every year and last year we played a back and forth game with the firecrackers in Reno.
When did you receive the invite to come out to play in So Cal for this event?
In April. Bruce (Richardson, head coach of the So Cal A's) and I had been in communication up to the point of our official invite.
This is, pound for pound, one of the top summer events in terms of elite teams… how did you first hear about it and what are you looking to get out of the weekend?
I think you live under a rock if you're in the softball world and don't know about Bruce's event! The quality field he pulls together is second to none. Bruce is a no-frills, get-down-to-business guy which I really respect. We are looking to come out and compete to get better. A lot of people don't get it around here. My players and parents get a hard time for "traveling." They don't understand why we don't just play local every weekend.
I have high expectations of them each day. Their job is to play against the best competition, and be ready to fulfill their side of the deal to perspective colleges.

I think more and more with early recruiting you see kids get complacent and expect things, nothing is given in life. Our kids need to earn everything.
This isn't a happy to be here thing for us, we need to come out and get better, if not shame on us.
Tell us about your team, you have some great players coming back and are obviously in the mix as a team to watch at Nationals this year… what are the strengths of the Aces and what excites you about this group?
This team has a lot of grit, I'm a fighter and crazy competitive. They've really embraced the expectation to compete at everything. Depth is huge, if someone is struggling next in-line steps up. Individually you can go down the list and it compares with any roster on talent.
If they can get outside themselves and do what the team needs in each situation we will be fine. With the way exposure tournaments are now, the sport has become so individualize in my opinion. It's not about what the team needs, let me get my three ab's and try to hit a home run for a college coach. I'm proud of our girls embracing a team mentality.
Setting up a trip like this, it's not just a two-hour drive to play… did you have to sell or convince your players and parents it'd be a worthwhile trip flying to the West Coast? Or is it an easy sell with all So Cal has to offer like beaches and theme parks?
It's not an easy trip for us, but it goes back to the expectation we have as coaches, competitors, and future college players to challenge ourselves to be better. Playing the best teams on a regular basis prepares our girls for the next level.
A commitment is a two way deal! Our team is such a family atmosphere, I'm beyond fortunate to have the players and parents we do. It wasn't a hard sell, they get it. We aren't a big money program 1-15 is expected to carry their own weight. The girls actually raised the money for flights. It's a team trip players and coaches, just like college. It's a Midwestern mentality. This trip is for the girls, they've earned it and its time to have fun and compete.
You have an interesting background, certainly not your typical daddy/daughter entrance into softball! Tell us about your athletic background and how you got from that point to being the coach of an elite club team…
I wrestled at the Div. I level in college (Arizona State). No cauliflower ear, I got that fixed (laughs). I still dust the shoes off now and then; before the DeMarini Invitational I worked out with Bill Conroy's boy and a few others. I grew up playing baseball having the opportunity to play a few different sports at the collegiate level. Wrestling was the highest level so I stuck with that.
My dad played baseball in college and grandpa in the minors. I was the kid at a young age that loved whatever sport was in season. Whatever I could do to compete and win! I got the opportunity to coach when I moved back from college with a softball father. His daughters moved on from the sport and I took over. It really has blossomed from there. If I do something I want it to be the best, I've had great people around me throughout the process. I try to continually grow and get around people way smarter than I am. My wife played softball at South Alabama, she's been coaching with me for three years. She's a great coach and sounding board.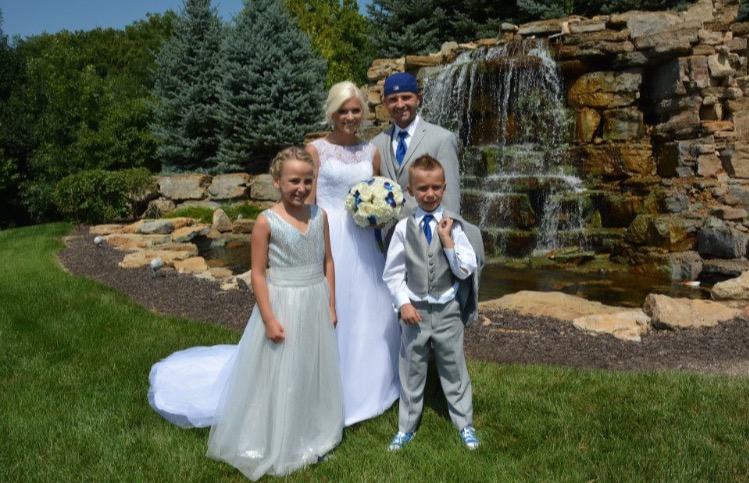 It's been an exciting year for you in that you've had some big personal life-changes… talk about the exciting developments you've had off the field!
It's been a great last year. Taylor and I got engaged in December of 2015 in New York City and we were married a week after PGF Nationals last August. We had an excellent honeymoon in Europe--Spain, France, and Greece. We also just had our first baby, a boy Kemp. I lost my dad last summer right before Nationals so it's awesome to get a little boy and name him Kemp! That's my middle name and my grandpa's first name. My dad would've been thrilled beyond belief about that!
Back to the field: what is it you as a coach look for when considering a player to wear the Aces purple colors?
First, we want a great student! Our kids are expected to maintain a certain GPA. Several of our players have 29 and 30 ACT scores. Athletically, I look for the best athletes, not always the best softball players. I feel like I can help them develop that part, you can't teach an athlete. That's what has made us so successful. I've taken several kids other people miss. We've got big strong kids. When someone looks at my team it's a type, and you say, ' Wow, those kids look like athletes!' Lastly, we want blue collar competitors. I want kids that want to grind you into the ground.
Finally, how proud are you of this team and yourself in being able to put together a competitive team from the middle part of the country that can compare to any team on either coast?
I think everywhere you go there are great athletes. In my area you may have to dig a little bit harder. Our team is so much different in the way the sport is headed. We practice together and that's an expectation. It's not fly in and see you on the weekends to play. Our kids get beat up in practice and I'm just so proud of their development. They buy into the system and trust the process. We've competed and beaten several of the top brands of softball. They earned their right to stand up there. I hope to continue to grow the aces in 12U,14U and 16U next year. The goal is to develop and promote kids in our area more.